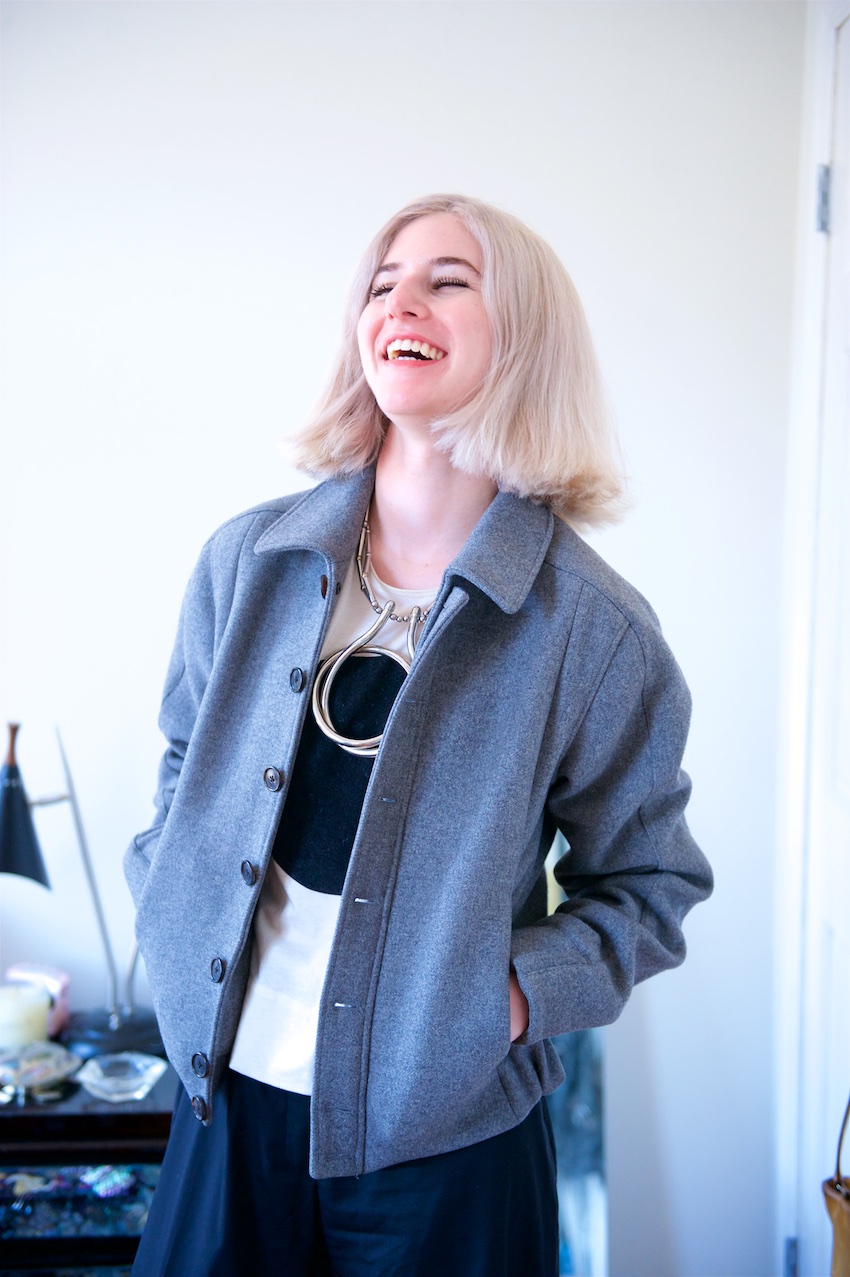 Definition: The Full Monty: 
A British slang phrase.  It is generally used to mean "everything which is necessary, appropriate, or possible; 'the works'"
.  .  .
I have known Chloe via a fashion board that I frequented years before I started Where Did U Get That.    Even though I stopped visiting the board I never forgot Chloe's unique style and when I learned that
our mutual friend Daria
stayed in touch with her, I snatched the opportunity to meet Chloe (finally!) in person and have a nosey in her wardrobe.
"I grew up in Brooklyn and my Mum always said other people care about their car and that it says something about them but in New York your coat is your car.   You are always wearing it and it's very public and everyone's always looking at you, so I find coats to be very important."
Bag: Vinage Coach
"It's made by the first real designer for Coach which was originally a men's bags company.  The designer came on and changed the direction for the brand, adding this built in purse on the front of it.  I'm kind of an amateur fashion historian.  I used to restore old clothes and know a lot about construction and material which is really important to me which is why I buy a lot of vintage and second hand.
I personally find that a lot of things being made today are just…. you can buy something today for $100 from Zara and you can buy something today for $100 that's from a consignment store and the quality you get from the consignment is ten times more than Zara.  Nobody's making things from natural materials anymore.   Those places are good for something trendy and if you don't want to invest a lot of money but the other lasts a lot longer."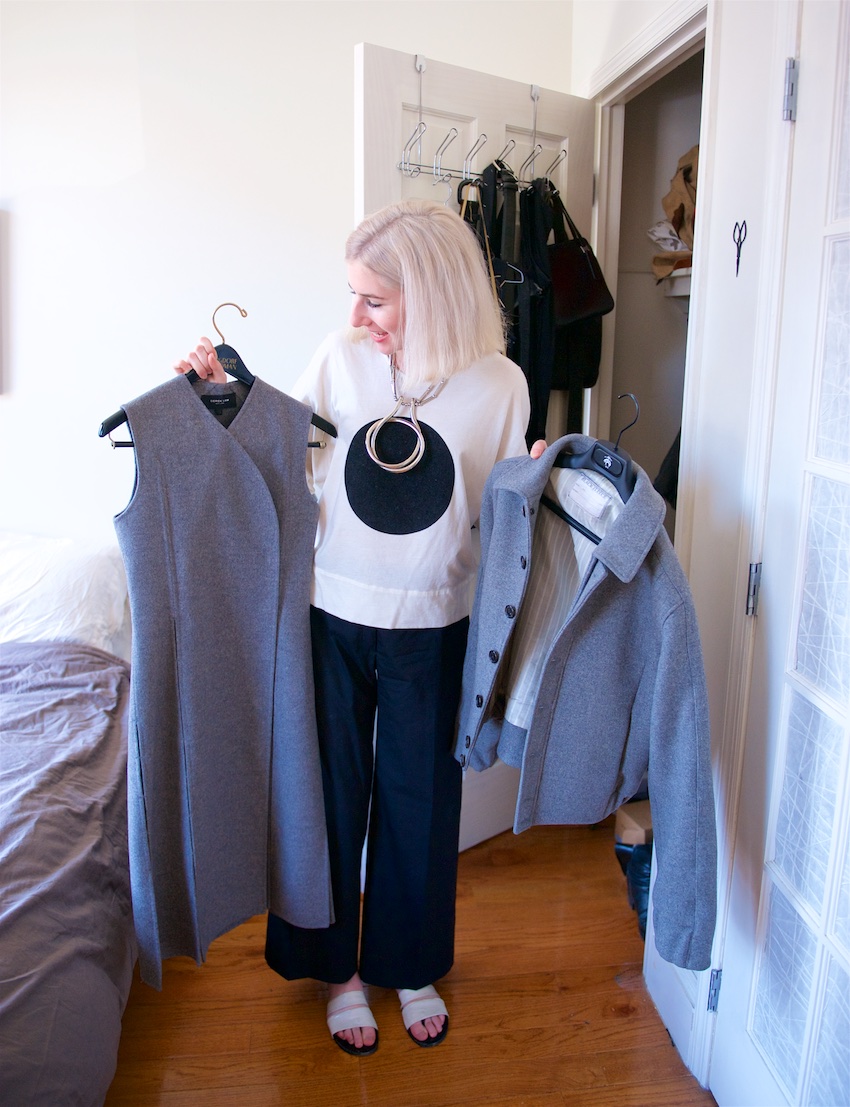 Dress: Derek Lam.  Jacket: Brooks Brothers Black Fleece
"This grey felted wool is maybe my second to black. I once wore these two pieces together.  I got the dress on sale at Barneys.  I wear it sometimes as a vest and sometimes as a dress."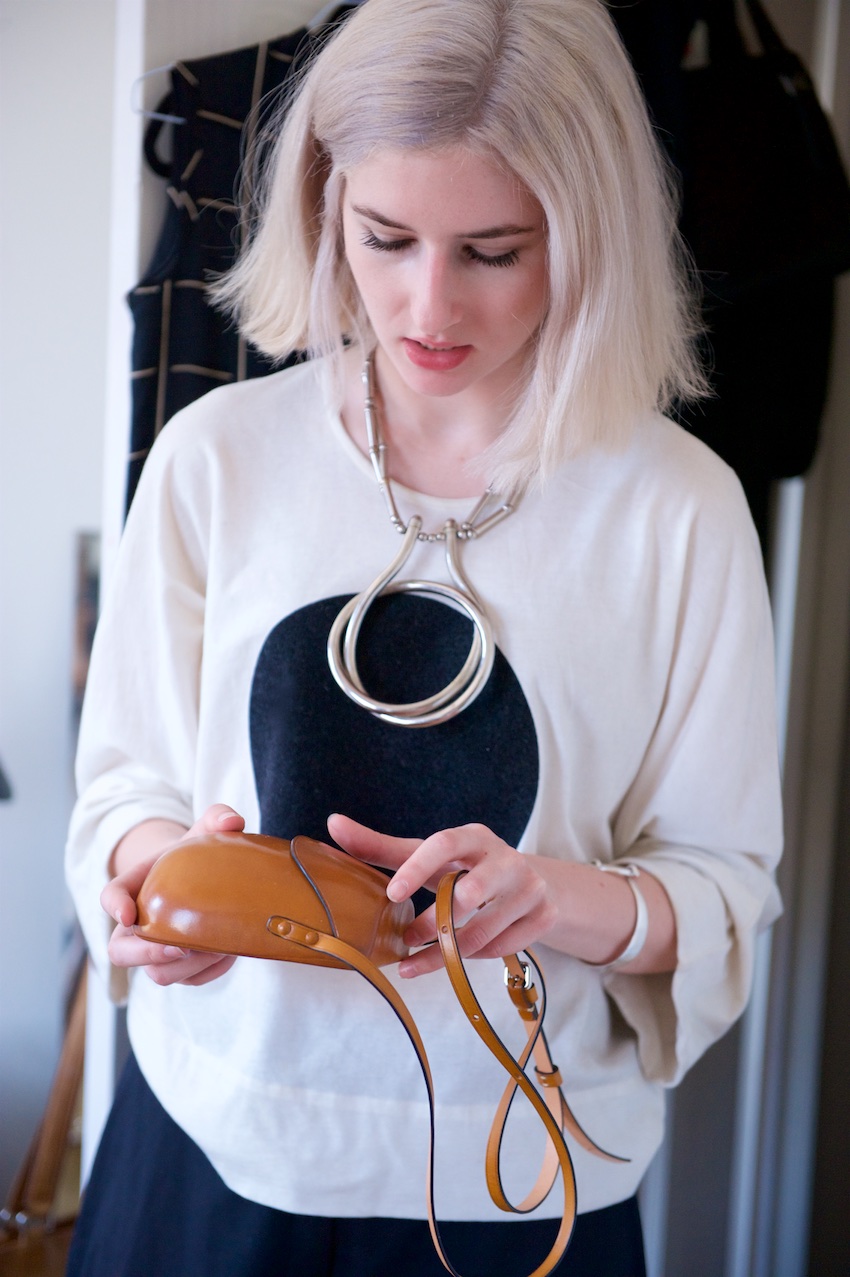 Necklace:  Etsy
"I get a lot of silver jewelry.  I got the necklace a few months ago and I almost didn't buy it.  I've gotten a lot of compliments on it.
I never used to like bags and all of a sudden I kinda got into it. I think my style changed a little bit and I finally accepted that I don't have to buy only black purses.  I'm obsessed with Christophe Lemaire and read about this molded leather company in Italy that makes these bags.  I went to their website and they had this bag.  They wet the leather and mold it on the form so there's no stitching.  Only thing is, it doesn't fit my phone…!"
Sneakers:  Random online
"These are hand made raw leather sneakers.  I'm not really a sneaker person but these will darken and soften with age.   I've been wearing them a ton.   I really like shoes that are close to my skin color I find they work better on me.
I've gotten very self indulgent when it comes to my eccentricities."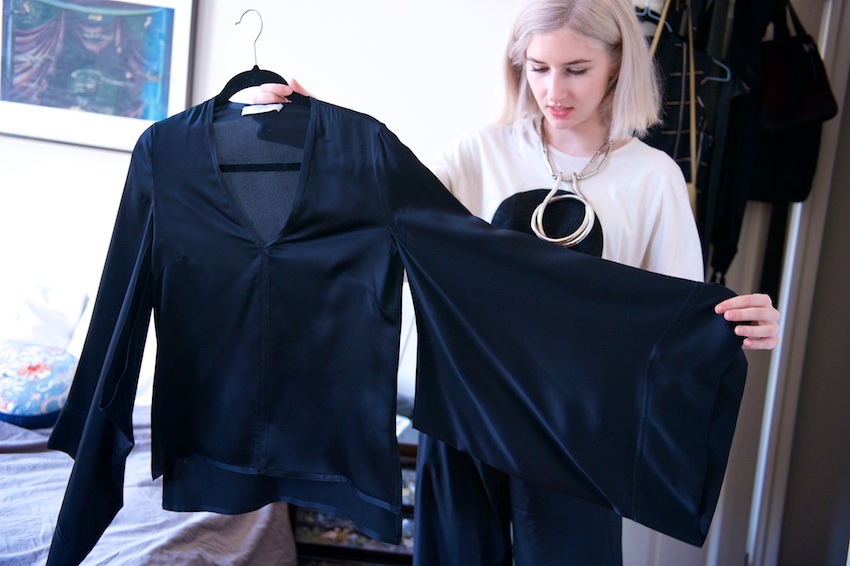 Top: Consignment find around 72nd street.
"I wear a lot of black. I'm not a very colorful dresser.
I've always wanted a shirt with really big dramatic sleeves like this and this one fits really lovely.  It has slits in the arms so you can poke your arms out and reach over a table and not drag your sleeve through your dinner."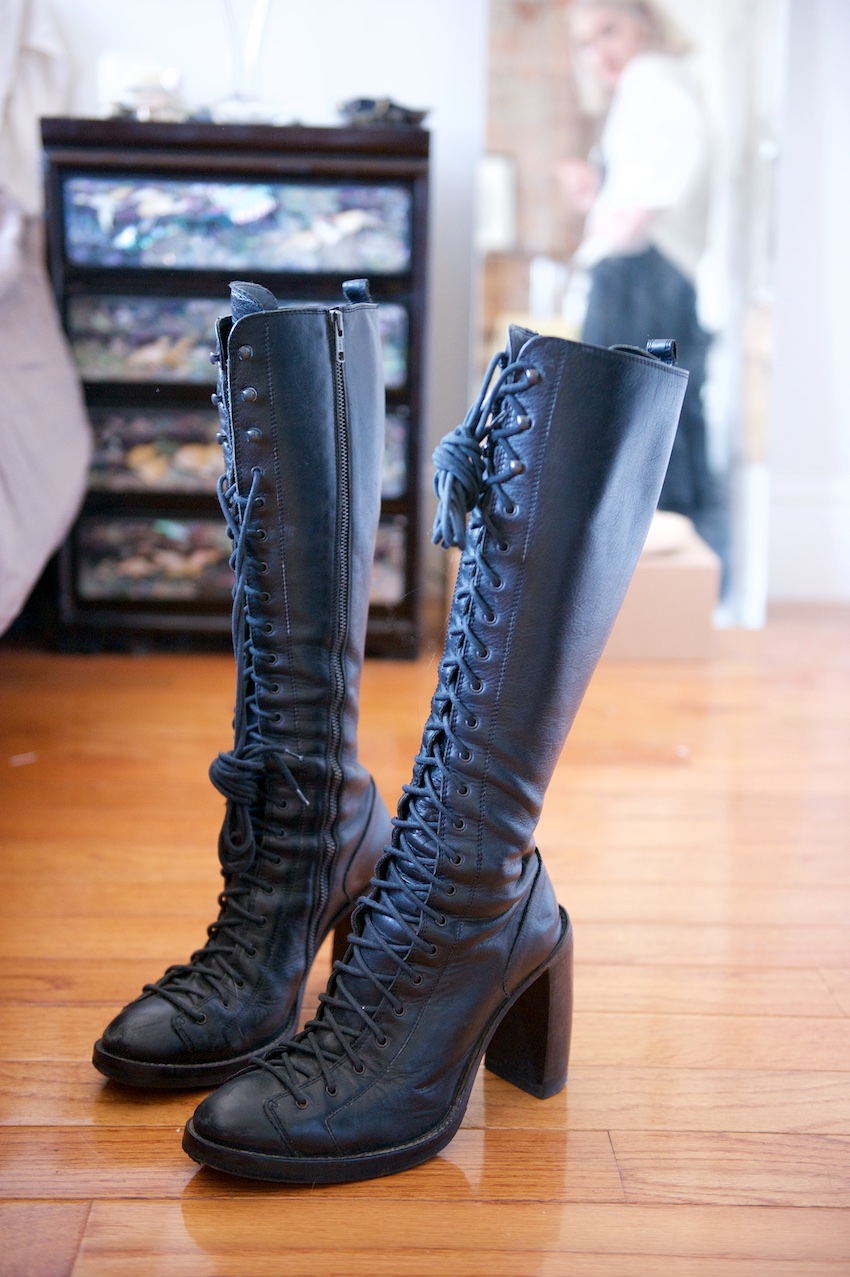 Boots: Ann Demeulemeester
"These are one of my most prized possessions.  I bought these on eBay the same season that they came out.  They were expensive but it was still cheaper than what you would pay now because they are really rare and people sell them for a ton of money.  They are one of the best boots every made and really easy to walk in."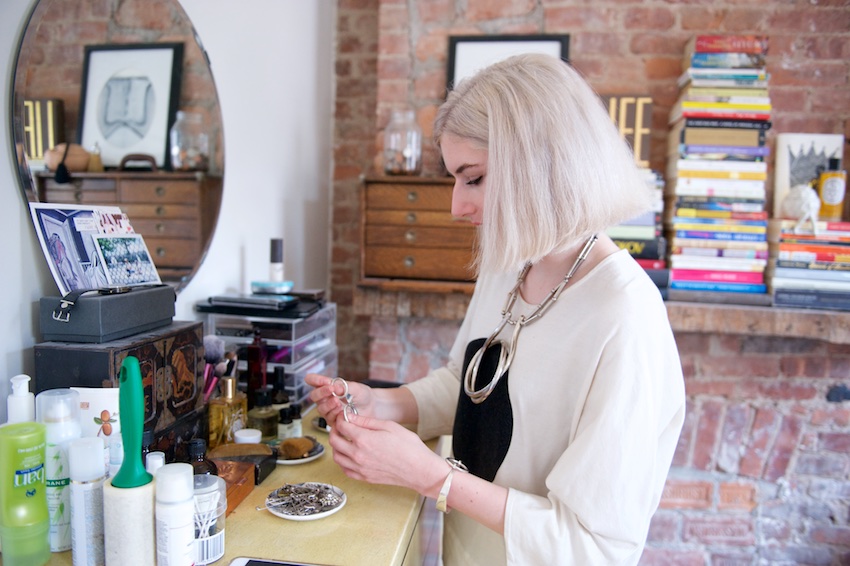 "I wear a lot mens' clothes. I'm a real Etsy hound. I spend a lot of time on there just browsing.   It's more curated than eBay for good vintage."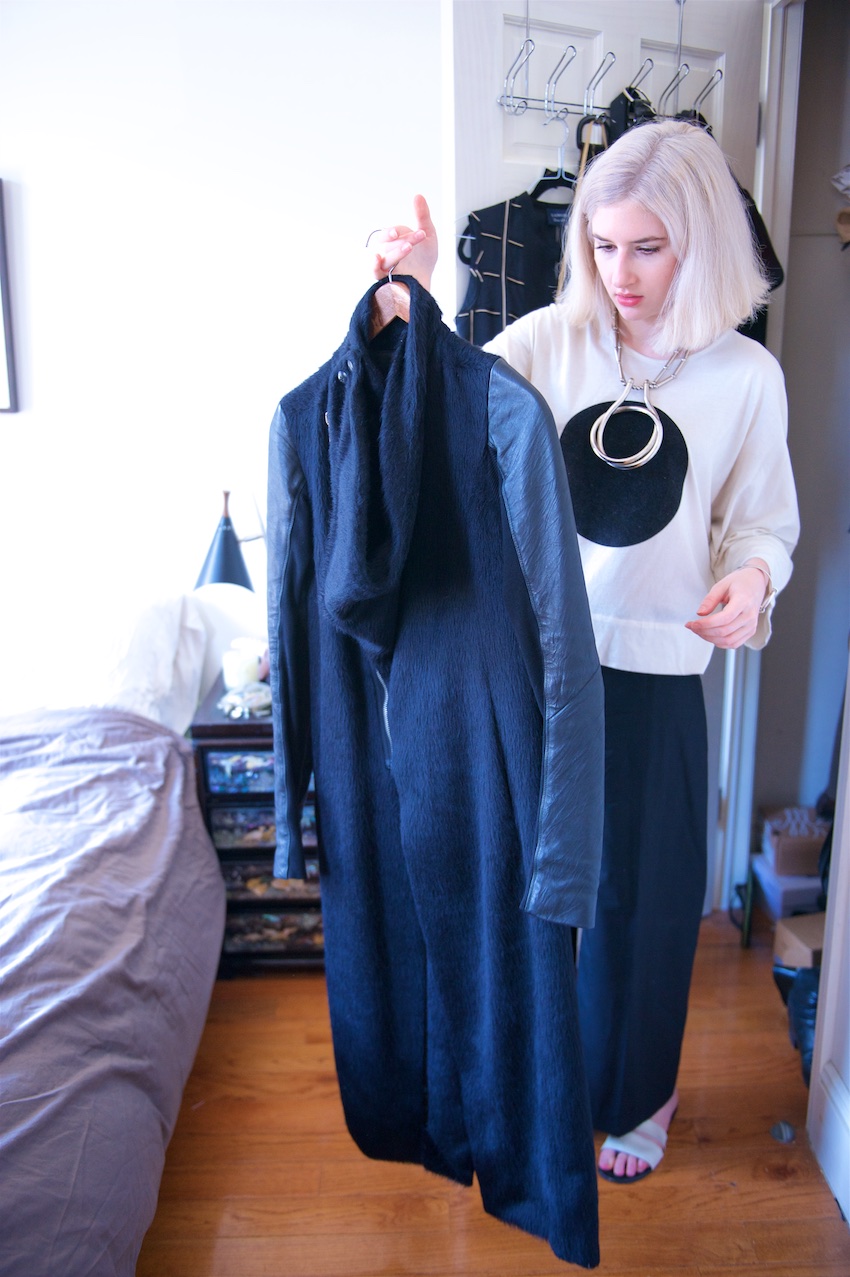 Coat: Rick Owens
"This is from Barneys for seventy five percent off.  I have quite a bit of Rick Owens.
People can say that they don't care what they look like but what they mean is: I don't mind if people think that I don't care what I look like.    Most people care in one way or another."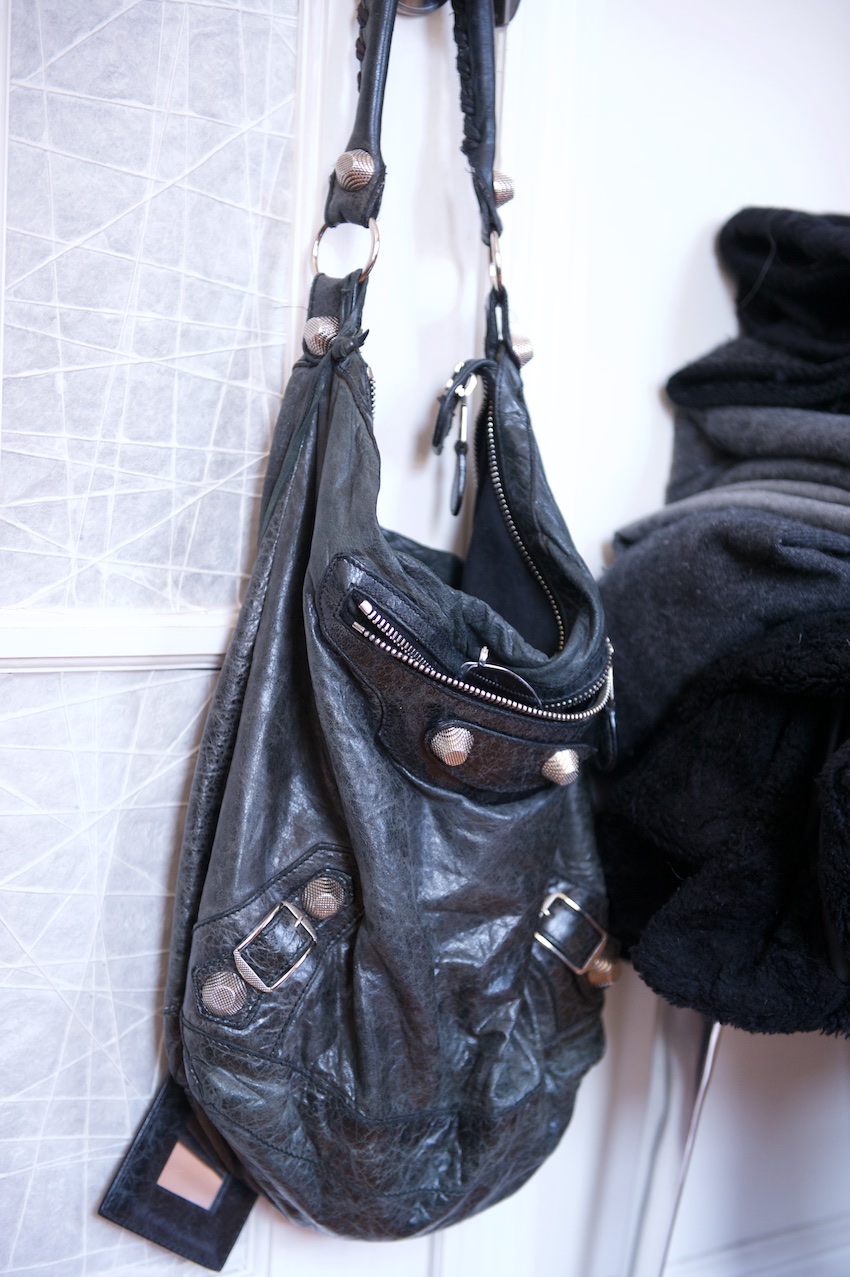 Bag:  Balenciaga
"I always wanted a Balanciaga from when they first came out and Mary Kate and Ashley were carrying them and someone on the board was selling it.   I just had to fill that child hood fantasy."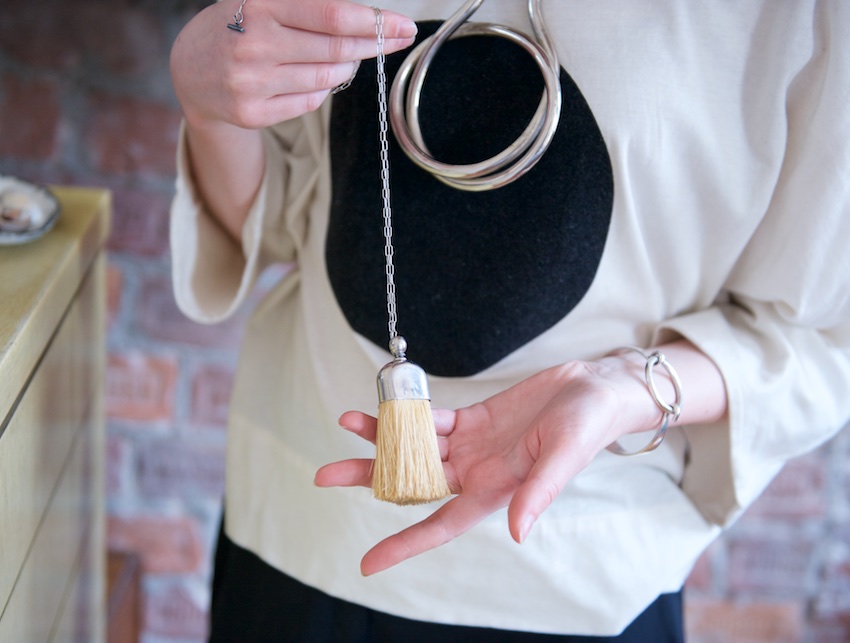 "I made this piece.   It's long so I wear it over shirts.
I have the capacity to love almost anything. I'm interested in the history of aesthetics and so love almost everything."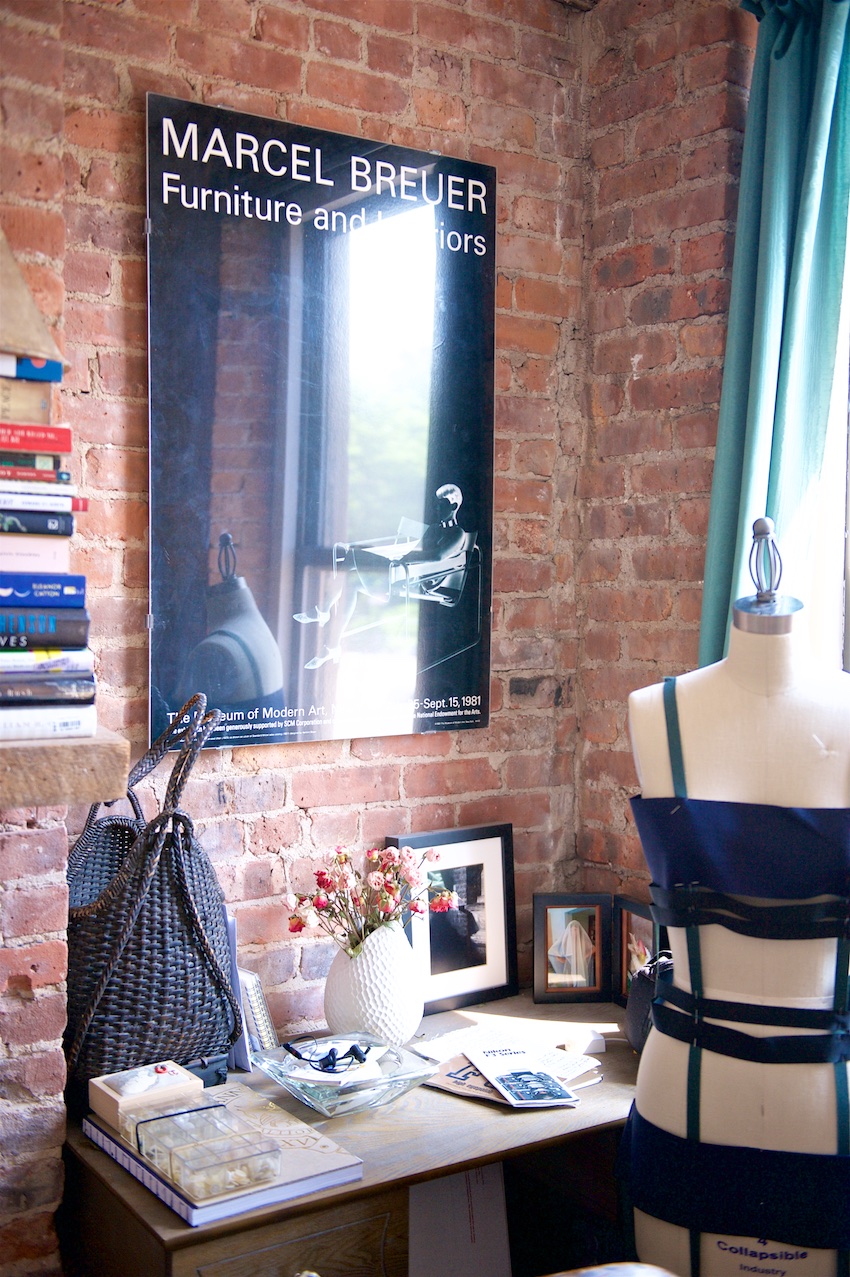 "I work in TV. I'm a writer and a producer primarily for a show called A Crime To Remember about murders from the fifties and sixties.    My side thing is I write fiction."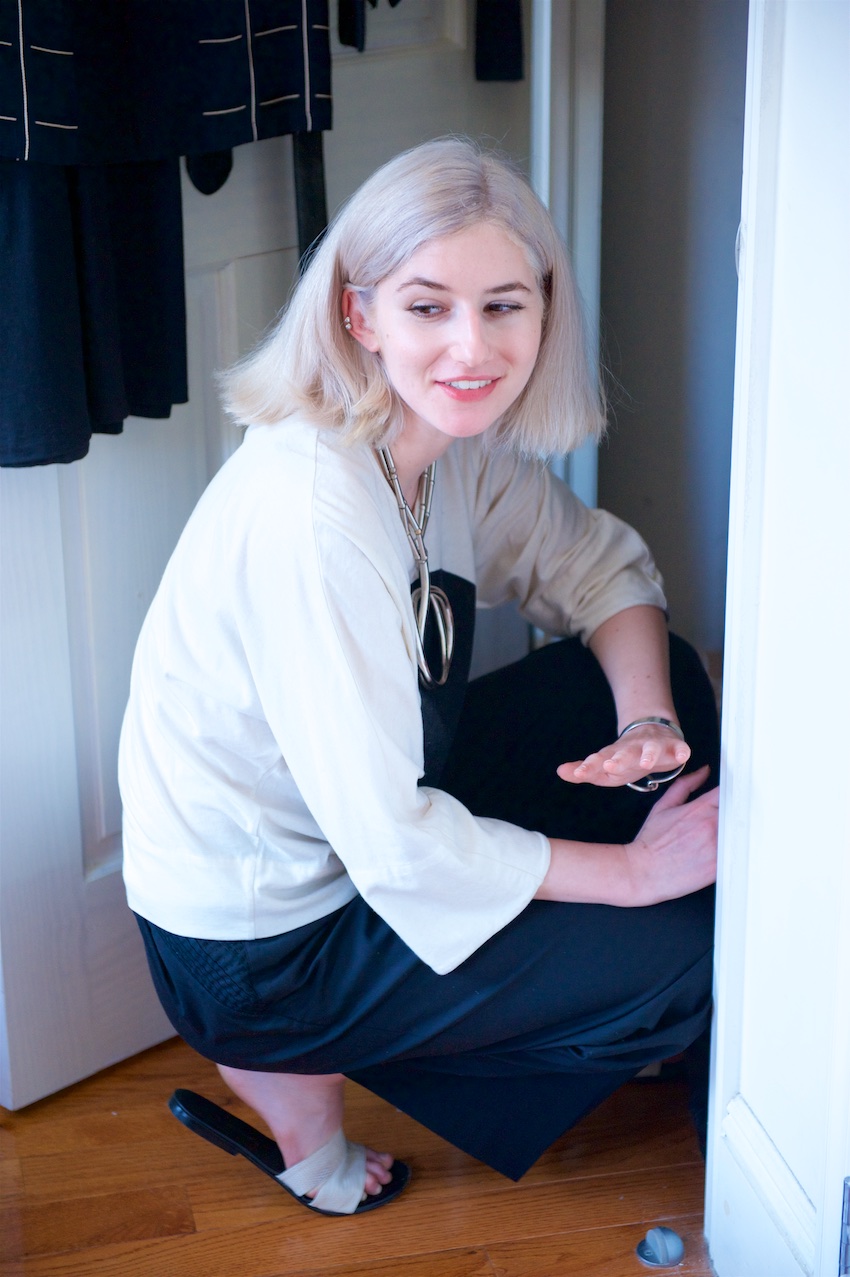 Shirt: Christophe Lemaire
"My shirt I found at Yoox. I try not to find anything full price. I'm an excessive sale stalker. I thought it was really weird when I first got it but it's turned into one of my favorites.
My pants are like a size 40 and are way too big for me. I got them on eBay from a designer who went out of business in 2001.  I just safety pin them at the back but I'll eventually stitch it.  The sandals are from a boutique concept store called The Line and they went through a few rounds of mark downs so I got them."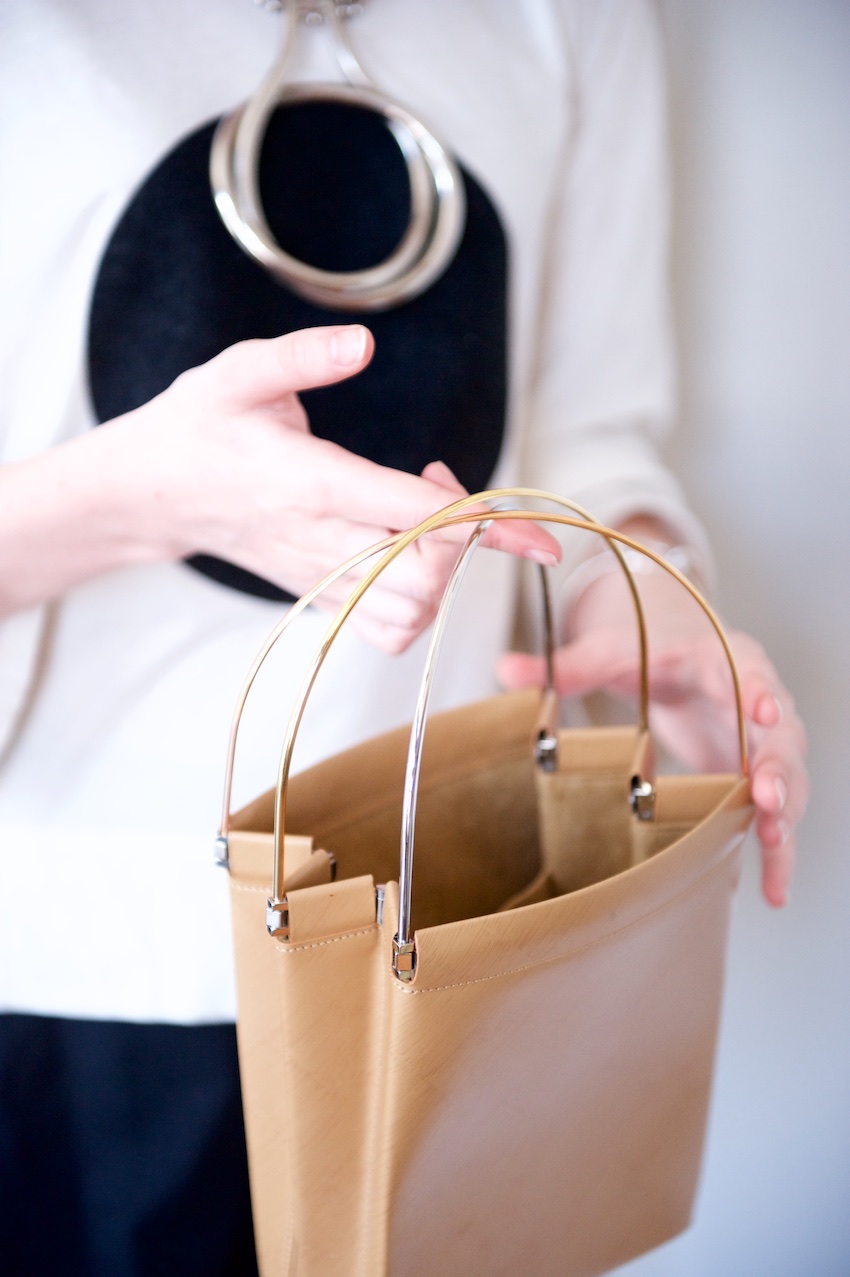 Bag: Cartier
"This is new I haven't even carried it. I found it on one of those online resale sites.   Cartier makes those trio jewelry pieces so the handles are white gold, yellow gold and rose gold.   It has this cool accordion opening."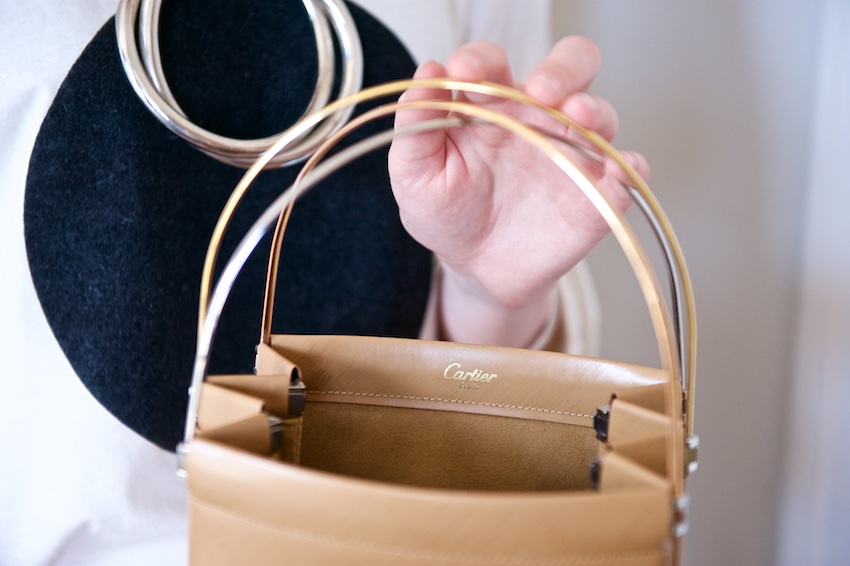 "I was at Century 21 browsing the designer bags section and they had this bag in a larger maroon size.  So I went online to look for it and I found this colour which I really liked, so I searched around until I found it cheaper.   I think I might use it for a wedding this summer.
No one gives a shit about Cartier bags as far as I can tell so I got a good deal on it.  It's kind of like an old lady purse.  It has a nice upper east side lady look to it."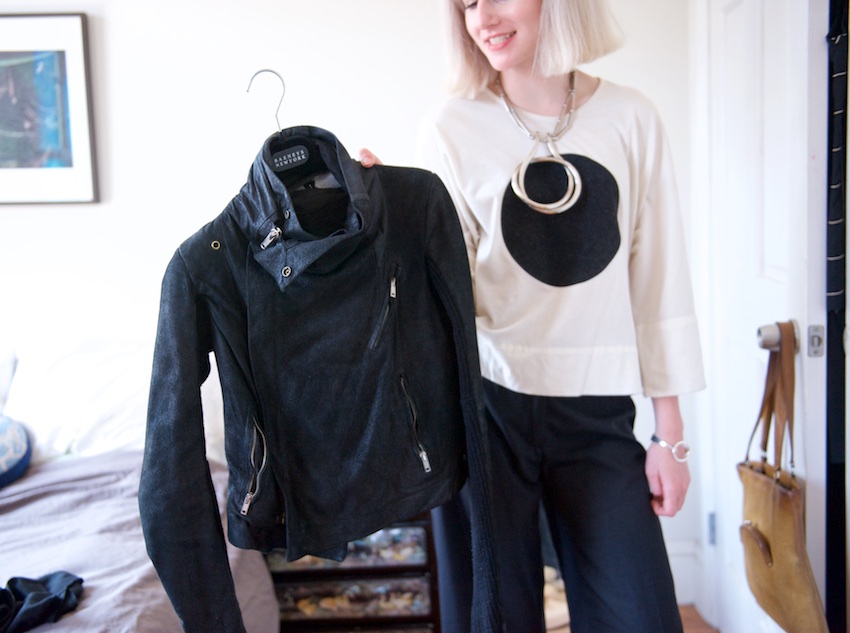 Jacket:  Rick Owens
"This is my first ever designer piece.  I saw it online and was obsessed with it and my Mum paid for half of it for my birthday and I paid the other half and thus begun a very dangerous obsession."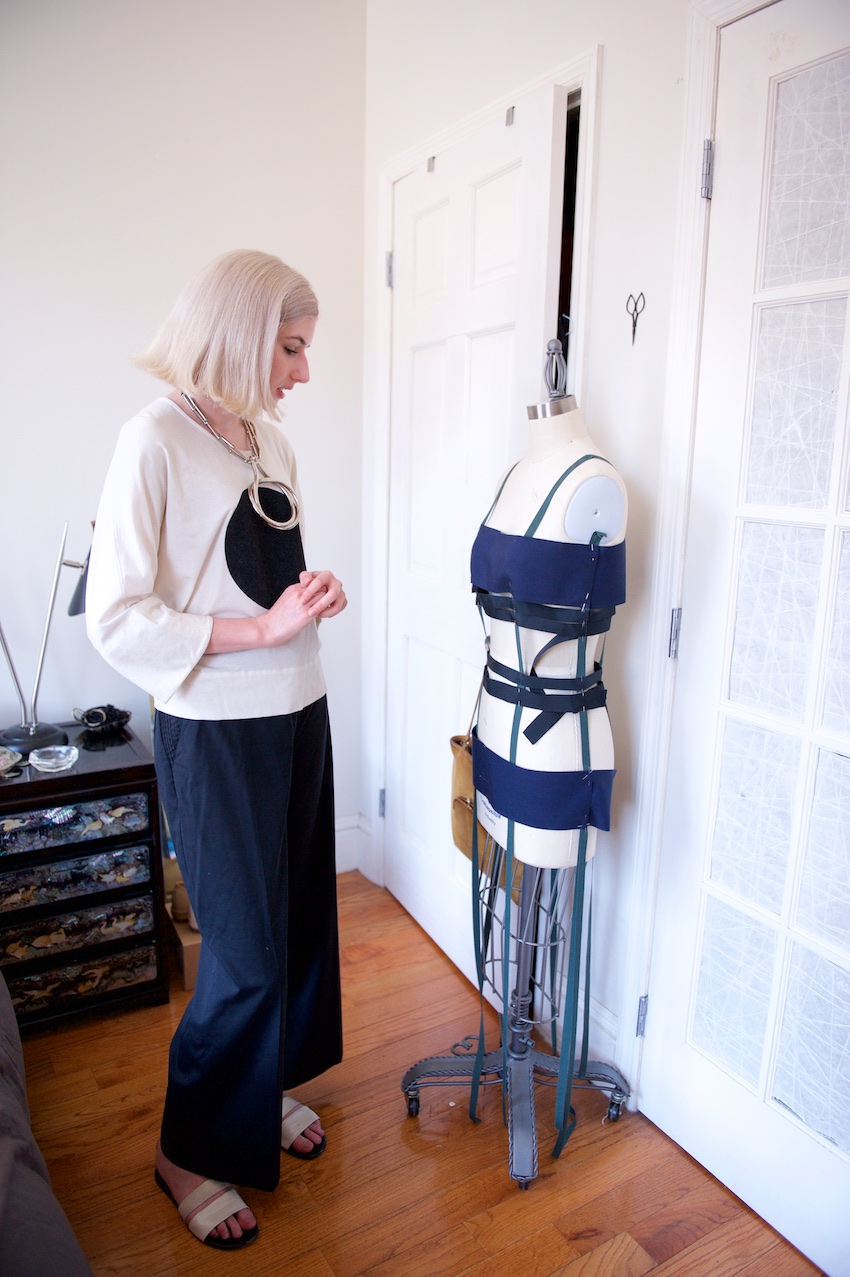 "I started a project for a ribbon dress. I went to MJ Trimmings and got a ton of trimming.  It's at it's very very early stages.  I try and do a little every now and then.
My favorite store is Eva Gentry consignment. I grew up not too far away from it."
"This is probably my favorite jacket. It's very simple.  It's a man's jacket by Brooks Brothers Black Fleece line, Thom Browne is the designer. I like things that feels like you can really incorporate them into your life, like this jacket which I've had for two years and feel I'll have it for another ten.
I really like consignment stores on the upper east and upper west side. You get a lot of old ladies giving away their clothes and I guess that's kind of my style."
.    .    .
You can read more Full Monty features here.