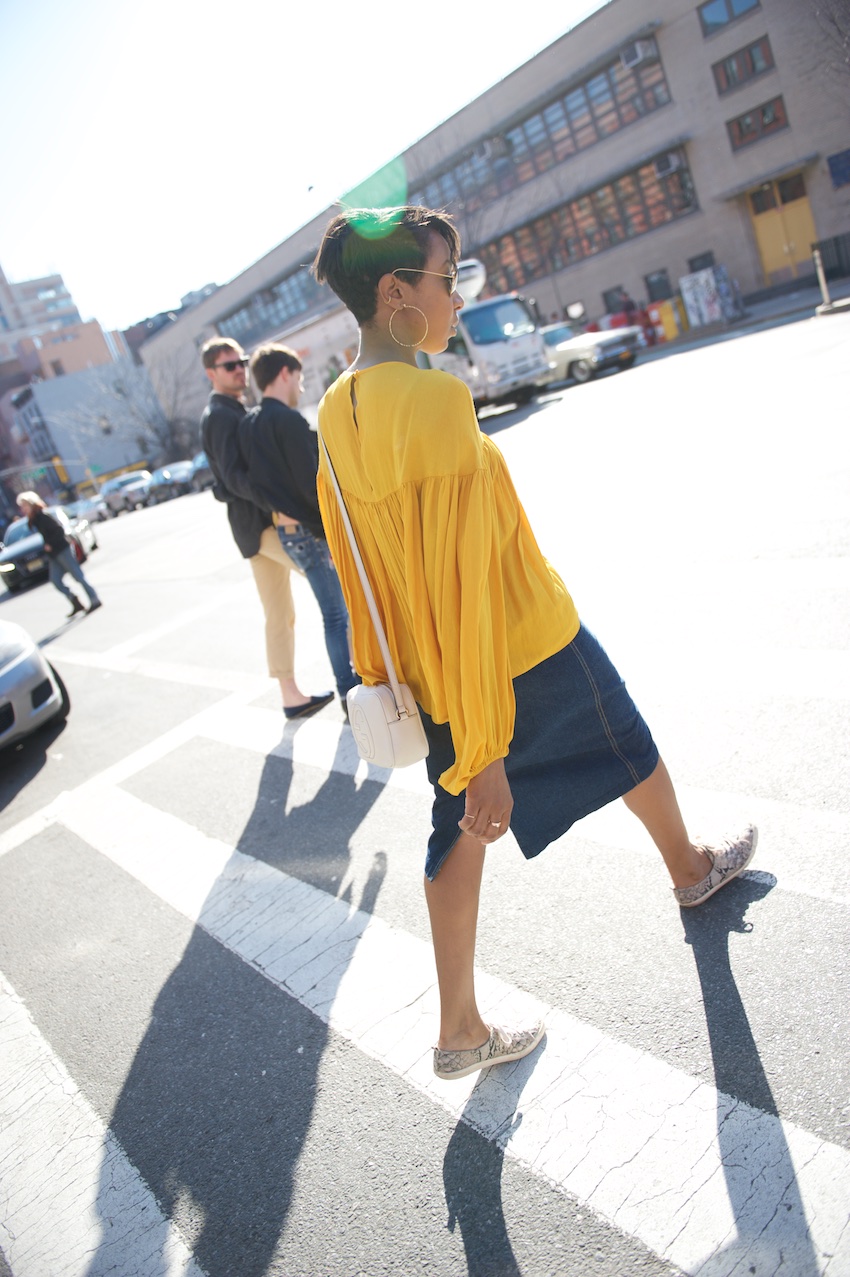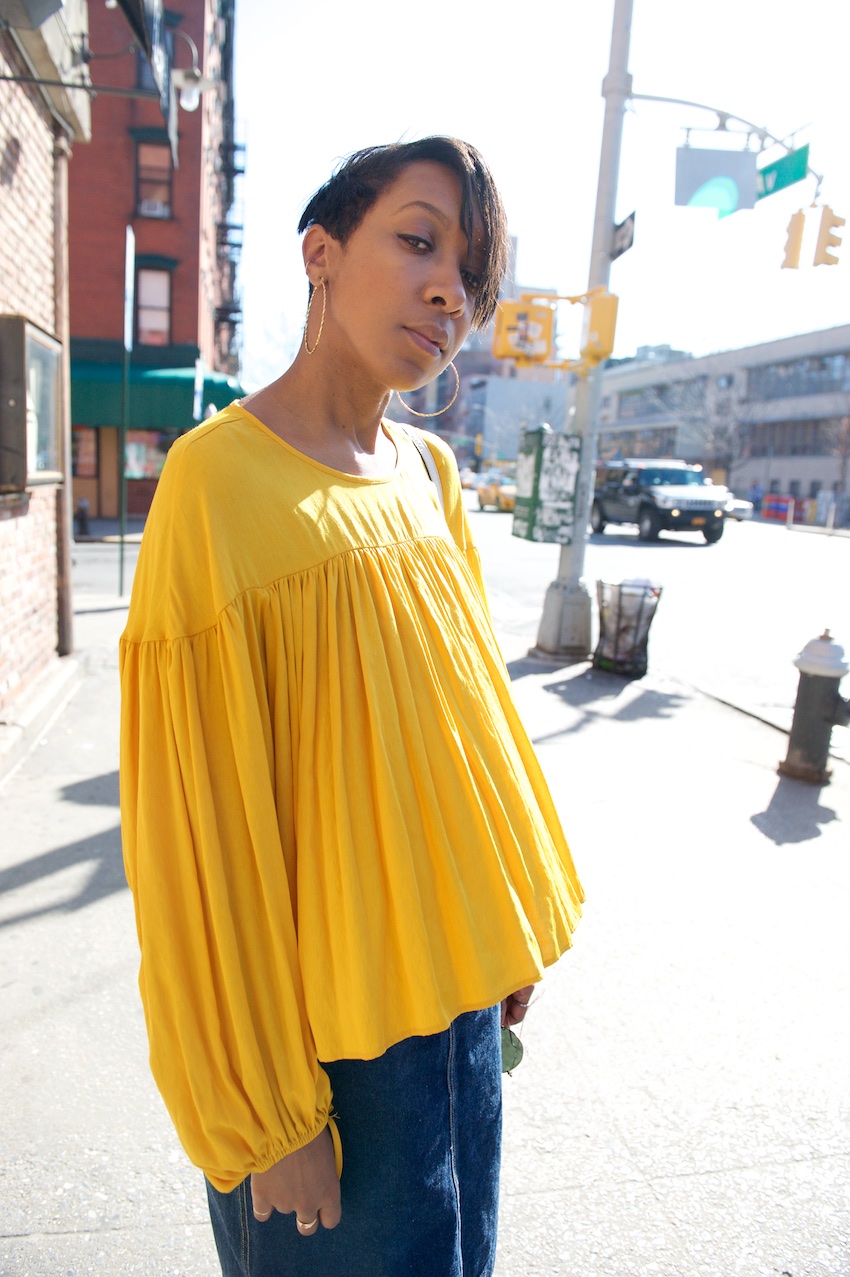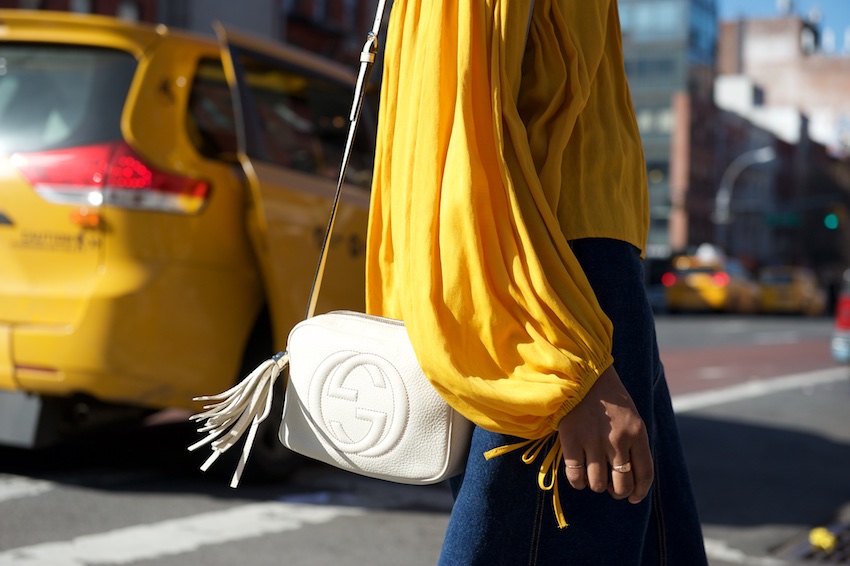 Blouse: H&M. Try Catherine Malendrino (on sale!). Denim skirt: Vintage/Second hand.  Try Mother (on sale!) or Topshop. Plimsolls: H&M.  Bag: Gucci
This is the blouse I showed you before in that shopping post!  I loved it so much that I got it in the cream too – I know.  I know but the sleeves and food baby friendly smock front had Karen and future lunch spills written all over.
The Gucci disco bag is a replacement to that work horse Kurt Geiger which I love but I needed a longer strap in an off white bag. Having said that who flipping needs an off white bag? No one really but the camera bag shape holds a lorry load more and so qualifies as the largest small bag that I own if that makes sense.
I'm on a SERIOUS shopping ban bag wise because I've got a couple more that you've not even seen yet.  They'll probably surface on my Instagram first at some point. You can follow me on it (here).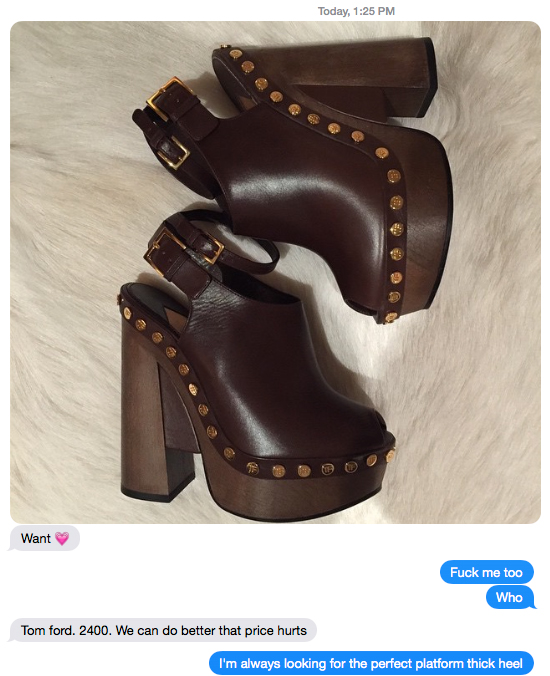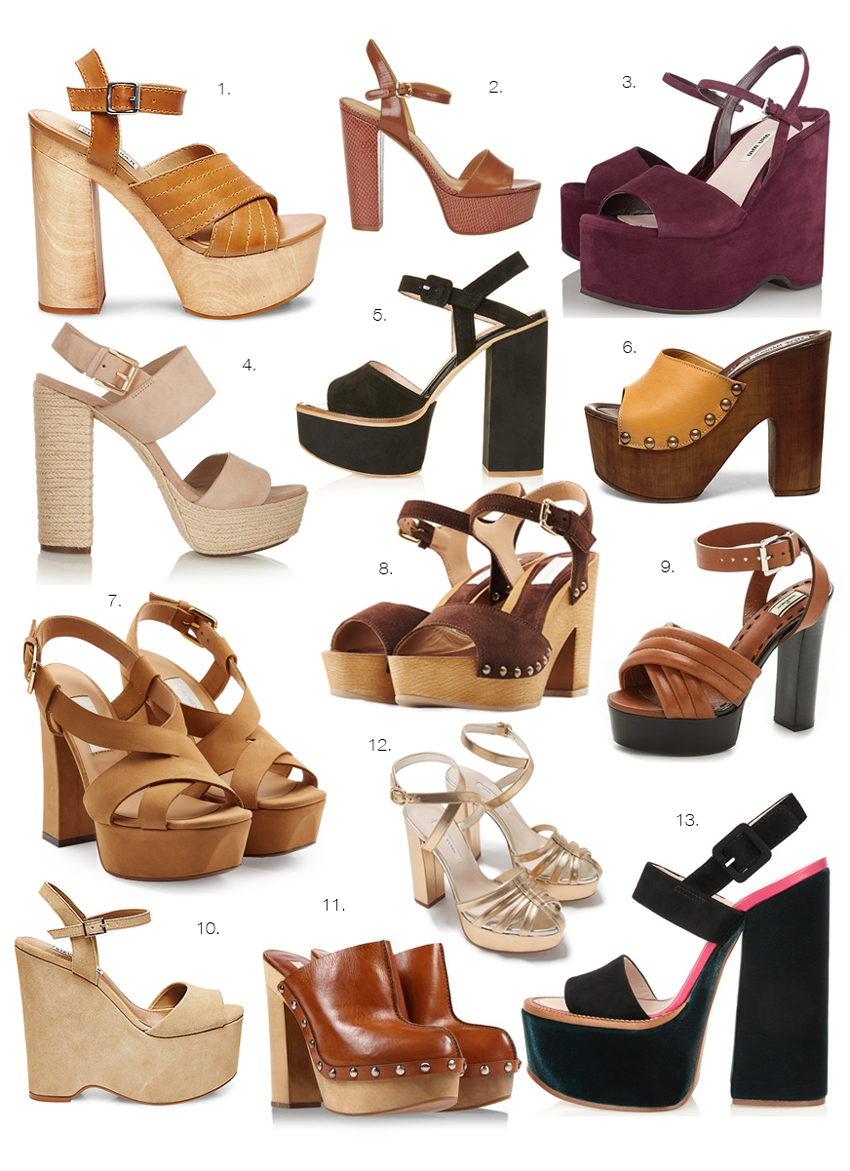 Above is a screenshot of an iPhone conversation I had yesterday with a friend about a pair of Tom Ford platform sandals.  She showed me the Fords and in blue was my reaction.
I'm horizontally challenged from ankles down.  Meaning I have size 10 feet so I reeeeeallly have to watch not looking like I've got two bricks on my feet.    None the less I keep looking because yeah they're not the most practical things on earth but God damn they look good peeking out under floor sweeping denim flares or floaty mid-length dresses.  Ok one practical point: platforms make heels more comfortable. That's my argument anyway.
Current Caving Options:
1.  Steve Madden 'Cora' heels (love)
2. Nine West 'Carnation' sandals
3. Miu Miu suede wedges
4.  Michael Kors suede and rafia sandals
5.  Topshop 'Litlith' heels.  A dead ringer for #13
6.  Steve Madden 'Binding' clogs
7.  L'Autre suede sandals
8. L'Autre rivet suede sandals
 9. Marlene Birger 'Farlill' sandals (love)
10.  Steve Madden 'Jaylee' wedges
11.  Michael Kors clogs (love)
12.  Zara sandals
13.  Victoria Beckham velvet and suede sandals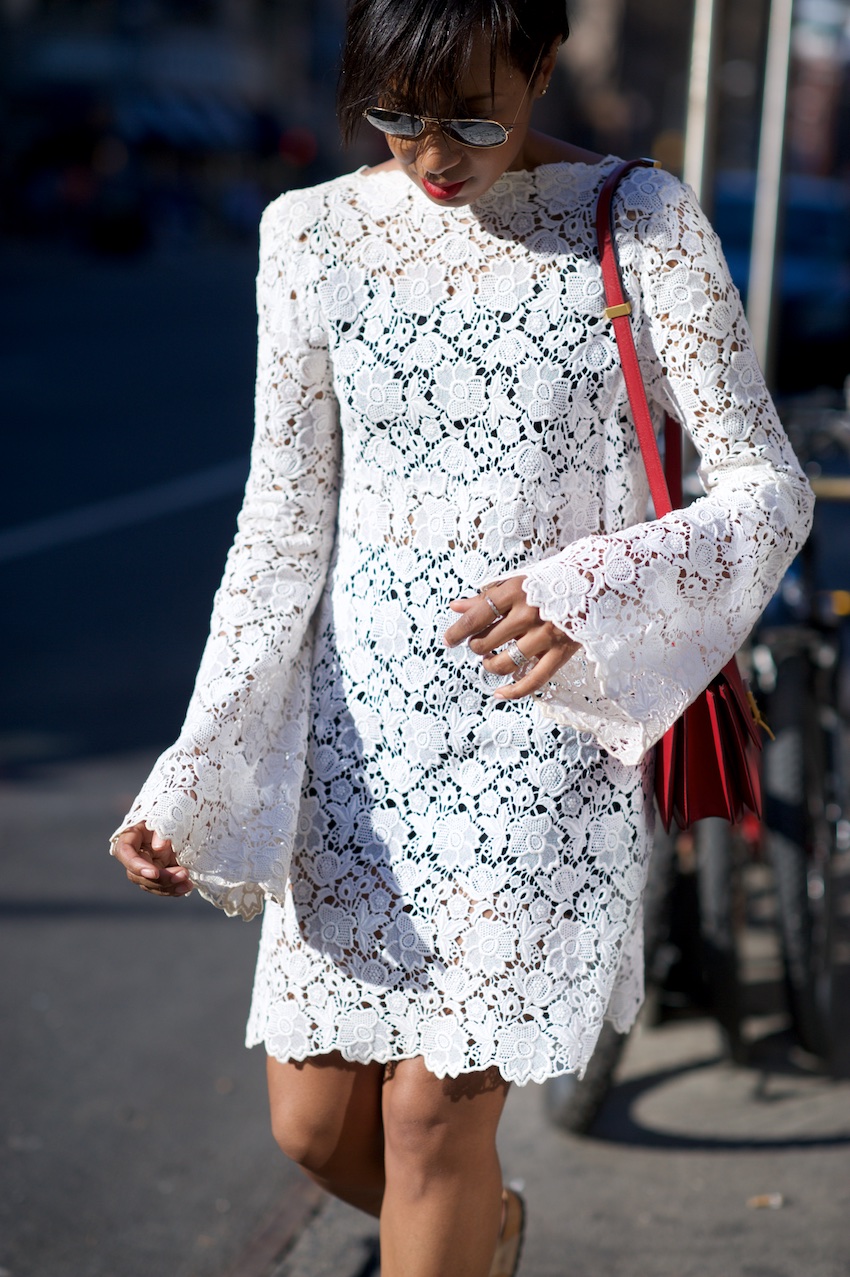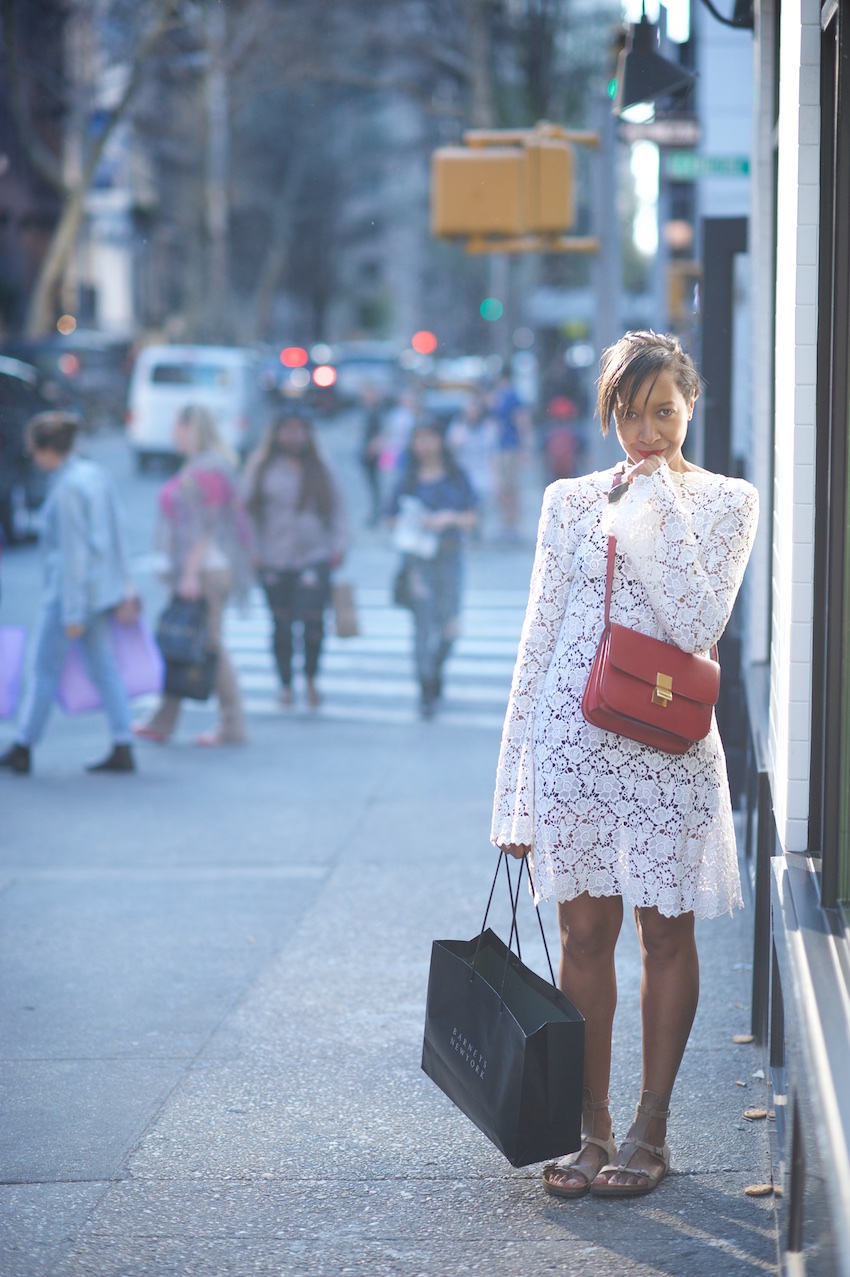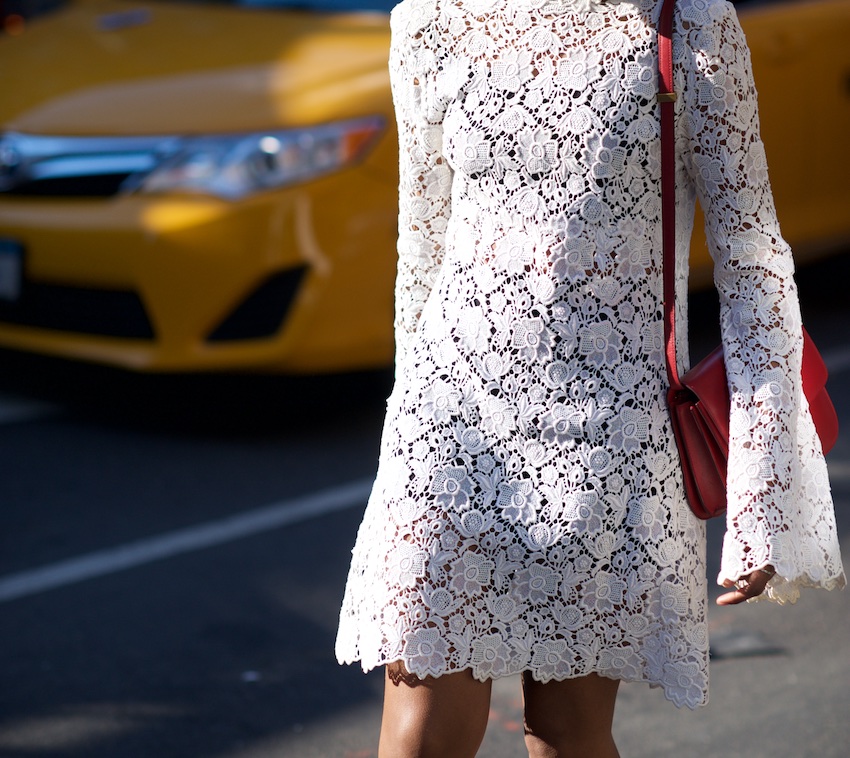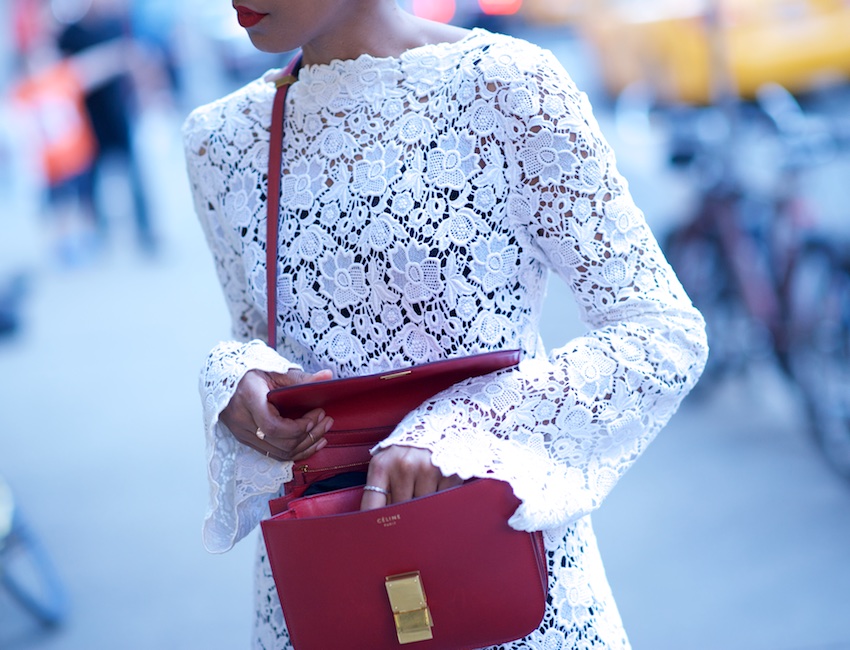 Dress: Diane Von Furstenberg. Try Asos or Revolve (impressive doily collection).  Bag: Celine (pre-owned). Lookalikes:  Jessica Burman or Amazon. Gladiator sandals: Birkenstock. Sunglasses: Ray-Ban. Lipstain: Sephora 'Always Red'
You know when you've had something for years and still love?  This dress is it.  I found it at Tokio 7 consignment and even though I would've/could've got married in it, I wear it casual with sandals every spring summer.  Can you believe that a year or so later I found it in orange and (wtf!?) I got rid of it?
The dress has a v-neck front but I wore it back to front this time (photo of the back on Facebook).  ALOT of dresses don't look bad the other way around – especially if you don't like v-fronts.  In a super doily way it reminds me of that white lace Chloe dress that's all over the internet but less $$$.
 ps. Check out the street style section above for more outfit inspo

666 pages

INSTAGRAM @KARENBRITCHICK
FIND ME