Definition: The Full Monty:
A
British
slang
phrase.
It is generally used to mean "everything which is necessary, appropriate, or possible; 'the works'"
. . .
Daria has been a been a friend for years and I am with her right now upstate for a few days. Our styles over lap so much that we now share several identical clothes and joke that we share the same brain.
Needless to say it was only a matter of time before I gave you the full monty on Daria.
"This was a find from a vintage shop on the Lower East side in New York. It's the perfect rain coat."
"I love vintage dresses, they never go out of style. My Mum found this in New Mexico. It was full length and the tendency is for people to cut them to mini length but I resisted the temptation and wore it below the knee and left it scraggly on the end.
It's so casual and just hangs off my shoulders and is oversized."
Blouse: Grandfather from Panama
"I've had this since college and it's been in constant summer rotation.
It's funny how some things that are actually authentic wash and wear so well where as if you buy the equivalent from say Forever21 the embroidery doesn't hold up."
Leather Jacket: Barn find upstate
"This is the biggest score that I found upstate. I don't know where it came from or who left it here. One of the owners here was clearing out the barn and they brought this in saying 'hey Daria what do you think of this?' "
"I have a least six motorcycle style jackets at home and out of all of them this one is my favorite.
It's perfectly broken in. There's no replacing actual wear. There's so many guides on how to break in leather jackets and the only thing you can do is really wear it or wear it really hard."
"This jacket means a lot to me because it was my Dad's actual army jacket from the 1960s. It's one of my fave pieces that I've worn continually since my college days and it's never been put away."
"Once the sleeves of this vest became outdated I cut them off. Now it just goes with everything.
A favorite look is a long full skirt with a crop top and this vest on top. It's one of my fave outfits of the season."
White faux leather vest: Topshop
"This is another favorite purchase from two seasons ago. It wasn't expensive but looks good. It goes with everything. You can have an outfit that's not cool at all and you throw this on and suddenly you have an outfit. It looks like you actually tried."
"Like you Karen I have a tendency to buy t-shirts at Walmart and cut them. They're so versatile. They're perfect for dressing down. Like you can take this fancy pleated skirt and dress it down for the country.
They go with jeans, skirts, shorts, leggings, winter, summer. These are my fave cheap things to do – buying cheap t-shirts."
"I'm a big collector I never throw anything away.
Now that I have kids I tend to only really make one big purchase per season. The rest of my clothes is a mix of high street and vintage versus pre kid days when I could indulge more."
Click to see more of Daria's wardrobe and a link to her living space.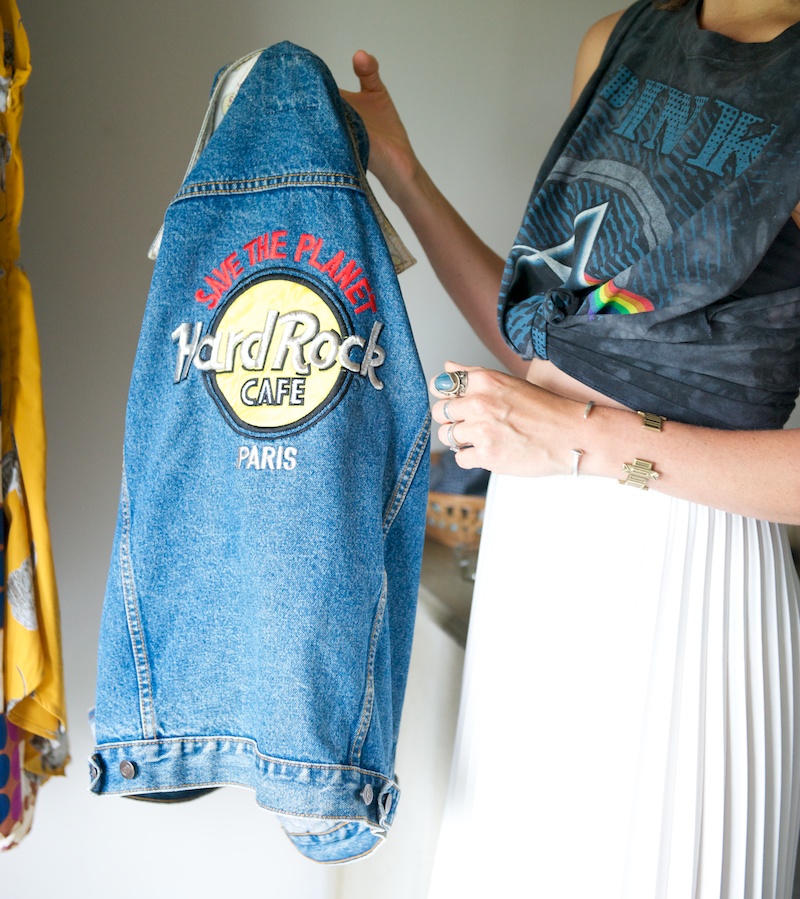 Denim jacket: Hard Rock cafe in Paris France
"My favorite time of the year to dress is the summer. I'll take trips out to the barn and find things purchased years ago and forgotten about and this jacket is a piece I discovered last summer.
This was a find in a trip to Paris in eleventh grade. All of my spending money went on it."
"I've always joked that when I die I should probably be buried in my Docs because I've had them for so long. They've been to many concerts and been through many shoe laces. These are second skin to me.
The brown cowboy boots were found at a yard sale in Florida. They're just too heavy to wear in the summer time comfortably so I cut the tops off and now they're in constant rotation.
The studded Converses were gifted to me from Karen at WDUGT. People ask me about them whenever I wear them."
Left to right: Birkenstocks. Zara Sandals. Boden metallic brogues. Lotto sandals. Jeffrey Campbell boots
"The silvers are my favorite pair of oxfords. It's such a Mum cliche to buy from Boden and these were the only cool things on there.
I always used to make fun of hippies re
Birkenstocks
and think that I will never ever have a pair because they are horrible but now I've got two pairs and want three more."
Wood sandals: Lotta from Stockholm
"These are just as good as my Swedish Hasbeens and half the price. The leather and foot bed is just as comfortable."
"If I ever may need to pop into New York to go out I've got my little sexy
Clover Canyon
dress.
I love that you can dress this down. One of my favorite outfits was wearing this with a letterman jacket with leather sleeves draped over my shoulders and flats. I've worn it to a wedding and I've also worn it to a bar totally trashed out.
You can even throw a sweater over it and I've worn it as a skirt.
This was my one splurge for that season."
Left to right: Old Coach bags. Mini tooled bag: New York find (purchased for under $20).
"The Coach bag (far left) was a find at a yard sale for $3 and the other was from Etsy. It's totally my style on how I love to find things."
Marc by Marc Jacobs dress: Saks
"When I told my friends online that I was going to buy this dress they told me that I was crazy. Then I purchased it and wore it out with a few of them and suddenly they all want it. It's one of my favorite purchases for this season.
I waited till I found a great code online and paid $200 instead of the original $300+"
"I'm very much into midi skirts this year with crop tops. I love to wear this with everything from Birkenstocks to oxfords. It pretty much goes with my entire shoe collection.
In general denim and chambray is really big for me this year."
"This goes with my shorts or jeans. I mean if I wanted to wear this to Burger King I'd find a way.
There's something about shopping with a kid that makes you more child like with your purchases too."
Skull head: Mother in law gift
"I've been searching for a skull head for years."
"For jewelry right now I'm loving Giles and Brother cuffs."
"These were a great investment shoe. I've had these for like four summers now. What sandals can you have for so long, wear constantly and they still look good?"
Screw driver earrings: Miranda Frye
This is from California designer Miranda Frye.
She sells mostly delicate pieces.
Her earrings and necklaces are a pretty big rotation for me.
Snake skin clutch: Barn find upstate.

"I have no idea who's bag this was or which drunken hippy left it here but I love it. It's not the most practical of purses but I love it.
Where Daria Shops:
I'm seriously in love with Zara this season. I feel like they've really stepped up their game and have a really cohesive collection. I also like H&M. I do a lot of shopping on
Asos
and
Need Supply
: the latter has a huge price range and I love how edited it is and their models are not too pretty but they are like
real girls
with tattoos. I totally buy into that. Also Refinery 29 beauty is cool for ideas.
Shopbop
has been on the top of my list from the beginning of the internet."
Daria is wearing a skirt from Zara. T-shirt from Army & Navy shop. Boots from All Saints.
You can check out Daria's home
here
.