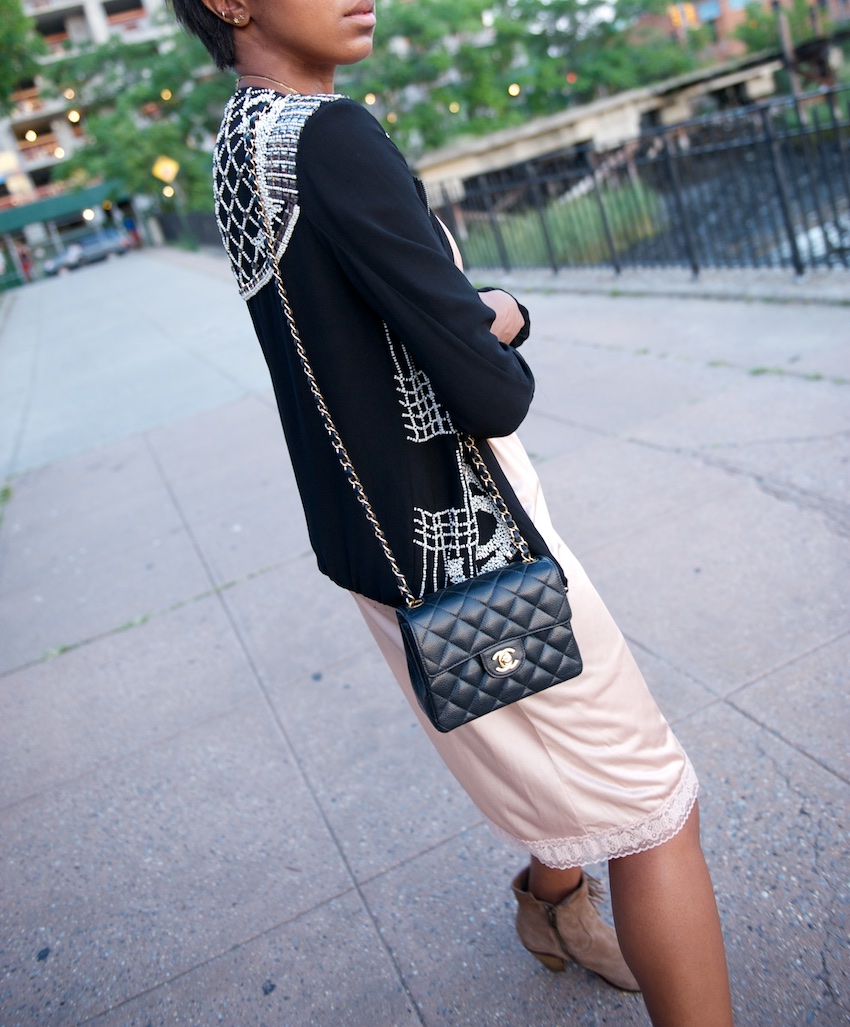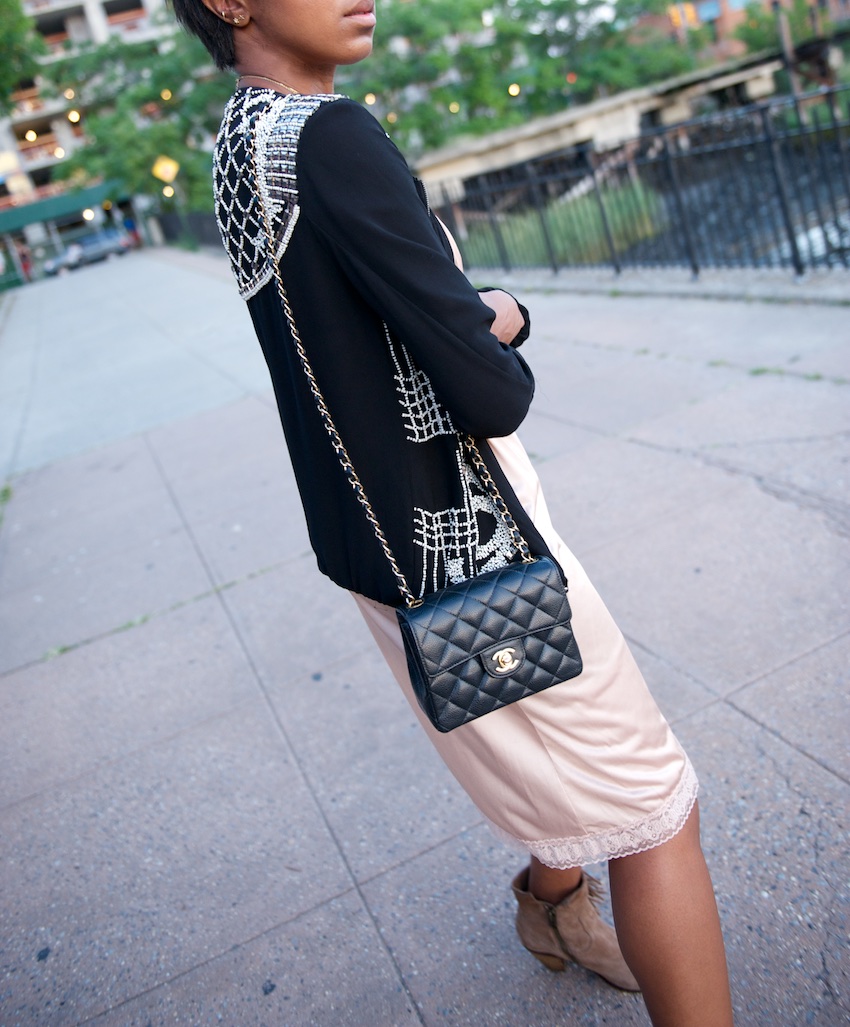 WARNING: LONG POST.
+ + +
This post is for the: I'm maybe, possibly, eventually semi-thinking-about buying a Chanel bag but want to pay less than retail.
I thought that it was only fair that if you see me wearing them on my blog, that I at least share my where did you get that intel and help anyone who is looking, rather than to keep publishing outfit posts and stay silent on the tips I picked up. All mine (except one) are from eBay, trusted forums and online resell sites.
Years ago I thought that the only way to buy an authentic Chanel was at a Chanel counter. However, I learned that if you don't mind doing the research, you can find them for less than retail. IDon't get me wrong, you're not buying a box of cereal here so wait till it's the right time. Note: Chanel increases their bag prices twice a year every year (which is ridiculous and even more of a reason to avoid the counter if you can).
After several months of thinking about it (well technically years but months for the shopping part), then saving and researching for bloody ages I took the plunge.
Here's What I Found Out:
1. Do Your Research
Get on the Chanel section of
The Purse Forum
(TPF). I spent a long time educating myself on there. The members are experts and any question that you have has probably already been asked and answered on there if not this year than at some point years ago. Their archive of information is mind blowing.
Spotted Fashion
is a reference guide for releases each season going back several years.
2a. Dealing with eBay
eBay is infamous for selling fakes but there are a handful of sellers that sell authentic Chanel bags and many allow you to return for a full refund. These sellers are usually known in TPF. Get their
list of trusted sellers
for more info. If you are unsure if a seller's bag is legit, paste the link in the 'Authenticate This' section of TPF and the women will confirm either way for you. Also for a small fee you can check with
Etinceler
who will authenticate any website links that you send to them. For me, eBay is the last resort (unless you
really know
a highly recommended trusted eBay seller e.g. Fashionhulu who I've bought from before), otherwise go straight to point 3.
2b. Photo Stealing
A listing can show photos of an authentic bag but the seller may use stolen photos. If you are unsure, request that the seller send an additional photo of something very specific ie. Asking them to point to a specific area on the bag. That way you know that they really have the bag vs stolen photos. If they refuse, walk away.
2c. PayPal
For buyer protection never pay outside of PayPal. Also if your PP account is linked to your credit card, many credit card companies will do a charge back to your card if you contact them to do so should anything go wrong. If you receive an authentic Chanel but it's condition is a lot different to the seller's photos eg. there is a dent, large scratch, other damages etc that wasn't mentioned in the listing, you are within your rights to get a refund via PP even if their auction states 'final sale.'
3. Resale Sites
Sites known for selling authentic Chanel bags (and recommended by TPF) include: Fashionphile, AnnsFabulousFinds, Yoogiscloset, Malleries and Pursehop. Their bag's range in years from today going back by several. The conditions range from fair, good, excellent to never carried/brand new. Most have a full refund policy and/or a layaway plan to pay in full later. Double check that their prices are indeed below retail but many are MUCH less, by hundreds (if not thousands).
4. Try Before You Buy
Try on bags at a Chanel counter first to remember the style and size that you want. Don't feel intimidated. Bring a friend if you want company and an objective opinion.
5. Department Store vs. Chanel Boutique
IF you buy retail, get it from a Chanel counter at a department store e.g Saks, Selfridges etc. They offer return and/or exchanges. Bergdorf Goodman allows a very long return time. Buying at a stand alone Chanel boutique is FINAL sale.
6. YouTube
There are tons of Chanel bag reviews online which really helped me. Type in what you are looking for eg. 'Chanel classic flap bag' and watch the videos to see honest opinions of the bag that you are considering. Once you know the name of the one you want (see point 1 or get the style name from the Chanel counter see point 4), type in that name to watch videos specifically on that one.
7. Vintage
It's almost unanimous amongst owners that Chanel bags were better made before vs. now. If like me you are open to pre-worn or used vintage bags, then consider them for the HUGE SAVINGS versus the prices of Chanels now.
See point 3.Most of you know that I love to shop high/low: vintage, second hand, high street – nothing is off limits – including the odd designer thrown in. I hope that this post will help those that are considering the latter.ps. All of the above info applies to any designer brand – not just Chanel.
Karen x