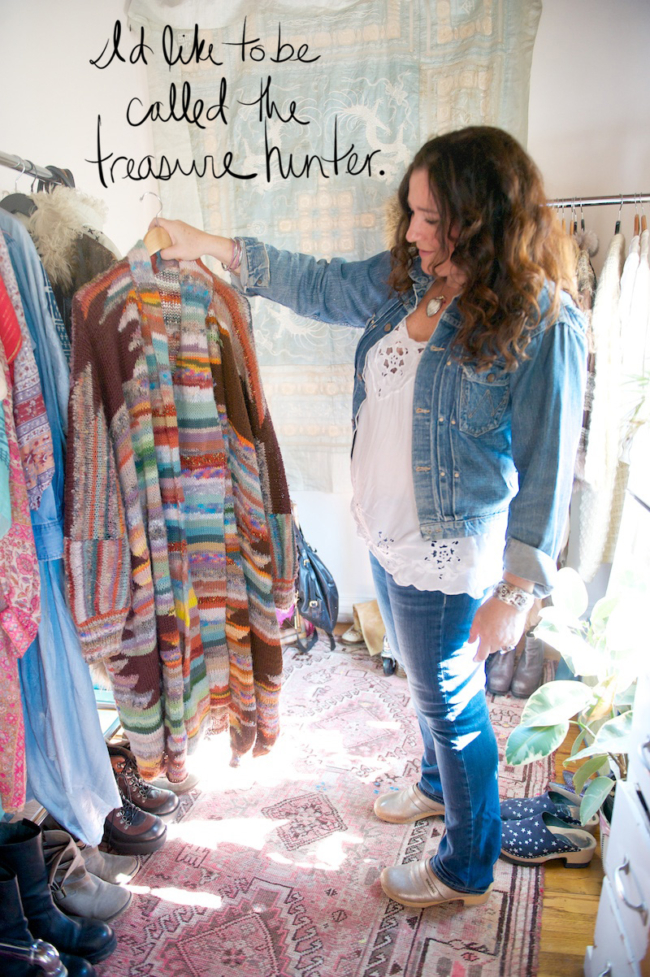 Definition: The Full Monty:
A
British
slang
phrase.
It is generally used to mean "everything which is necessary, appropriate, or possible; 'the works'"
I first met Anna while shopping at her Foley & Corinna boutique on Stanton street in Manhattan and we remained friends as I watched her brand grow. Being that she is a fellow vintage lover with an exceptional eye I had to get the full monty on some of her favorite pieces.
"This sweater coat is a consignment find. It's like a Ralph Lauren from the 1980s. I found it from an amazing consignment place on the upper west side. It's actually a really odd place but I go in all the time and found this."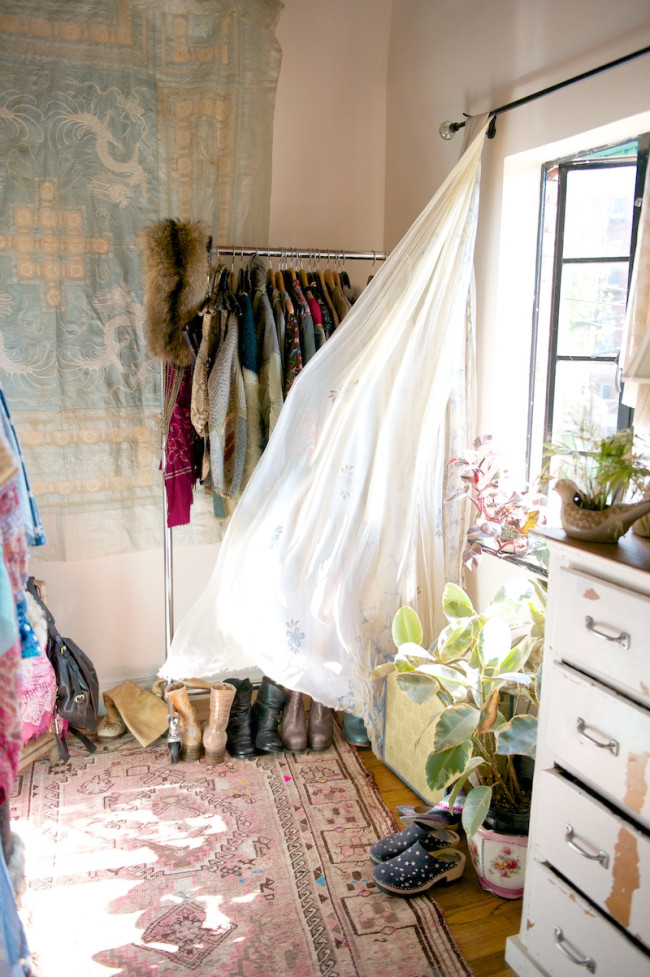 "I love collecting things but it's not like I have that store anymore to sell them so now I'm basically like a hoarder.
My Mum is an antique dealer and used to work the 26th street flea market. I was out of college and thought what can I do to make money. Since little I collected things and thought let me try and sell stuff at the market. I brought one duffle bag of clothing and one rack. I made more money in that one day than I did in one week at my job which I hated. I quit my job that week. So I thought ok I don't know what I'm doing but I'm making money here so I'm going to do this till I figure out what I want to do. Now every girl in Brooklyn is selling vintage but back then I was the only young girl doing it. Vintage was popular but there was no young cool person selling it in a young way. At the time everyone else was selling quilts and lace.
Then I worked at the Metropolitan vintage show and started to meet young designers like Donna Karan, Anna Sui (who still goes every week to the flea), Catherine Malandrino and teams from Ralph Lauren.
I would put together inspirational style stories for them and sell it to them and eventually I was offered a job at Donna Karan and Ralph Lauren. But I liked working for myself and opened the Foley & Corinna store and then they would all visit."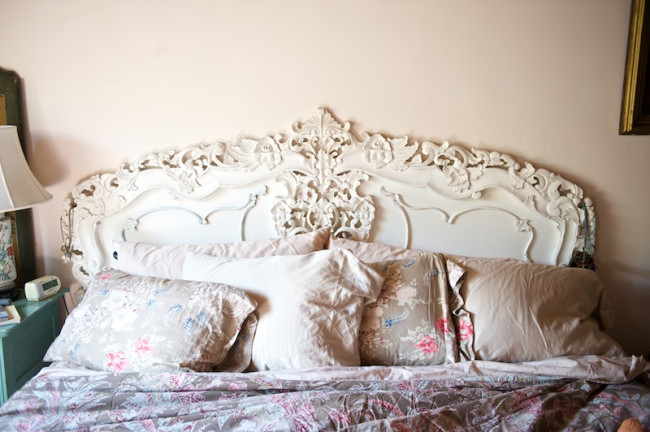 "I did the market on Saturday and Sunday and would go shopping during the week. I miss that with all my soul. It was fun but fun for my mind. That's why I couldn't work for someone else and did my own take on it which grew into stores and then it was the Anna Corinna bags which became so successful that it sort of all became about that."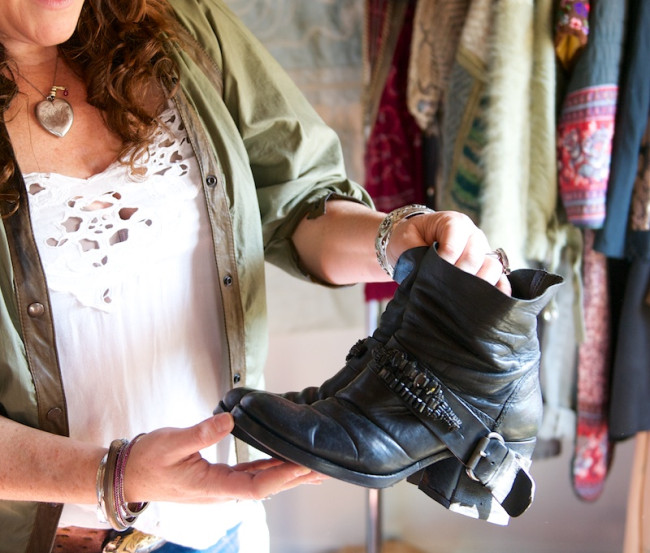 "I got these about five years ago at Neiman Marcus. They're like pirate boots. I fell in love with them and looked for the label which was 'Vera Wang Lavender' and they are all kinda beautiful and tough. They all have jewels on them. There was another pair I bought and returned and kicked myself for doing that: they were beautiful brown knee high boots with gorgeous antique gemstones and appliqué in the back. They were soooo gorgeous with a big heel. I STILL think about them."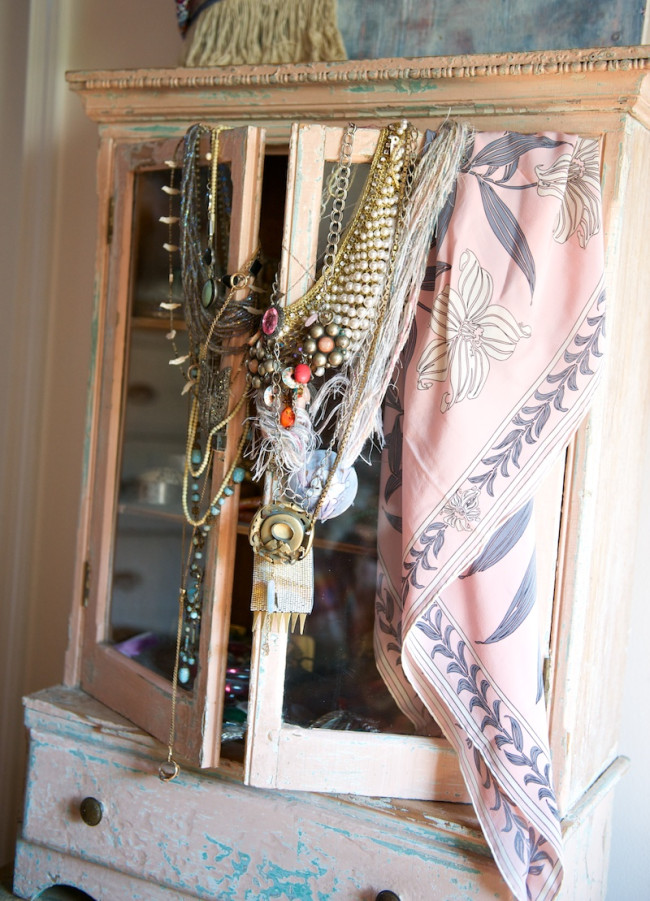 "I love unicorns, horses, butterflies and pegasus pieces."
Click the below link to see more of Anna's incredible things.
"If I had to pick my favorite thing I just couldn't but if I walk into a brand new place I would go to the jewelry first and then bags or shoes.
I love looking at jewelry hanging. It's all beads and sparkles."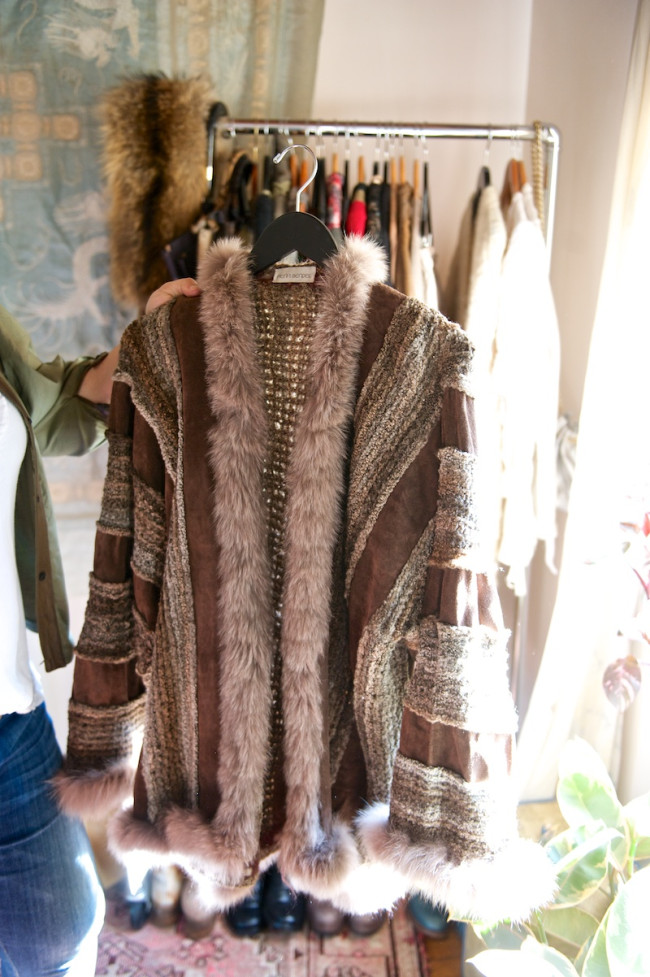 Cardigan: Suede and fur: Thriftwares
"I think that's what is great about vintage: everything has a story even if you don't know that story.
It makes me sad like the whole fast fashion thing. Everyone can buy things for cheap but I think that they lose their value. They are not as important and they don't last as long and don't mean as much. I think there's something sad there. There's this pressure to keep making things cheaper and cheaper."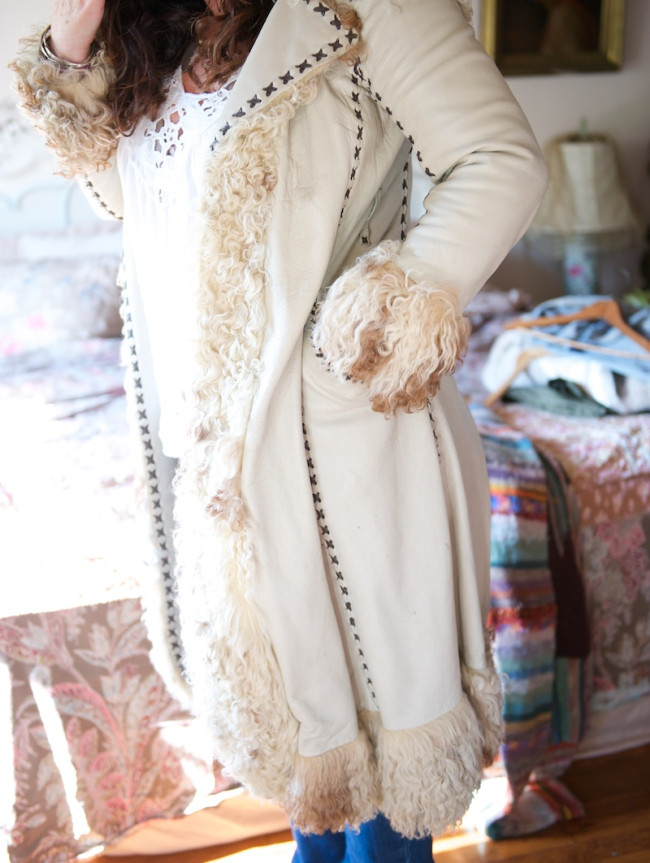 "This is my favorite coat that I got when I used to work at the flea market. You know when you get something and everything about it is just great?"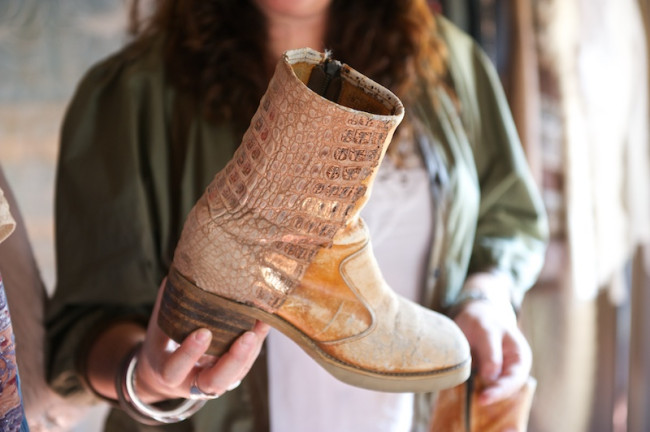 Boots: Re-worked vintage fryes
These boots are completely destroyed and were totally blown out. In our office we had scraps of croc and alligator so I had that put on the back.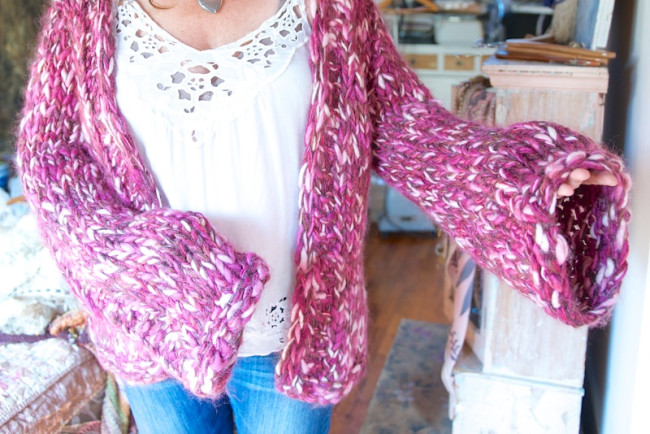 Chunky knit cardigan: Mary Catalina Vintage
"I LOOOOVE chunky hand knit things and love these hot pink raspberry colors. It's the chunkiest most beautiful knit and has a great sleeve. I appreciate that someone made something that is hand knit."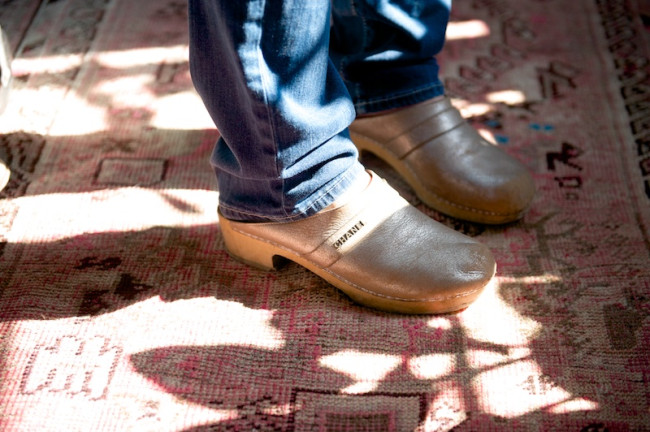 "I love clogs and I love Chanel but it's a funny brand where I feel like I'm not that person and I'm not that lady. I was at Barneys two three years ago and they were on sale so I thought that's my opportunity.
It's probably the only one piece of Chanel that I'll ever own and I've re-soled them once already."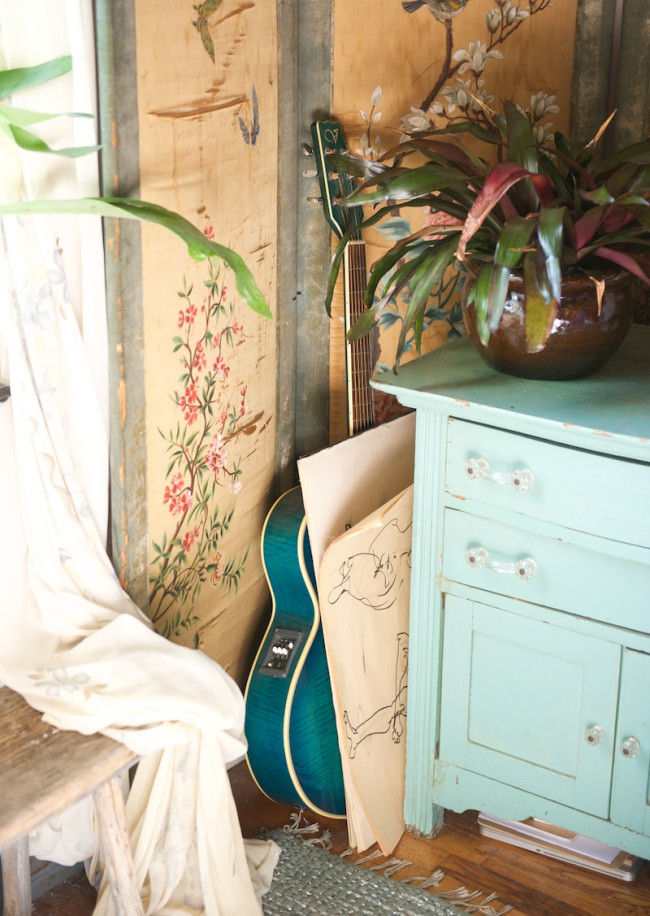 "My aesthetic is kind of hippy but I like to think that it's always really beautiful and that there's always something special to it that's striking."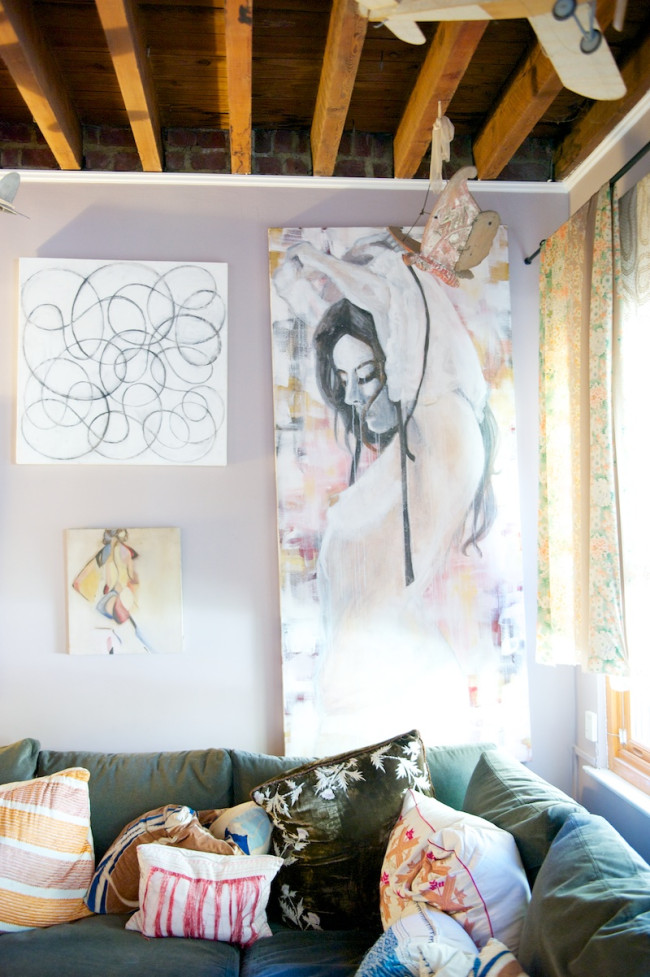 "I am always looking in the most random places so I find things everywhere and because I'm not restrained in what I love, I find things."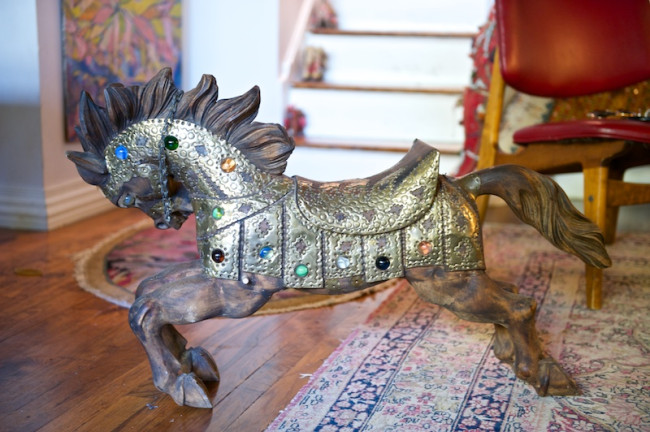 Horse (set of 2): The Big Flea at The Piers
"These horses are the best thing that I found in like forever.
I still go to the 25th street market and the Metropolitan. The Brooklyn flea is sweet but it's not the same. It's different. It's moved away from those antiques and into something else. Again, there's soooo many people doing vintage now but to find really beautiful things you have to look harder to find people with that certain eye."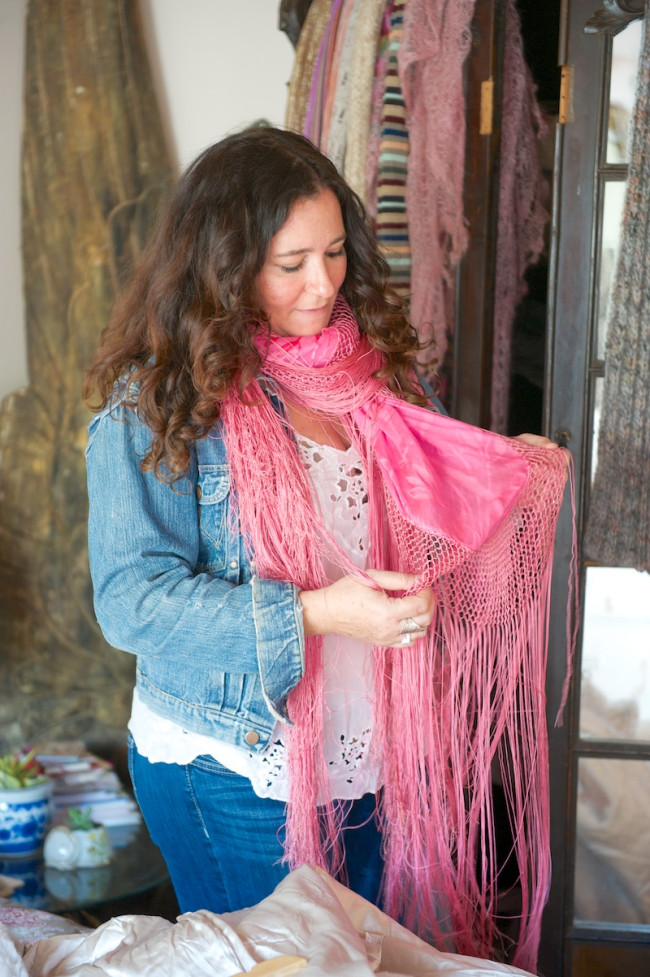 "I LOVE piano scarfs, they are just beautiful drapey things and this colour is just fantastic. Pearl River on Broadway sell white piano scarfs and Dana Foley designed made my wedding dress and we had it made out of those scarfs."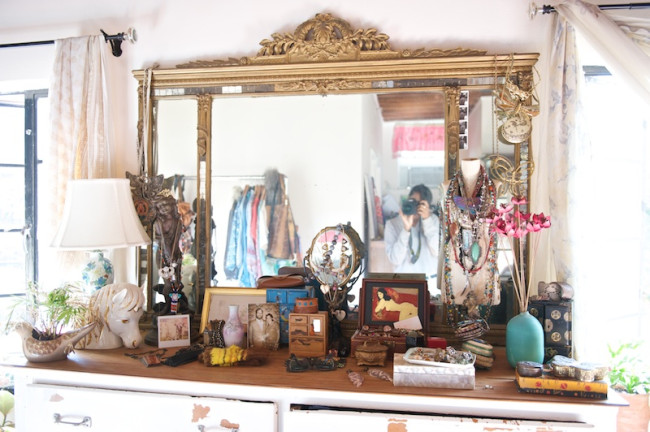 "One day when I first started selling vintage, I was in the middle of nowhere between New York and Pennyslvania and I saw this huge barn selling vintage consignment. The clouds parted and the angels sang when I saw it. I go inside and it was a football field of racks! In the back their clearance rack had a denim jacket and I thought: 'this is good.' I paid $2.75 for it. I wound up selling it and it more than covered my first months rent. I sold it it to a Japanese clothing dealer. Things kept happening like that. I thought back then that I don't know what I'm doing but this is fun and that's kind of how I got started."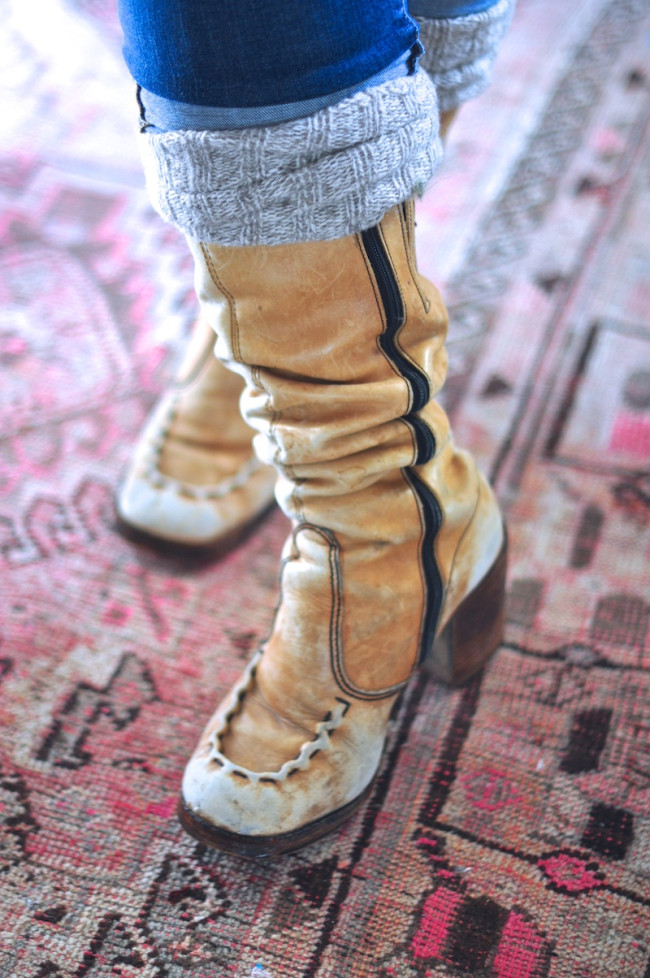 "These are vintage and so worn. The sole totally cracked but I found ones similar on eBay.
That's what I love about vintage. It has a value that's beyond even the thing itself and it get's passed on."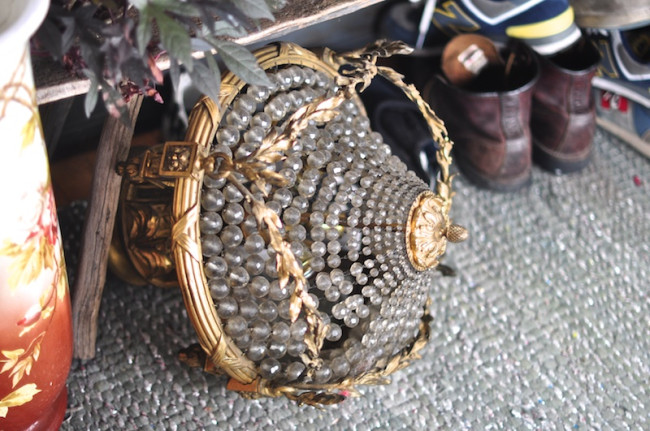 Chandelier: Anna's grandmother
"My grandmother passed away two years ago and she had this. It's bronze and ways a ton but I want to eventually hang it."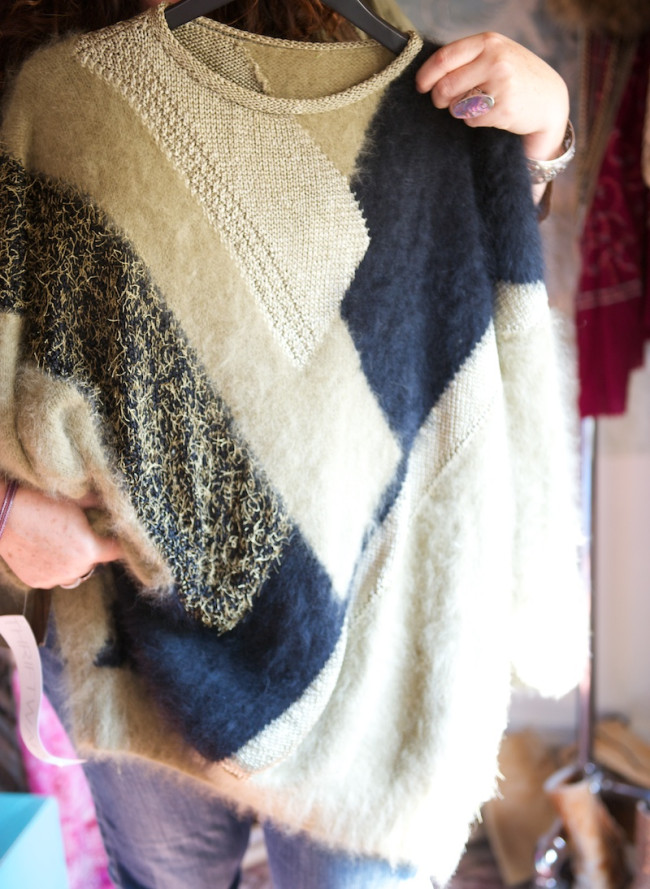 "I found this new girl with an online store called Thriftwares. I think she's really good. She's my new favorite and she tells me she lists 100 new things every week."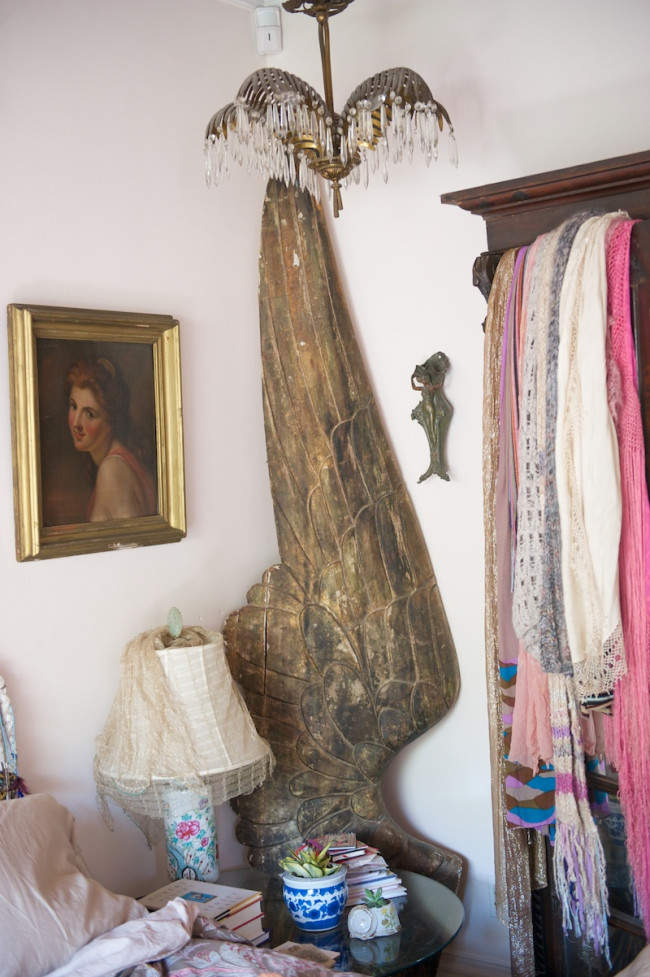 "Home, art and jewelry are my three favorite things.
I feel like when I talk about what I love to do it's like treasure hunting. I can find the most random things. I'm always finding beautiful things and figuring out what to do with them. Before it was finding them for designers for inspiration then it was making bags out of actual vintage pieces, that's how I got started into making bags. I could be making a sweater, a clutch or a bag – to me it's all the same thing."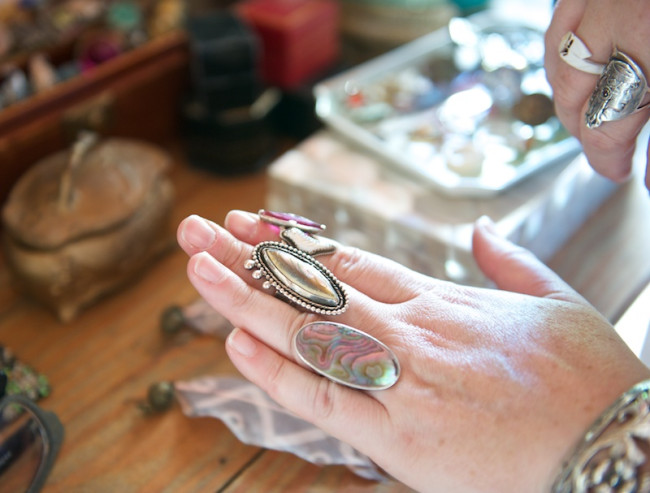 "I love giant rings and have tons of them."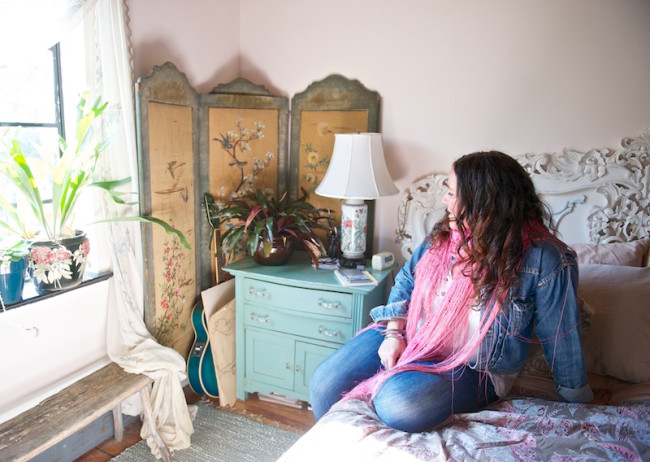 "I'm not attached to things but I love showing people things and putting beautiful things together.
My studio is now my extension and is filling up. I bought a pair of size 7 shoes that don't fit me but I know a good idea when I see it so it could be bags. It could be shoes. It could be a wing."