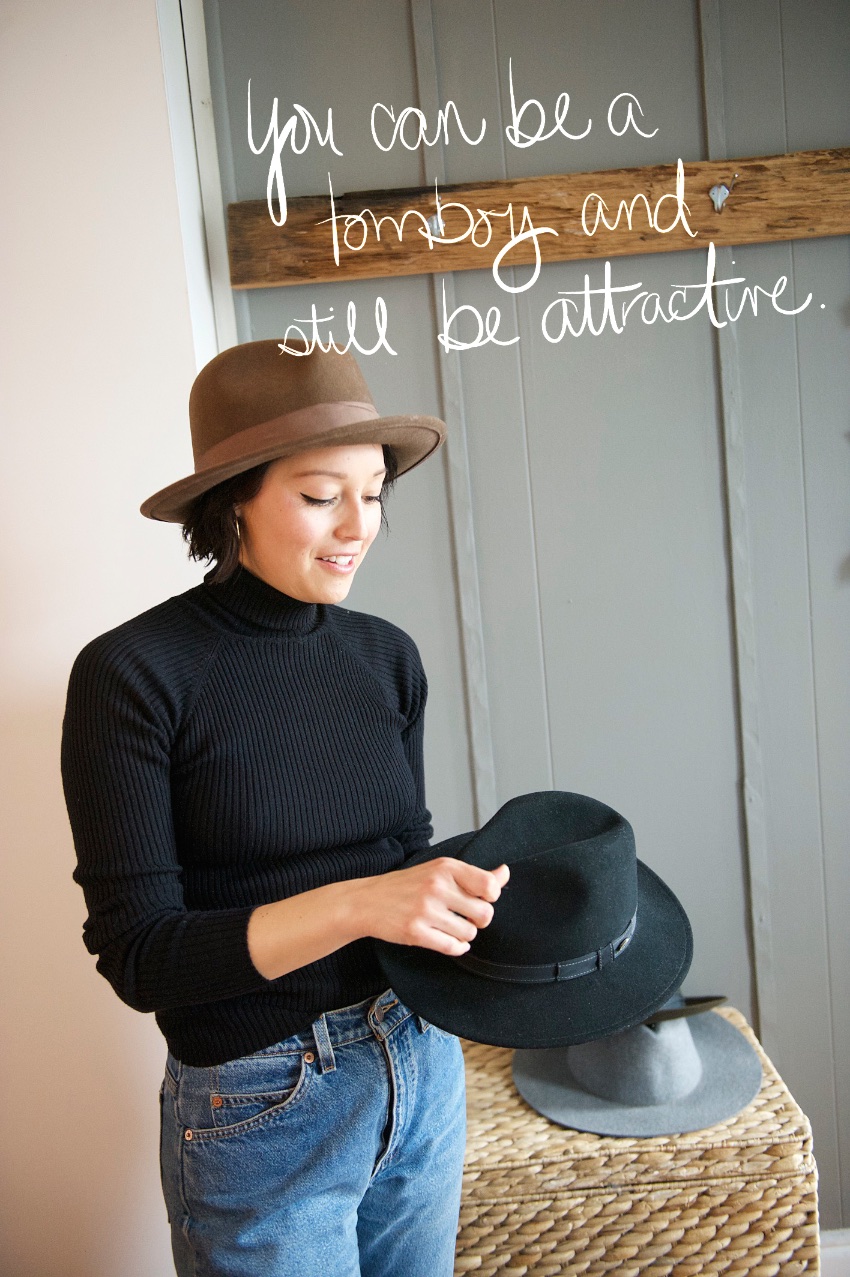 Definition: The Full Monty: 
A British slang phrase.  It is generally used to mean "everything which is necessary, appropriate, or possible; 'the works'"
.  .   .
 I have quietly admired Rachael's unique style from afar for years and felt that I had to ask if she'd be up for me doing a feature about some of her favorite pieces.  As the former Fashion Market Director of Style.com (and a fellow vintage lover) it's interesting to see what she loves and why.
"I don't wear a ton of hats because during fashion week you're running around and it's often windy and somehow whenever I wear one it gets blown off my head.  I don't want to be taking care of things that are falling off so I wear them in real life. I love hats. I think they do such a great job in adding personality and character and they play a role.  I think some people think that hats are pretentious like you're trying too hard but I don't think that's the way. If you wear it well then you just own it.   I'm from California and grew up with no seasons. I went to school in Boston and my first winter was a nightmare.  In LA no one wears hats or scarves for function and I realized later on that that is what they are for."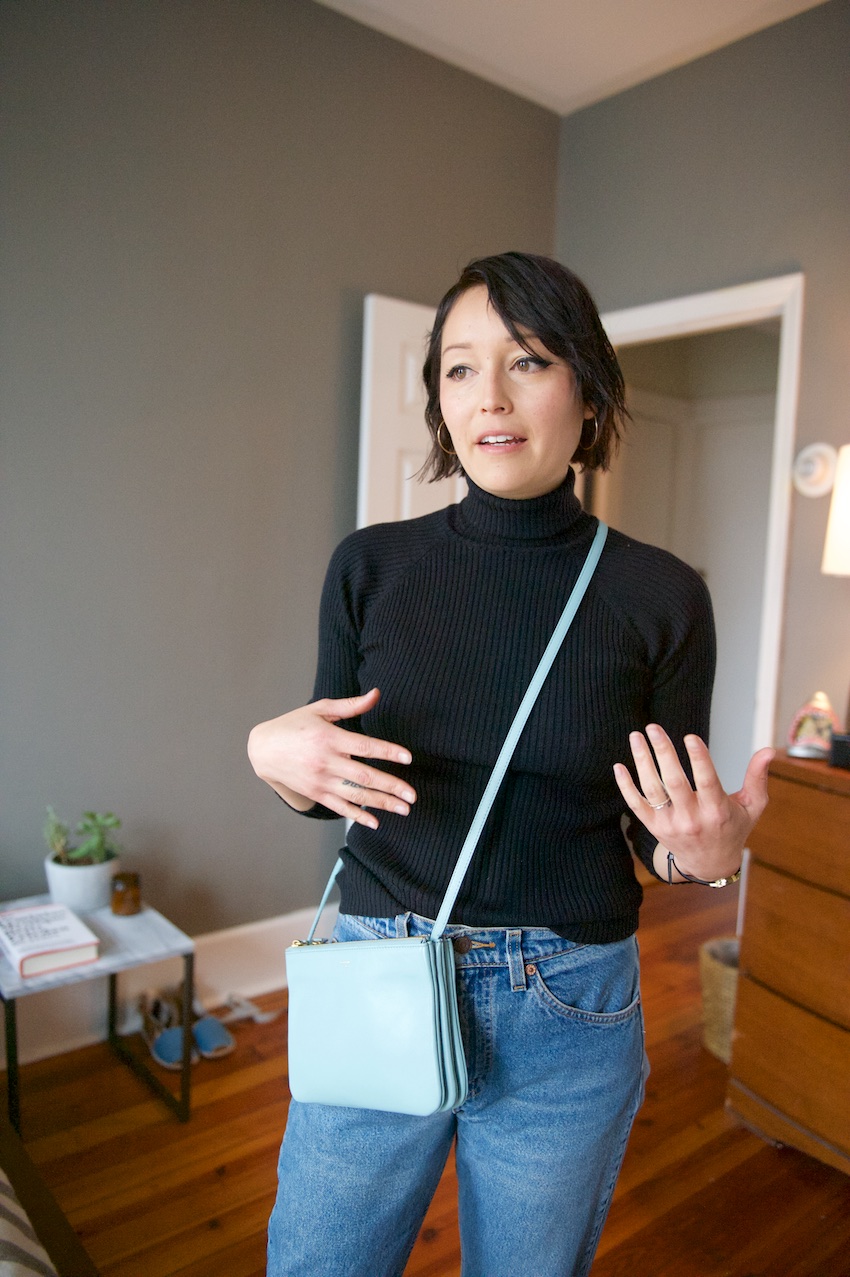 Bag: Celine
"I bought this for myself when I got the job at Style.com.  It was my way of saying 'I'm a big girl and really proud of myself.'  I don't usually treat myself with shopping, I usually go on a trip or do something that commemorates the moment in a life building way but this was something I'd kinda been wanting for a long time and I love the colour. It was the first time I'd ever splurged on a bag and I wear it to death and it's super functional."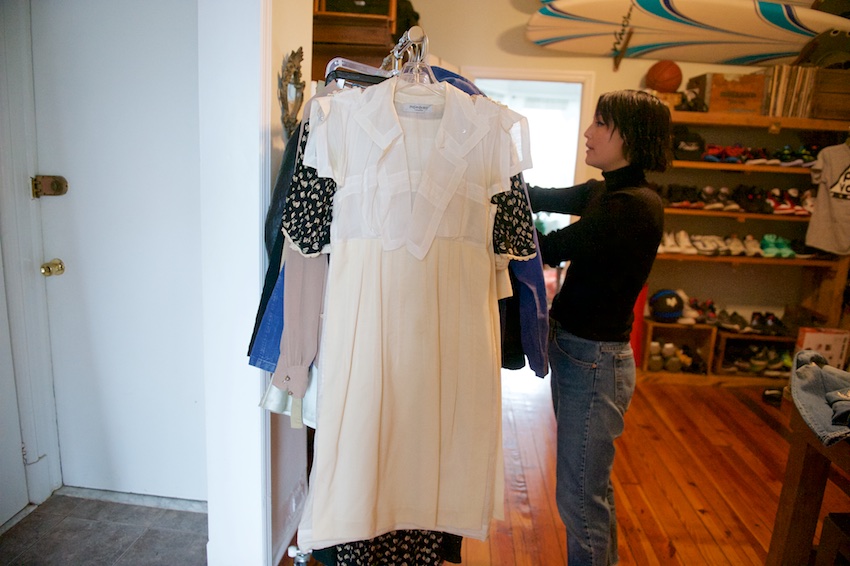 "I feel like people that love vintage are eclectic. They really love clothes from a different place. They love the eclectic mix and somehow it just shows through more creatively you know?"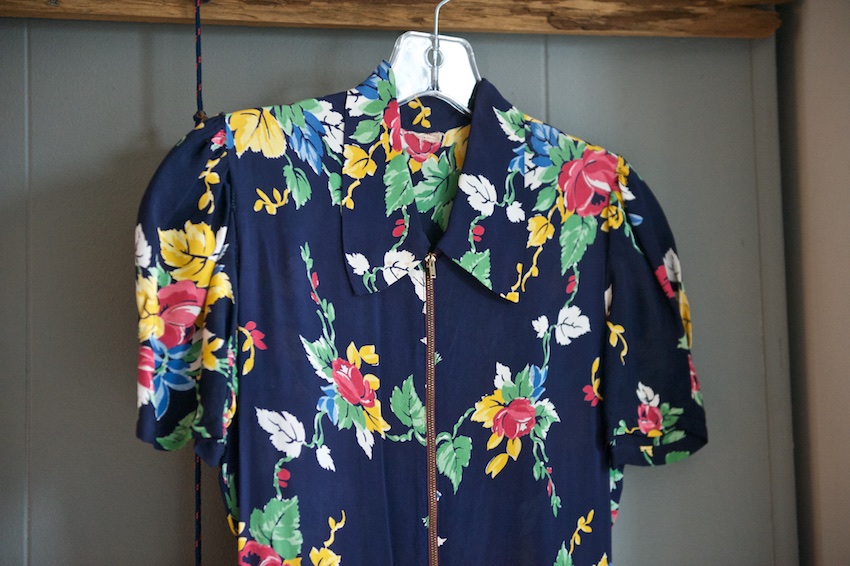 Vintage dress: Thrift shop in Portland
"I have these forties tea dresses that I collect.  When I worked for Glamour magazine several years ago I used to travel often going to home towns of various women that we were shooting.  I made it part of my game that I've got to give myself one treat so I'd locate one thrift store in the town that I was in and I just found this great dress."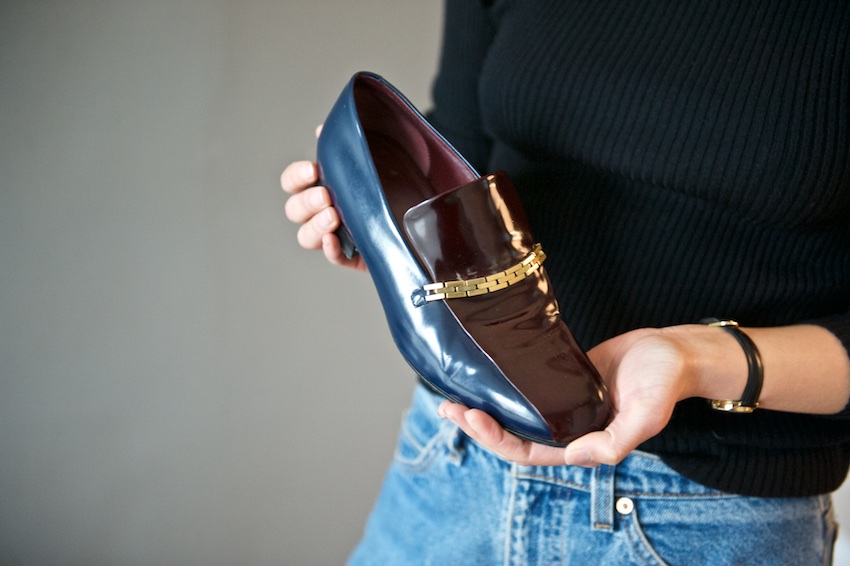 Loafers: Celine
"These are my favorites.  I found these at the Barney's outlet on my way to Coachella.  I went last year with a friend for work and thought ok if i'm going to Coachella I need to make it worth my while. We went to Barney's because I have good luck on their sale rack.  I loved these since they first came out.  A lot of editors bought them and I thought I can't afford them.  On sale these were around $300. Still an investment but I think they're my first pair of really nice flat shoes. Designers are really making an effort with flat shoes just as much as they do with heels.
They are my working woman shoe. I feel just as confident and stylish wearing these as I would wearing heels.  It's the perfect quirky cool menswear looking shoe. It's everything that I've wanted in one."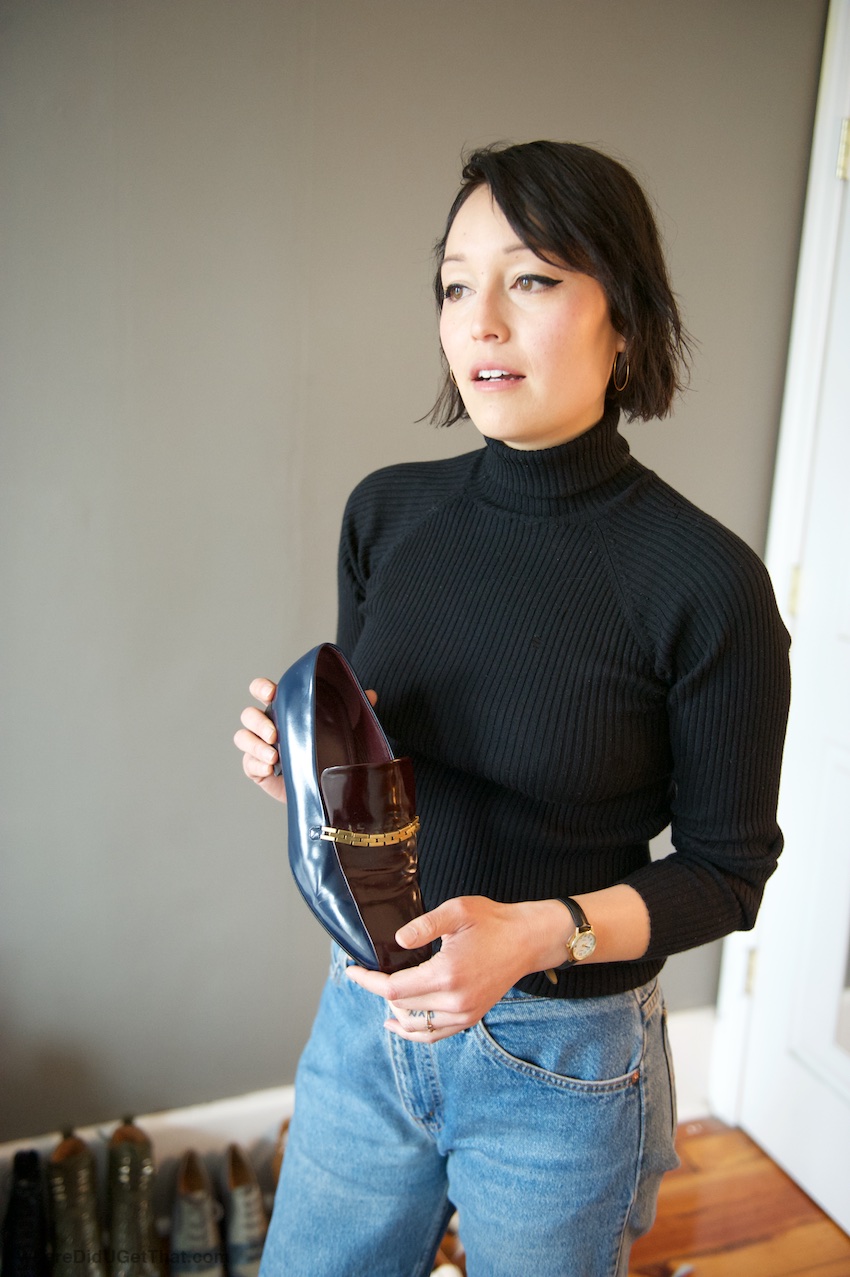 "In a way I feel like it's old fashioned to wear heels because it's an old fashioned ideal of gender roles. Women are supposed to be these polite incapasitated people: you stay in the house, your not working, look pretty and heels will elongate your leg. It's this idea of what a woman should look like. To me that's a little archaic.  The woman today is running around just as much as a man and the ideals of beauty have changed. You can be a tomboy and still be sexy and attractive. I think that you can be a strong woman and not have to wear heels to show your femininity and that's really exciting. You don't have to be wearing high heels and a mini skirt for men (or women) to think that you're beautiful."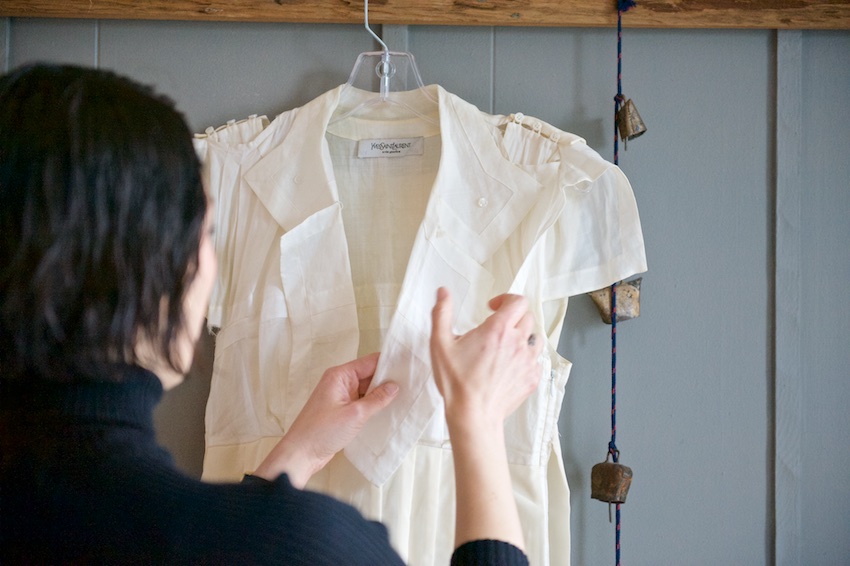 Yves Saint Laurent white dress
"I found this many years ago when I was an assistant.  A bunch of my friends who were more senior editors said 'come on Rach, we're going to take you to the Yves Saint Laurent sample sale' and it was my first sale.  Maybe they were getting rid of old stock because I found this dress in a bin.  It's kind of shredded up and has all these layers sort of like a pinafore and a nurse dress in one."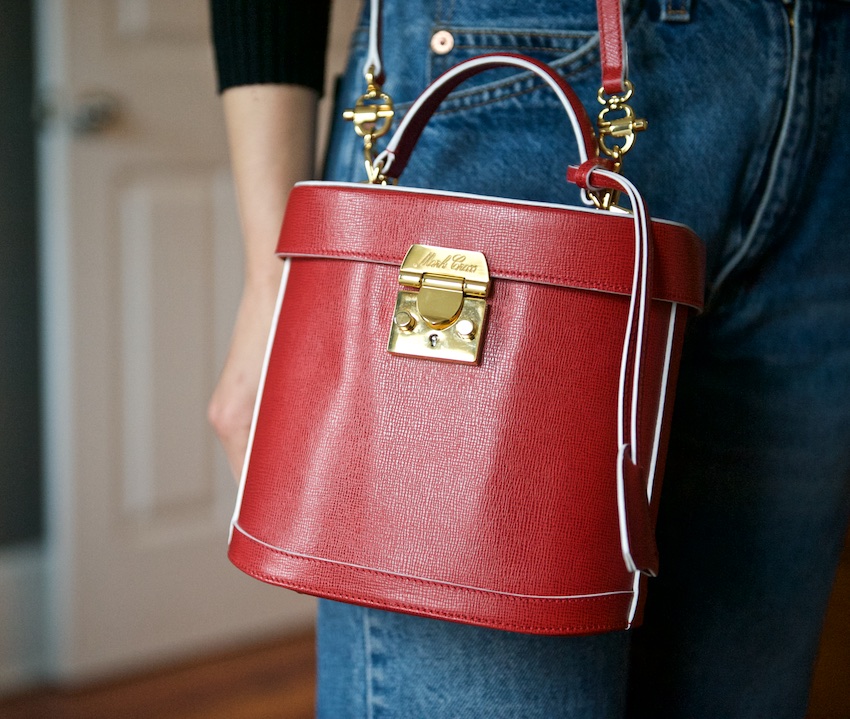 Bag:  Mark Cross
"The story is that Grace Kelly carried her lingerie in these tiny little box bags. Again, I'm drawn to things with a story so that makes me like it that much more.  I'm not drawn to the fifties for the clothing, it's more the sixties and seventies but I love the bags from the fifties. I love a structured doctor or lady bag so I like that Mark Cross has these super structured bags and I LOVE the red."
"More than likely any pictures that you see of me are during fashion week and I'm a very sensible person.  Fashion week is my olympics and you wouldn't wear stilettos to run to shows.  I feel like I have to wear flats because that's when I need to be on my feet the most.  I do wear heels to work and when I'm not running around.
For me, during fashion week this is the time that you see all the colleagues that you respect and so you're trying to put your best foot forward so in a way it's like going for interviews every day for an entire month. So you want to show the best version of yourself.  That said I need to be comfortable. There's a fine line.  People know that they're going to get photographed so I don't know… it's like a class photograph so you dress up for the day because you know you're going to get your picture taken. It's sort of exhausting when you think about it."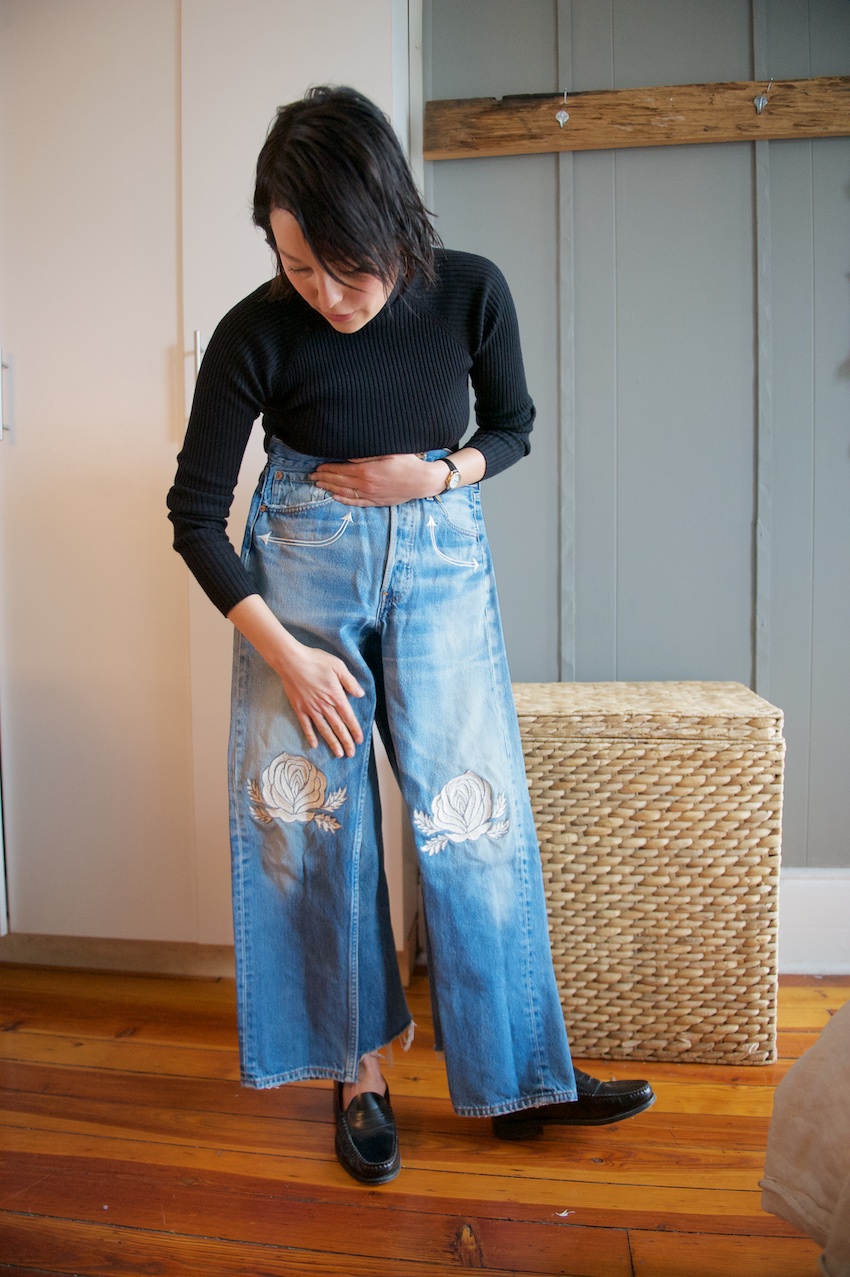 Jeans: Bliss and Mischief
"The lady who started this company is vintage obsessed like I am and she sources great vintage Levis and western embroidery.  Her trademark is the roses on the knees. The jeans alone are straight off just amazing. The embroidery just makes them extra special."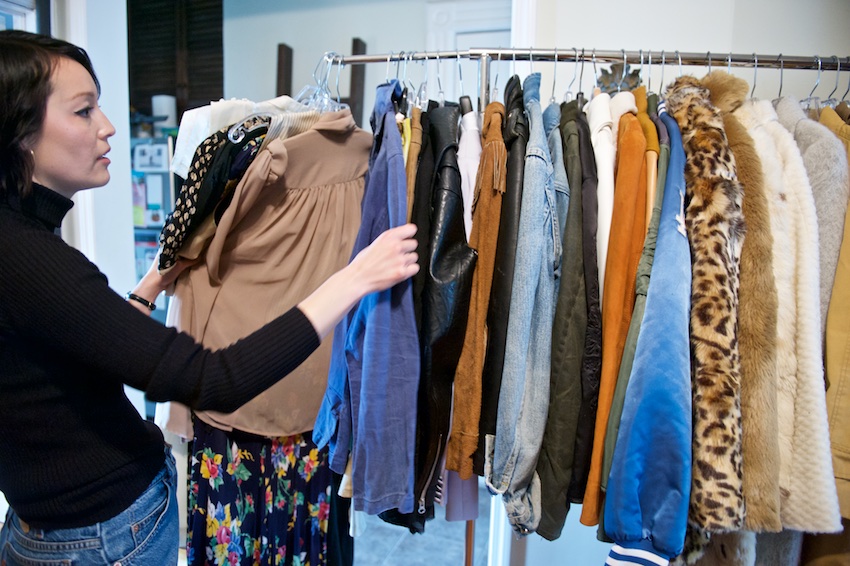 "I love vintage! My Mum always makes fun of me because we'll be at a flea market and some vendor will go on and on: 'this is a flight jacket that was worn in world war II and the pilot died' and all this stuff and I'll have giant eyes and am completely believing him. We walk away and my Mum's like 'he was totally making that up!' but I was going to buy it."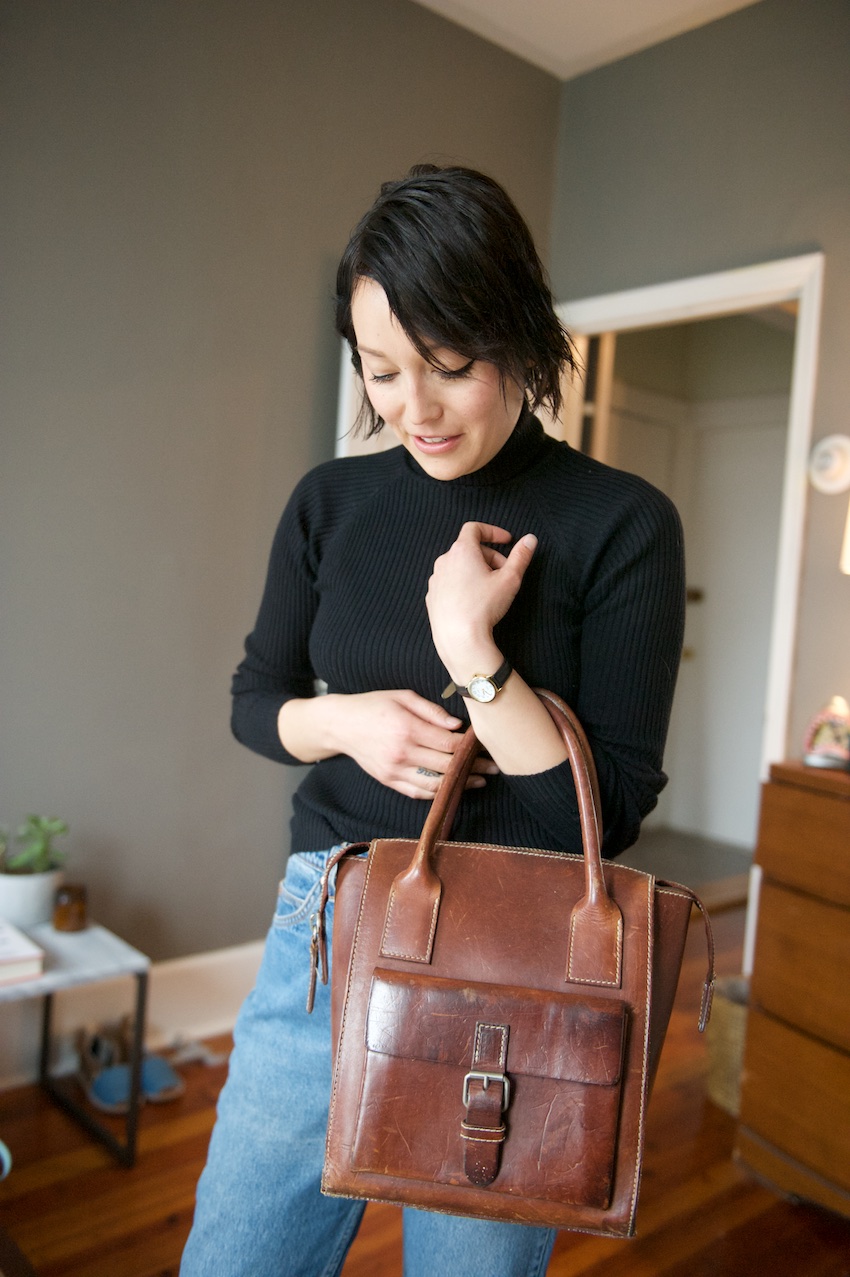 "This is kind of like a seventies lunch box bag.  Doctor meets a girl scout kinda?  I like how the zippers just hang down loose."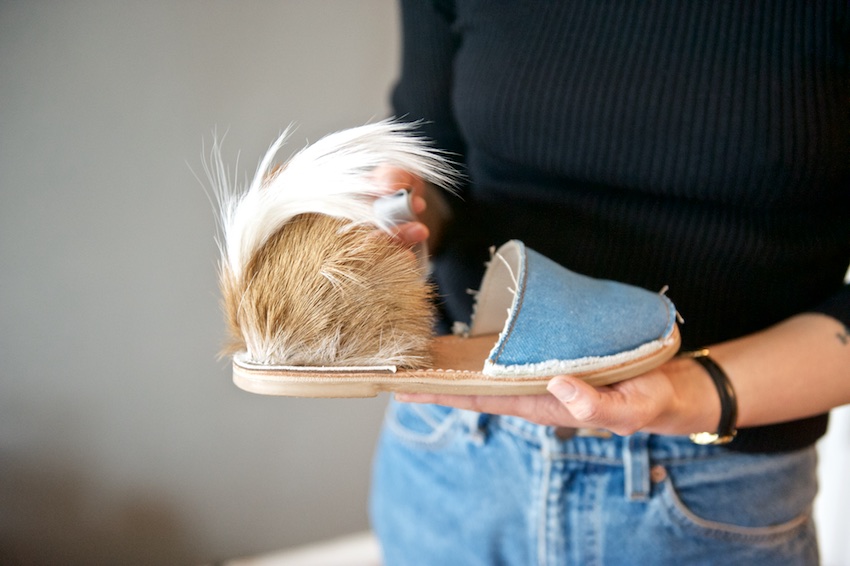 "This is a friend's brand Brother Vellies.  Aurora James started this company where all of the materials come from Africa. She's creating sustainable jobs in Africa and all the materials come from cast offs of bigger productions. She gets the furs from farmers there.  She was doing this frayed denim thing even before people were doing it.  People alway stop me on the street when wearing these."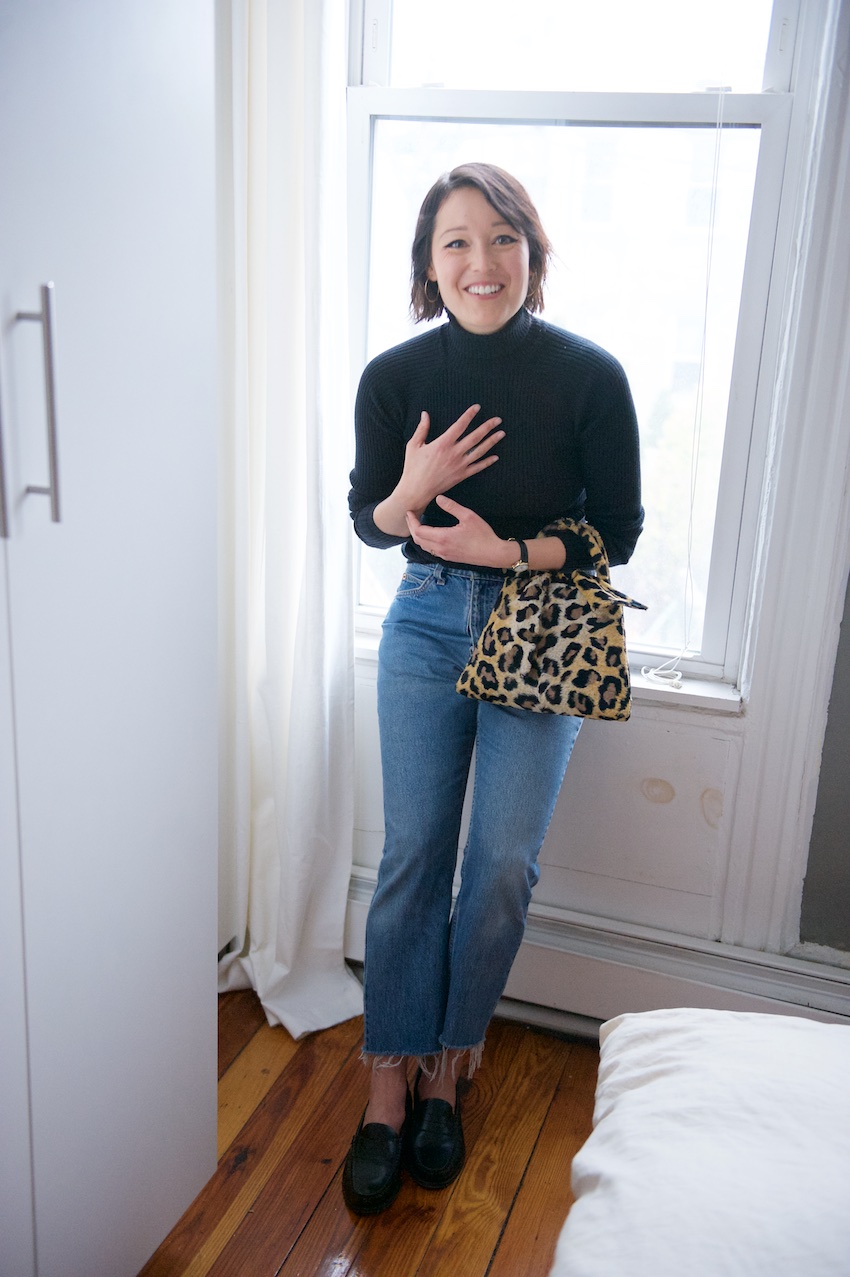 Bag:  Found in Tokyo
"Leopard print just never goes away right?  I found this at a mixed second hand/new shop in Tokyo.  I thought this was the sweetest little bag. I checked the tag after and the brand is Rachel Paris and so it's my name so I had to have it.  It feels vintage with the classic shape.   It's not really trying too hard to be anything."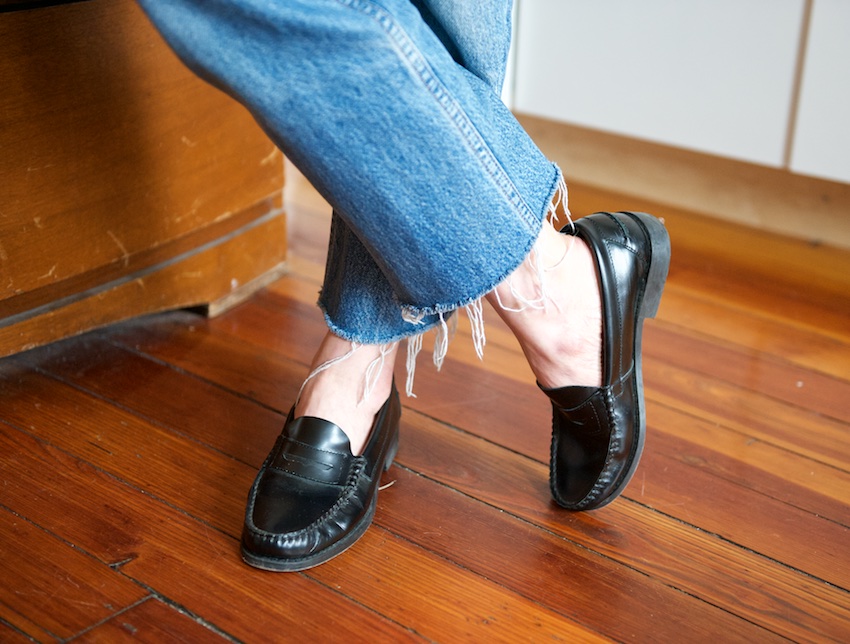 "At the end of the day I try to remind myself that I'm hear to do a job and the rest is just fun and we're grateful that we get to work in this industry where people dress amazing and there's so much inspiration around but I have to try and focus.
"When I was younger I really was into pattern mixing but now that I'm getting older or maybe it's just that I have more going on in my brain and more responsibility from my job, so the attention in my life has gone from myself to my work. When you're younger what have you got to do right but get yourself dressed but now my energy goes to coming up with ideas, doing photoshoots and saving my creative ideas for shoots.  It's all that I can do to be able to just throw on a black turteneck and vintage Levi's and that's good enough for me.   I think that's how my style has evolved over time."