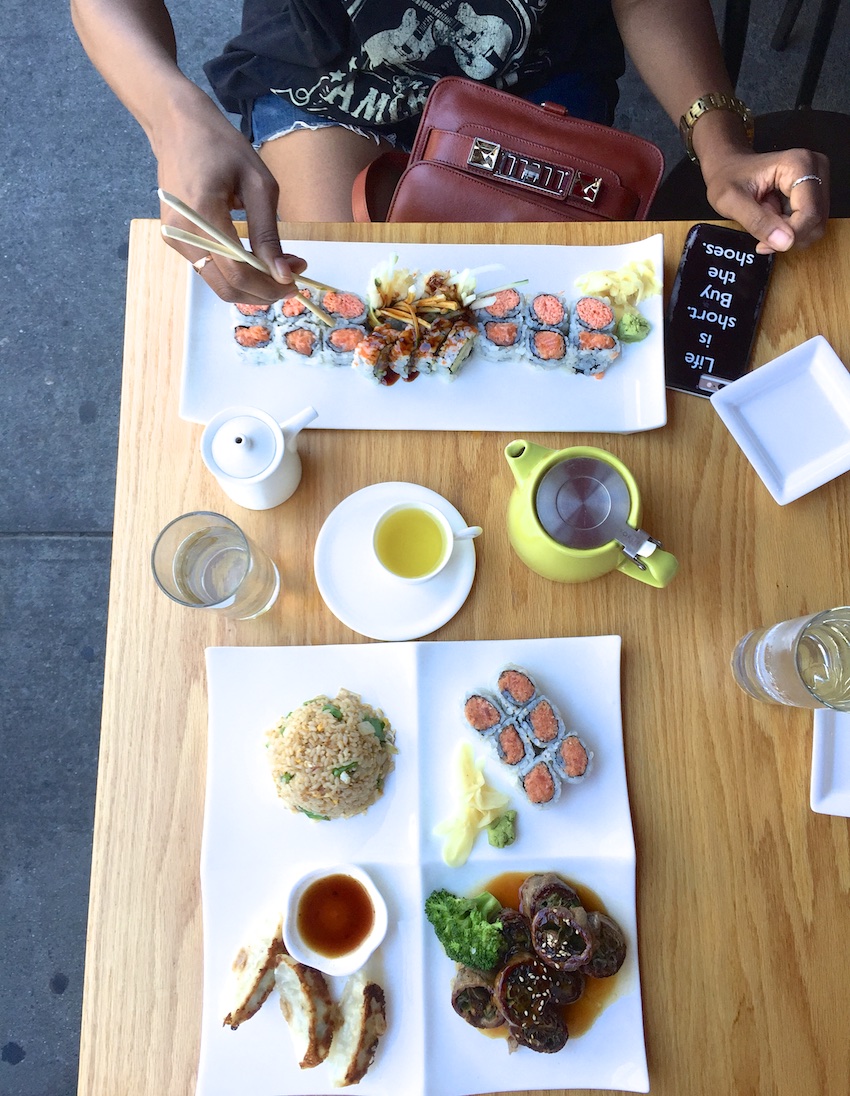 Watawa.  Astoria, Ditmars Boulevard.  Nearest subway (Ditmars Boulevard N/Q trains)
First off: Michael and me are sushi snobs.   We can count our New York faves on one hand (yes – we've tried Nobu).  The sushi here is always fresh and mouthwatering.  The lunch deals (see above because that's ours) are ridiculous:  I got the special: three rolls – comes with miso soup and ginger dressing salad for $11.50 (the two roll combo is $10.50).  Tip: the green tea is free (it's only served if you ask for it).  Michael's order is also under the same lunch special price and comes with miso soup and salad too!
Click below for my other fave eats.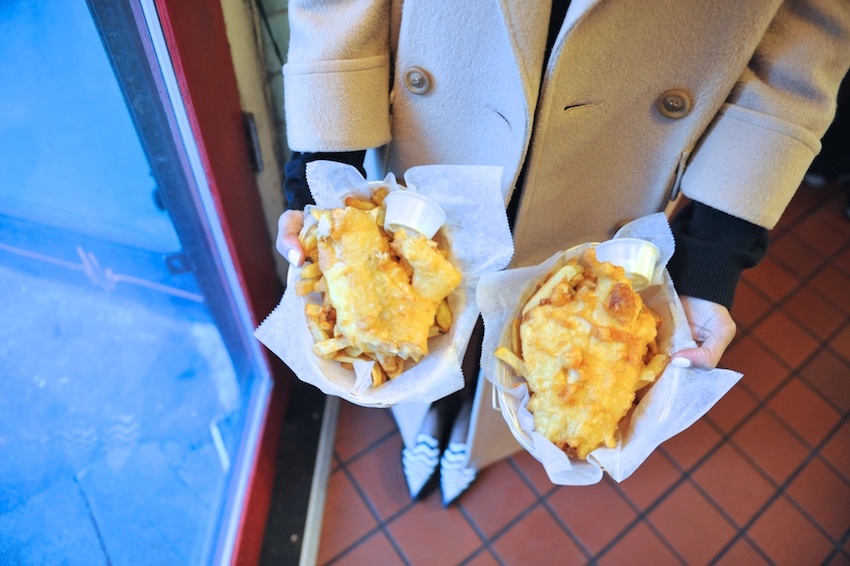 A Salt and Battery.  Greenwich avenue.  Manhattan.  Closest subway: 8th Avenue (L Train)
Being a Brit it's literally mandatory for me to find a chip shop and this is as good as I'll get short of flying back to East London's Roman Road market (where my fave chip shop of all time is located).   British owned and run, this is like walking into a British fish and chip shop with all the classics including cod, haddock, pie and chips.   They also offer my fave British soft drinks like Lilt (tropical fizzy drink) and Tango (fizzy orange drink). Make sure to add salt and malt vinegar to to your chips!  Crap now my mouth is watering.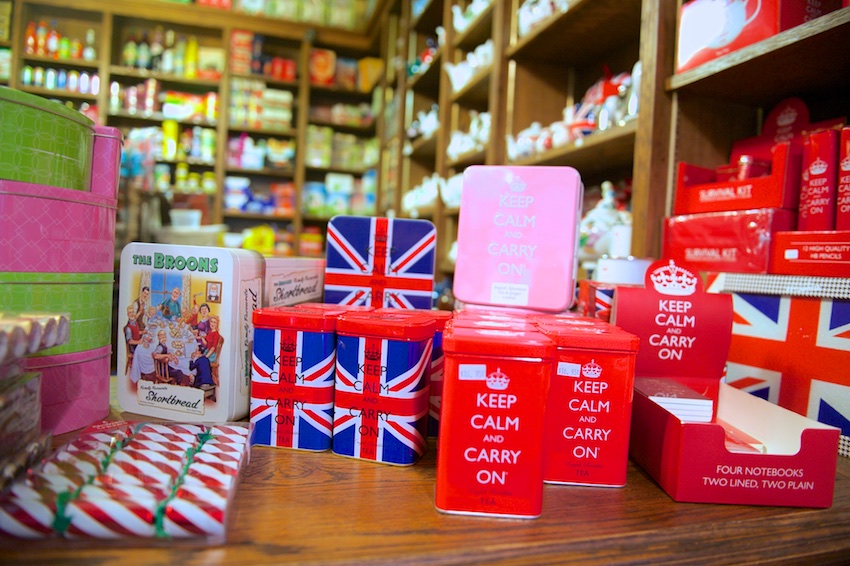 Next door to A Salt And Batttery is their miniaturized shop to buy anything food and drink wise that are Brit classics ie. Ribena drink, PG Tips (tea) and last but not least: Walkers crisps!!!!!!!!!!
Next door to that is Tea and Sympathy which I also frequent for a fix of British dishes like sausage rolls and beans, chicken pot pie (I highly recommend) and of course their desserts.  Get the treacle pudding with custard and thank me later. It will bring you too your knees.  note: Tea and Sympathy does not take reservations.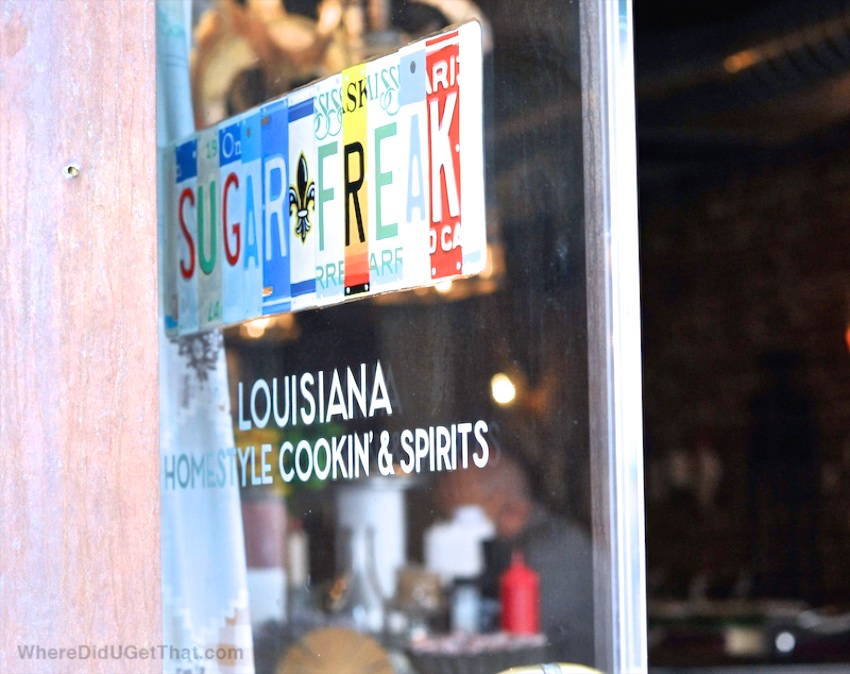 Sugar Freak.  30th Avenue, Astoria. Nearest subway: 30th Avenue (N/Q trains)
Mentioned before on WDUGT, this is where we go to get a fix of New Orleans (where Michael was born and raised by the way).  The owner Michelle is friendly and the food is mouthwatering.  Our fave dishes: Fried chicken, catfish with sides, french onion soup, chicken dumpling soup.  They recently expanded the space to offer more seating. No surprise since they sometimes get queues out the door!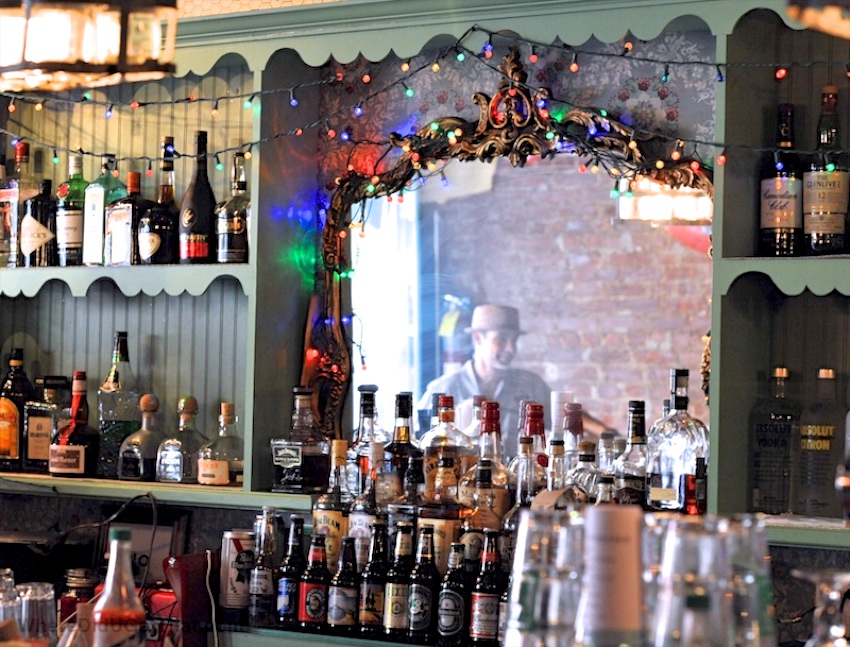 Sometimes we eat at their bar – a good spot to make friends too which most bars in restaurants are in general have you noticed?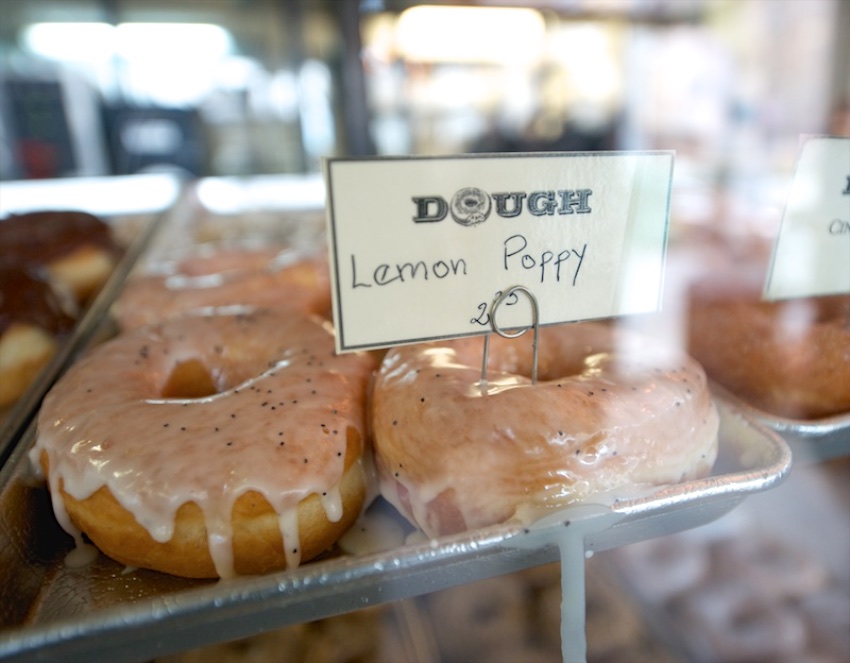 Dough.  448 Lafayette Avenue, Brooklyn 11205
God my mouth is watering again even thinking of this place.   We first heard about Dough restaurant while watching a TV program about them. We were so impressed that we went the next day and have been hooked ever since.  The doughnuts are made fresh on the premises which you can watch in their open kitchen. They slide trays of warm donughts into the counter and let me tell you: they are delicious.  Sweet, soft and loads of flavour.  Our fave is the lemon poppy and lemon meringue.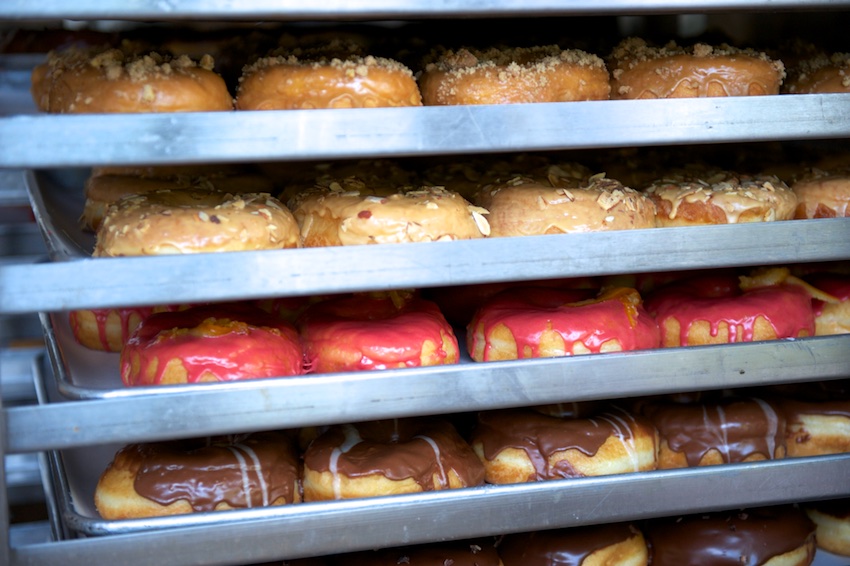 We noticed that Dough has now expanded from their Brooklyn spot into Manhattan.   You can check out the one on 19th street between fifth and sixth avenues)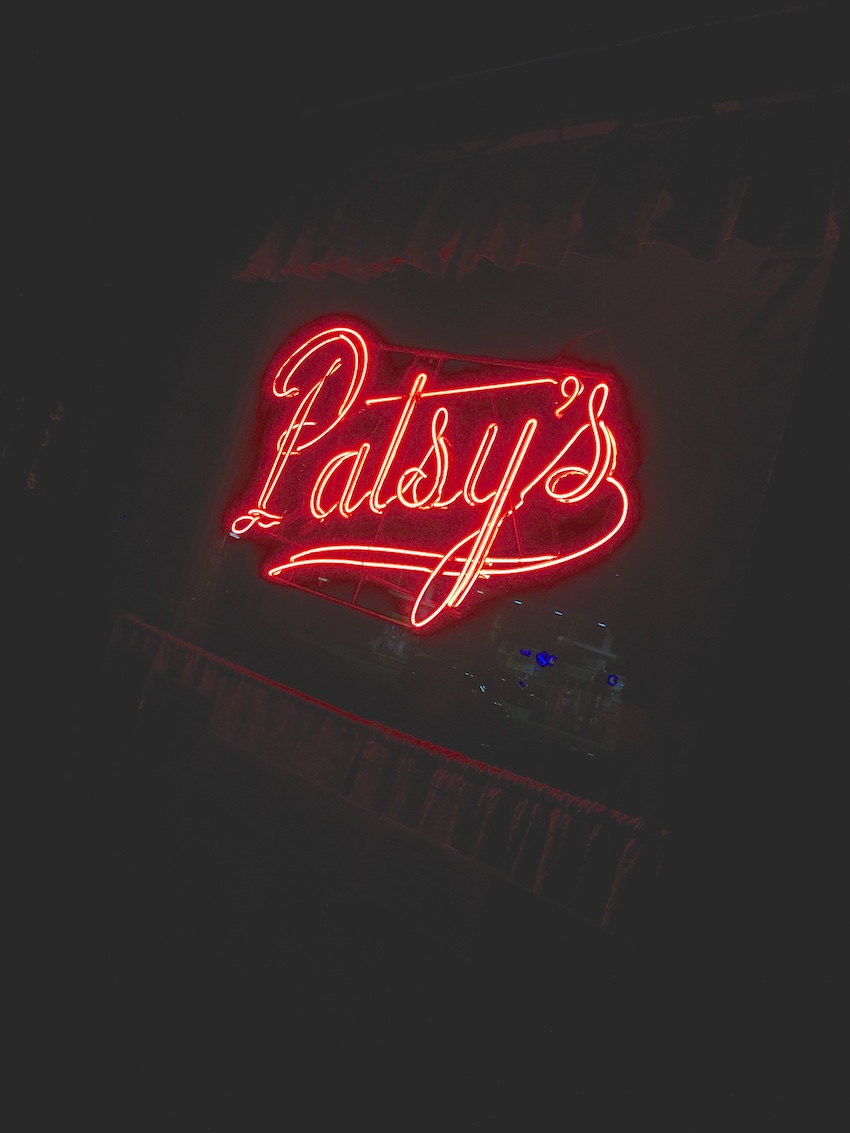 Patsy's Pizza.  2287 1st Avenue.  Harlem, 10035.  
I have eaten pizza's all my life, especially now living in New York and Patsy's a tiny hole in the wall shop in Harlem trumps THEM ALL.    You know how good a basic french stick is from Paris (from those who've had one)?  How you can just eat it with maybe a slap of butter (maybe) and that's it and it's the best bread that you've ever tasted? That's how Patsy's Pizza is.  This place is as basic as it gets (had Michael not suggested it I would never walk in there) but it is THE BEST PIZZA to ever stuff your face with. Michael and I usually swing by late at night for a slice (or two) if we happen to be in the city or we'll take the mini across the Triborough bridge and get a large pie to eat at home.   I have never in my life had a better slice of pizza.  Forget all the tourist trap 'famous' pizza joints (we've eaten at a couple and Patsy's blows them out the water).  This is the real deal (and has been there apparently forever).  It looks like the type of no frills pizza place you'd see in eighties New York films.  note.  A plain slice is approx $1.50 – try beating that.   It's so good that I NEVER add toppings (this coming from a topping pizza fan).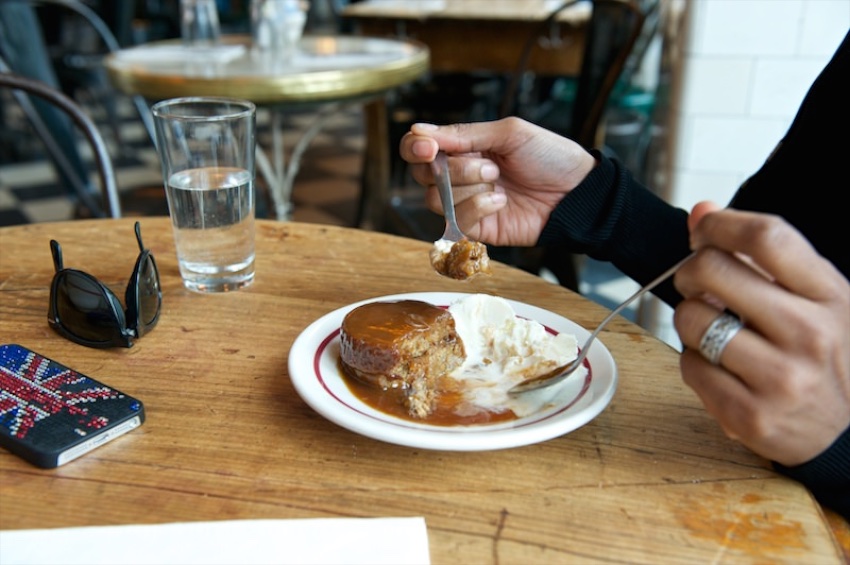 Schillers.  131 Rivington Street, Manhattan.  Closet subway: 2nd Avenue (F train). 
I have been eating at this Lower East side spot for years (see this older post) and it's their sticky toffee pudding that I really come for.  Served warm with melting caramel sauce and vanilla ice cream do I really need to explain?  Any friend that steals a bite immediately orders their own order because it's that good plus I'm not sharing.
Being a foodie these are my all time fave places to eat hands down.  I feel like I'm missing one more. If I am I'll add it later!
Got a fave in your city?