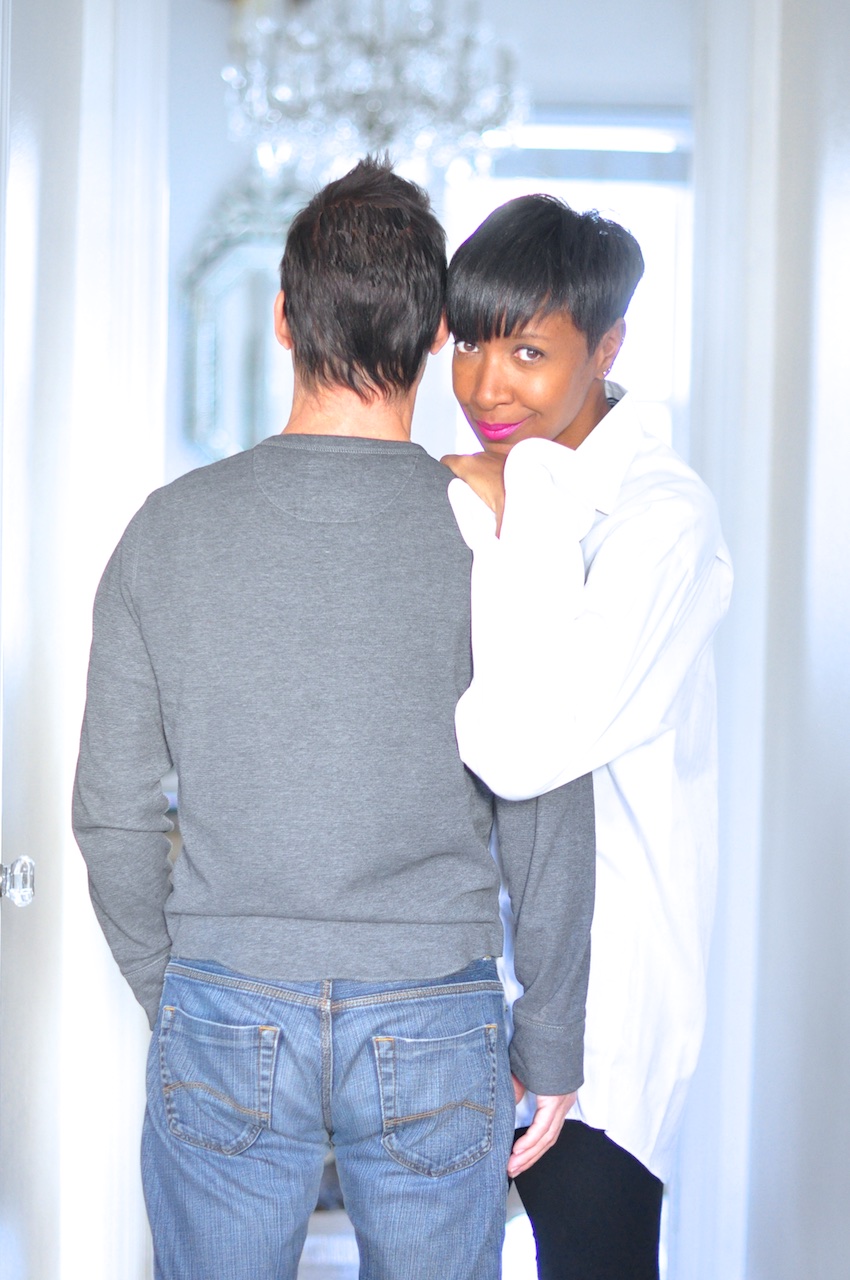 Outside of friends and family, nobody knows what I am about tell you: Michael and I met online by pure accident.
Whenever we tell anyone our story, their jaw hits the floor in disbelief: "this should be a movie!!"
Being it's February 14th, I'm going to tell you too:
Before moving to New York, I worked in London at an advertising agency where I received a random junk email. I call it junk because it was a mass invitation to the opening of a night club in New York. I didn't know the sender nor any of the names on the email list. Normally, I hit delete because like I said, this to me is junk email. But for some reason that day and I don't know why, I hit reply and not just reply but reply-all and wrote: "thank you for the invitation but I live in London" I hit send and went back to working.
I have no idea how this person got my email address. I know that my best friend Paula and I used to travel to New York on long shopping weekends when the exchange rate was in our favor. I must have written my email down somewhere while there or given it to someone. Up to now I have absolutely no idea. If you're ever in a similar situation and you'd like to get in contact with some you actually once knew instead of a complete stranger, you could find people with TruthFinder, that provides detailed information on the person you're hopefully trying to find.
About ten minutes later I get a reply from that same email thread. This time it's from one of the people on that email chain and his email name is Madmike. He replies to me only writing: "I'll send you a plane ticket to pick you up." I'm thinking oh God what have I started?? I had no idea who this person was. I didn't know what he looked like or anything. Normally, like before, I would just hit delete. But again for some reason I did something that I don't do with junk email. I replied back. I must have been in a joking mood that day? I responded: "Make sure there's champagne on board." I hit send and go back to working.
I did not expect anything further.
Ping! A few minutes later. This 'Madmike' replies back: "Hi my name is Michael and I have no idea how I got on this email thread." Remember, Michael has no idea who I am and I have no idea who he is. This is the internet. I could be talking to a seven year old or a seventy year old. I didn't know if he was black, white, green… you get the point.
This slowly snowballed into a daily email conversation. Each day we found ourselves looking forward to each other's emails. It wasn't like: 'omg not him again, what have I got myself into?!' There was none of that but also there was no romantic interest either. I just felt like I had found a friend online who made me laugh. After a few weeks, we exchanged photos (he wasn't seven years old!!) and after maybe the second month we begun speaking to each other on the phone. The calls got longer and longer until one night we spoke from early evening my time right through until the following morning (he made the call).
Less than a year later we decided to meet face to face and I offered to come to New York. I would stay with my friend that lived in Brooklyn but Michael wanted to pick me up from JFK airport. After a conference call with friends weighing up the pros and cons, I agree to meet him at the airport. "Call my cell if anything goes wrong" my friend insisted.
I was sh*tting myself when the arrivals doors swung open and I saw that sea of faces. I did not see Michael. Crap, he flipping stood me up! I wheeled my suitcase into the ladies room to compose myself then walked back out again and there he was, still staring at the arrivals. Somehow we didn't see other but heck I got to check him out first (heh). I walked up behind him and whispered: "Who are you looking for?" He spun around and we hugged like old friends. There were no awkward silences. We just continued talking like we did on the phone. Except this time we got to physically meet!
A year later (maybe less) I moved to New York. A big gamble for me, but like my old work colleague at the ad agency said: "Karen think about it, what have you got to lose? If it doesn't work out just come back. All you will have lost is your job." She was right.
ps. My struggle to stay in the United States after that is a whole other post (if you want to read that).
pps. Needless to say I am still in New York and years later we got hitched in 2011.
Fancy that? All from a random 'junk email.'