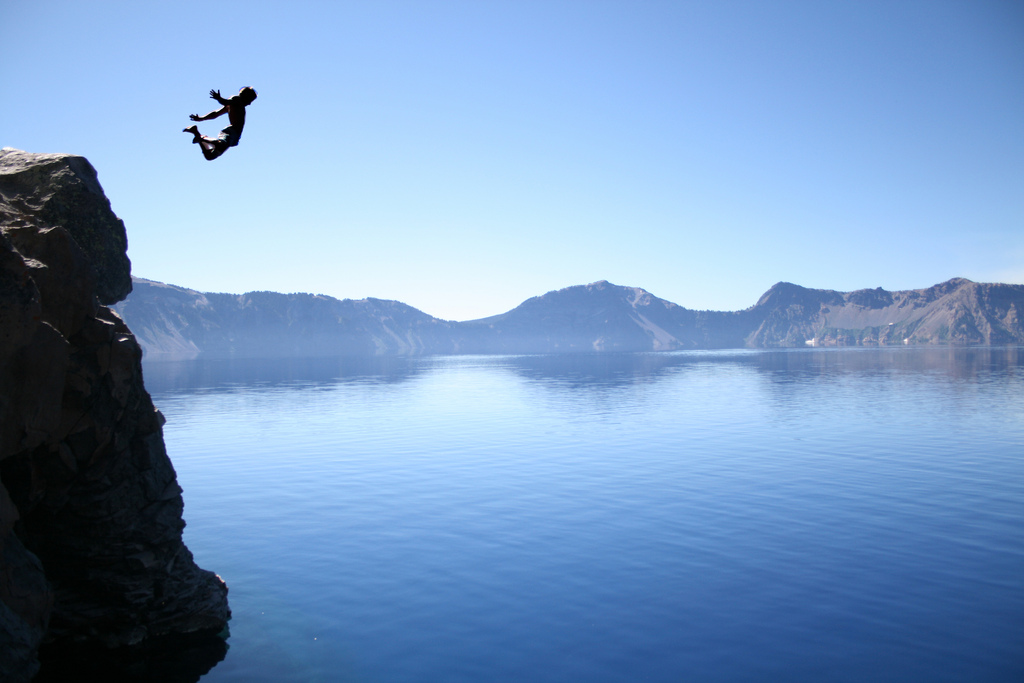 This time last year I got laid off from my job.
At the time of writing this (11.30 am) human resources was watching me pack my belongings at my desk. I cried from the shock. I never thought I would since I didn't like the job anyway. In fact, I hated it but the feeling of that security rug being pulled out from under my feet was overwhelming.
The last image my boss has of me was seeing the lift doors closing with me standing there, tears running down my face behind my wayfarers (heck I had to have some style in my last moment there). I was a blubbering mess. "Karen you'll be fine," she said: "Look at this as your chance to do what you love." I couldn't even respond from the tears even though as I walked out of the building with my belongings and a wet face it felt like a huge relief. Strange right?
Let's rewind a bit back to Feb 2009…
I was dying a slow death at my desk every day and I started my blog as an escape. I loved playing with clothes and different looks, mixing high with low, vintage with designer, discovering gem shopping spots and having fun with fashion in New York, a place that still feels new coming from London. I had no formal qualifications to work in fashion so the blog was the outlet. Fast forward a year and as the blog grew I realized that I was essentially running two jobs: the 9-5 that I hated and WDUGT that I loved.
My routine was relentless. I would blog till 1am, go to bed, wake at 7am tired and rush to work. Come home at 6 – grab something to eat then blog all night again. Let's not forget the outfit photography time squeezed in. But my office crack blackberry was never off. I was on call to respond to work emails through lunch hours, at home, where ever. It was a never-ending day and night cycle and I was starting to crack. I was getting physically ill and would make simple mistakes at work. My focus was on WDUGT but I was working for an ambitious and therefore, quite rightly, demanding boss. I was living a split-screen life. For years. Lay offs were common throughout the office – reflective of the US economy and for those lucky few not laid off, having a job felt like luck. Keep quiet and be grateful. But I needed to quit.
Being laid off today last year is one of the best and the scariest and bizarre moments that has happened to me. Why? because I had planned to quit at the end of last year anyway. I planned to quit my job because I knew the job wasn't for me. My manager was pushing me to achieve more at work and it was sometimes too much. After reading these retention strategies for employers, it became clear that my manager may have been putting too much pressure on me. If only she would have read some of those strategies for keeping your staff happy, I may still have been there. Anyway, the lay off was a push ahead of schedule. For years I supported people who loved what they did for a living and I felt like it was my turn.
I used to have "what-if I could" thoughts but didn't know if it could really happen.
Fast forward to today and WDUGT is my job. I love it. I have so much freedom and my home is my office. One of my friends was suggesting that I think about setting up an office somewhere in the house to make myself want to work. That's not a bad idea. My friend told me that she already knows places where I could get an office desk and some cheap office chairs to really make me feel like I'm working and not just staying at home. Perhaps I'll think about that in the future. For now, my living room is just fine. Although I'm enjoying life more now, I still feel like I got pushed off that cliff. I am still free-falling but I would rather take a risk and fall flat on my face than regret not trying at all. I suspect that thousands dream of something that they really love doing and it is not what they are doing right now.
I am not saying that everyone reading this should up and leave their jobs. Everyone's situation and responsibilities are not the same. Heck – I am still working things out as I go along but I will tell you this: I feel 1000x better than I did one year ago and before. I think uncertainty is sometimes the price you pay for doing what you love for a living but I see nothing wrong with taking life by the balls and taking that ride anyway.
Find a way to do what you love and the rest will follow. I heard that somewhere and it's worth repeating.
So I say to you to start small. Start anywhere. But just start. Start doing what YOU love. The rest will somehow find a way to follow in a way that you cannot predict.
Karen x
~
"Have the courage to follow your gut and intuition. They already know what you want to become. Everything else is secondary"
Steve Jobs.