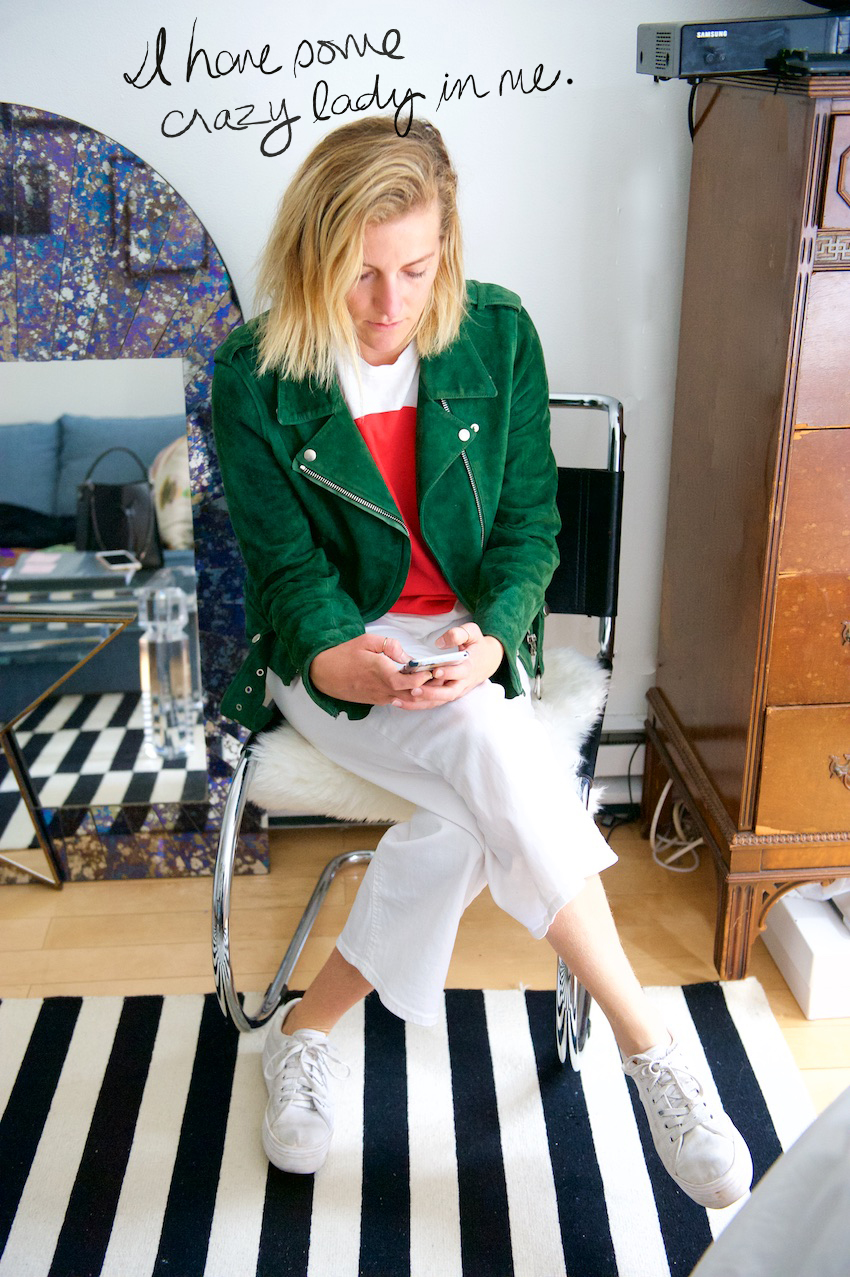 Definition: The Full Monty: 
A British slang phrase.  It is generally used to mean "everything which is necessary, appropriate, or possible; 'the works'"
I met Hester through her friend Sue Williamson.  When I heard that Hester was a stylist, I knew that I had to meet her since they look at style in such an experimental way…
"I mean I had to have this ACNE jacket. I wear it with everything. I feel like the suede jacket is so rare. Not a lot of people have suede.   I didn't used to have a favorite color then one day I woke up and said my favorite color is green."
Boots: Dorateymur
"I'm obsessed with these.   I was on the waist list for them for three months. This is my London crazy girl look.  I have some crazy lady in me.  I love all the old women in their eighties dressed in New York. I look at them and think you are awesome."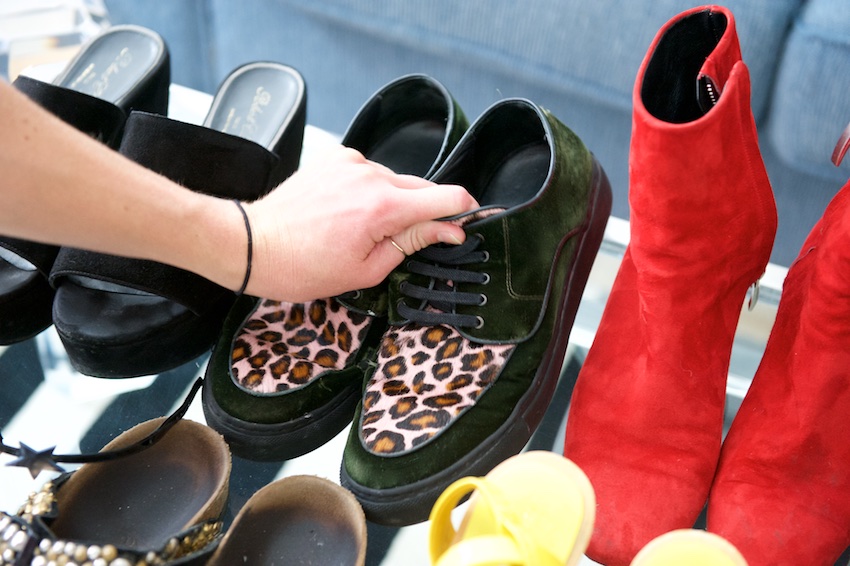 "I'm kinda into the grunge thing happening."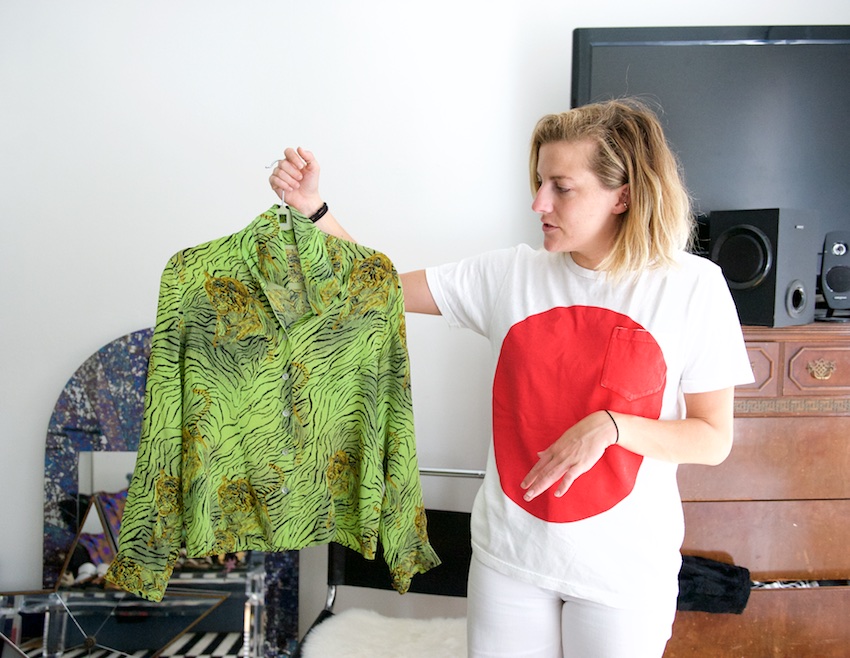 Print Shirt: Vintage
"This is from Edith Machineist vintage store. It's kinda rocker but I've also worn it in a Versace nineties way with chunky gold necklaces, a black high waisted skirt and a super cat eye."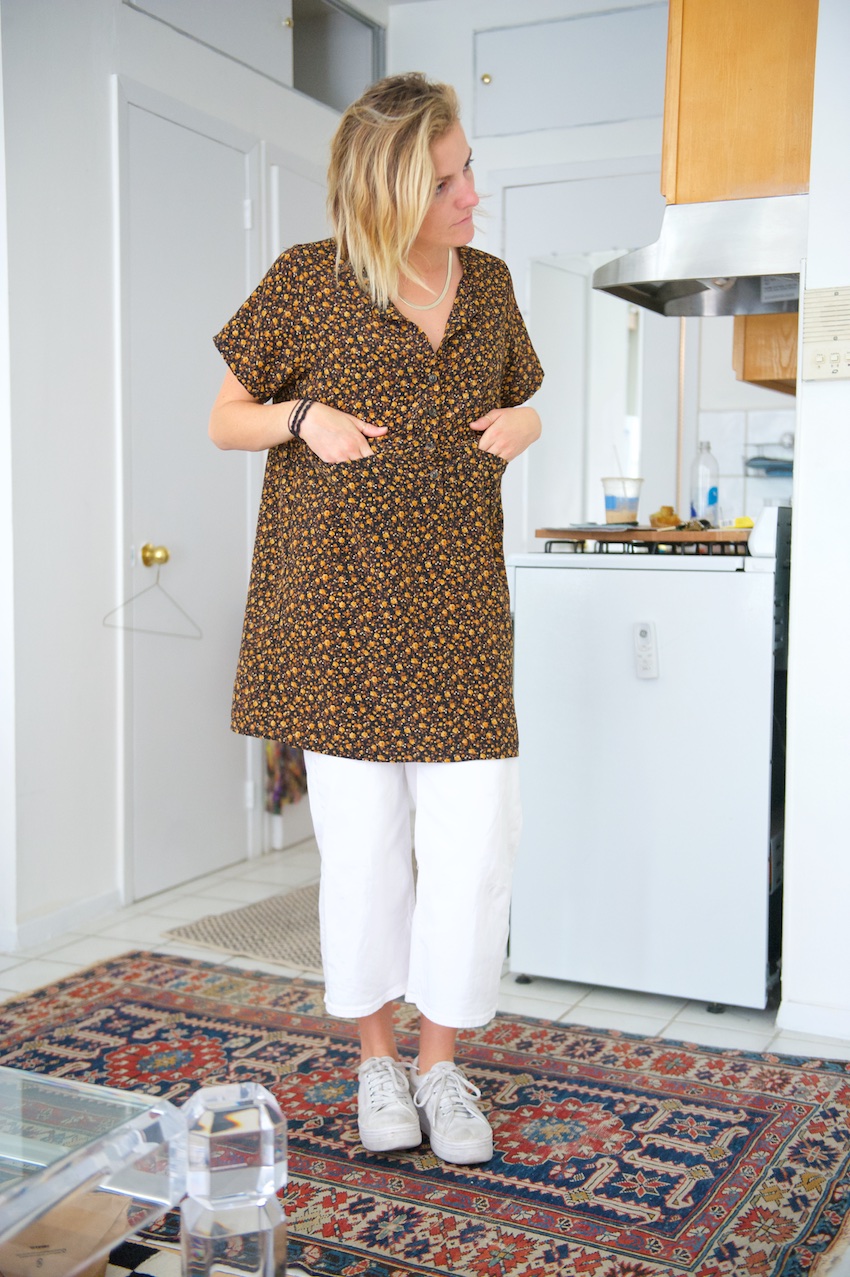 Dress: Shop Super Street.  Pants: JCrew
"I love Shop Super Street.  My best friend Lucy just opened a store in LA. Occasionally she will have things made that she can't find in the market, like skier style sweatshirts etc. This dress was a sample that ended up more like a mumu- so wide and so short. I think ill-fitting can work. It's Kurt Cobain-esque. I like something that's challenging. How can I wear it and make it look cool?"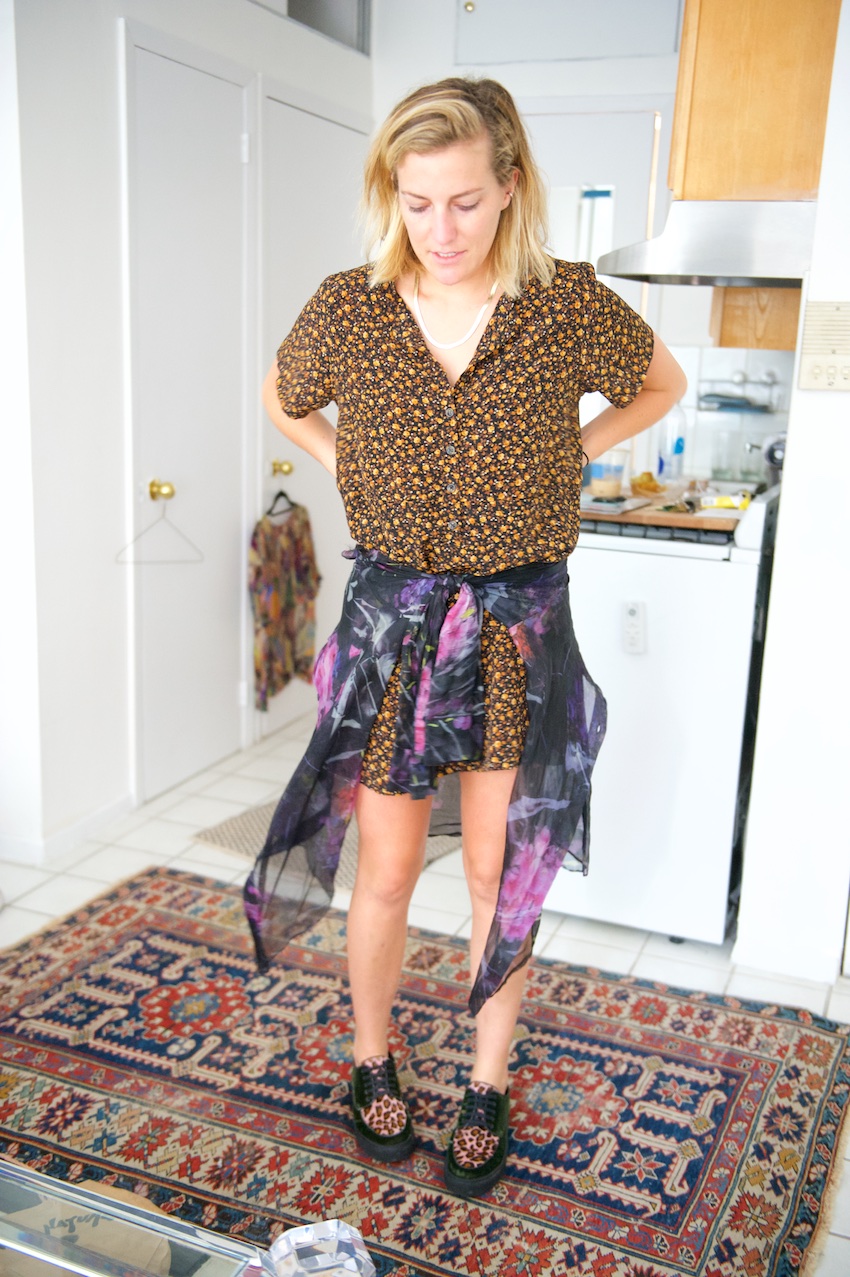 "Then I'll take this shirt and wear it around the waist and add a grunge shoe.
I shop a lot at Off Fifth because my family is from South Carolina where there's one. I got the most amazing duchess satin Celine dress there. I got it for like $400/$500."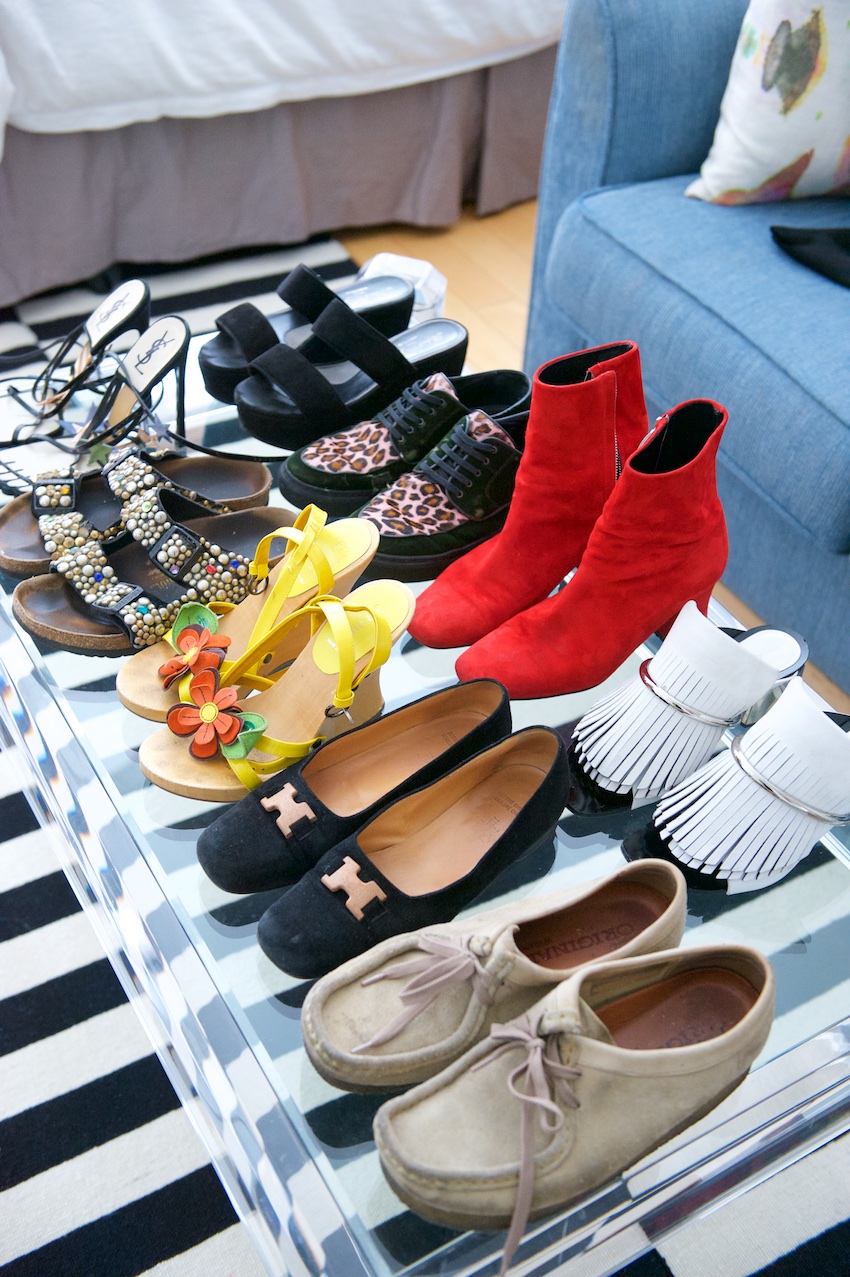 "I made those studded birkenstocks.  I attached the stones using this intense glue called E6000. They've got kinda gnarly but that kinda makes it better.  They look like buried treasure.
I haven't worn the flower sandals in like eight years but they are fun. I think they were my first pair of Miu Miu shoes from when I was in middle school."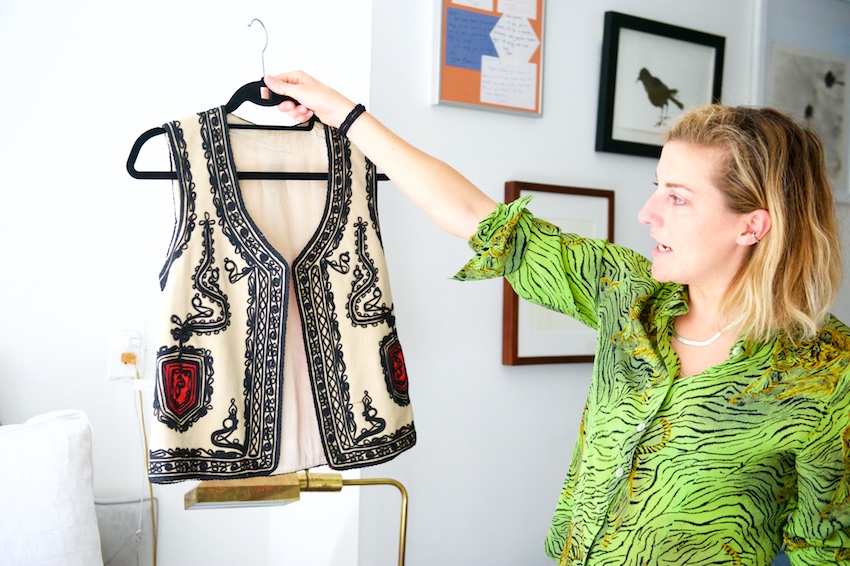 Vest:  Vintage
"I found this at a vintage store in Dallas. It's definitely part of a costume.   I think it's part of a Romanian traditional dress or something.  I've worn it in a YSL kinda way with a big white shirt with bolero-like trousers for a Spanish vibe.  I think I got it when vests were trendy and Sienna Miller was wearing vests with maxis. "
"I shopped a little in Tokyo but I was working so much that I couldn't. It's the number one place I've wanted to go. They are obsessed with American culture and very style conscious."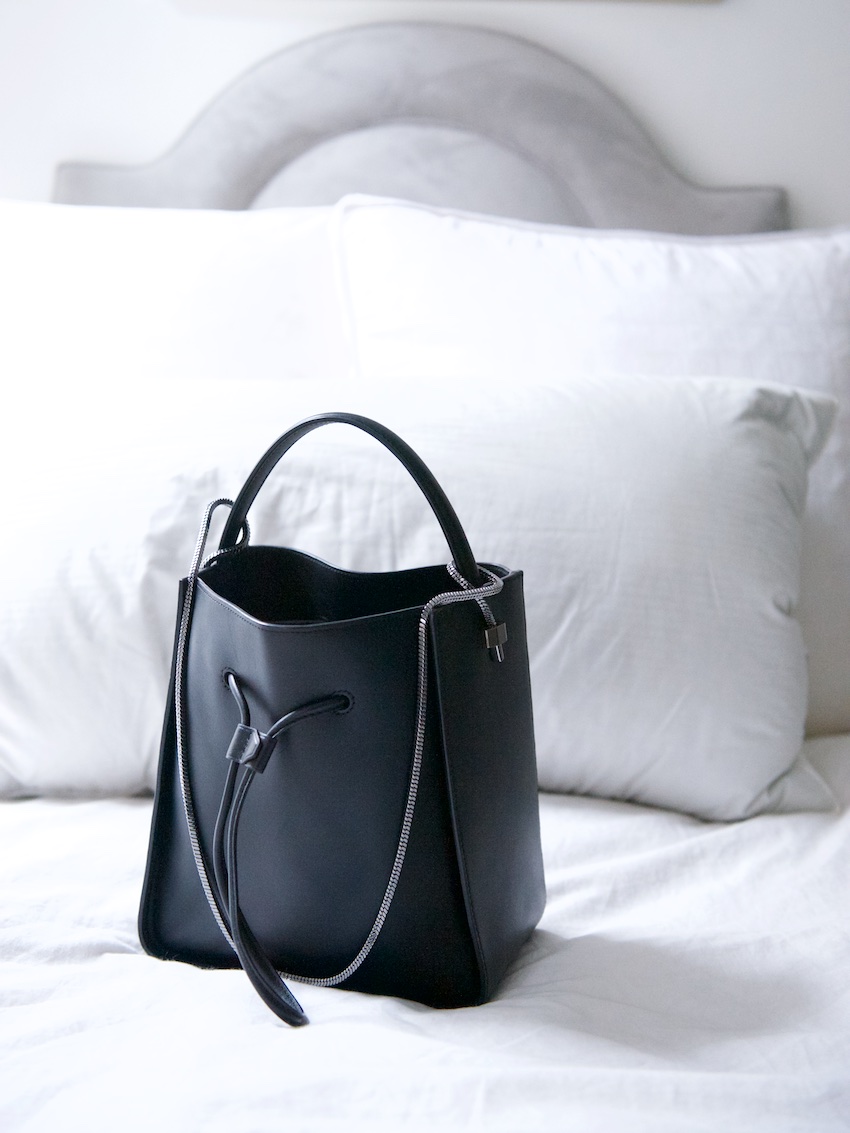 Bag: Phillip Lim
"I have one black bag and that's it.  I can't be bothered to change or lose stuff.
I have a lot of Phillip Lim. I find his trousers are the best. They're amazingly well made."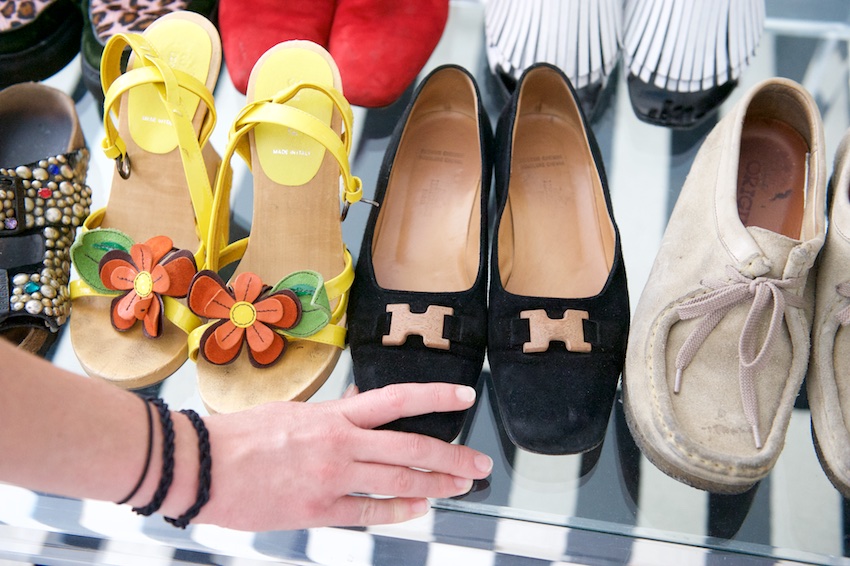 Black shoes: Vintage Hermes
"These are vintage they are from my Mum who got them in Paris in the eighties.
I'm a big fan of not cool shoes like the Wallabies (far right).  I believe in a smart shoe and I believe in a functional shoe."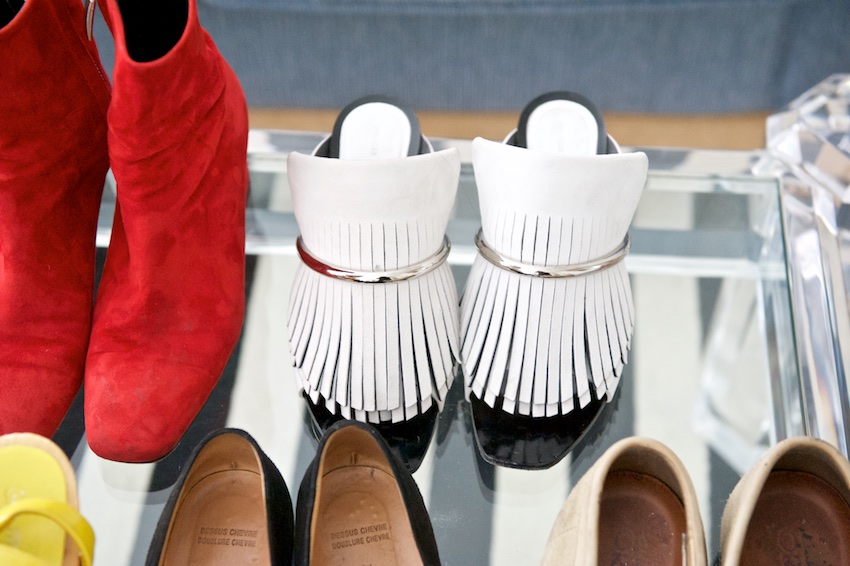 Fringe shoes: Proenza Schouler
"I got them on sale at Opening Ceremony.  They were still incredibly expensive but I was like I can't – I have to get them.
I buy shoes on sale more than I buy anything else because I wear them so hard. I'm more of a shoe than a bag girl."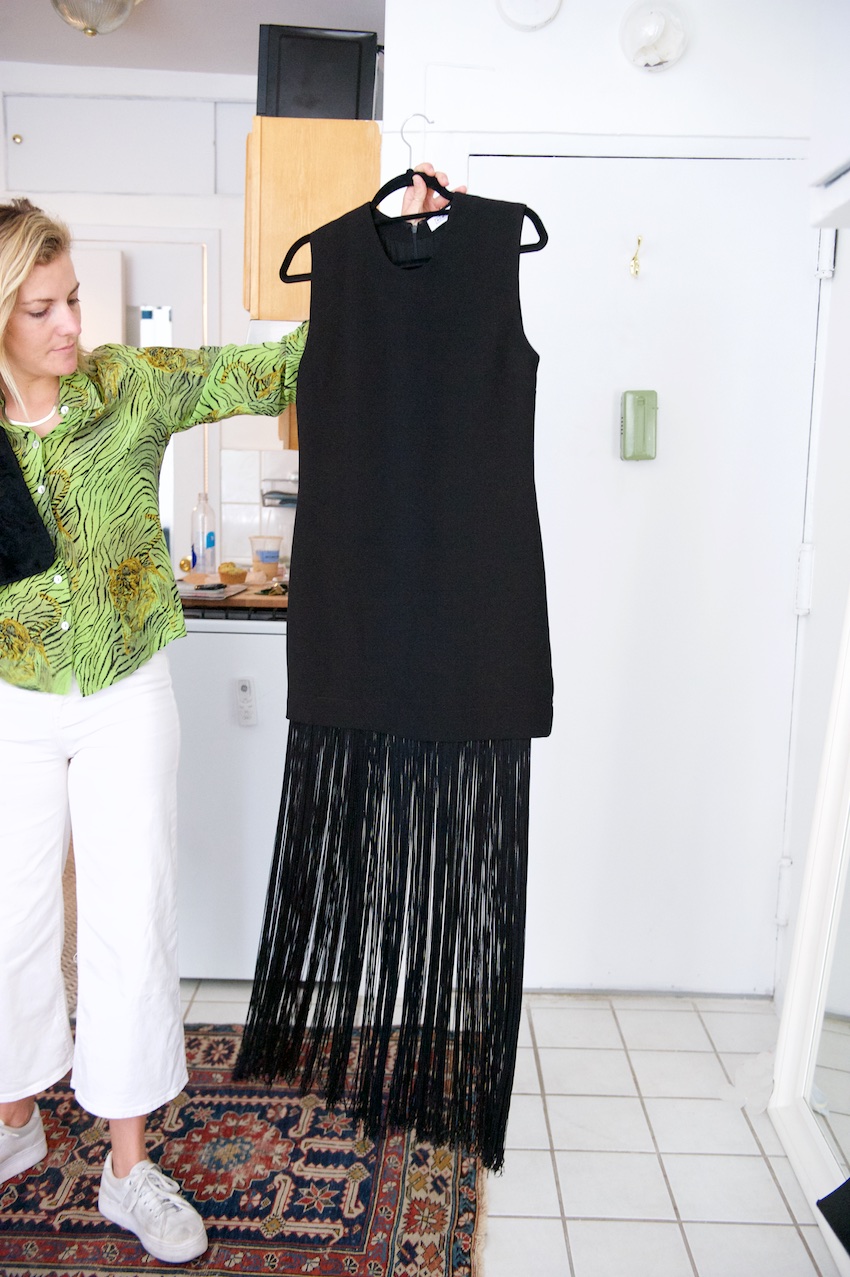 Dress: Yara designer of NOMIA
"I wore this dress to every single wedding.  It's literally like a t-shirt but with amazing fringe at the bottom. It's sexy through the fact that it's swishy and not showing your body which I can't deal with that.   It's really dramatic when you walk because the fringe is all the way to the ground.  I have loved Yara's line since day one. "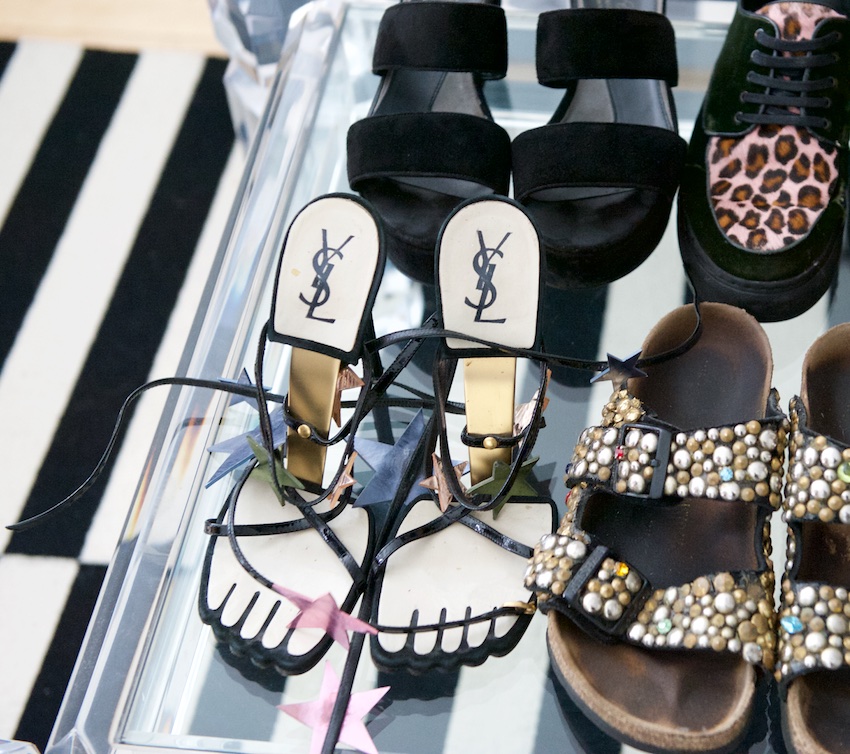 "These YSL heels are so uncomfortable. They're like torture chambers. You could wear them in a runway show for like five minutes and then take them off."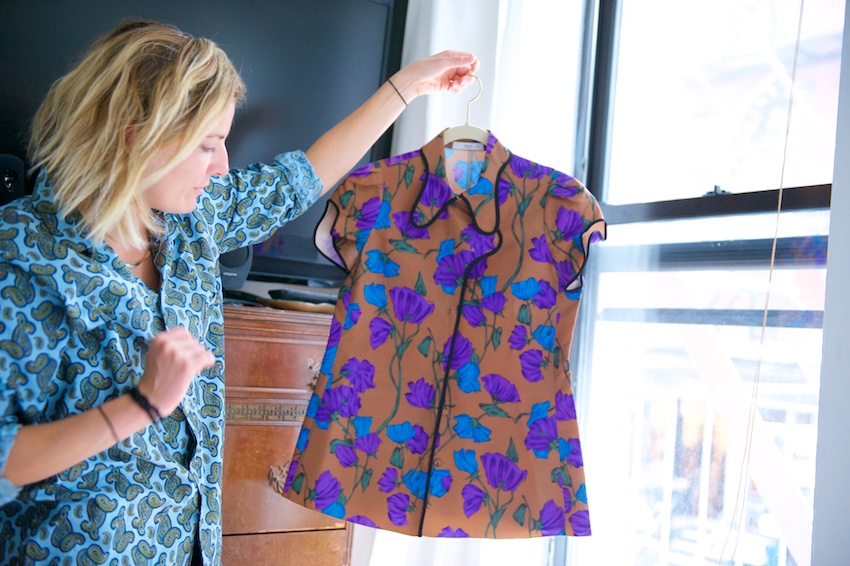 Blouse: Prada
"This collection from Prada was one of my favorites of all time.  It was from their forest nymph collection where they had bags with illustrations.  I found it on eBay."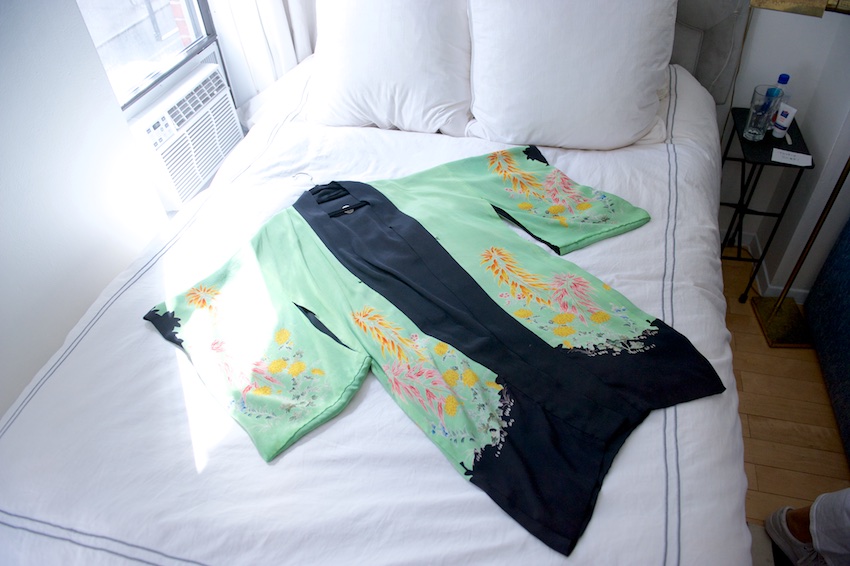 "In New York I shop everywhere since it's my job. I can find stuff in the most random place.  I shop at Creatures of Comfort, Barneys a lot for shoes especially for sales, Ina, Screaming Mimis (love her vintage). I've even bought things off Instagram from my friends. They have great stuff at their store Desert Vintage in Tuscon and online.
If  you catch me on a work day I'm wearing black jeans, a t-shirt and white keds, kinda the stylists' Celine girl look but on the weekends when I'm with friends I'm like f*ck it and I want to have fun."