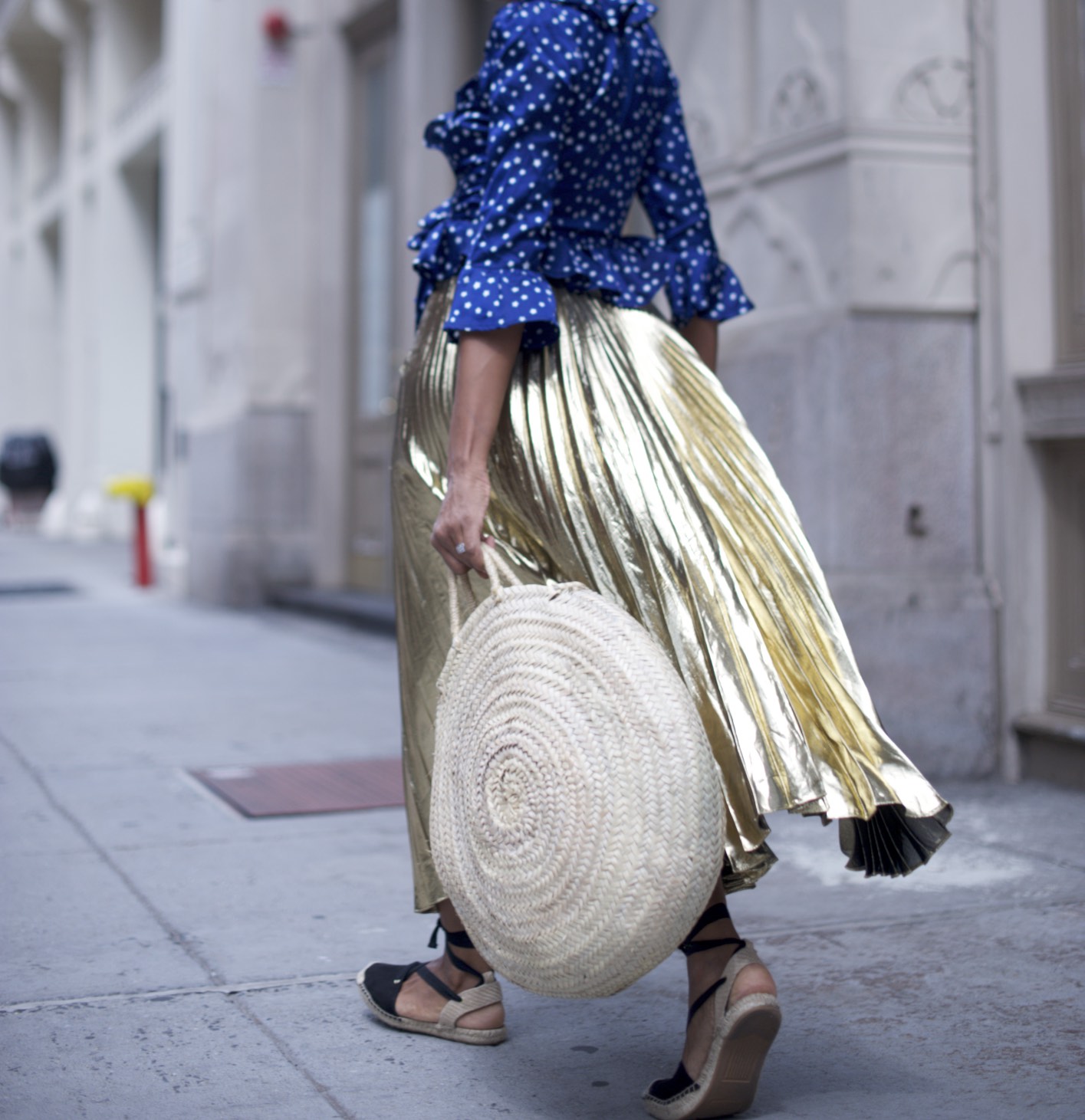 Yesterday (at the time of typing this post) I was in downtown Manhattan and popped into a few shops.  The usual high street subjects: Topshop, Zara, &Otherstories etc and with each shop I questioned how much joy was I REALLY getting out of it?    When online that blouse is shown off perfectly which created that lust, but in the shops, with that same blouse on a hanger and in my hand it doesn't seem as, I don't know, special?   Online it's almost Instagram level beautiful when you haven't just done the sweaty criss crossing of streets (and you're probably not empty handed either).  Of course there's exceptions and there's things you see in person that look even prettier and take your breath away.
But online you can flip through close ups and full length images of that blouse styled perfectly.  Whilst sipping on (insert drink of choice, mine is usually a cup of PG), it's calling you and you can add to cart instantly whilst you replace that model's head with yours, picturing yourself in that blouse until that delivery door bell rings (oh the anticipation).   In contrast, when you are dying for a Starbucks, you've got clothes fatigue from going through tons of rails already and you just clocked how long the queue is to pay, that same blouse isn't as romantic an experience anymore.
Has the popularity of online shopping conditioned us into comparing it to real life shopping and the latter isn't as satisfying where perhaps before it was?
Don't get me wrong, I still like to see pieces in person and take in the shop experience (my snapchat/Instagram stories are living evidence) but is it really as fulfilling as the online one?   I suppose if you're bored and want to get out of the house it is? But I don't know a woman alive that likes the dreaded department store ground floor walk past the army of assistants armed with perfume bottles and giving you the up down with the eyes whilst smiling.
This post begs for a who does it better breakdown:
O N L I N E    S H O P P I N G
Pros:
You can do it any time. Anywhere.  Wearing anything.
Zero travel time and travel cost (a spin off of above)
The joy of seeing the 'out for delivery' notification
The joy of answering that door bell which is akin to the adult version of hearing the ice cream truck
Each item is styled for you for maximum style inspo
Free ship and free return
Website chat features can find items in other locations without you picking up the phone
It's weather proof
Cons:
It's a size and fit guessing game
I didn't know the fabric was this thin?
It didn't look like this online
It's not instant gratification even if it's free two day ship
Under $50?  tough you pay shipping
I N   P E R S O N   S H O P P I N G
Pros:
You can try before you buy
You get the right size first time
Instant gratification
A social win if you like to shop with a friend. See more on this topic from this post
You see what's really left on sale/clearance
If you love personal shopping nuff said
Sold out items can be found in other locations
Cons:
Travel time and cost
The checkout queue
The changing room queue
Just any bloody queue
A messy shop can kill the mood instantly
.    .   .
Question:  Which do you prefer?