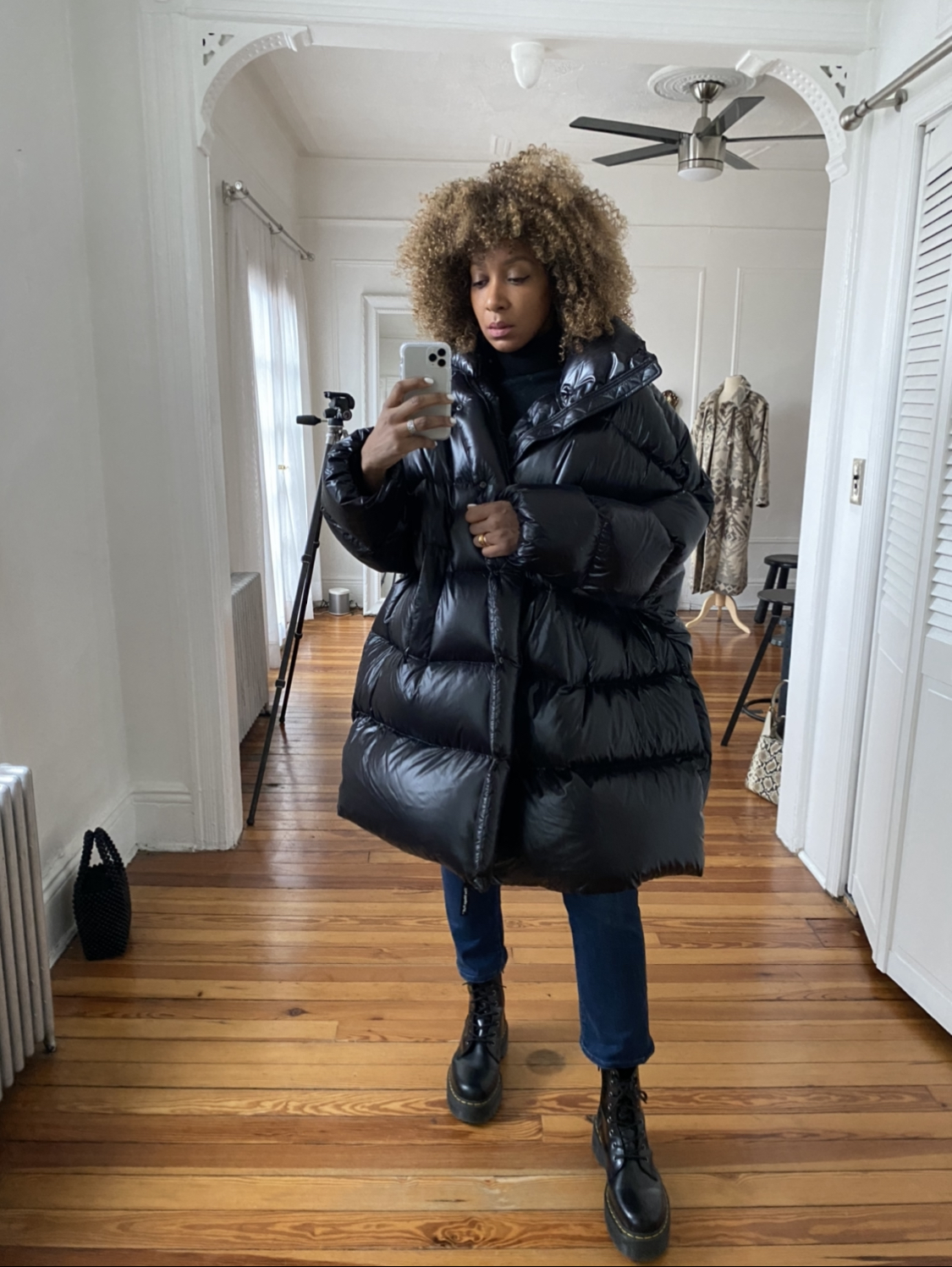 From teeny bags to chunky soled boots, the micro and maxi trends have dominated this winter. In particular the puffer coat is huge again.  Literally.
Do you like the idea but can't quite figure out the execution?   I posted the above Mega Puff Meme from Aritzia (found on sale) Some love it some hate it.  We all know what I think!  I think it's flipping brilliant!  The item number for it is 75671 if that helps for anyone calling local Aritzia shops. It comes in black and also in blue (the item number my vary for the blue).  It's sold out but I believe some random shops may have the odd one so definitely check or call especially for online returns. I always do that for something I'm after.   I found a dupe from NastyGal on this link and this puffer coat by Hunter (just order two sizes up for slouch).  Another option which I would COMPLETELY do and have done is just shop the men's section which instantly looks oversized in that off kilter way we want..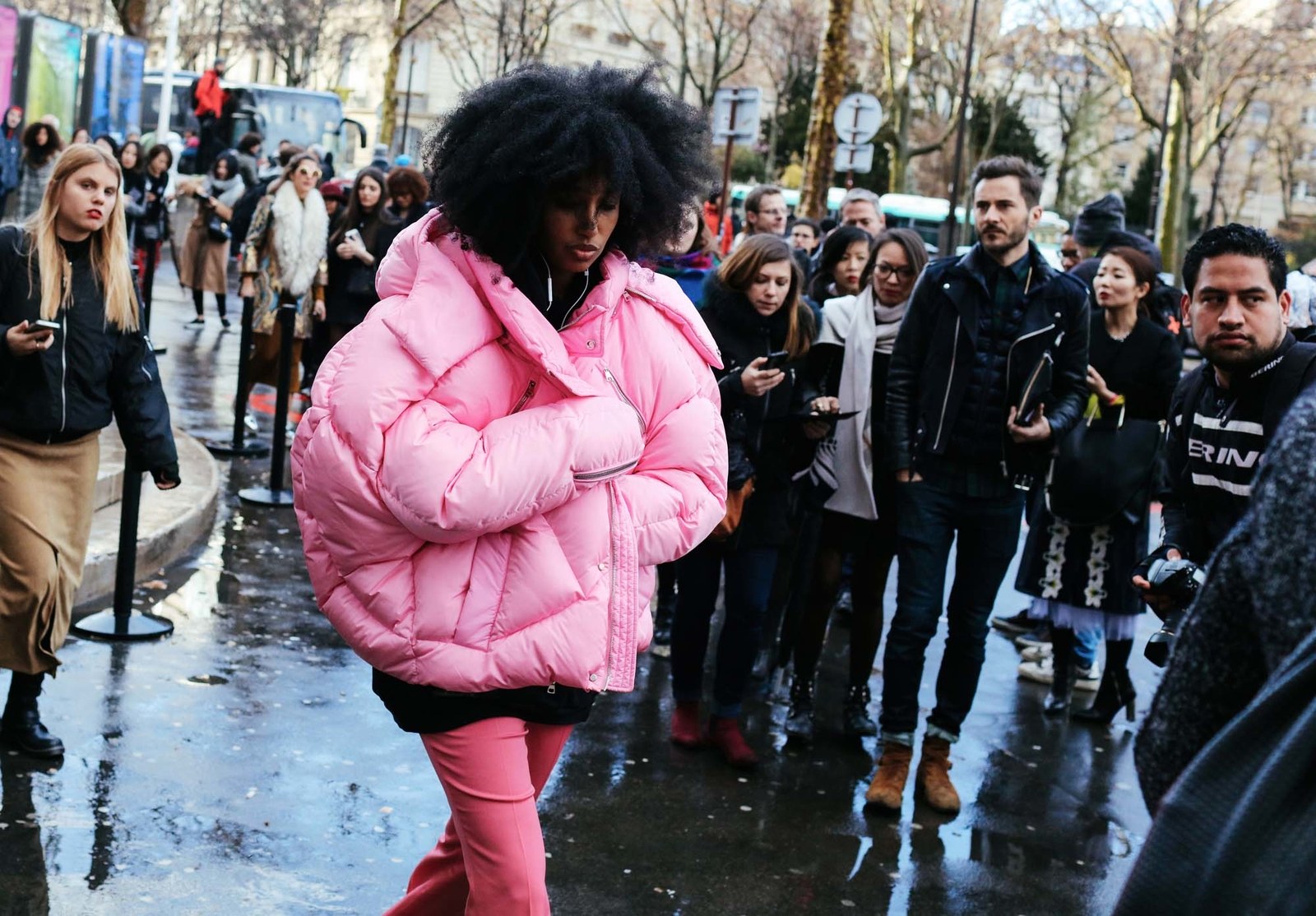 I think it's fairly obvious the puffer coat is being embraced and I'm for it.  Rhianna has been a long time puffer (sorry pun intended), usually seen in oversized ones every winter.  With aesthetic variety and superior coziness the more is more outerwear merits a best of round up and a little how to style yours.  It's simple though since the focus is on the puffer coat.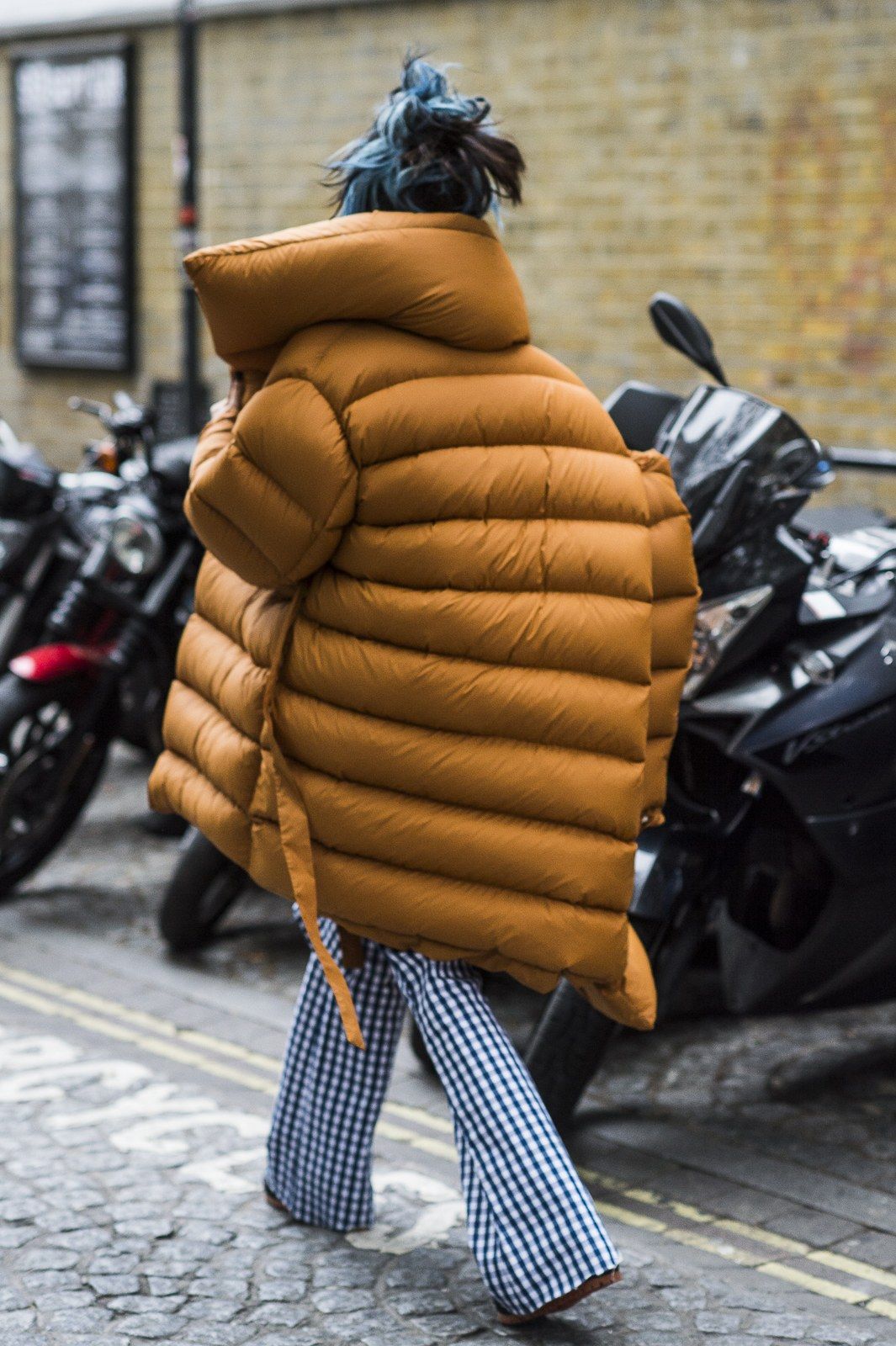 Style oversized puffers like this cream Asos one with a thin, form fitting knit, skinny denim or slim cut ankle grazing tailored trousers. If the puffer is huge then it'll take chunky knits perfectly (I'll be doing that soon).  For a shorter puffer like this Mango metallic coat, try an A-line midi skirt or dress, so the volume is balanced up top and down below.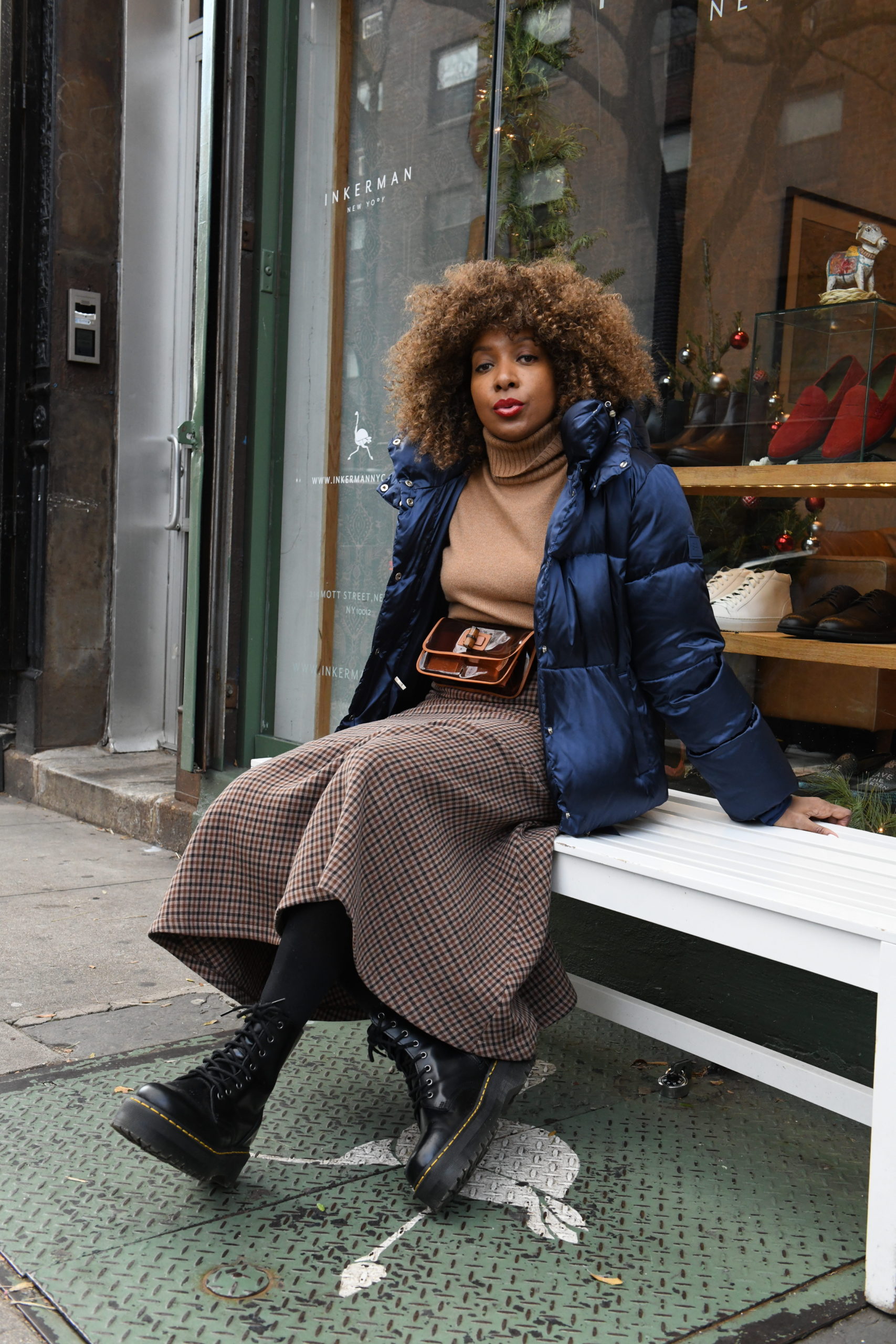 The above metallic navy puffer coat is by S.A.M and linked here.  It's an investment piece and feels and looks luxe in person (which it bloody well should at that price but check Shopbop for their regular discounts).   Big boots are a good balance for all the volume – and you know how much I like these Jadon boots shown above. Eytys does a badass boots linked here. I have a Farfetch code: KarenFF10 for 10% off on the site.
LONGER PUFFER COATS:
.   .   .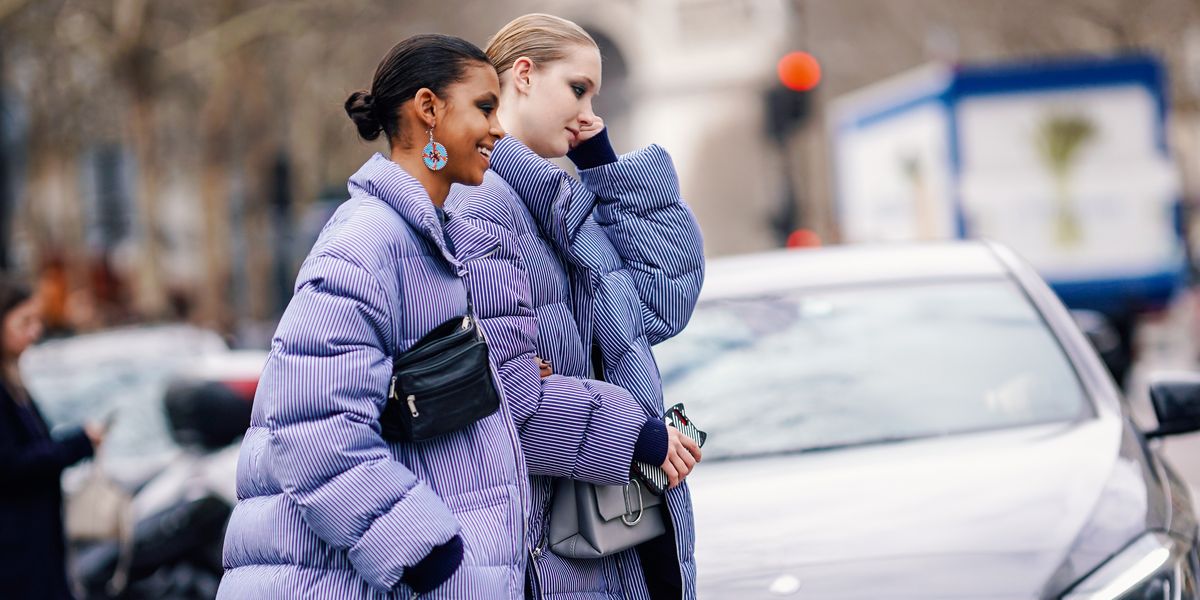 The keys to wearing a puffer (rather than it wearing you) are choosing the right proportion pairings and choosing a color way and/or fabric that elevates. As you can see by my top puffer picks, the options are endless.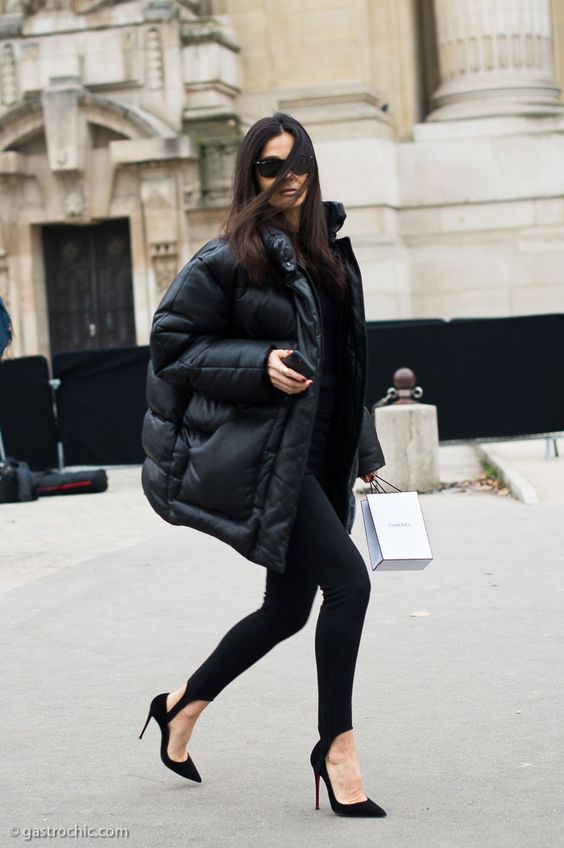 Clearly I'm on the 'bigger the better' train when it comes to outwear (and many items) this year actually. I would love to hear if this post has mellowed your thoughts of looking like a marshmallow unless that is the look that you want (yes that's me) or if you'll skip the puffer and stick to a winter wool coat instead?
S H O R T E R   P U F F E R  C O A T S:
.   .   .

.   .   .
PS. I have a Farfetch code for 10% off site wide but consider using it for one of their puffer coats. Bonus: the code applies to sale items. CODE: KARENFF10 (code is valid for one month!!). You're welcome.