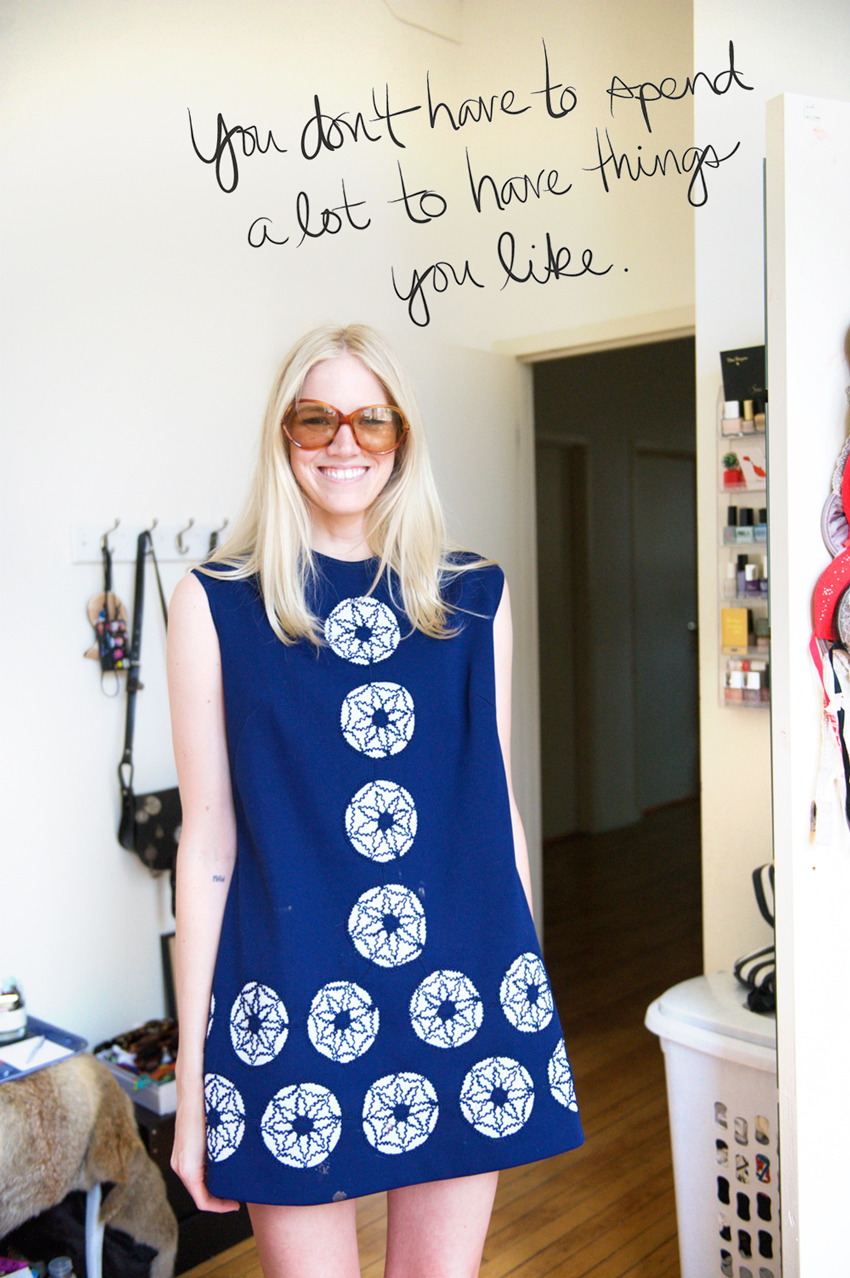 Definition: The Full Monty: 
A British slang phrase.  It is generally used to mean "everything which is necessary, appropriate, or possible; 'the works'"
I met Sue for the first time in Central park at an Instagram party a few weeks ago.  You can see that photo of her on my Instagram.  I loved her retro style and knew that I had to reach out to get the full monty on her closet.  Boy was I bloody glad that I did!
"These glasses are KILLER. I got these for like $7 from Las Vegas! They just make you look so cool. I had to take a $30 cab ride to the strip and was smack dab in the middle of all these vintage stores.  Patina there is an amazing store."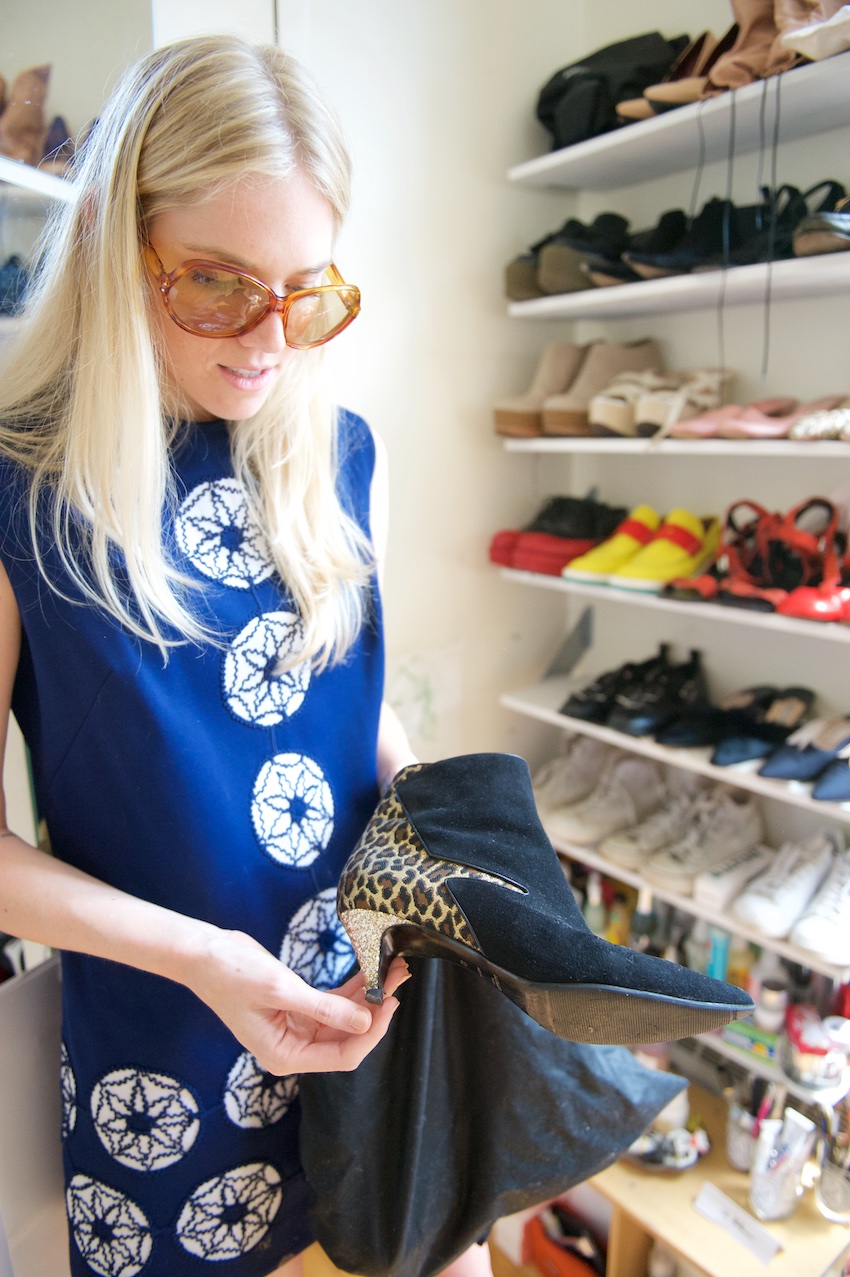 Boots:  Saint Laurent
 "I got these last year and already have had the heel tips replaced a lot. I feel like Saint Laurent is really good at making your legs look super long."
CLICK TO READ MORE ON SUE: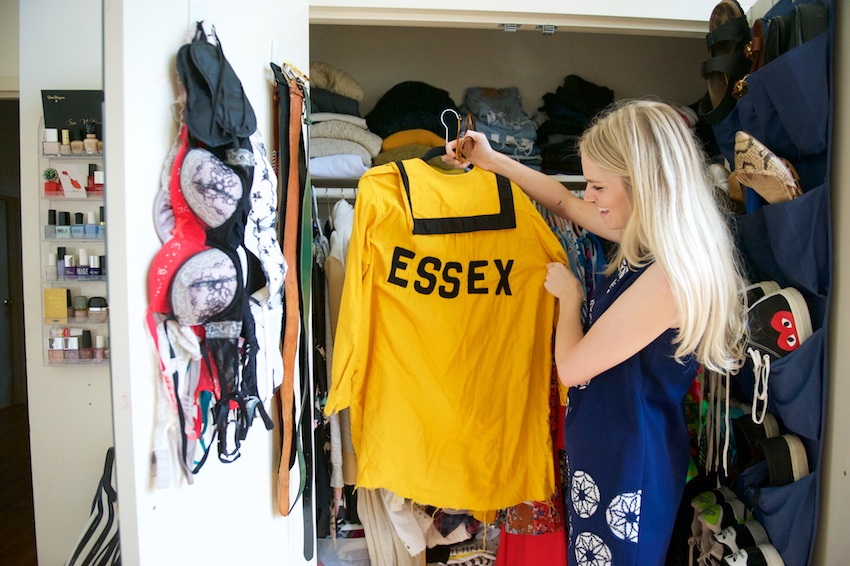 "I buy a lot of my clothes that I think are funny. This was originally ankle length and I bought it at Beacons Closet and while I was in a restaurant I cut it.  I wear it tucked into some pants or something. Whenever I wear it people always say to me: why does your shirt say sex but it doesn't."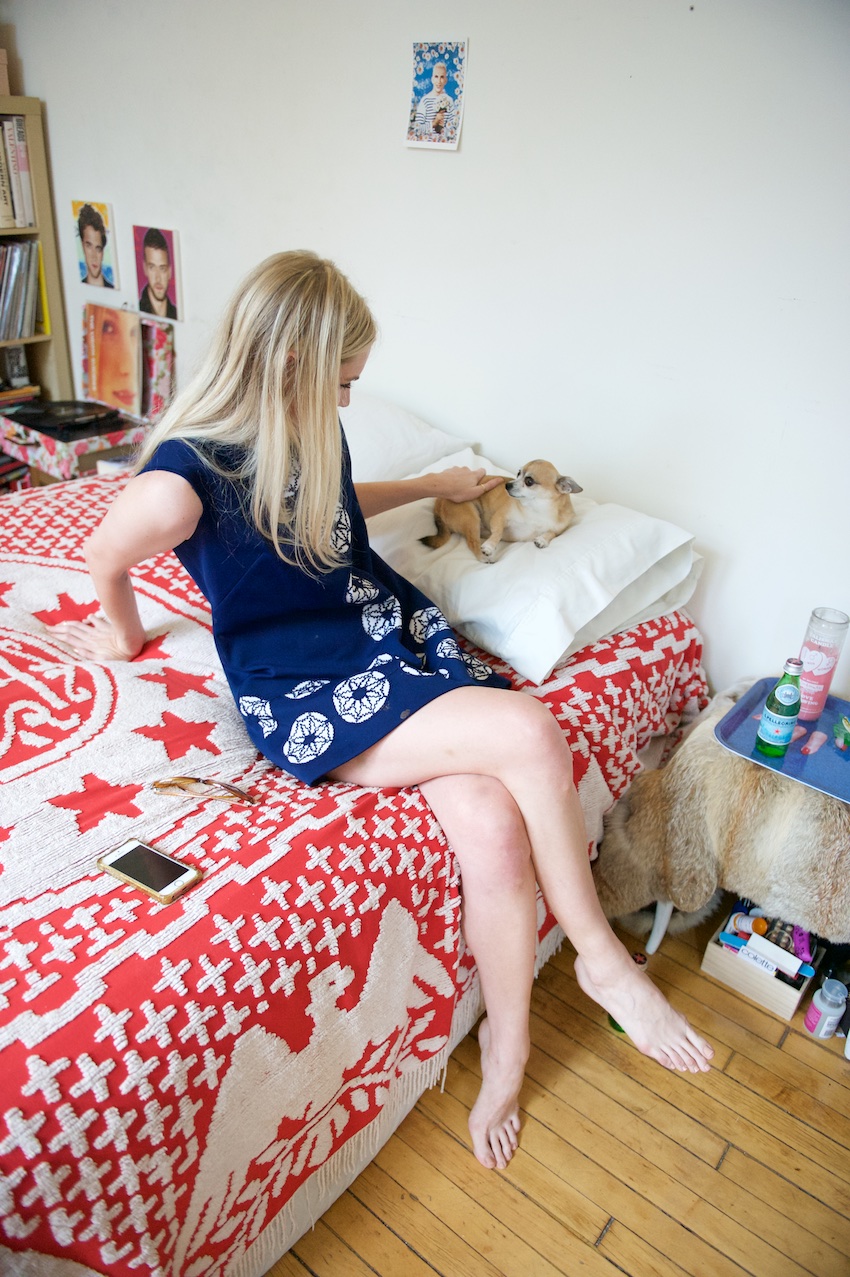 Dress: Vintage. Sue's dog: Owen
"My parents live in Memphis so I grew up just outside of there. I think I got this dress from a store called Flashback.  You don't have to spend a lot to have things that you like."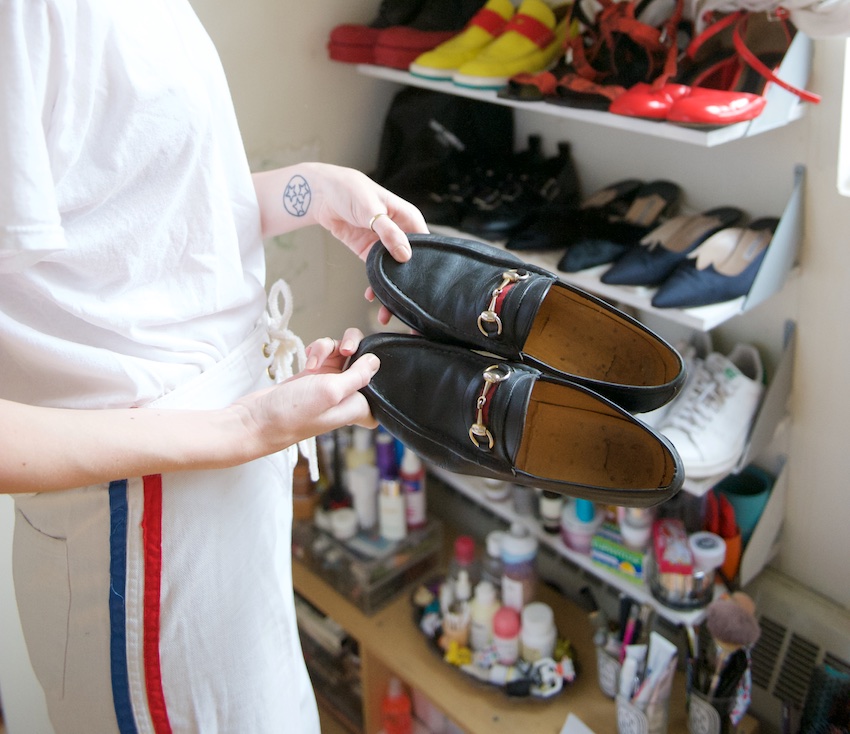 Gucci loafers: Patina shop
"I got these right after I saw the Gucci show in March. I got these from this shop called Patina which is awesome. It's like  if you want to look like Jessica Pare from Mad Men then that's where you go."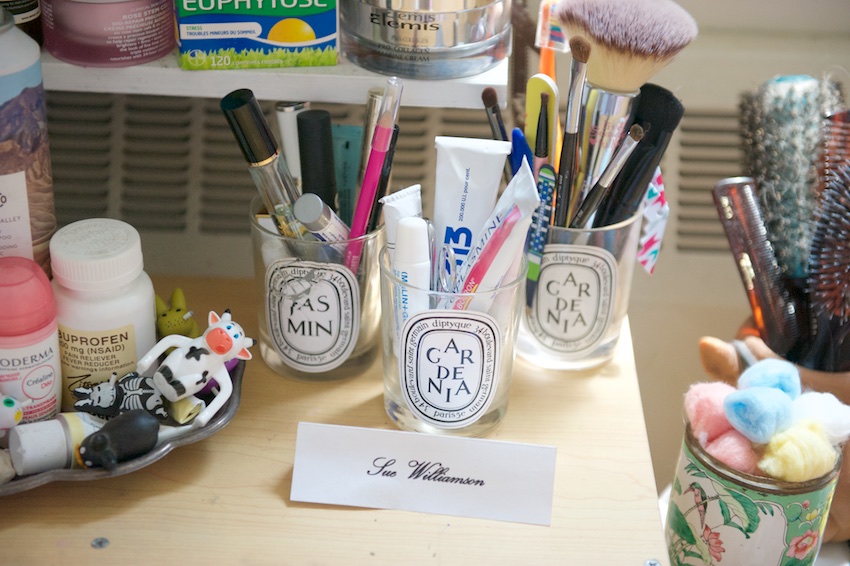 "I like nice things but I'm on a budget."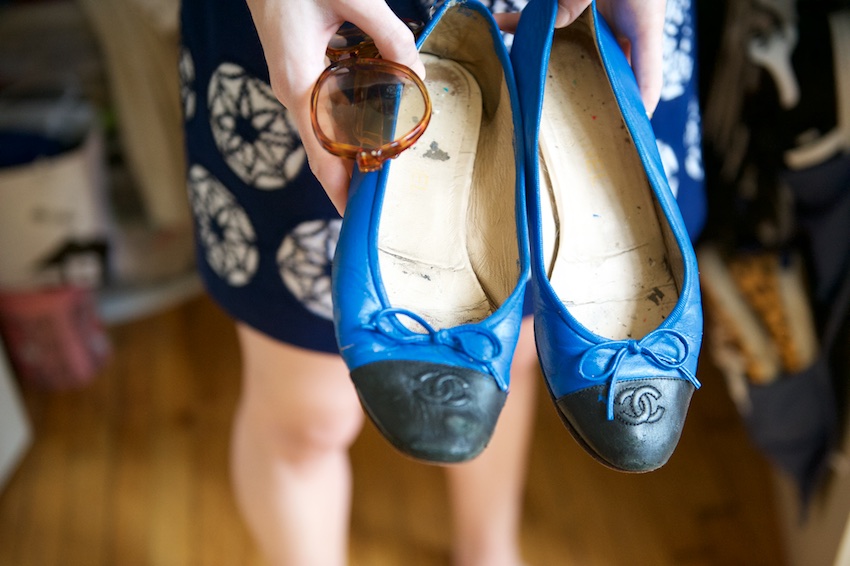 Flats: Chanel
"My Mum bought these for me at Saks a few years ago and they got so dirty. I was scrolling through Instagram and saw someone had blue ones and I'd never seen blue ones before so I got some blue paint out and painted them.  Before they were classic tan. I have a really horrible habit of doing things like that."
"I come back with bags and bags and spend less than $200 when I visit the art district stores in Vegas."
Skirt: Brooklyn Flea
"I got this forever ago.  This is good for a work with a t-shirt and I can wear it all day and go out at night and still look nice."
"I come back with bags and bags and spend less than $200 when I visit the art district stores in Vegas."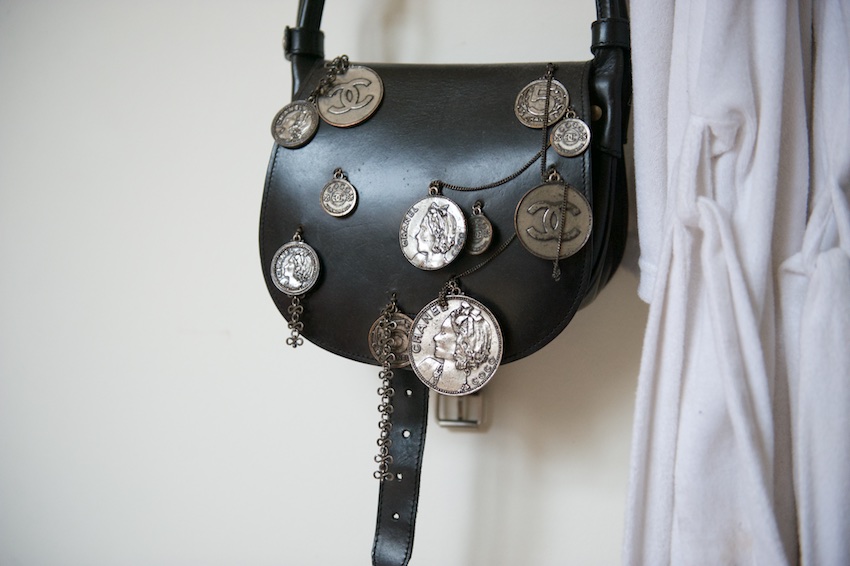 Saddle bag: Chanel
"It's on permanent loan from my sister. I've already sent it back to Chanel for repairs. I think it's a runway piece. It was gift from my sister's boss and she lets me borrow it.  It's really loud when you carry it though. I think it's from the nineties."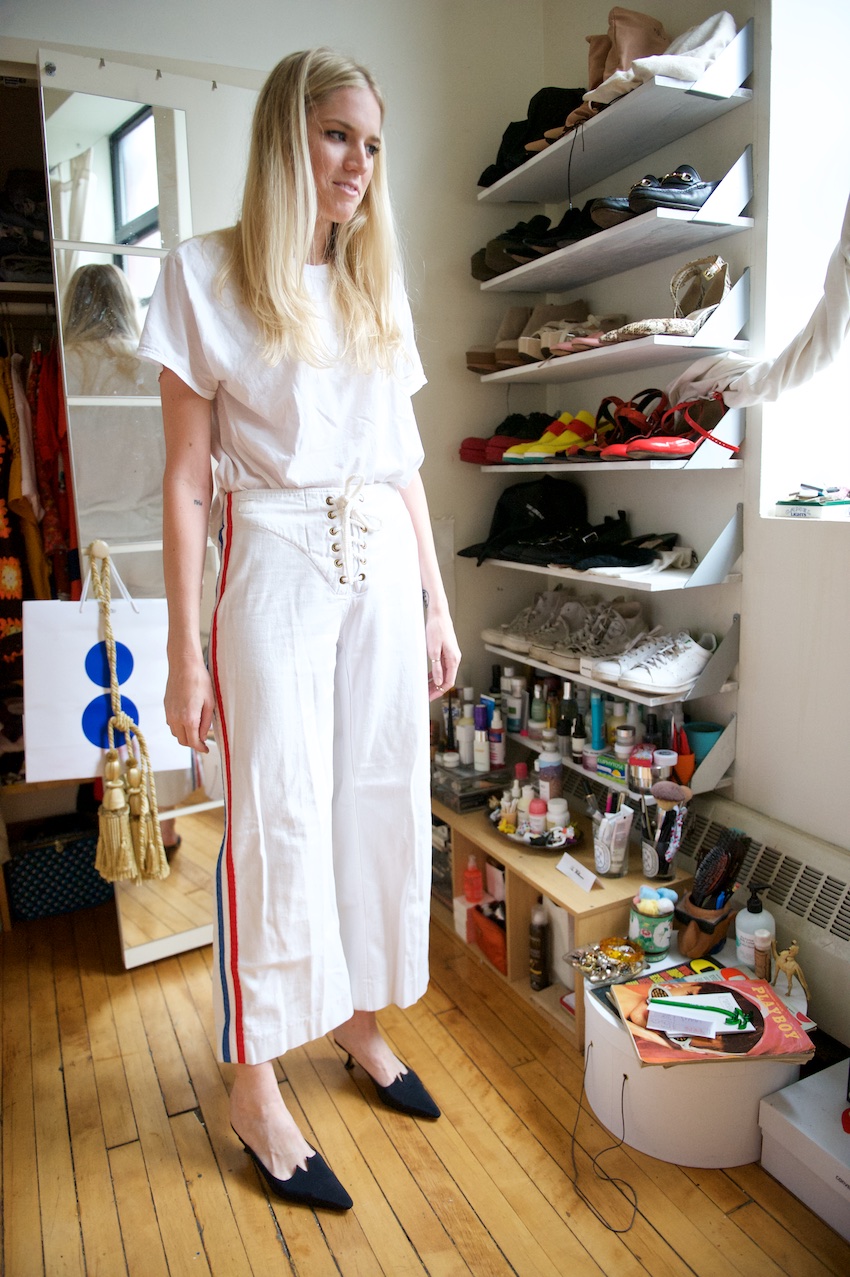 "These pants are really fun. I got them from Fox and Fawn in Bushwick for $20.  I like wearing them with a Manolo heel.  I got these shoes from The Real Real. I get stuff from there and Tradesy where I've also sold my clothes."
"I went to Las Vegas and I'm obsessed with the shopping there.  They have the best vintage in the arts district – they have insane stores."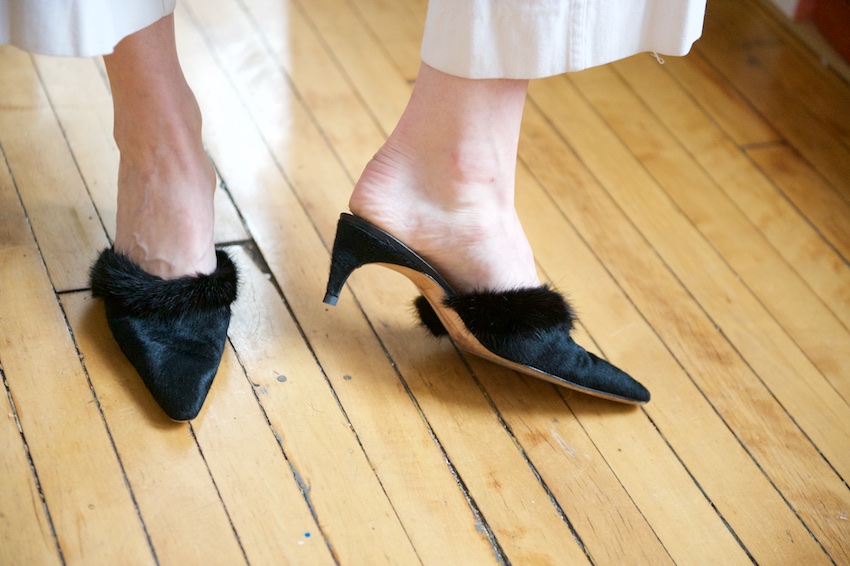 Manolo Blahnik mules: The Real Real
"I JUST got these. Aren't they cool?!"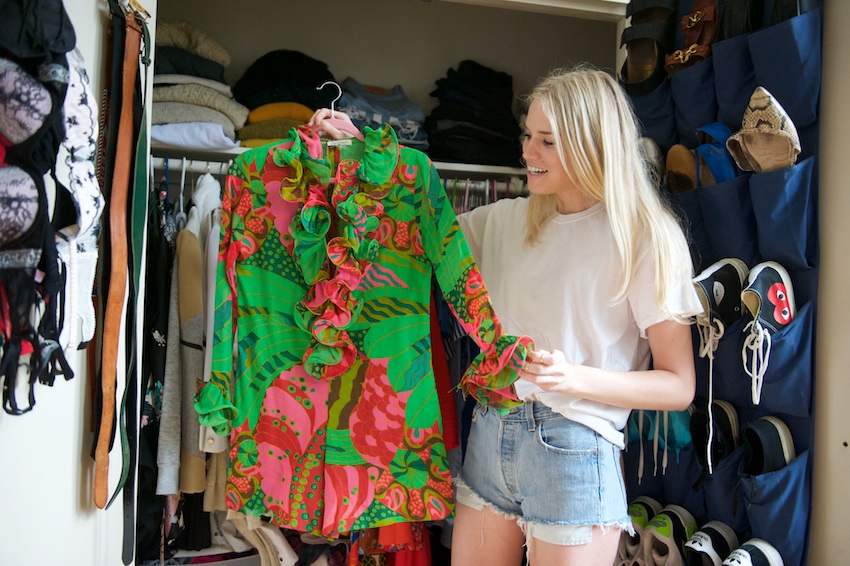 Vintage dress: No Relation shop
"I got this jumpsuit from No Relation in the east village and it was like $20.  I wore it with baby pink heels to a dinner and everyone thought it was expensive."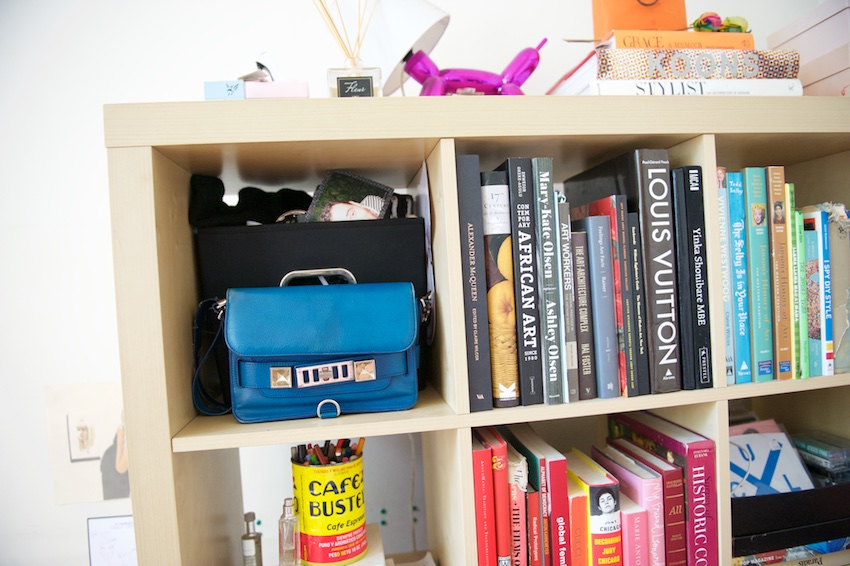 Bag: Proenza Schouler
"I got the bag at Barneys. The sales assistant was so nice, she spent an hour with me while I tried different colors.  She was so sweet and I kept apologizing that I was taking so long and she said 'look this is a big purchase so take your time."
"I go through phases of hanging different key chains off of it."
"A lot of my wardrobe is from my travels.  I'm a Taurus and I really like beautiful things."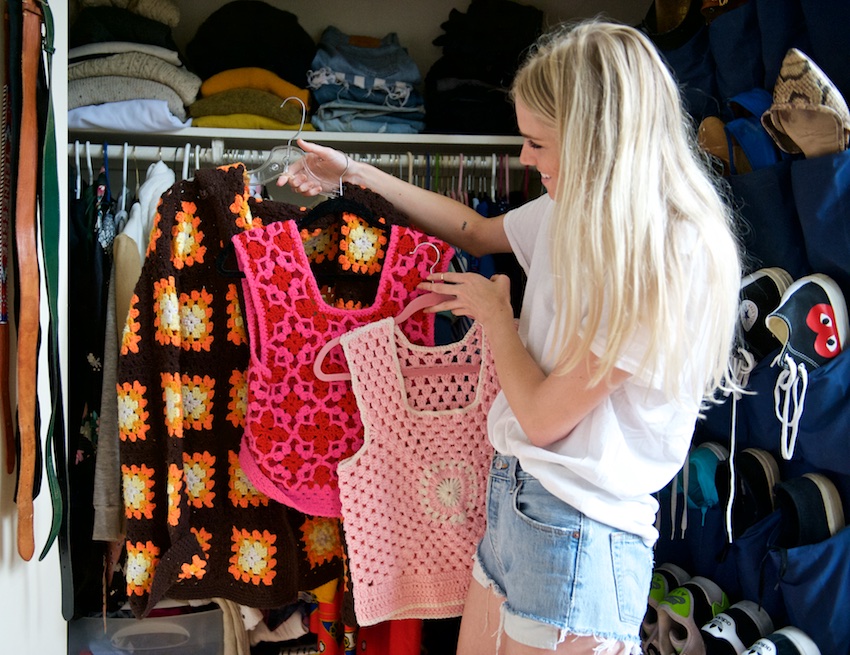 Vintage crochet: From Bedford & Collections store in Bushwick
"I've been collecting super bright crochet like these. I was trying to be Miu Miu but I think everyone can figure out that they are vintage!"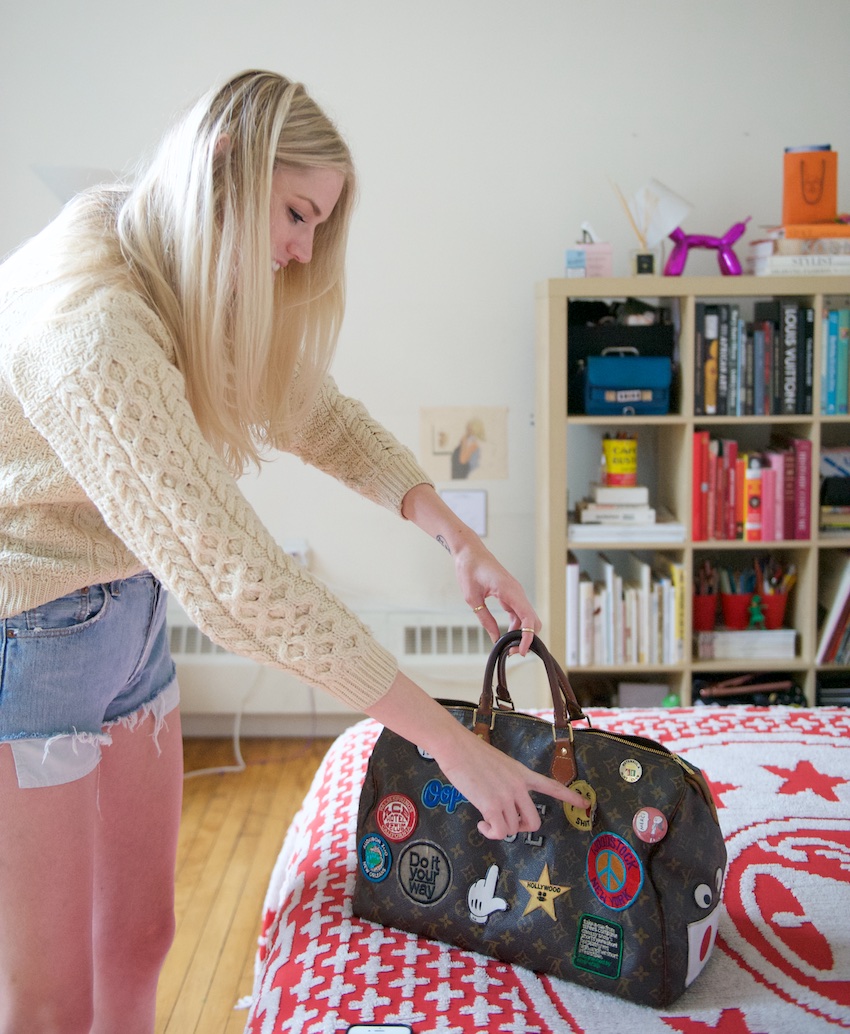 "I bought this speedy bag a few years ago at the store.  I went to art school and everyone said 'you're so preppy carrying this bag' so I stopped carrying it and then I sewed these on and people were giving me attitude because they hated it.  So I just kept on adding to it because I thought this is kinda awesome.
"Now everybody loves it."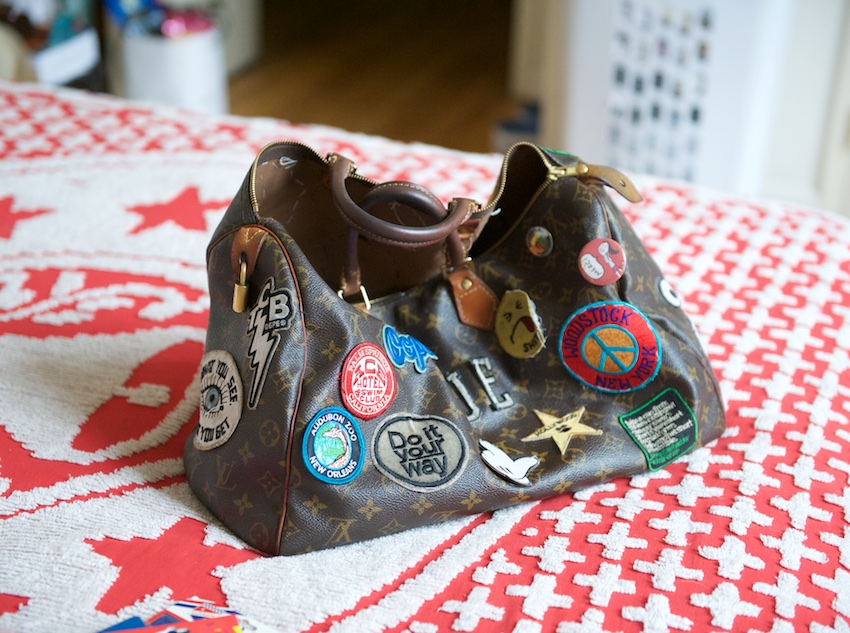 "The stickers all mean something; My first trip to LA, my friend's skate board company, Coachella.  The back of it is all about travel.
Jane Birkin did this with her birkin. She put on hers key chains, beads…"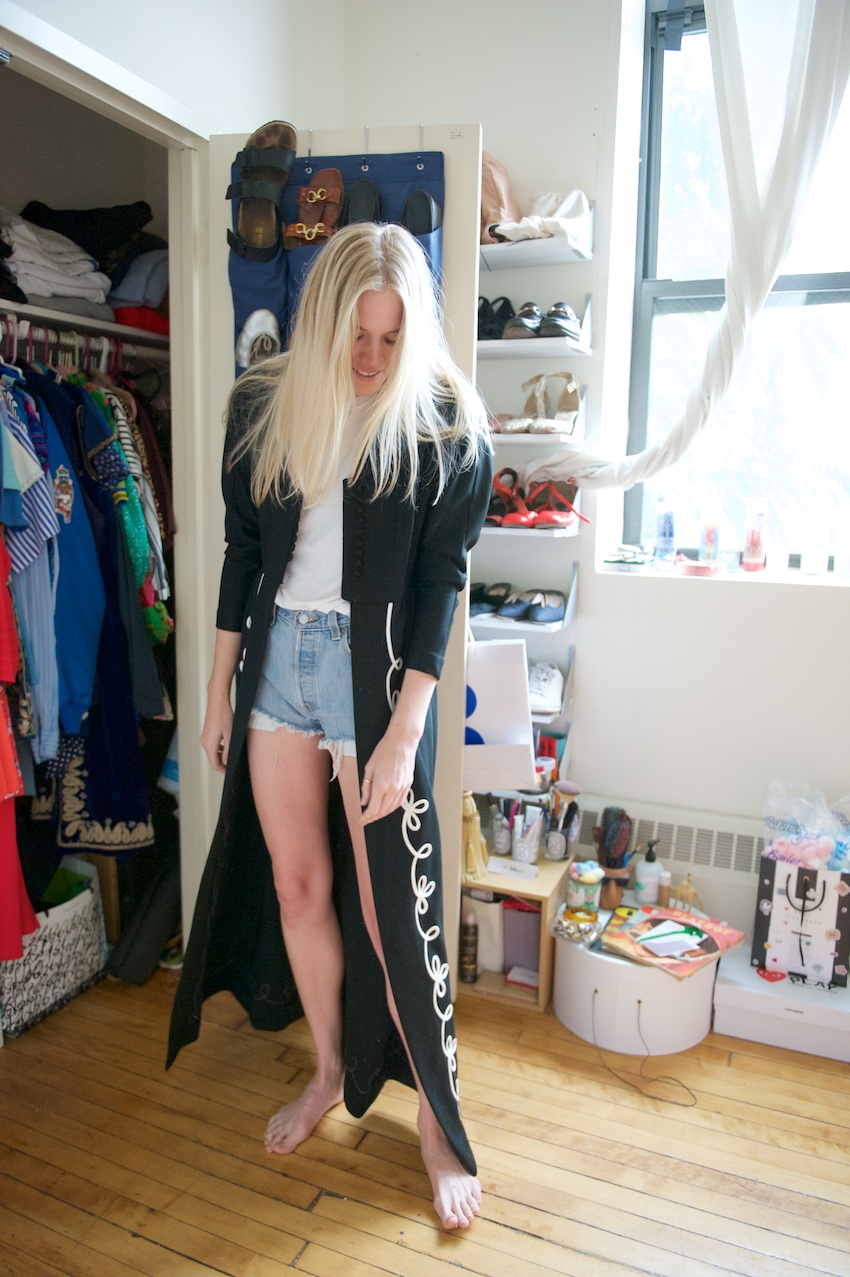 Vintage cape coat (part of a three piece suit) – $30
"I got this in Las Vegas.  It's part of a suit! It had pants and came with a belt.  I said I'm totally going to wear this with shorts. It's such a statement thing.  I wore it to In and Out for the first time and everyone was staring at me.  You know when you're on vacation you can wear whatever?"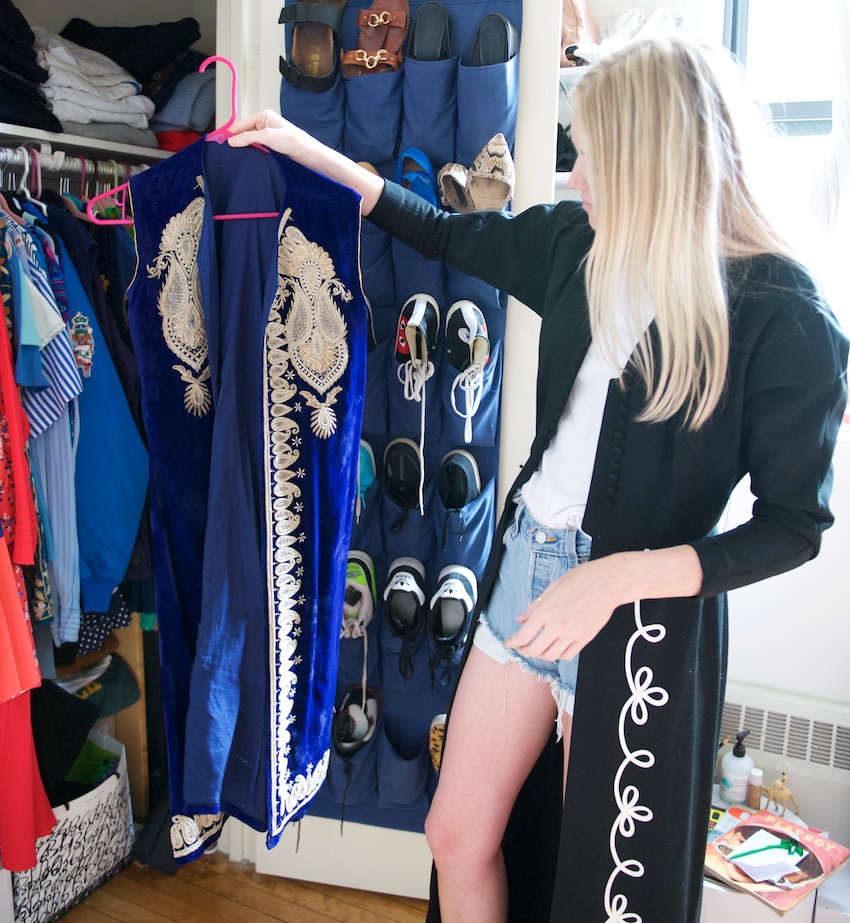 Velvet vest: London vintage shop
"I got this in London and it's like a Beatles girlfriend kind of thing. I like anything that you can be wearing jeans and a t-shirt and just throw it on."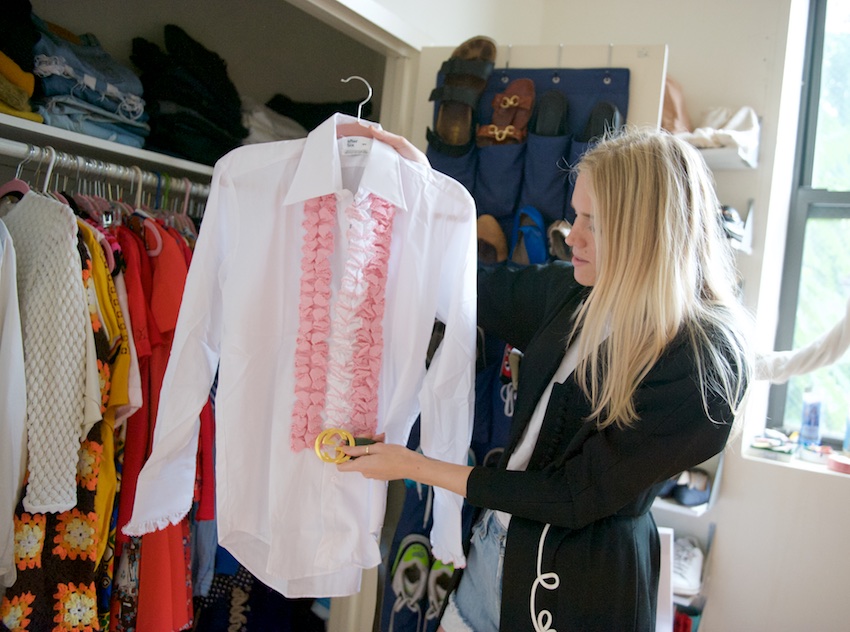 Shirt & belt: Vintage
"This is also from Las Vegas. It was deadstock – still in it's wrapping! It came with cufflinks and I thought it was so cool. I think I'm going to wear it with this belt and be all like Gucci from the seventies."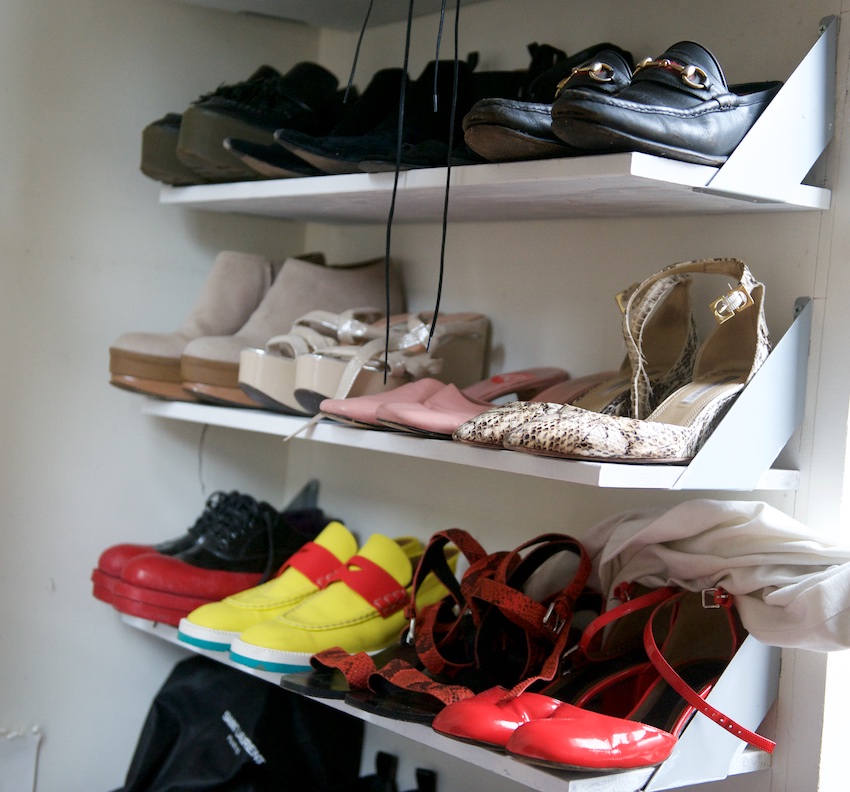 "I definitely spend more on shoes."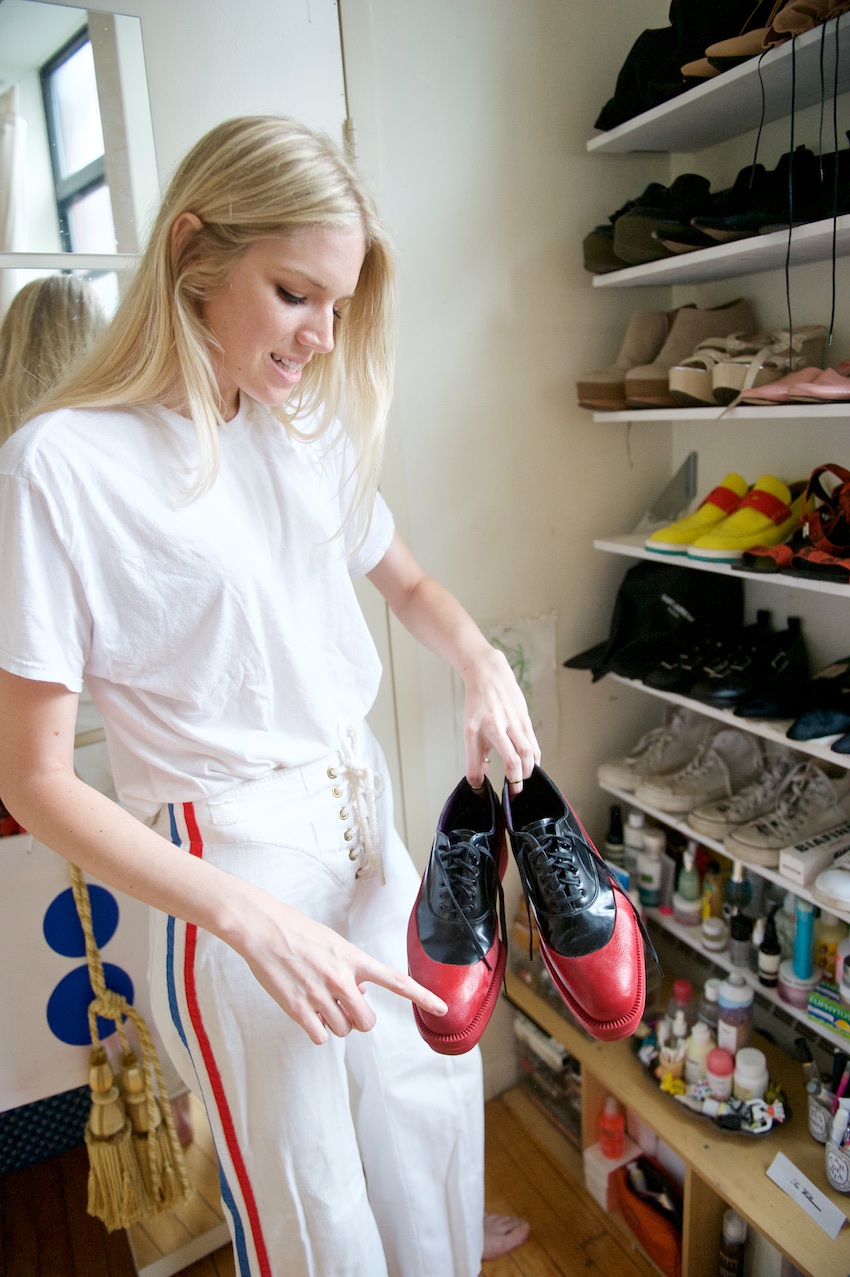 Shoes: Prada
"These are the shoes that you try on ten times and then you're like ok I have to buy them! There's a really chic girl that walks around the west village wearing the two toned white ones and I really wish that I had those – but red is still cool."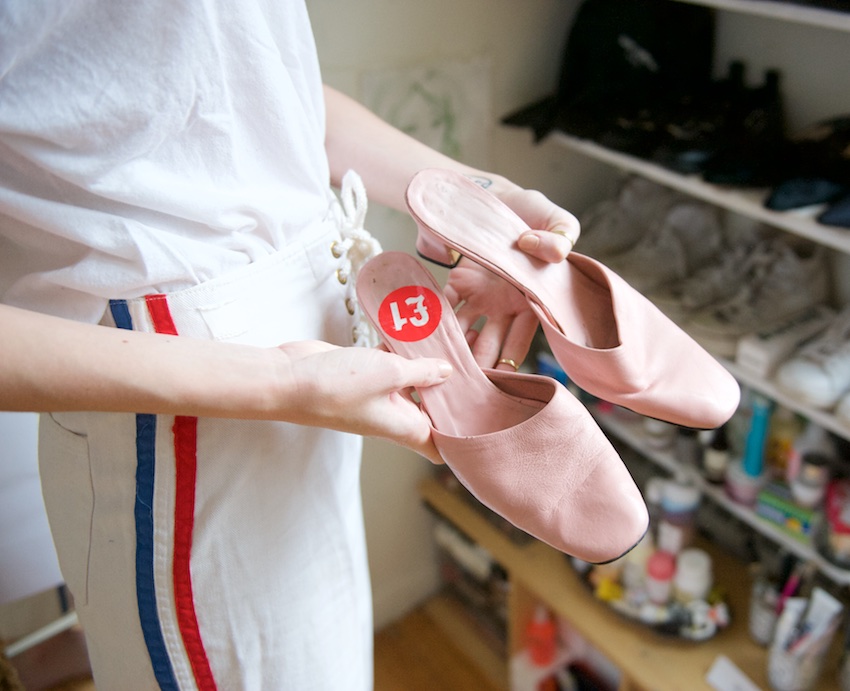 Vintage shoes: London
"These are my favorite vintage shoes. They were really one pound."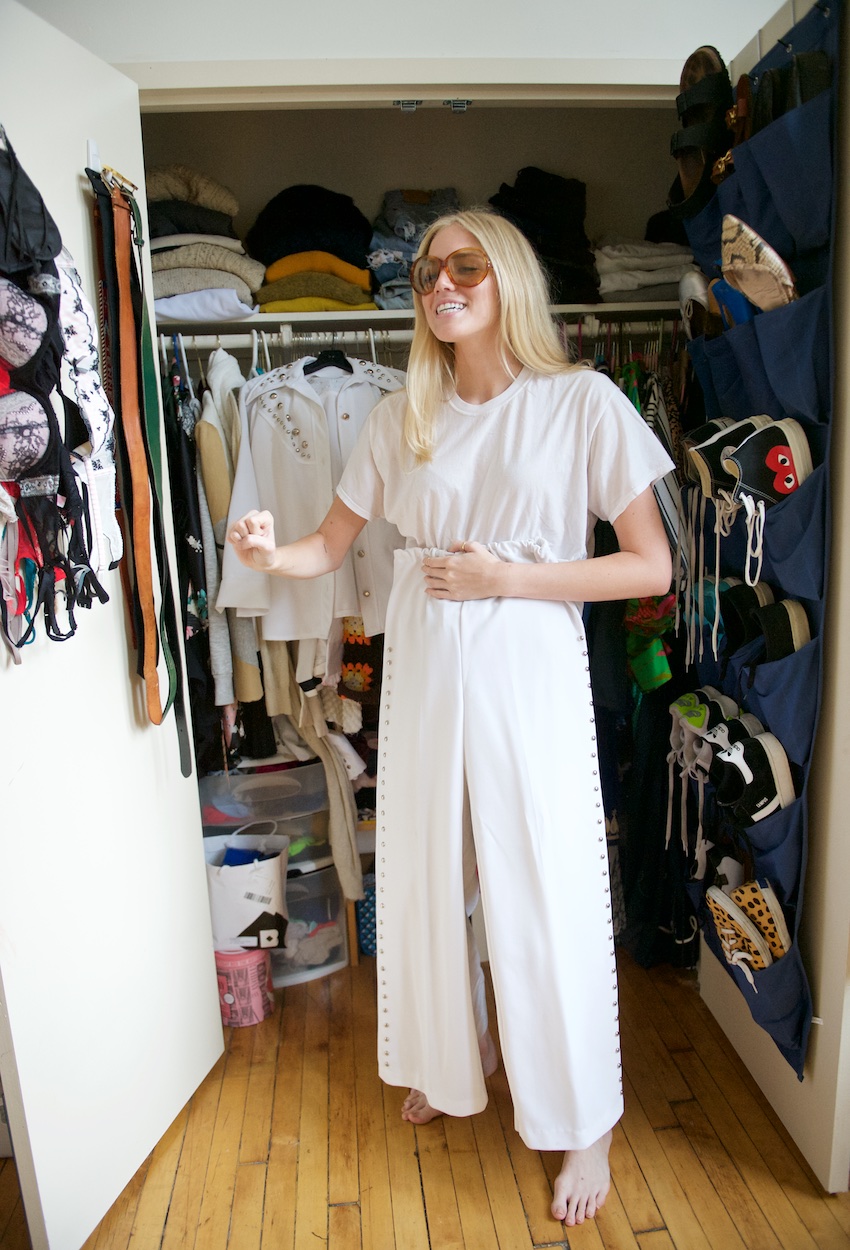 Vintage studded suit:  Art district vintage shops
"I got this suit in Vegas too.  I wear these in Vegas while hitting the slots with loafers and these sunglasses. When you are on vacation you get to try on all this fun stuff."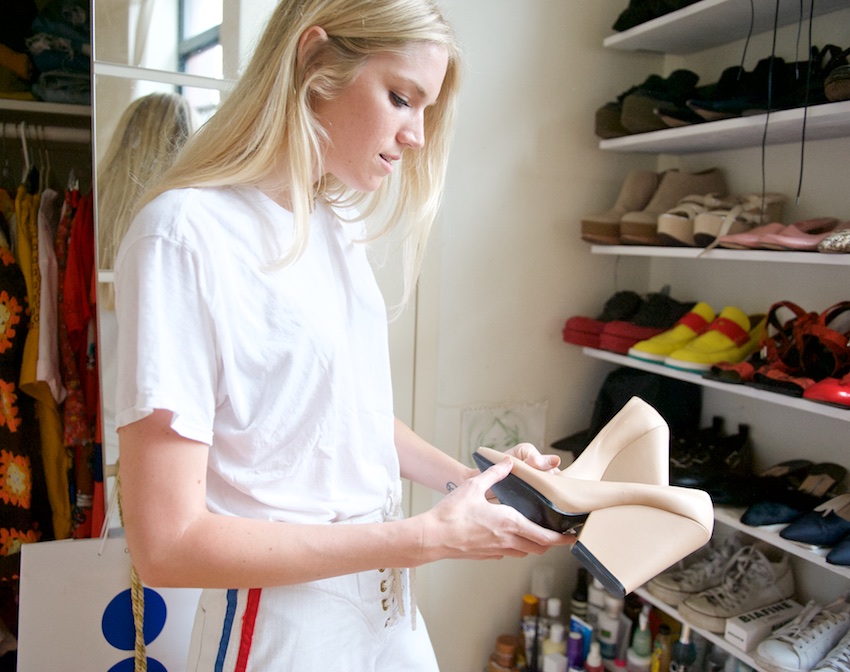 Shoes: Celine
"These shoes I got from a shop for a steal in Nashville.  I wore these for my first day at work for W magazine. They were like $200 or less."
"As I'm getting older I'm seeing that fashion is so much more cyclical than I thought."
Favorite Shops?
"I love What Goes Around Comes Around – it's one of my favourite stores and I love the owners. I love Mix Masters Closet in Bedstuy, Sincerely Tommy for new things.  I'm obsessed. That's a good place to buy the nice basic things.  I love all my people in Las Vegas like Patina.  I like Flashback in Memphis.  I love Stella Dallas in Williamsburg. I like Collections in Bushwick.   I don't like to online shop but I like The Real Real and Tradesy.  For new things I like &OtherStories and I like Barneys.  I also like Eva Gentry on Atlantic Avenue – it's really cool."