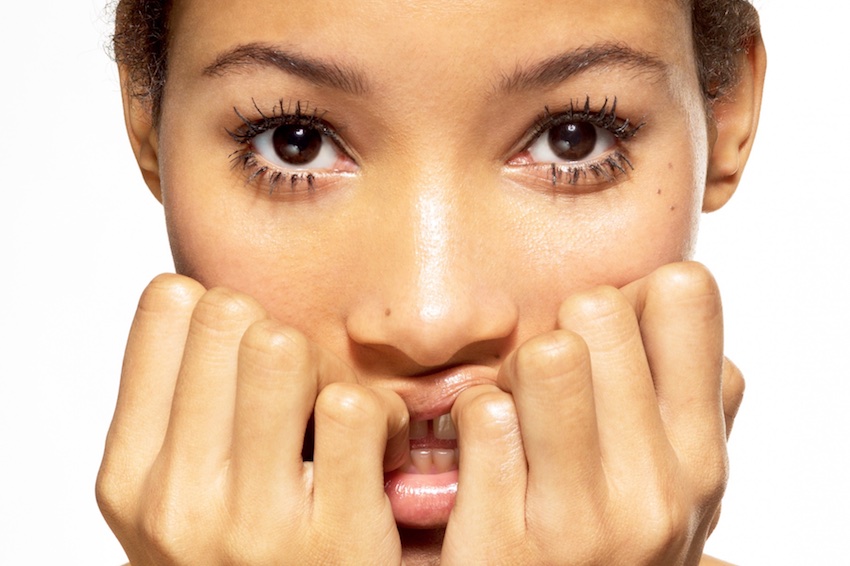 Over the past few months I have bought a few raved about foundations.  I have heard that they were the dog's bollocks and needed to see for myself.
If you are a similar color to me or just want a heavier foundation for the cold that looks natural then read this review because I tested a few popular ones.
My round up of the best (so far):
Note: I have yellow under tones (MAC NC45) and an oily t-zone which is drier in winter.  If you are not sure what your under tone is, look at the veins on your wrist.  If they are are green you are most likely yellow toned.  Otherwise you are more blue under toned.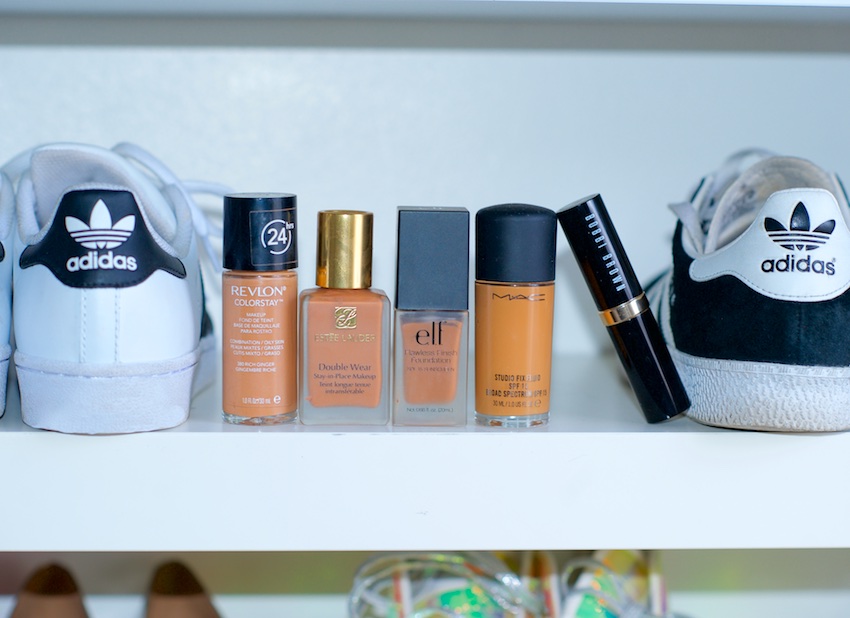 Ok so here are the five foundations that I have tried.  Four liquid and one stick. Actually there is sixth but it's not included in the photo but is still reviewed.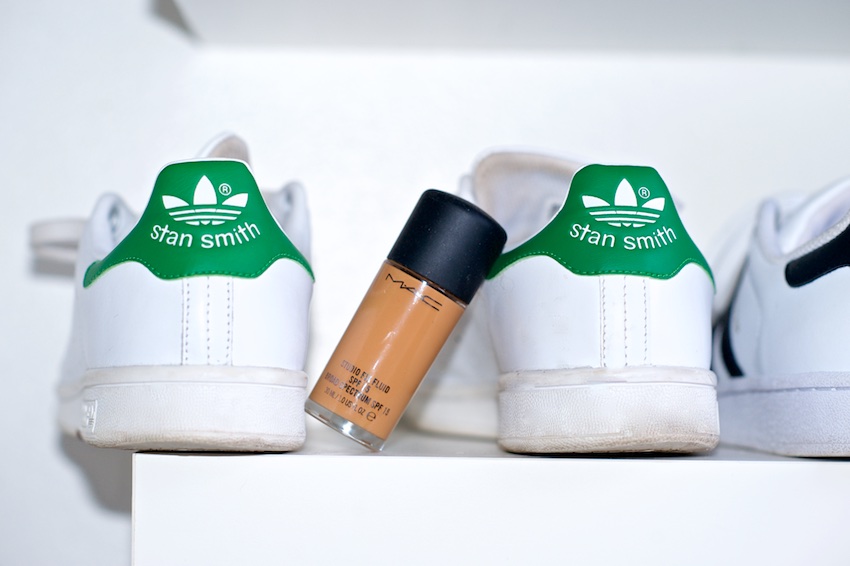 M.A.C Studio Fix Foundation
Pros:  Wide shade selection.  Natural looking.
Cons: Coverage could be better.
My Color: NC45
I have been using this for about seven years but was itching for a change.   I would say this is medium coverage. The finish is semi matte which I love so it's still natural.  I like that the undertones are yellow based and matches my skin tone easily.  This has been my skin in a bottle.  It covers flaws well but not completely.  Blends easily.   Needs powder to set to avoid shine after a few hours but I'm ok with a quick touch up of M.A.C Blot Powder.  I would still re-purchase.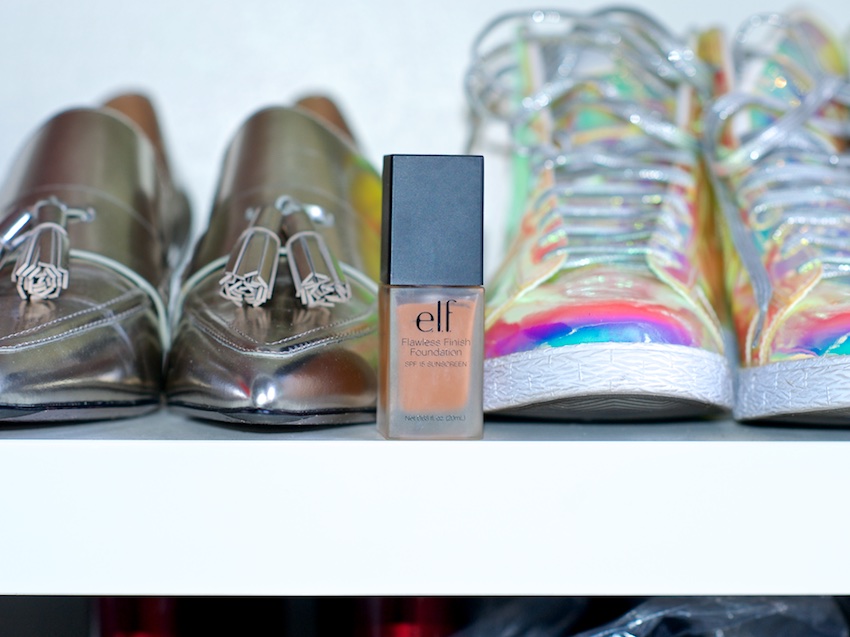 ELF Flawless Finish Foundation
Pros:  Bargain in a bottle. Full coverage/No concealer required.
Cons:  Poor color selection
My shade: Cocoa is the closest (but it is too red based)
This is full coverage in a swipe.  It covers flaws perfectly and literally does look like flawless skin in a bottle.  I don't need a concealer when using this because the coverage is heavy.  It feels a little heavy so I have to really blend it but it completely covers imperfections which is sort of fun to watch.  I see this as a perfect TV foundation.   Cons?  I get oily skin breaking through in the afternoon and I almost 'feel' the foundation on the skin.  Still –  I loved the concealer-like cover power of this foundation.  I would repeat buy this if they had a wider shade spectrum.   Also there is a slight oxidation by end of day so the color looked even more off on me.  Cocoa is their darkest shown above which is too dark for me and its red based.  Their next shade up is Almond which is way too light.   In this day and age, Elf needs to introduce more shades for darker skins.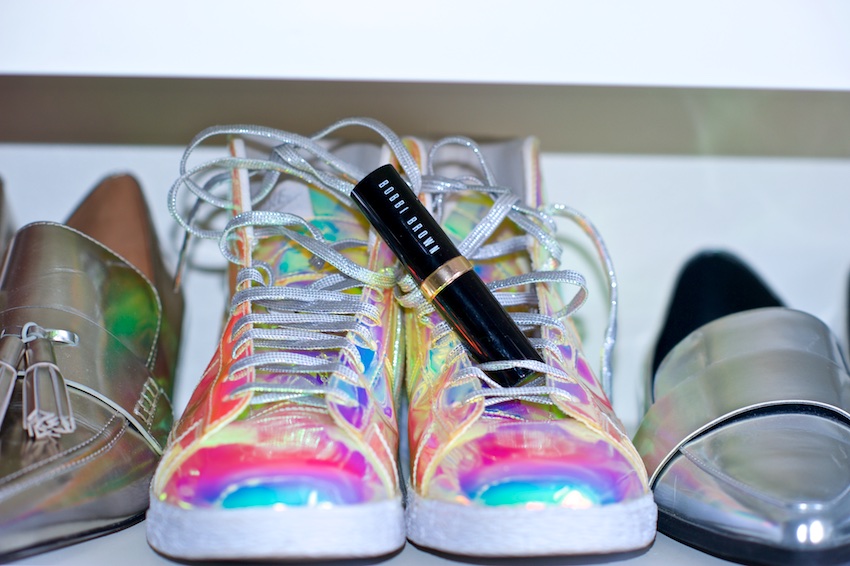 Bobbi Brown Skin Foundation Stick
Pros:  Convenient, portable easy to carry. Good color match and range.
Cons: Drying and pricey.
My Shade: Golden
I was introduced to this line by a celebrity make up artist telling me that Bobbi Brown has a good range of yellow based colors and she was right.  This was
my first time trying a cream based foundation from a stick.  The novelty factor sucked me in.  It covers well and matches my skin perfectly, but the stick is not easy to blend because it is on the dry side.  I found it easy to miss areas because it does not glide on like a fluid foundation.  Finish wish, my skin looked too dry and matte for my liking.
. . .
Bobbi Brown Skin Foundation (not photographed)
Pros: Excellent color/shade selections
Cons:  Minimal/thin coverage. Runny consistency
My Shade: Golden
Like MAC this looks like my skin in a bottle. The match was perfect but the coverage was so bad I thought what's the point?  One application leaves a very sheer finish.   I had to try a second application which didn't make that much of a difference either. It wasn't build able. The liquid is runny, almost water like. If you want a sheer coverage then try this but I returned this to Sephora – hence no photo.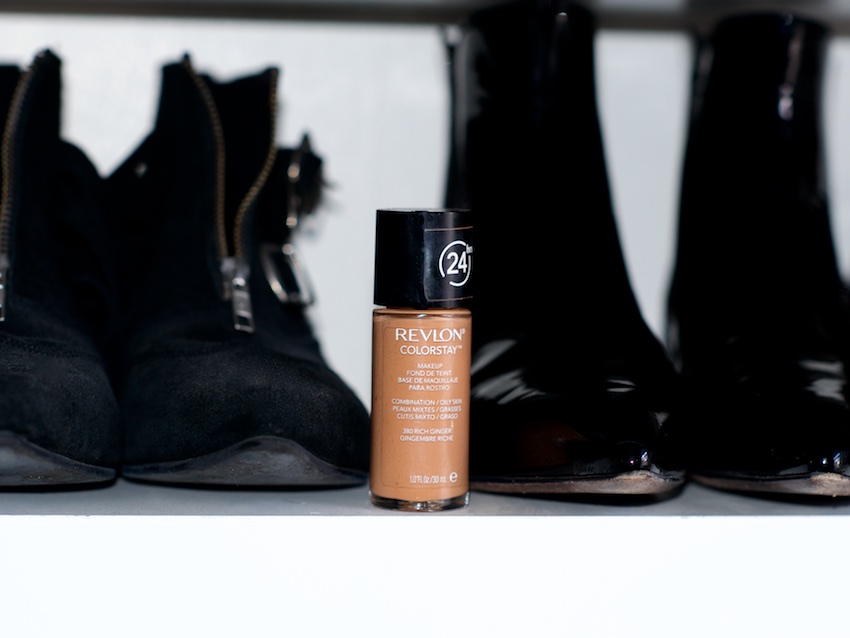 Revlon Colorstay 24 Hour
Pros: Great coverage. Inexpensive. Lasting power
Cons:  Shade Options Are Not Accurate Enough
My Shade: Rich Ginger
I bought this after hearing that it was a good dupe for the famous Estee Lauder's Double Wear (see below).  To me this is in part.  The color range is not wide enough for my skin tone.  Rich Ginger blends convincingly.  I am unsure that is 100% my shade but it is good enough.  Coverage is medium to almost full.   Coverage is comparable to MAC Studio Fix foundation above.   Staying power is impressive.  I checked my face in the evening after 10pm and it looked as if I had just applied it.  I would only re-purchase if I found a more accurate color match.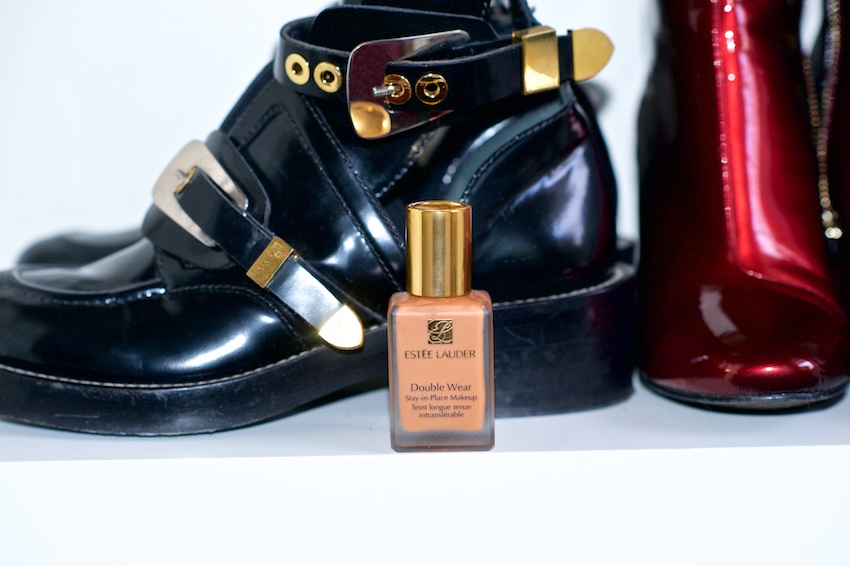 Estee Lauder Double Wear
Pros:   Superior colour range. Lasting power. Build-able.
Cons:  Expensive.  Small bottle.  No pump dispenser for a glass bottle.
My Shades: Rich Ginger and Rich Caramel
This is the only foundation that had two strangers compliment me on my skin.  I caved after hearing numerous glowing reviews and now I see why.  The coverage is build able from medium to full which I love.  Double Wear is the Rolls Royce of the foundations reviewed so far.  My skin looks even and it covers imperfections really well while looking natural.  The staying power is huge lasting into night with zero touch ups.  A bonus for my oily t-zone.  What I like is the impressive color range for darker skins.  So much so that I am a toss up between two shades – the shade ranges are that close.  I love that the coverage is build-able:  One application and you have nice skin. Two applications and you have damn near flawless skin (I haven't gone up to three applications).    Finish is semi-matte while being ever so slightly dewy.   The bottle is small so it's not budget friendly but you get what you pay for,  just don't drop it on the floor.
. . .