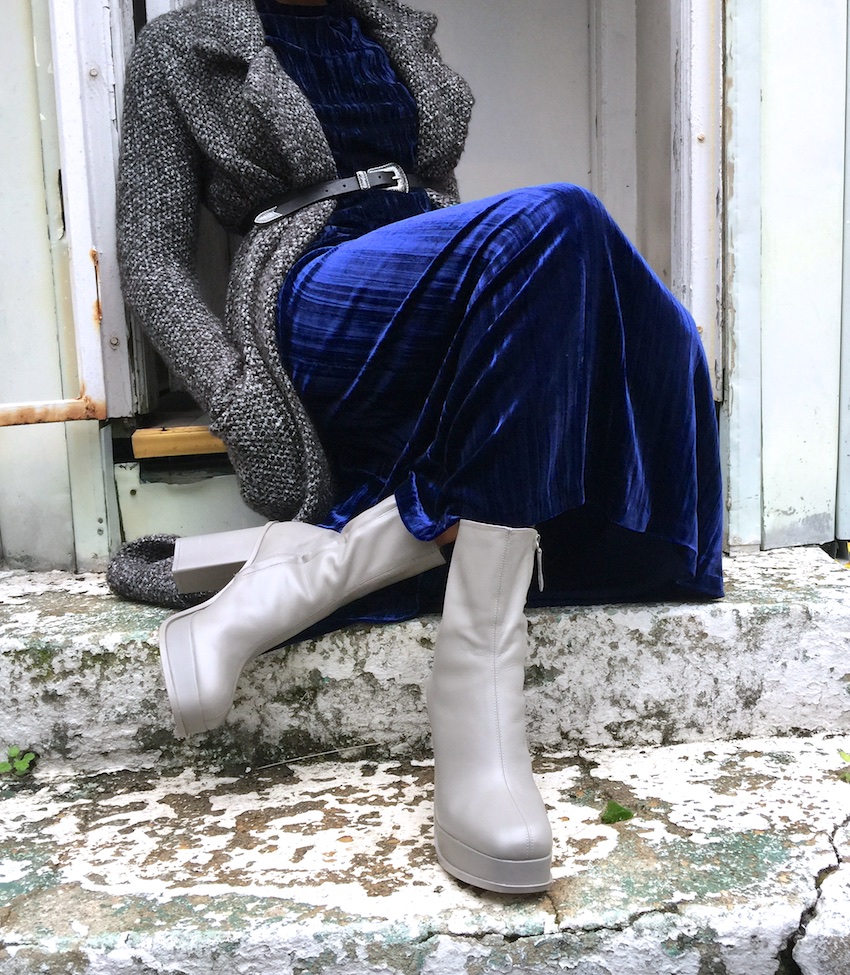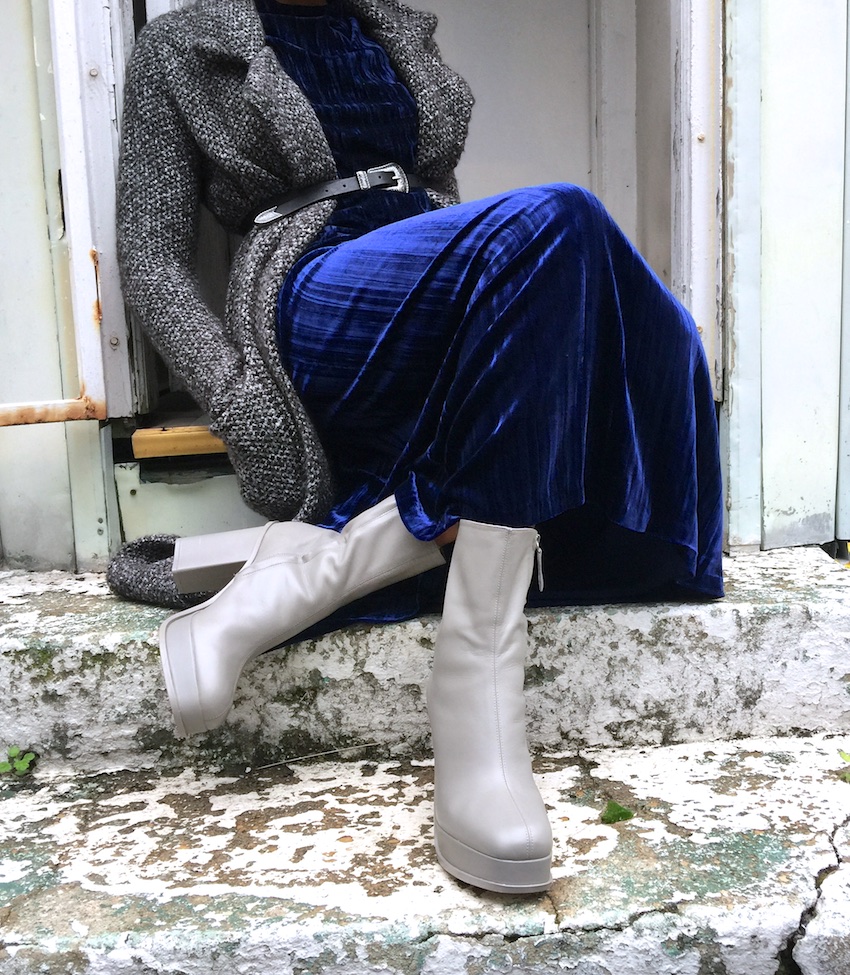 I have always had a thing for platform boots. It's the nineties grunge itch. Doesn't go away. It just hibernates for a couple of years then re-surfaces. I shoot people wearing them and say eff you to the theory that they make your feet look bigger – remember that 2013 post on that black pair?
Vetements gets it (or have lost their God damn mind). They've elevated punk grunge to designer status with their clothing line and their current take on platform boots. Balenciaga jumped head first in too.
You get the point.
What I will tell you is this. If you are considering, try them on. They are basically heeled slippers. Block heel, minimal foot arch and hefty platform plus a narrow ankle that disappears under your clothes. You can find an assorted collection of platform boots online and in most high street stores so if you're worried about finding a pair that you love, don't worry!
Here are twelve platform boots at all price points that scratch the itch….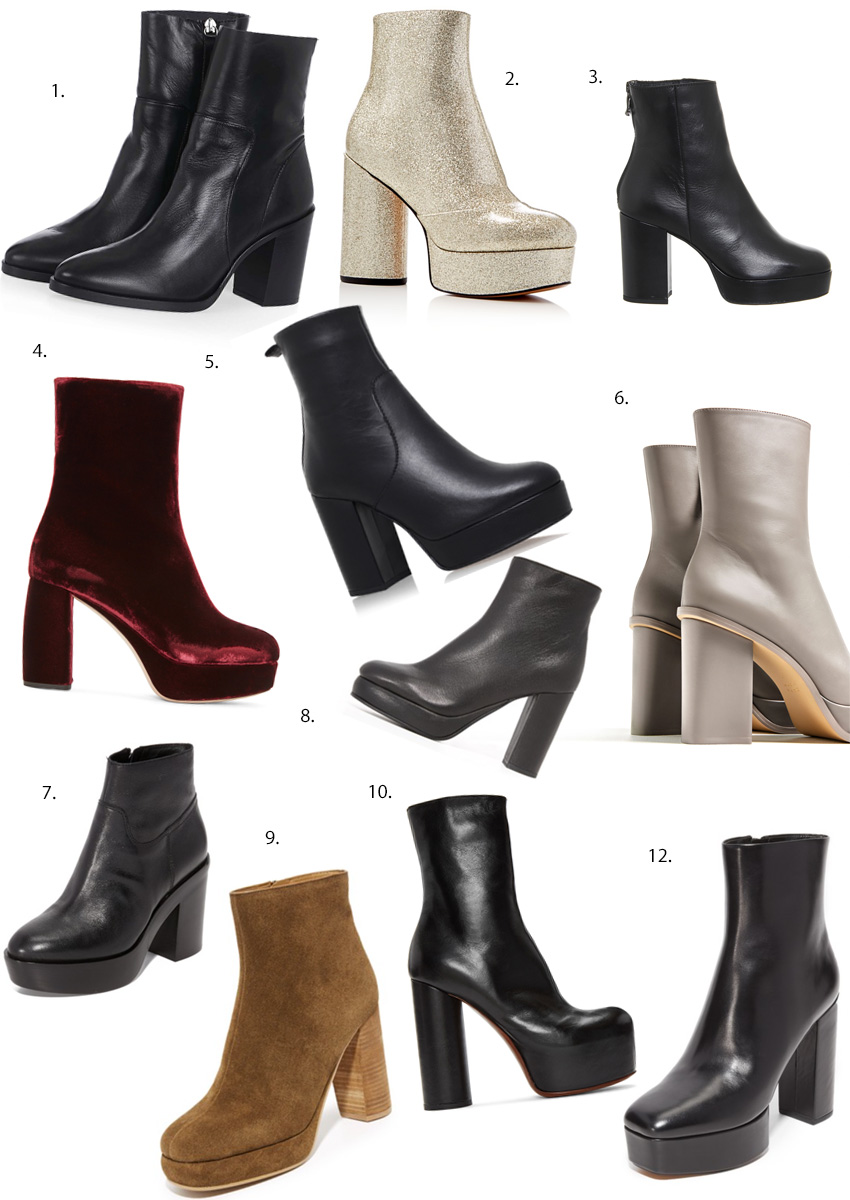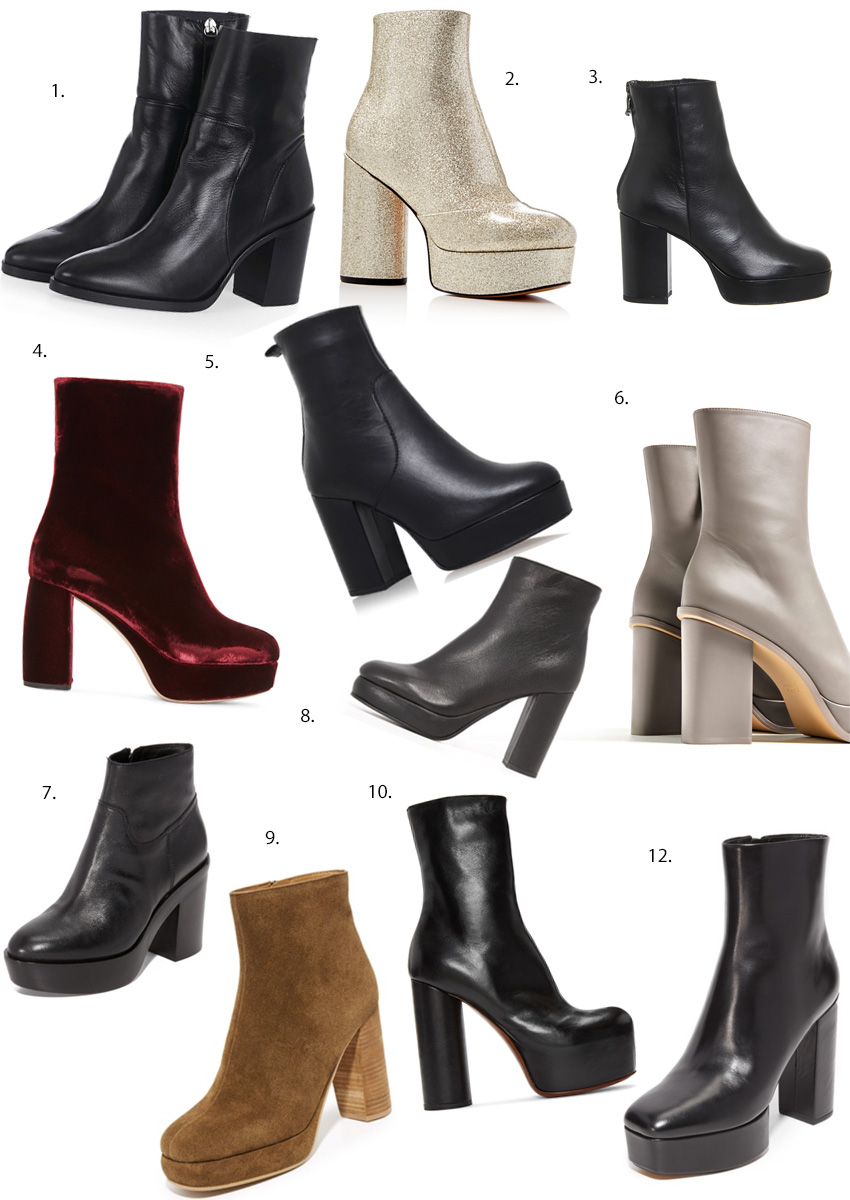 Topshop Million Socks boots
Marc Jacobs Amber boots
Office Lioness boots
Miu Miu velvet platform boots
Kurt Geiger Sweden boots
Zara grey boots
Dakota boots (on sale: Code: MAINEVENT16 for 25/30% off site wide)
Lisa platform suede boots (on sale Code: MAINEVENT16 for 25/30% off site wide)
Vetements platform boots
Alexander Wang Cora platform boots (on sale: Code: MAINEVENT16 for 25/30% off site wide)
. . .
You can wear them with whatever you want (obviously), but this is what I'm thinking: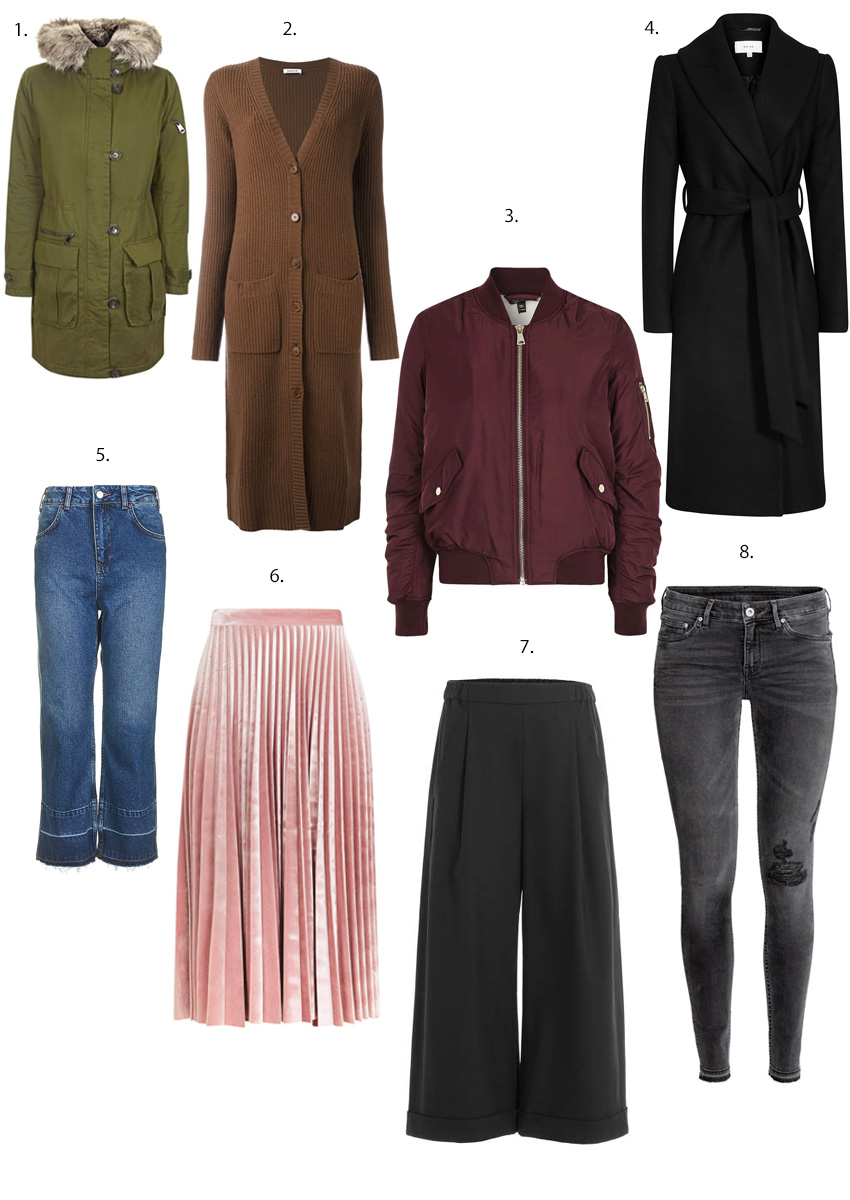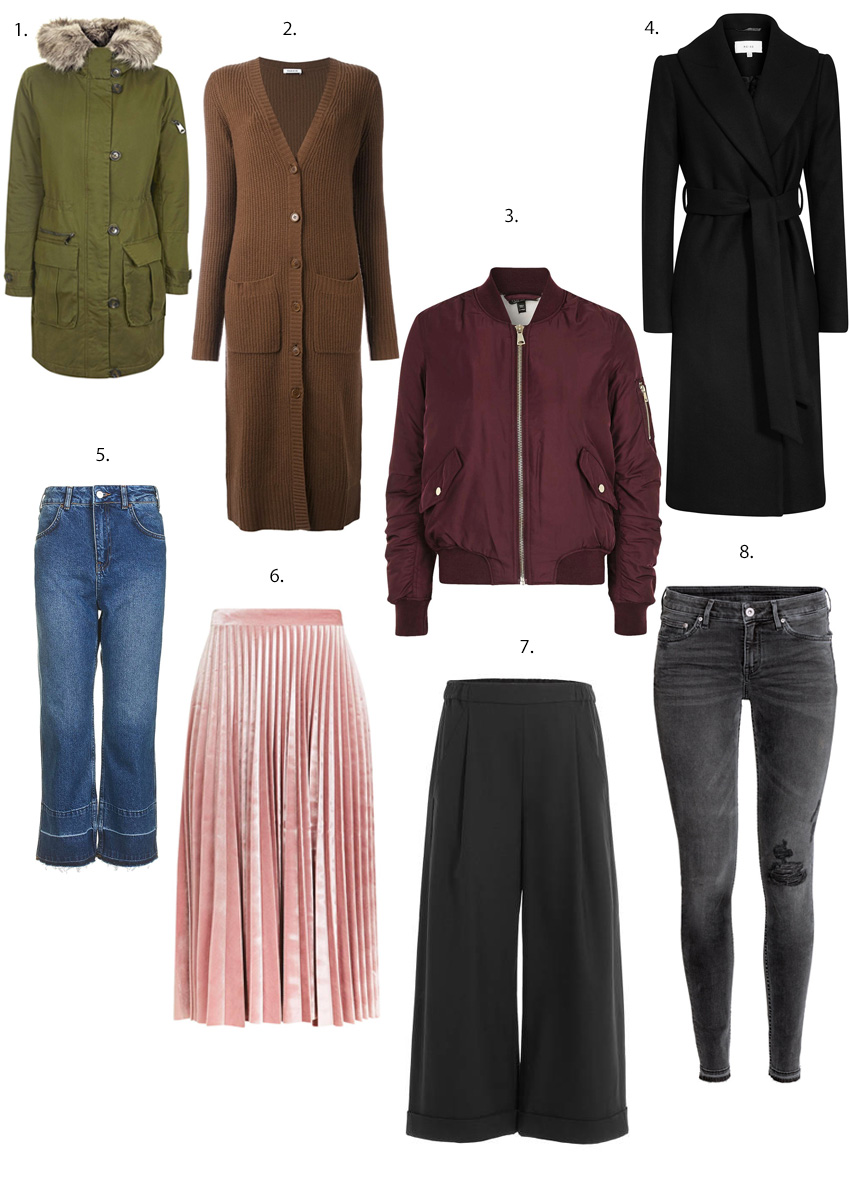 A L L D A Y C A S U A L
Straight cut cropped jeans to show off the slim straight leg of the boot. Try AG The Phoebe jeans (site wide sale code: MAINEVENT16) or the above Topshop Moto Let Down jeans. If you want a more casual vibe, army jackets (love them sized up) or a fantastic parka. The above is the Topshop padded parka jacket.
L A D Y L I K E P U N K
Think long skirts that hit at the calf or just below . Pleated skirts in velvet (see Topshop velvet skirt above) or a metallic pleated skirt are cool updates. If you are short, this is a killer grown up way to take out the shortening effect of long skirts. Add a long knit instead of a coat (more grunge-like). The above Parosh long knit cardigan walks that line.
D R E S S Y C A S U A L
Wide leg culottes will work with every platform boot. I saw these Monki black wide leg culottes (wear them with knee length boots too). Pick a solid color bomber so that all the focus is on the kick a** boots. Try Topshop's MA1 bomber. Add a scarf and knit hat later.
C H I C D O W N T O WN
Drainpipe jeans will emphasize the narrow boot shaft and elongate legs for days. If jeans and boot are black, ripped knees help break up the one color. Balance out with long line coats or jackets. The above bomber also works (love the burgundy with the charcoal jeans). Try the H&M Super Skinny ripped raw edge jean.
Balance out the above with long slim cut coats. If you're more into a more casual vibe, army jackets (love them sized up) or a fantastic parka, long line jackets and bomber jackets.
. . .
ps. Anyone else caved on the Shopbop sale???? Ends TONIGHT OCT 14.
Yes – I caved and will show the delivery on snapchat.