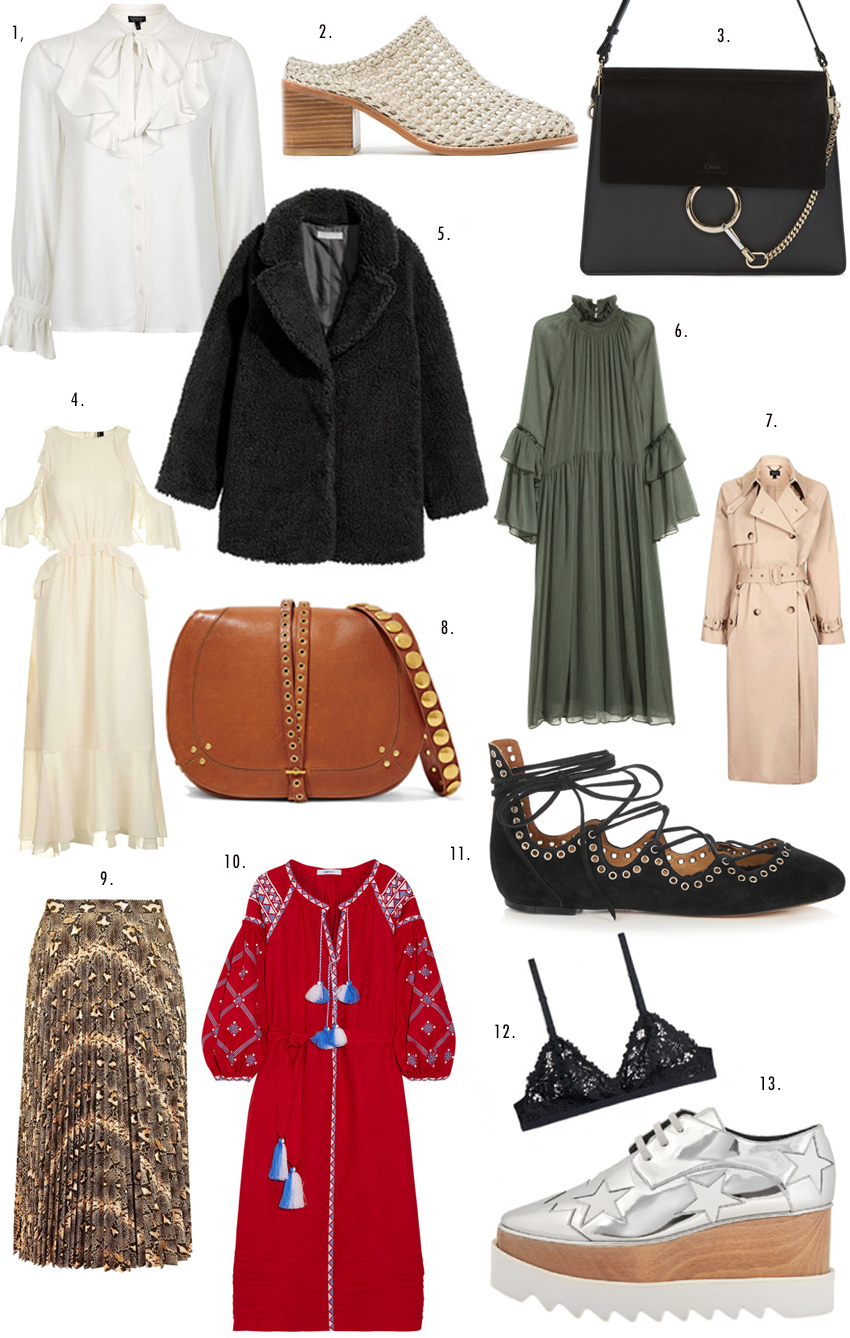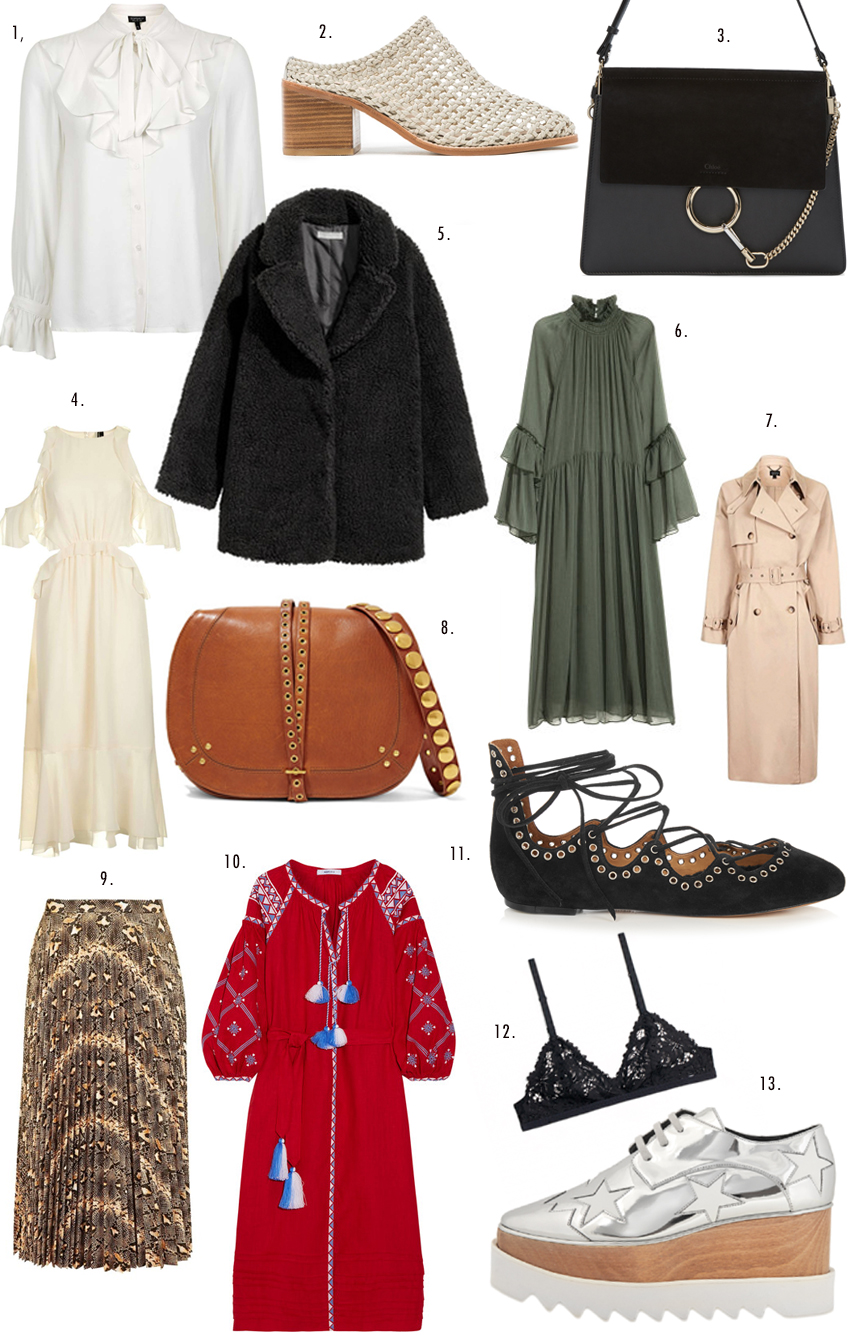 I'm tired of buyers remorse.  It's happened to me for years and my bending wardrobe rail keeps reminding me.   With that rail in mind, I shop the sales more carefully.  Will I really wear it? Is this something I lusted after at full price? Is this a classic piece that my wardrobe badly needed?  These are the main questions. I'm sure you have your own.
Above is a round up of a few justified wear now/wear later pieces currently on sale that can be layered with knits and coats now and later without when it gets warmer.   Some work for resort wear for anyone going away – that red embroidered dress is begging for it or for the city later with a straw bag).    Regardless, everything shown are things I like and, in some cases, already have – they're just now on sale.
Here is the list and my thoughts on them:
Topshop ruffle blouse – 50% off.  This is one of those no brainers as Americans put it.  Tuck into denim and you are done.
Need Supply woven mules –   The bone colored Celine-esq woven leather is perfect modern day Cinderella vibes
Chloe Faye Bag – now sold out!! This serves me right for waiting to publish this post BUT I'm feeling really smug after noticing that Selfridges sells the Chloe Faye bag for a much less than in the US which essentially makes it permanently a deal.   Retail in the US is $1,950 plus tax so basically over $2K versus $1,345 in UK (no customs either).
Topshop Ruffle Back Dress –  $170 now $80.  This is one of those that's begging to scoop up now and scoff in a couple of months when it's guaranteed that dresses like this will be back up to full price.
H&M Teddy Coat – $79.99 now $39.99.   Always stings when something you bought goes down on sale, but I've said it before and I'll say it again – get this coat especially being that the best sizes are available (mine is a 16!)
H&M Ruffle Dress – Best Chloe vibe dress out there in wearable olive and yes I have this.  Perfect with ankle boots and seen kicking out the front of long tailored coats.
Topshop Trench Coat – 50% off – The one classic piece I've toyed with caving on.  For those of you working a nine to five it's another no brainer.
Jerome Dreyfuss bag – now sold out!!! Arrggh!!  I did find more bags from this French favorite on The Outnet though.
Topshop snake print pleated skirt – 50% off.   Two of my weaknesses combined: pleats and snake print.  Justify it as two for one.   Every oversized knit would love to team with it.
March11 Red Embroidered Dress – 70% off.   I have loved this dress the moment that I saw it and am currently struggling to not cave but should I should I??  Just saw the black for 70% off too…
Isabel Marant Studded Leoni flats – 40% off.  Edgy flats that side step the Miu Miu ballet trend while looking effortlessly badass (Marant's trademark) with cropped denim and dresses.
& Other Stories – 50% off.   This is literally begging to be worn under plain buttoned shirts.
Stella McCartney – 50% off.  Found on a super rare half price deal.  You already know my thoughts about this platform brogue. The woven versions are half price too in brown and the black are also way less than usual four digits.