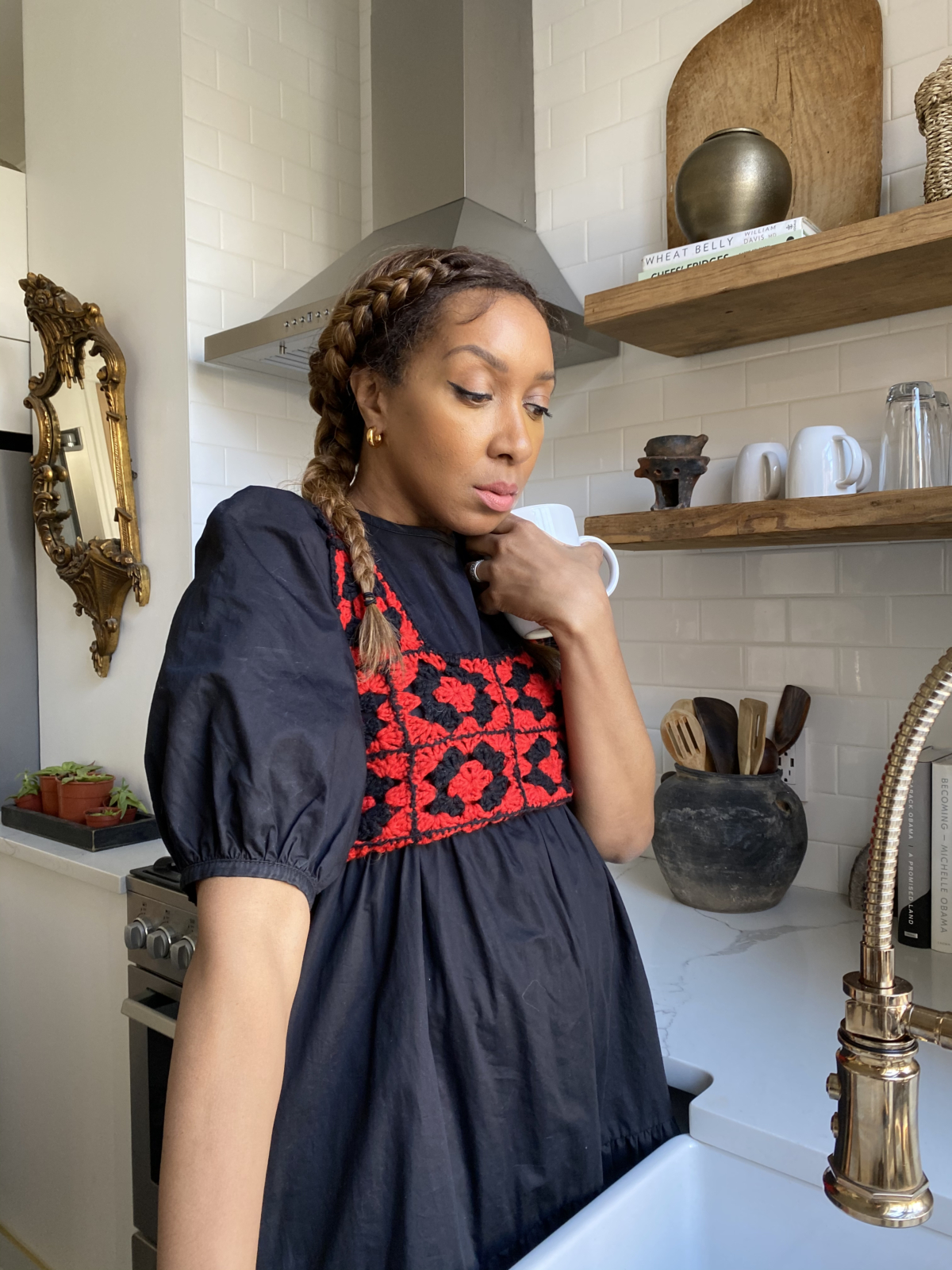 I bet you that crochet clothes are going to be the next 'florals for Spring' for a few years. Yes, you heard it here first. Of course crochet isn't anything new. I think we all have dabbled with some crocheting in our lives because we were told that it was 'easier than knitting', or know of a family member that can do it. Crochet has been in the spring trend radar last year (I'm thinking the cropped crochet cardigan's from Tach Clothing for example), but now they're back with outstanding creativity.
At first glance, crochet looks like a difficult trend to get yourself involved with. But, it's as easy as thrifting a crochet top and layering it over an old Zara dress above. Before you ask, I found a similar dress from Asos   and  this puff sleeve dress too!! Crochet is an simple way to spring-ify your usual wardrobe pieces with minimal effort. You can use it as an accent to an outfit through layering or adding a crochet accessory (i.e. a bag). Or if you want to have the maximum crochet effect, there's many chic items that are made entirely of crochet! Before you ask me, "what are you talking about Karen?" I've woven you a crochet blueprint down below…

Why is the 'crochet-cool' taking over our spring wardrobes?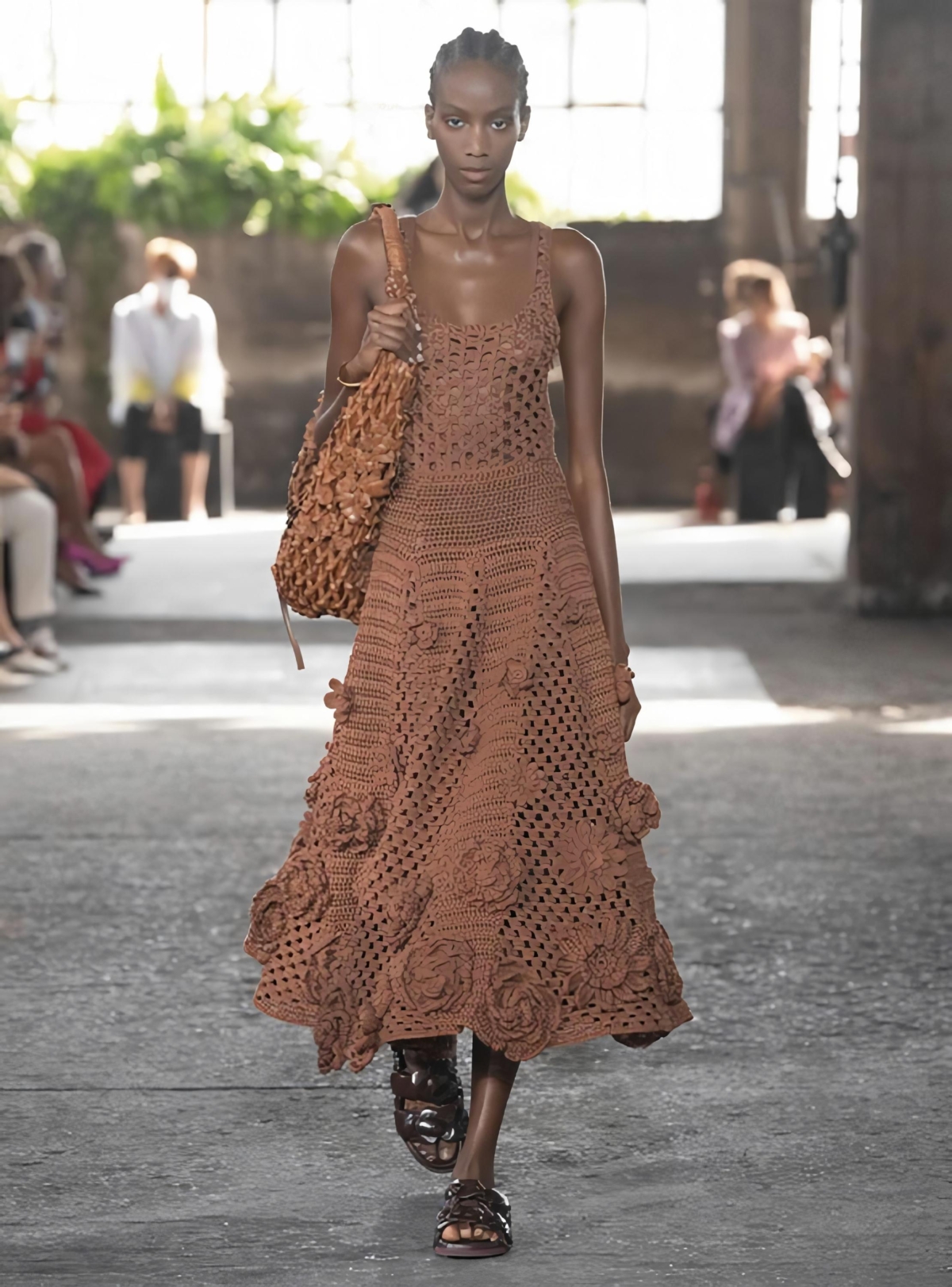 As I mentioned in my spring trends article, hand-woven crafts are coming back because of an increase of people trying it out at home. Of course a beginner level like me can't knit anything wearable (yet!), but the appreciation is there, as well as a desire to embrace the handmade with all of its inconsistencies.
Another obvious reason might be because crochet is more breathable than knitted clothes (for example), which is perfect for warmer weather. It's also lightweight and can have 3-D flower appliques (like the Valentino dress above). There's a definite structural advantage to crochet that can be easily used to illustrate our spring imagination.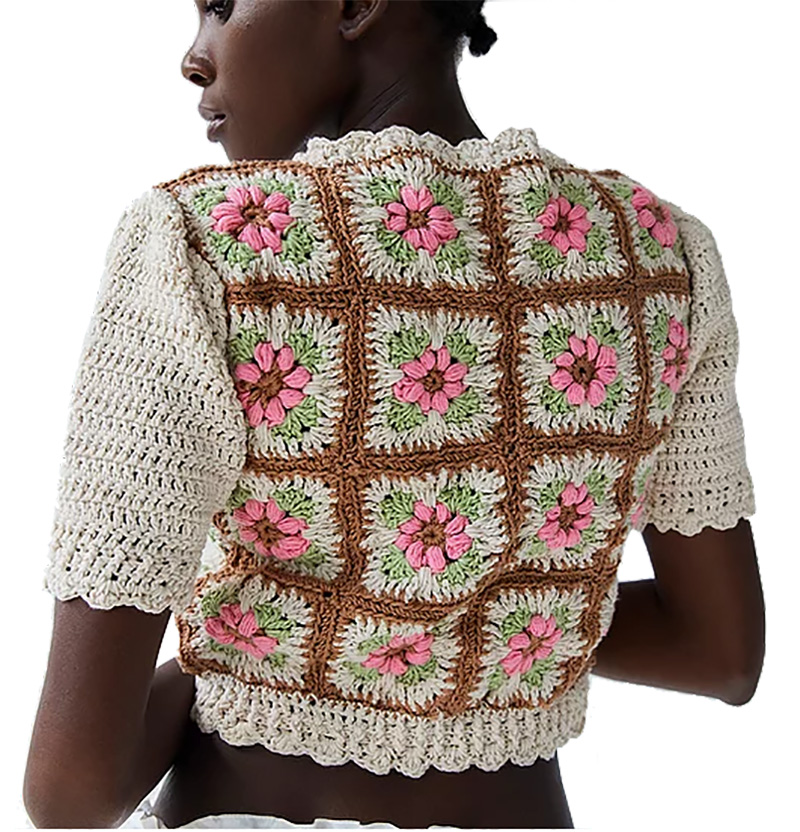 How to wear the crochet trend: Cardigans/Tops
If you're new to incorporating crochet, try a cardigan or top – they would go beautifully over a spring dress or with a pair of jeans. Crochet pieces add more texture and adornments to an overall outfit. Take that white summer dress that you've been wearing each year and layer crochet cardigan over it – and instantly the plain colour is given a new creative charm. The great thing about crochet is that it's perfect for that in-between spring weather – keeping you at just the right temperature while looking exceptionally stylish too. Crochet is the new cool, and "crafty" image of it has finally shed.
If you haven't heard of Tach Clothing, it's worth taking a look because along with many other brands and designers, their crochet cardigan collection have gone up a level. I've also added a some dupes in this carousel of the thrifted crochet top that I'm wearing over my black Zara dress above. Oh, and here's another version of that dress too.

How to wear the Crochet Trend: Skirts/Shorts & Dresses
If you're ready to increase your crochet game, try skirts, shorts or dresses. Crochet works like lace, but with more texture and substance. It can be used as an accent to a piece of clothing like this stunning dress I found on Etsy. And it can also find chic garments that are crochet from head to toe, like this other dress on Etsy. Let yourself find what type of crochet works for you!
Because crochet uses a weaving technique, there's more than one type of pattern (ranging from round to single-double-treble crochet patterns). Which means more to choose from! Some crochet patterns will work for you while, others not so much. Therefore, take you're time when looking for that one amazing crochet trouser or skirt!

Though to aid your search for 'that piece' and to spark your crochet imagination, here is a carousel of some new season items I've found. Don't forget to look on your favourite websites like Etsy as well!
I think many of you (myself included!) feel a bit weary wearing something with holes because of the potential unwanted exposure when it moves. If that's the case, a slip dress (to wear underneath) will be your wardrobe's best-friend.
How to wear the Crochet Trend: Bags
Crochet bags are along with raffia and straw bags are hitting our spring wardrobes. The rise in popularity and options of crochet styles has given crochet bags a runway approved status.
If you're not into a Jane Birkin inspired basket bag, these crochet bags will allow you to fully embrace spring without looking like you're carrying a basket full of fresh flowers or apples.
I'm not sure about you, but something about the texture and structure of crochet just exudes relaxed spring sophistication.
Question: Have you ever tried adding in crochet to your wardrobe?