Throughout 2020 and 2021, I've been slowly transforming my home into my ideal space. It's not simply one furniture object or design, but a collective energy that all the different types of home décor that resonate with me and the feeling they bring to the space. After many trials and successes with my renovation, I wanted to share with you my best and maybe-not-so-well kept secrets that made my house into a home.
Rustic & Antique Home Décor Trends
I'm a lover of simplicity and sophistication, however if it's over done, the home spaces risk looking clinical – remember my white kitchen shelves that were identical to the counters. It just didn't FEEL like 'me', or like it was a 'home'.
The solution? I replaced those shelves with reclaimed wood shelves I found on Etsy. I LOVE the fact that you can see the natural elements of the wood. Though some may call it 'imperfection', just inserting those two shelves and removing the plain white cupboards TRANSFORMED my kitchen!! All of a sudden it was warm and welcoming. And best of all, it really complimented the granite stone of the kitchen counters. The balance between modernity and traditional elements is something I've always loved. It's that contrast.
For me, it was a way I was able to personalise my space. Such as the traditional cooker from St. Lucia that I have next to my modern cooking range.
Those little tidbits of my identity, as well as other traditional craftsmanship (wooden chopping board and bowl – both from Morocco found on Etsy), is what really makes the space feel so special to me. Especially in 2021, we're reminded that luxury and wholesomeness works from inside out.
I can't think of a better way how to add bring warmth and energy to your home that is completely natural and authentic to you!
Two homes don't have to look the same, AND they shouldn't!
If you've been following me on instagram and youtube, you'll know how much I ADORE the brass coloured sink. It was a special investment piece, but very much worth it!!
Along with the rustic elements of the traditional craftsmanship and reclaimed wood (you'll know reclaimed wood is used through out my house), vintage décor has a solid place in the home décor map for this year. It's not exactly a trend for me because I LOVE vintage items!! Some of my favourites are the DIY sprayed and restored vintage radiators, the vintage sofa in my office/closet space and multiple mirrors. If you've got patience, finding the ideal vintage piece is worth it and is a great way to personalise your space. I just love that they have bit of history. You can find similar style sofas on Etsy.
Though, if you're not keen on waiting (I found my dream sofa after searching for months!!) the brass coloured kitchen taps from Brizo are one example of how to get a vintage-looking style without the extra time. AND, at times they prove the better option as they can function in a more comfortable modern way (in the case of the taps especially).
Have you tried adding any rustic or vintage elements to your home?

Plants and Natural Textures
& Light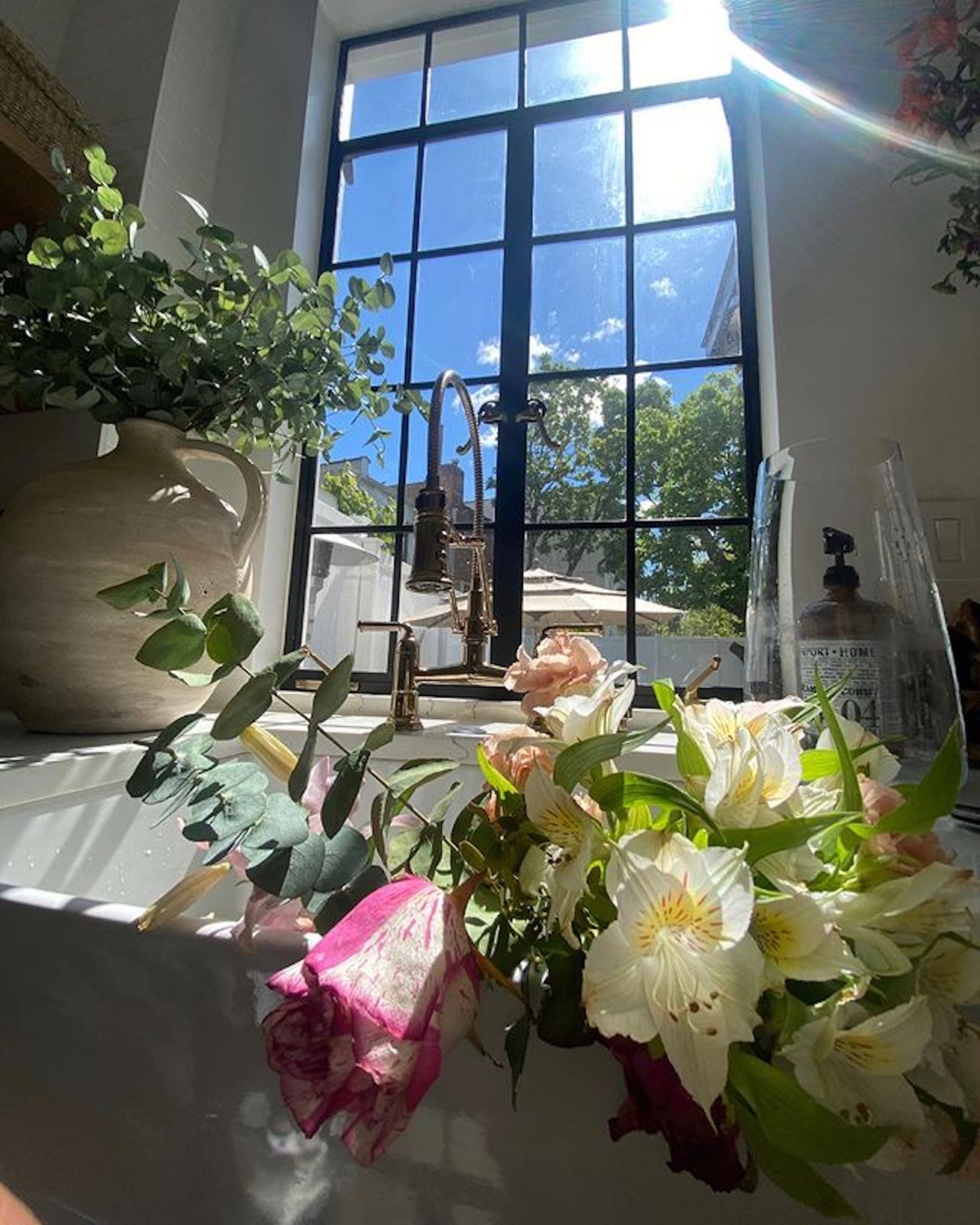 Bringing the outdoors inside has been a growing trend that has been fully captured in 2021.
Perhaps it was borne out of the frustration of being unable to be outdoors, but 70s retro hanging creepers and potted plants of every kind has turned into a lifestyle for many. I LOVE the freshness and vibrancy that plants bring in both their stunning green tones and functional nature.
I've been placing plants throughout my home and gave them neutral colour pots so the greenery turns into a kind of accent for the room. Plants and natural light have made a comeback in our homes and are here to stay.
To get the full effect of the feeling that plants and other natural textures (such as a handwoven rug, earthy pot or terracotta floors) bring, LIGHT is your best-friend!
Honestly, opening the window wider in my kitchen has really transformed the entire ambience! Can you tell it's a space I can't get enough of? A huge part of it is the mixture of light, organic and modern areas.
If plants are not your thing, why not try dried flowers? There's so many beautiful textures to try from. The eucalyptuses in my vase by the sink are faux. In addition, their earthy and warm tones also work in a similar way as reclaimed wood – they add warmth and texture.
Clean lines & Minimalism Home Décor Trends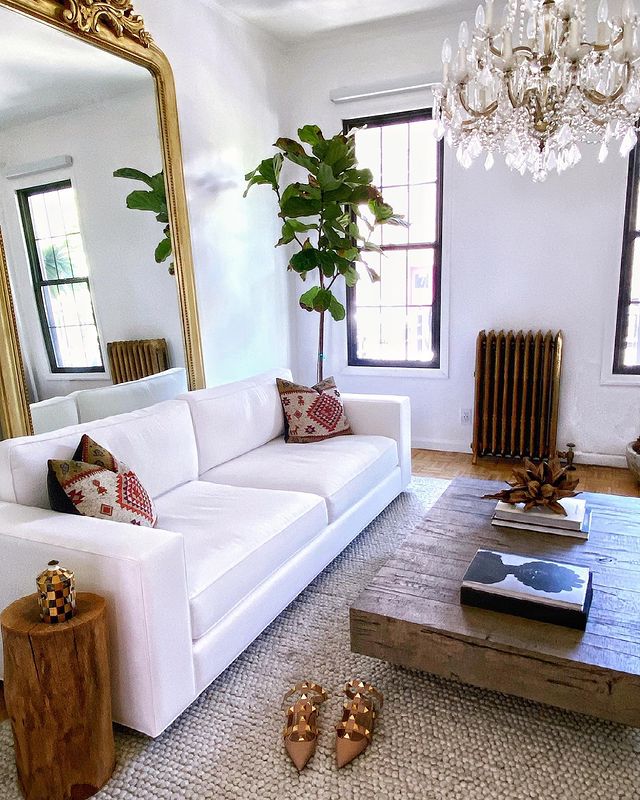 Minimalism had been a bit under the radar by maximalism, however it's becoming a stronger trend as themes of elegance and sophistication are now more than just minimal furniture or white-washed walls. Clean lines have been given an innovative approach.
Although the colour accents on my walls (white) and windows (black) have really helped me achieve the level of timelessness that I wanted, the minimalism loving part of me comes out in the key choices of furniture. Many of my surfaces are natural (whether be it stone or wood), however the shape of them such as my coffee table is very simple but still textured. This balance between simple shapes works so well if you love vintage furniture – it helps level out the two elements!! Many people I've seen on social media have taken it a step further with chic designed chairs and sofas. Designer minimalist home décor and furniture is definitely on the pricer side, but minimalism can be applied in any aspect – making it very easy to work with for your home and it feels calming.
I think minimalism used to have a reputation of looking cold, but done with a sensitive eye, it can really help balance the more maximalist elements in your home that your love e.g clashing the minimalist sofa with a giant vintage chandelier and old wood stumps.

Playing with Dimension & Space
Space manipulation doesn't have to be as hard as it sounds – definitely choosing the right ceiling and wall tones can dramatically make a space look bigger.
One of the best things I've done with a small space is raising the ceiling (I did this with the guest bathroom if you remember from my bathroom makeover YouTube). The surface area of the room is the same, but the height manipulation transformed the space that otherwise felt claustrophobic!
We've also heard the mirror trick (some might not like it), though I've got a mirror in almost every room! Especially in my closet/work area I have a large vintage mirror from Anthropologie which captures light so beautifully. It comes in much smaller sizes too.
Play with the scale of mirrors, windows and ceilings! Changing the kitchen and dining area windows has now created the feeling like I'm standing in an atrium! As part of this trend, I've seen more and more people adopting sky lights to get that extra light (AND space) into a room.