There's nothing more frustrating than buying a new coat and it doesn't make you feel warm. That's why I decided to do this edit which focuses more on the material and design element of coats that will actually keep out the cold. And, no need to worry about the fashion part, this selection is full of new season treasures. Ranging to teddy coats to recycled down puffer jackets, here are some of my chilly weather favourites.
Teddy Coats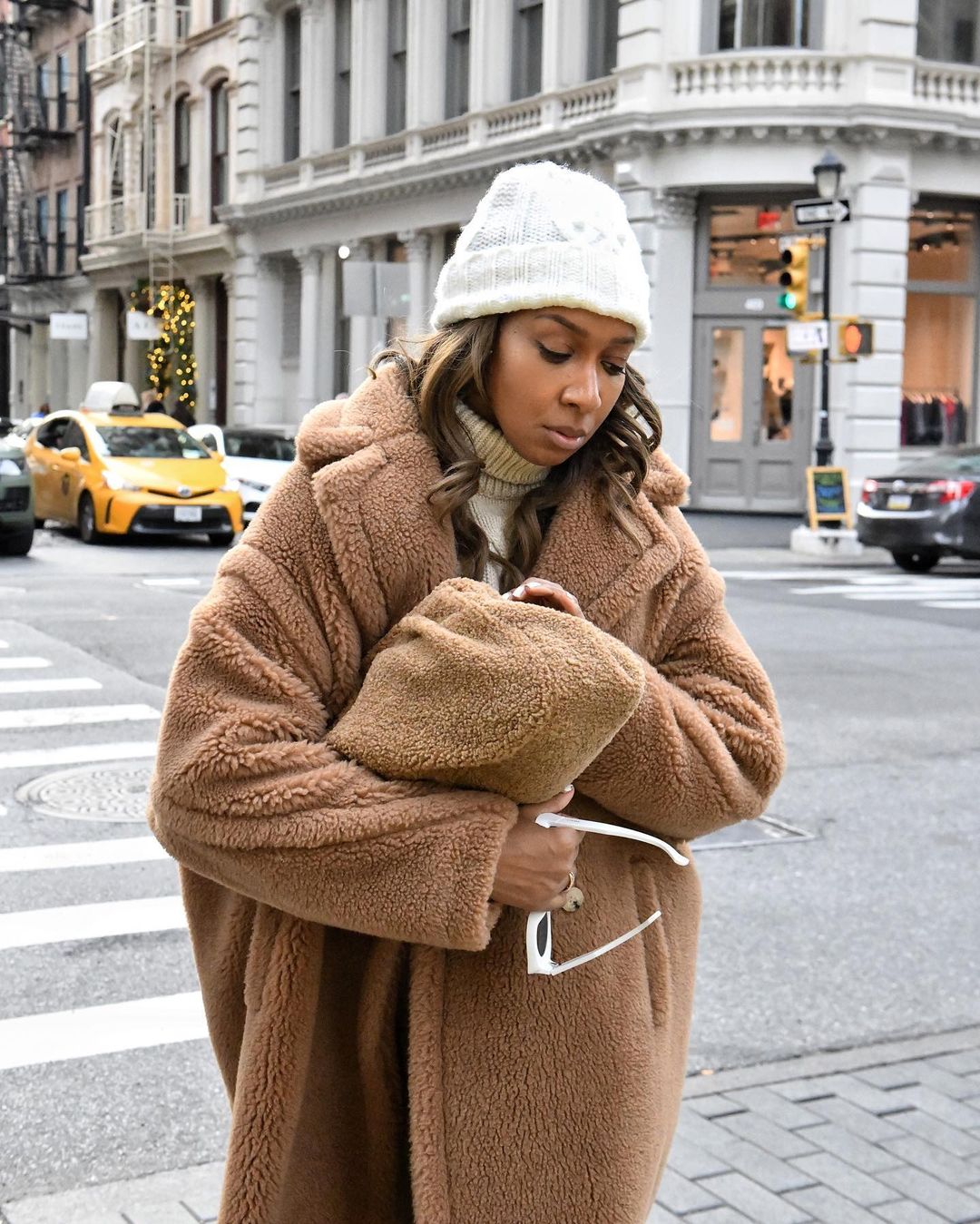 Teddy coats. They're really as cozy as they look! This beige one (I'll link similars) has been a quiet cold-weather style saviour. When I want something thicker than a double-breasted coat, but not as bulky as as puffer coat, this has been my go-to! The oversized pea-coat structure leaves very little areas bare. Also, the texture is phenomenal.
Maybe you're hesitant because you're worried about looking like you're wearing a blanket. Instead of shying away from the texture, why not take advantage of it and pair it with other teddy style accessories like I've done here. Maximum level coziness, and I'm not sorry. On the contrary, designer brands have been reimagining this texture style as being actually quite chic. No doubt those lovers of the shearling Telfar bag will agree! Fluffiness is the new black. It looks cool, while keeping you warm.

Wool Coats

Some of my favourite cold-weather styling moments is with a structured wool coat. Double-breasted, single-breasted, hourglass coats and more, just take your pick and watch it create style magic. Because of their thinner look, you might be wary of buying a coat style like this. But! I will say that this coat is also one of the warmest in my wardrobe. Why? It's the material composition, which is wool and cashmere. If you really want to get the most of this elegant style, investing in a coat with good quality fabric is SO important. Believe me, you'll thank yourself later when you can wear all your most fashionable outfit combinations AND still be warm. To help you choose, I've put some coat styles in the carousel that have 50% plus wool composition. If you're a bit on a budget, H&M have this coat made from cashmere and wool! Quality matters and so does your style.

Recycled Down/Puffer Jackets
You can't have an edit about coats that keep out the cold without mentioning down/puffer jackets! Our love for this laid-back jacket and coat style is coming with us into 2022. They're a fashion favourite because they really do bring the edge to every outfits. If you feel that your style is too feminine, layer a down/puffer jacket over it and get that perfect balance! If you've been following my IG stories, you'll know that I have several of versions of this coat type! Belted, maxi-length, cropped, and even different neutral colours!
To re-energize your fancy, I've put some of my favourite new season puffers in the carousel. And, most of the down feather types are recycled!