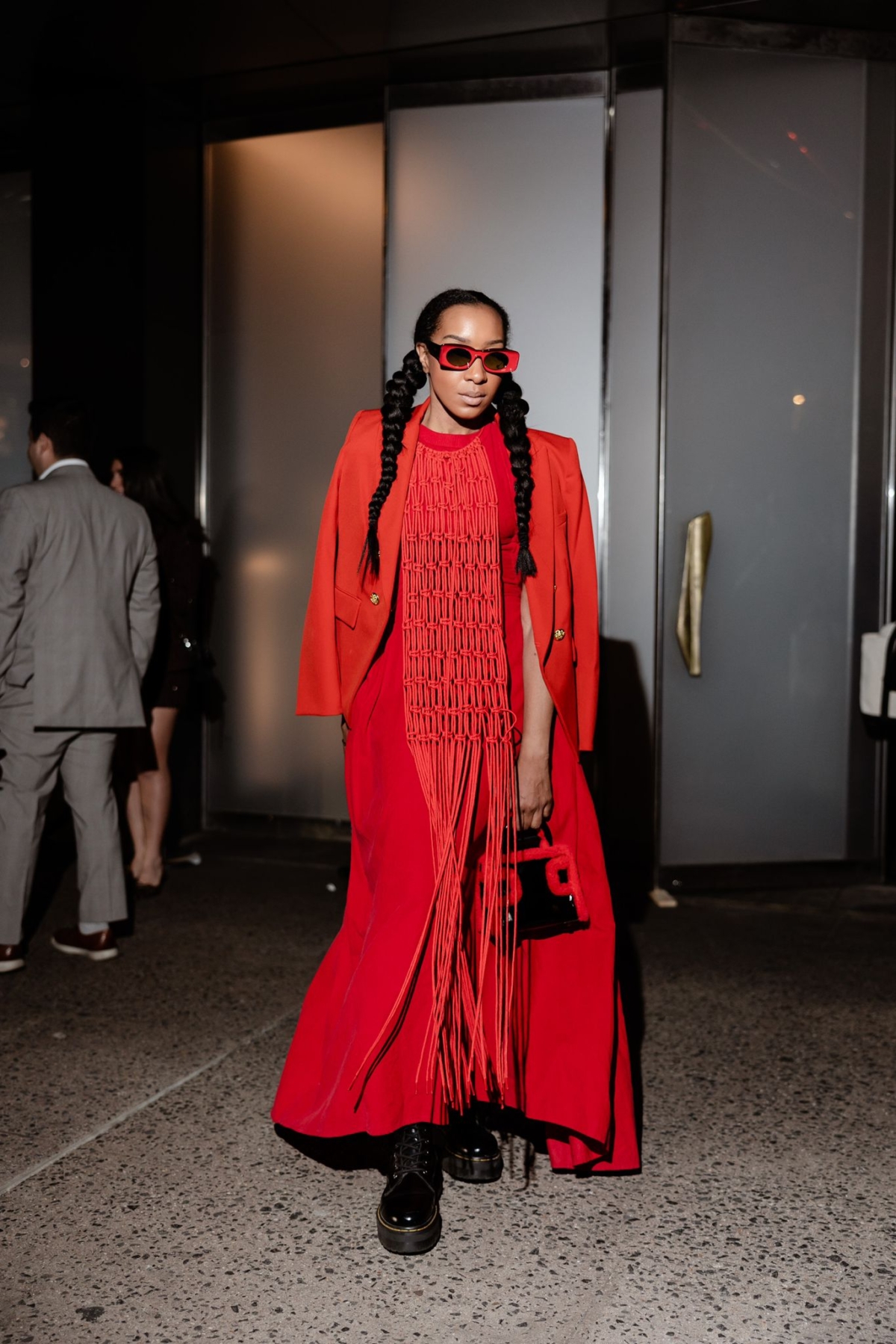 Every season I love being in the NYFW street style scene!! It's so amazing to see how fashion is evolving in this city with so much inspiration to be found! Like many, this season I wanted to push my fashion to new levels (bag I wore above is from Brandon Blackwood, sunglasses by Loewe and dress is by Claudia Li)- check out the post here about what I wore for NYFW! I'd say this season has been one of the best street styles I've seen in NY to date! Here's some of the trending street style that I spotted! How many of these did you already know?
'Motorcore'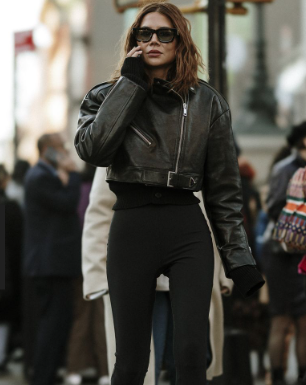 'Motorcore' anyone? Chances are you've already been styling something similar to this NYFW street style trend!! Motorcycle jackets have been making it's hot appearance last winter with many people going to their local vintage store to find one (like I did here)! Though, a good thing doesn't go so easily! Motorcore (as it's now aptly named) consists of motorcycle jackets and other boxy leather jackets. However, it's been continued with just about any leather piece that's evocative of it. I just LOVE how motorcycle jackets give that instant element of 'coolness' to your look!

Rosettes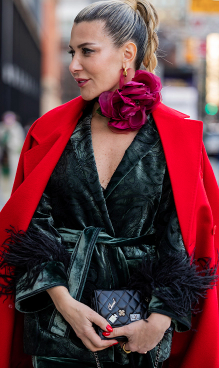 Rosettes are picking up momentum as it's already crowned as one of 2023's hottest trends! What are rosettes exactly? They're decorative roses that are found far back in history (from the 17th century). But, most of the current inspiration is from the 90s era's of rosettes – also found in season 3 of 'Sex and the City'! Rose motifs have already one of my favourites – like these Loewe heels I wore with a rose heel! We'll definitely be seeing more of those as they've been spotted on the Acne Studios and Sandy Liang runways.

Fiery Colours – Pops of Red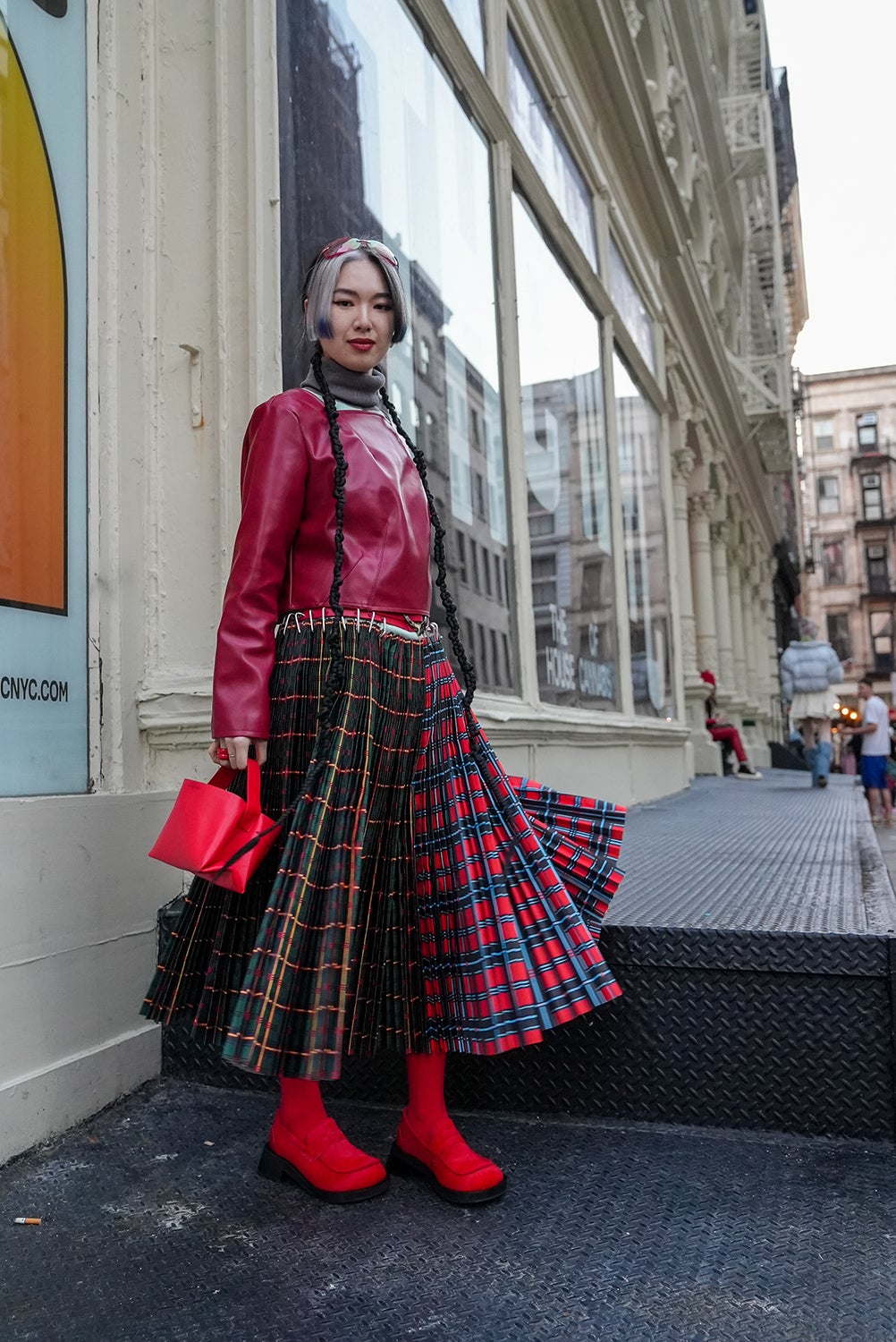 Red. I can't get enough of this colour and neither can many fashion go-ers spotted during NYFW! It makes sense that red is making a fiery comeback as it's part of the list of Pantone's colour of the year! I just love the fierceness that red instantly adds to an outfit. I call it a colour stealer because your eyes are simply drawn to that part of your outfit. Instantly elevate your wardrobe (and mood) with a pop of red this season!! It's safely one of my favourite colours next to kelly green! What NYFW streetstyles have you been loving?