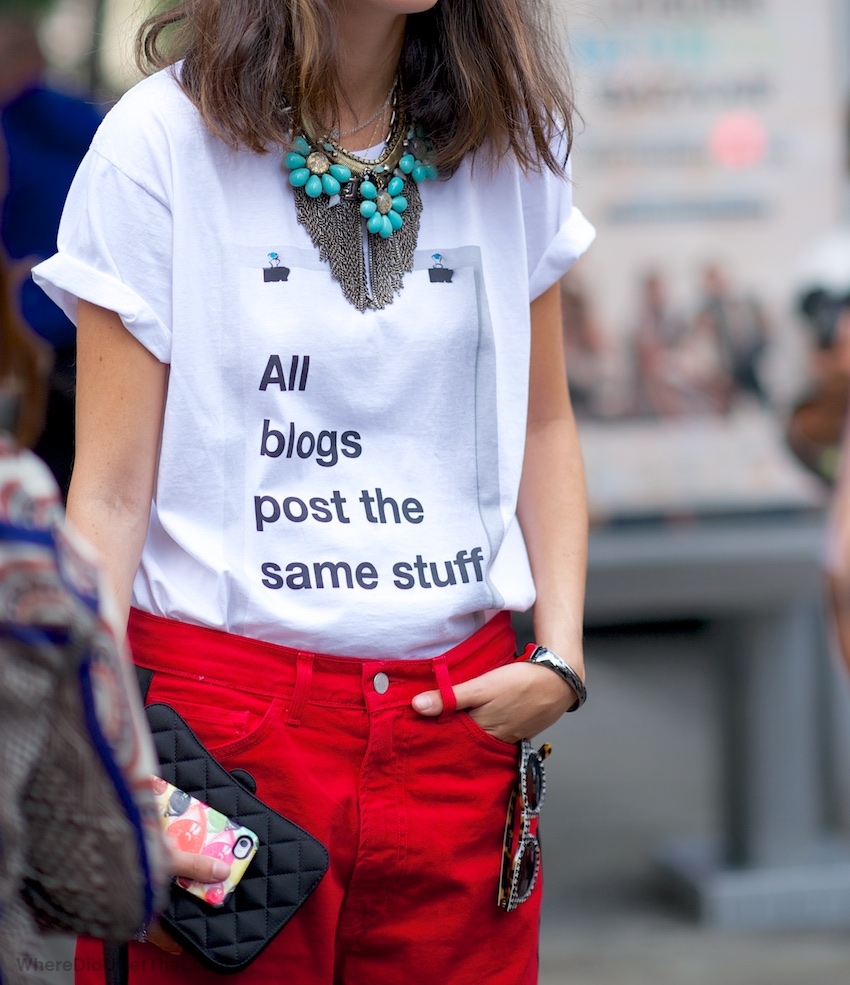 "I like individuality. Everything is all the same now. It's so homogenized."
Iris Apfel (Business woman, Designer, Interior Designer, Style Icon)
. . .
It took minutes to write this post but about one year thinking about it. Being that fashion week has started, I thought it was a good time to talk about the perceived similarity of fashion blogging as a whole.
To put it bluntly: Is everyone in the fashion blogosphere starting to look alike?
Do you remember when fashion blogging was about clothes that you could afford and being able to buy it that day? Blogging was the breath of fresh air after years of glossy mags featuring 6ft tall arched back size two (mostly white) models in designer clothes and accessories from a future season. Then fashion blogging came along and immediately filled a void. It was great to see these blogs expand and promoted well on Instagram. It always helped a blog to grow when they had a large Instagram following to promote it to. Buzzoid's instagram followers can be a great help to anyone trying to obtain a large following. As well as gaining a larger following, hiring professionals similar to the Indexsy seo company can play a big part in improving your blog's page ranking and could potentially increase the readers of your blog. The more engagement, the better. Even though there is a lot of competition out there these days, there are many ways that you can stay on top and stand out from the rest. Moreover, you could finally relate to someone that looked like you and dressed in brands that you knew.
For the first time, everything was attainable and put together in a way that was easy to replicate and purchase. It was the anti-magazine movement and that movement quite rightly exploded. Like anything that goes against the status quo it wasn't just great. It was bloody brilliant.
However, over the past year or so I feel as though that original relatability has been challenged. The success of blogging has translated into clothes and accessories that have ironically crept back toward the glossy magazine price point. The very thing that defined what blogging was not.
Do not get me wrong: I am the first to raise my hand at the Chanel and Mansur Gavriel bags that I've bought to mix with my magpie closet so I am no Joan Of Arc. Heck I even Instagramed being tempted by the Chloe Faye bag! *slaps hands to side of face.*
In the past year or two, there has been an increase in the same (usually designer) brands being displayed in the same accessory and outfit combos across Instagram feeds. That same average Joe (or Jane) from before cannot now afford what once they could before and they are now seeing the same items over and over. Various people have said to me (in confidence): "Blogs are showing the same thing" and: "They are all starting to look the same."
In short, it's all merging into one giant blog.
Don't get me wrong. There are many who are marching to their own beat and in my opinion, it is their unique website designs that really allow them to fight off the competition. One of my best friends, for example, has an awesome website that she built using a website design tool that she found on makeawebsitehub.com. Everything she posts is so unique and her website is just incredibly easy to use. But it's the duplications that are equally if not more noticeable. The meteoric rise and success of Sh*t Bloggers Wear tumblr was born around this observation. I once read a British Elle magazine article written by Susie Lau from The Style Bubble where she felt that there was (I am paraphrasing here) "a checklist" of items that bloggers tend to wear. Don't be one of these bloggers and stand out from the crowd with help from something like SEO Company in Connecticut to get your blog noticed as being unique!
Do all blogs really post the same stuff? If so, where will this all go? The answer like any business, lies in what the public wants to see.
But my question during fashion month is this: Has the success of fashion blogging been at the expense of losing individuality or do you feel that it is still very much alive and well?