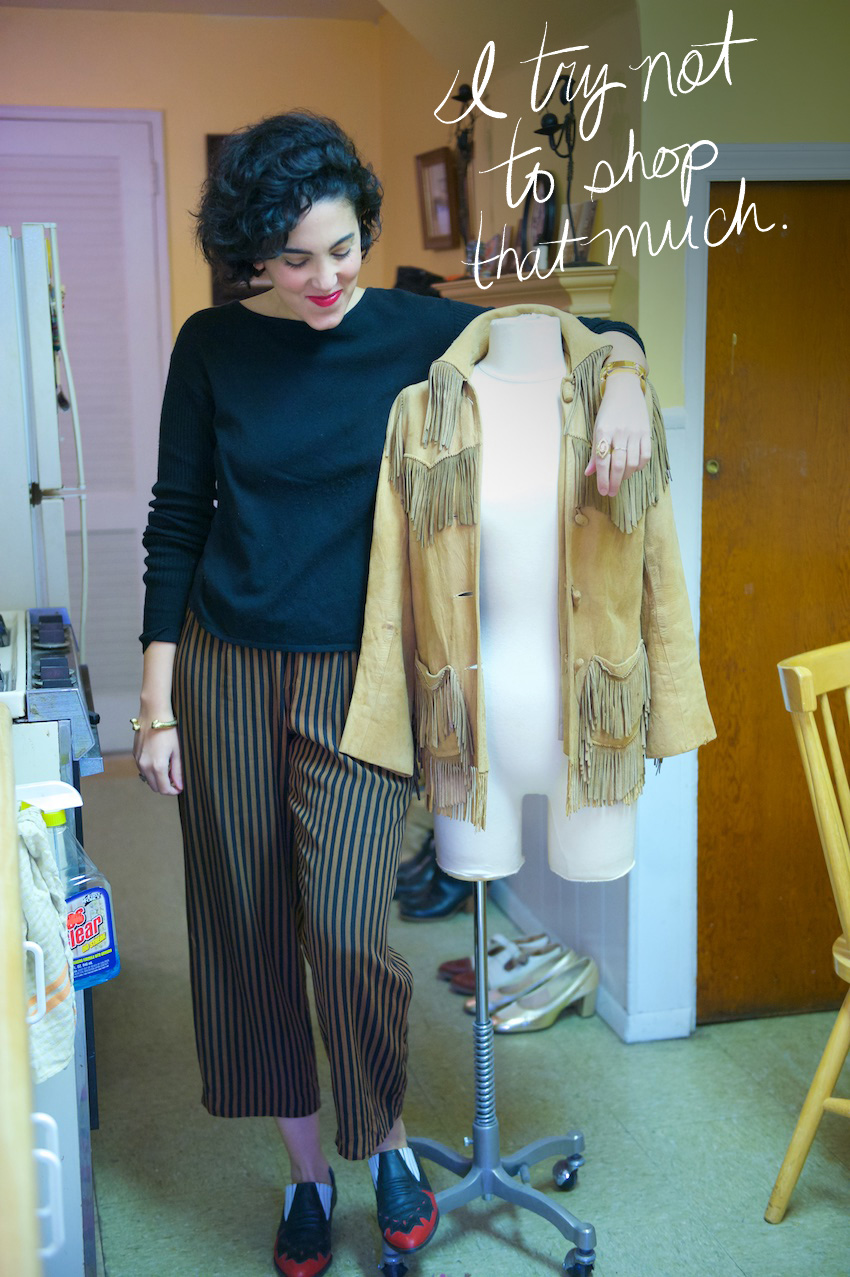 Definition: The Full Monty: 
A British slang phrase.  It is generally used to mean "everything which is necessary, appropriate, or possible; 'the works'"
I met Stefany at a Housing Works event on Crosby street in down town Manhattan.  Actually correction: I met her about two hours before that on the street, photographed her and then two hours later met her properly at Housing Works.
Needless to say I was curious to know what her closet was like after meeting her in a crochet dress, army jacket and ankle boots….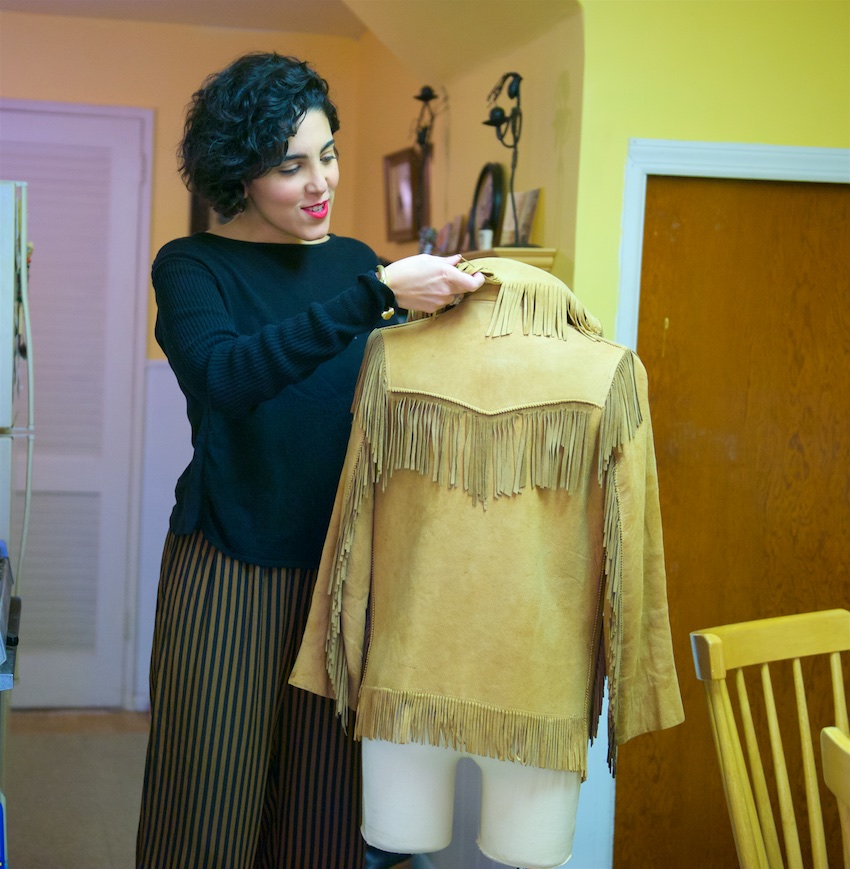 Jacket:  Vintage shop in LA Venice Beach
"You know when you sometimes go to a shop and they have things hanging up on the ceiling and unless you're looking you don't see it at all? For some reason I happened to look up and went 'ohhhh my God'  It was my size and the best part is this back: fringe on the collar. I mean feel the leather. "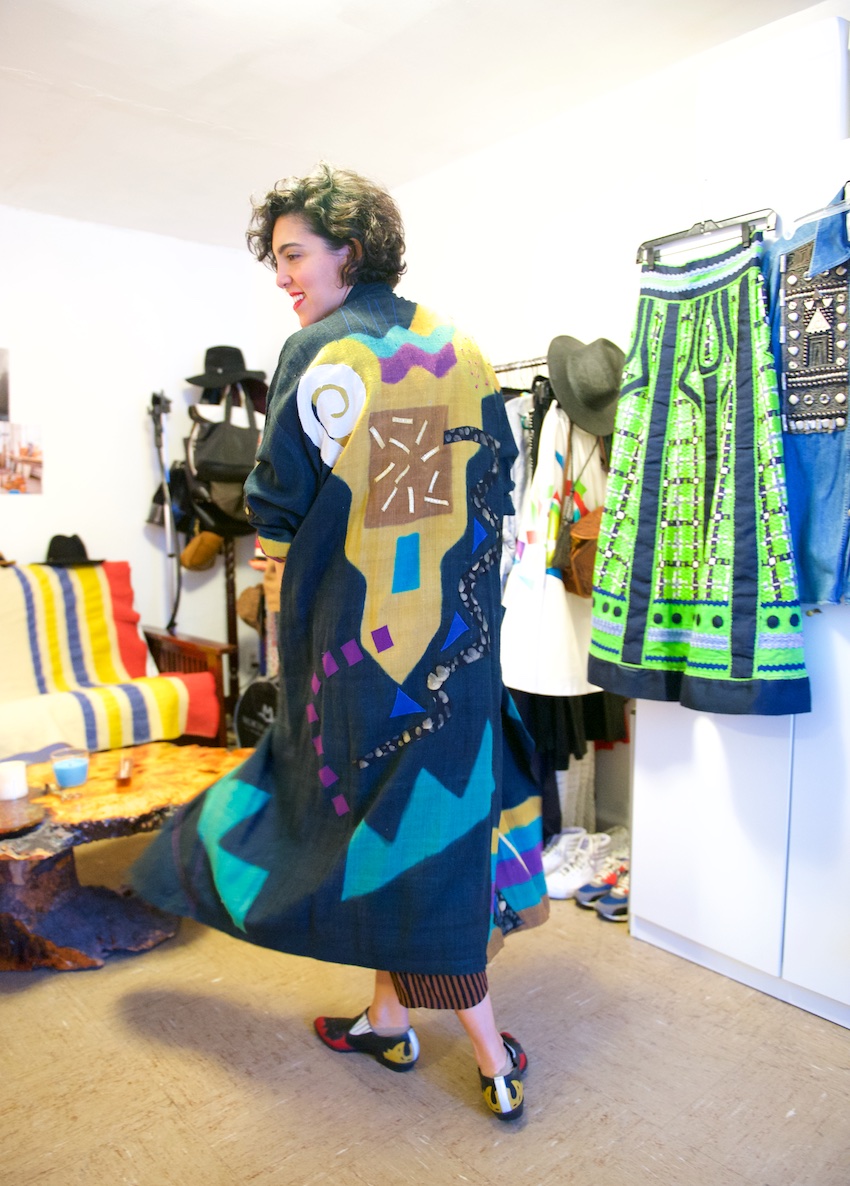 Coat: Omnia Vintage
"My friend was going to put this in her shop but literally the moment she saw it she said 'I can't not let Stefany have that one!'
We did some research on the designer and she does all these hand painted one of a kind pieces.  It's also a really nice weight so it drapes nicely."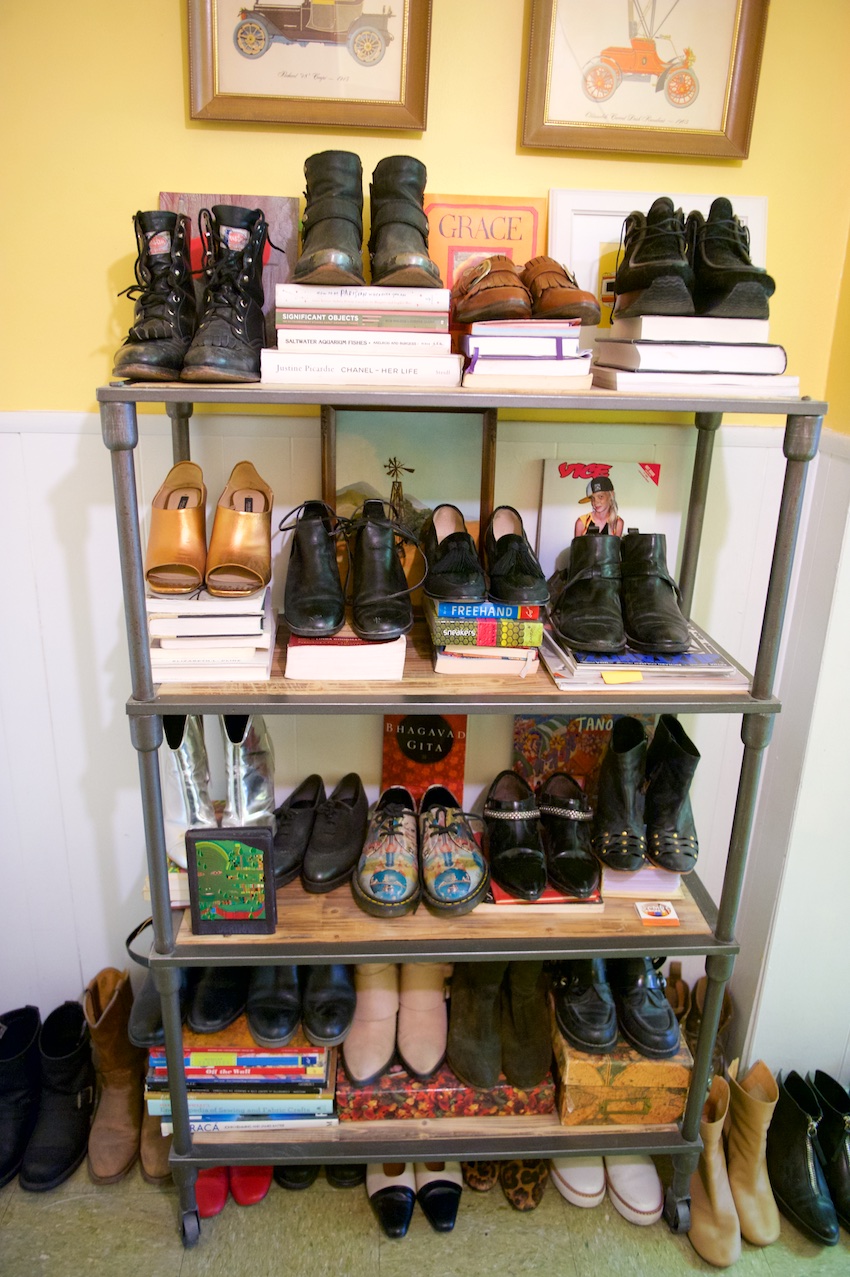 "In New York you have to be so industrious with your space."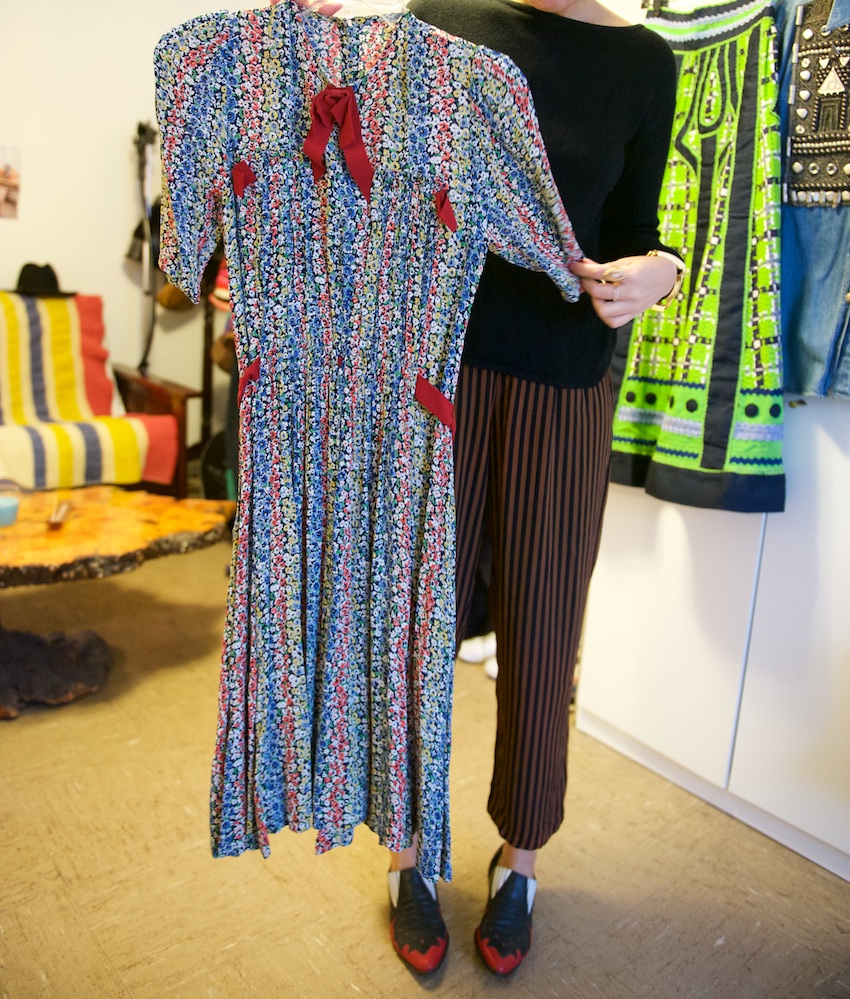 Dress: Housing Works
"Isn't it amaze?  The material is so soft and it's pleated."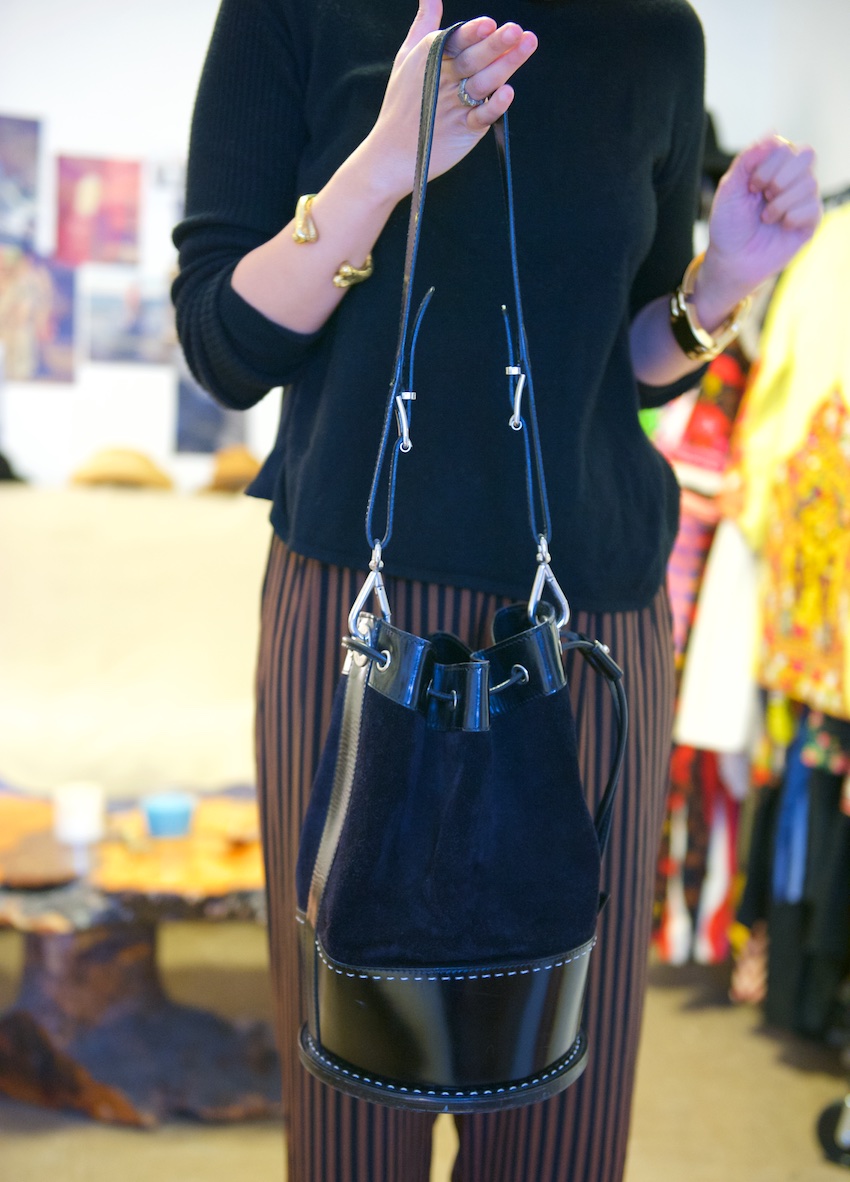 Bag: Celine
"This is the only Celine bag that I own and I got it on eBay for a hundred bucks.   Isn't it good??  Isn't it ridiculous?? I love the stitching."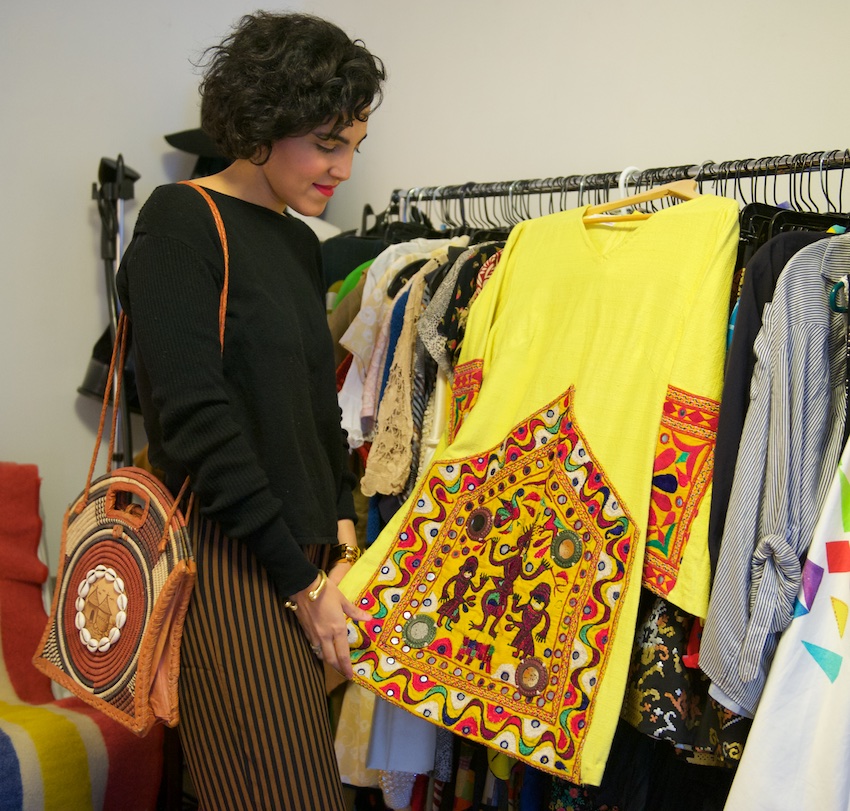 Dress:  A Current Affair flea market (SwaneeGrace Instagram)
"It's amazing right?  So it's this girl and I guess she went to an estate sale and the owner had things from the sixties and had it made with Indian textiles added.  I love love LOVE the colour."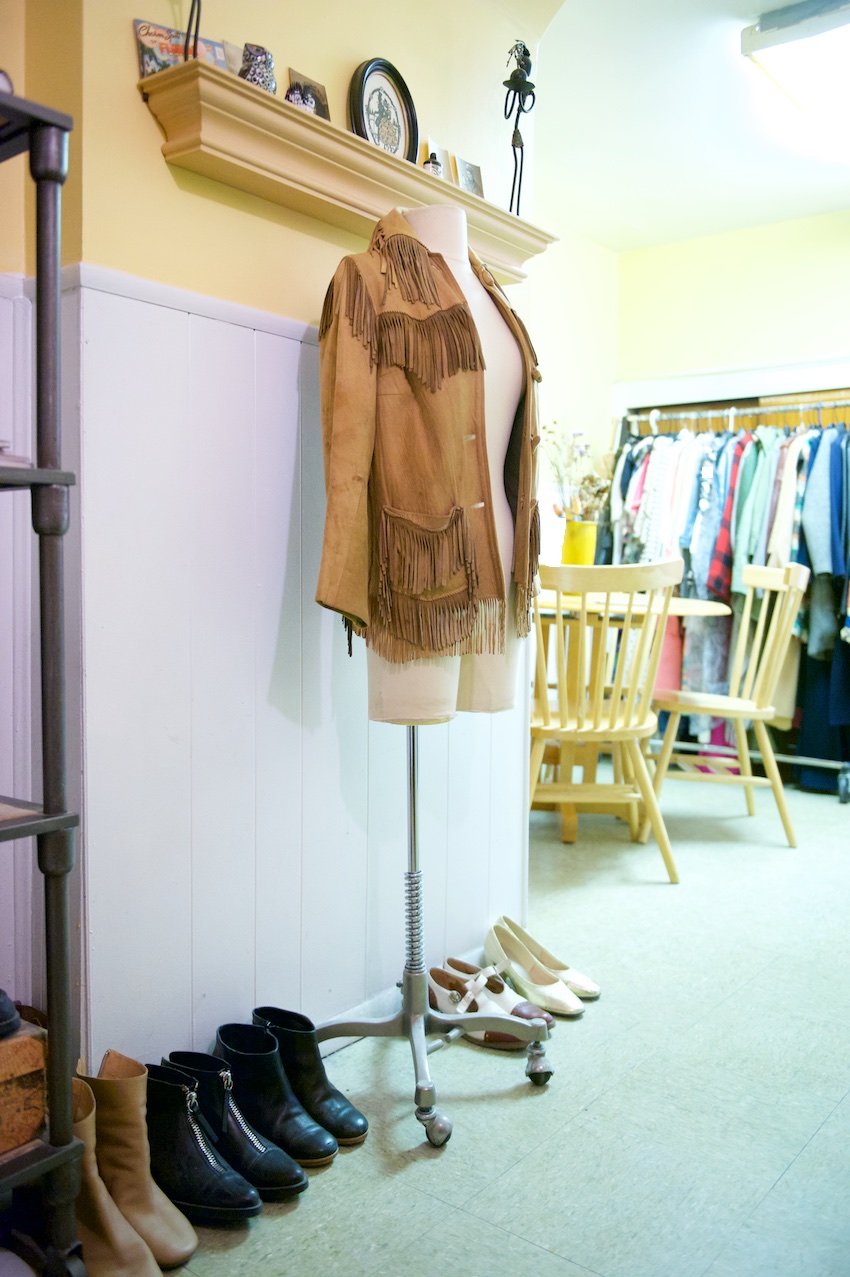 "Shop wise I always go online to Etsy.  Overall I like my local Salvation Army.  I also like going to the No Relations and Stella Dallas 10foot Single.  I can literally have a field day there.  I'm kind of obsessed with Maison Jadis on Crosby.  They have such a good eye.  Everything is so wearable now but feels very like the time it was from.  Her things look expensive but their price points are so good."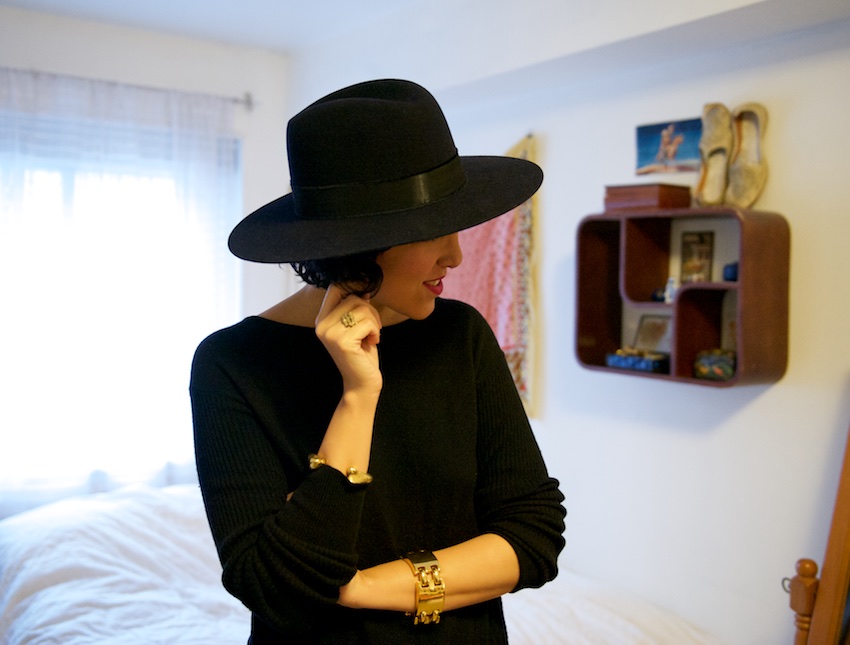 Hat: Worth & Worth
"Orlando (owner of W&W) is so great.   They opened up a pop up on Mott street and I go play in there all the time.  I got this about a month ago.   Their hats are amazing. I'm definitely getting the bolero next.  I have a couple of good hats but none of them are as good as the ones that he makes.  I've worn this at least twelve times since I've had it for a month because it goes with everything. It literally makes every outfit.  It's the quality too, it has such a richness to it.  I mean rabbit fur felt?!!"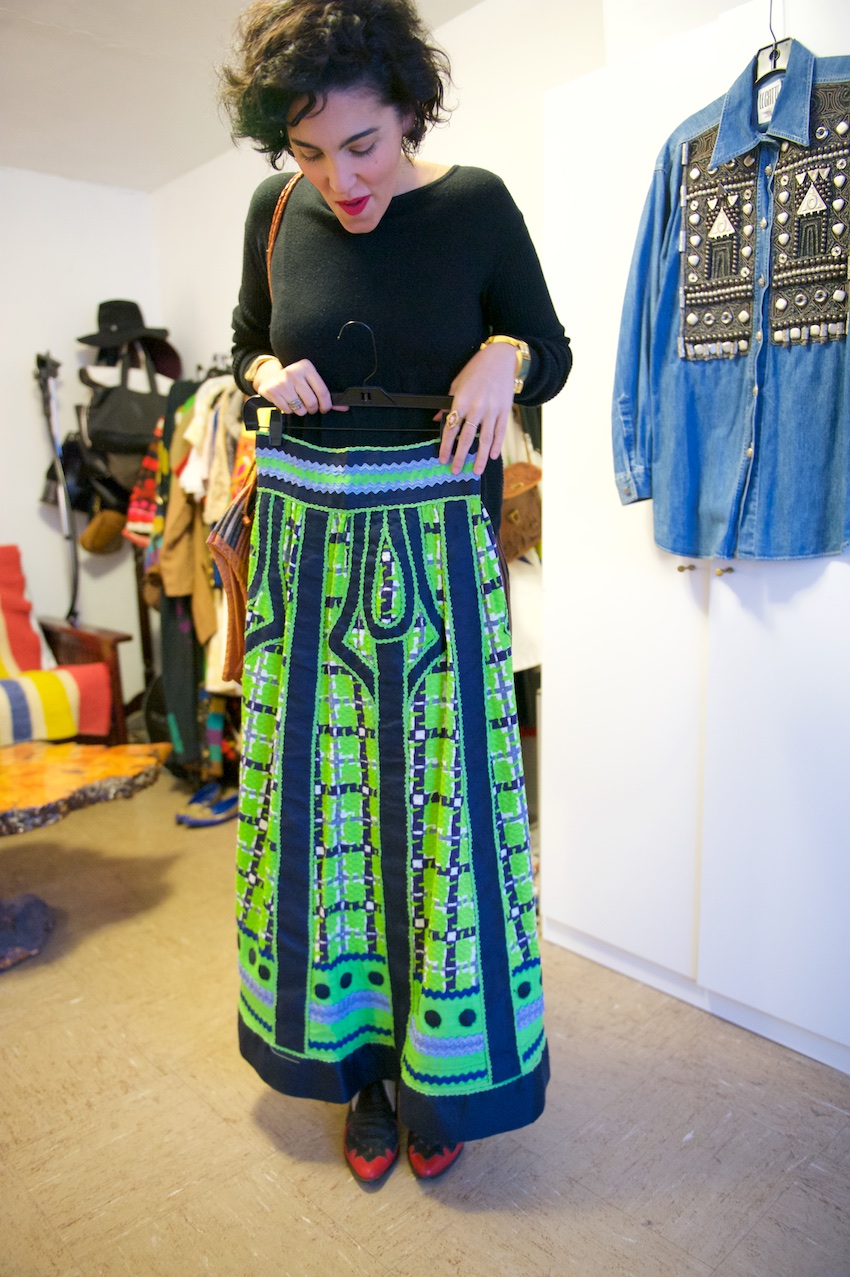 Skirt: Housing Works
"I got this from my vintage event with them."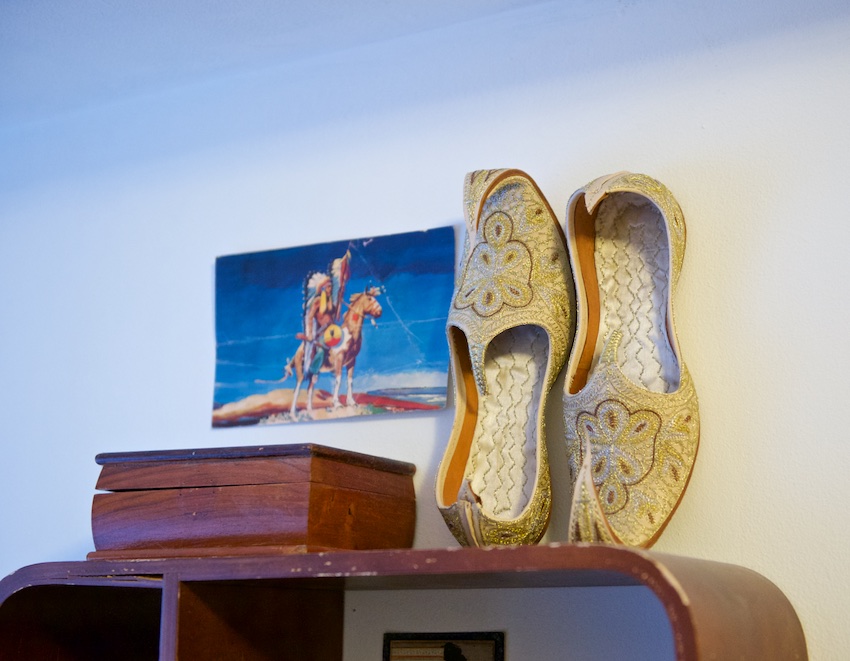 Slippers: Pakistan
"My ex boyfriend is from Pakistan and when he went there the last time he sent me a pair of these slippers."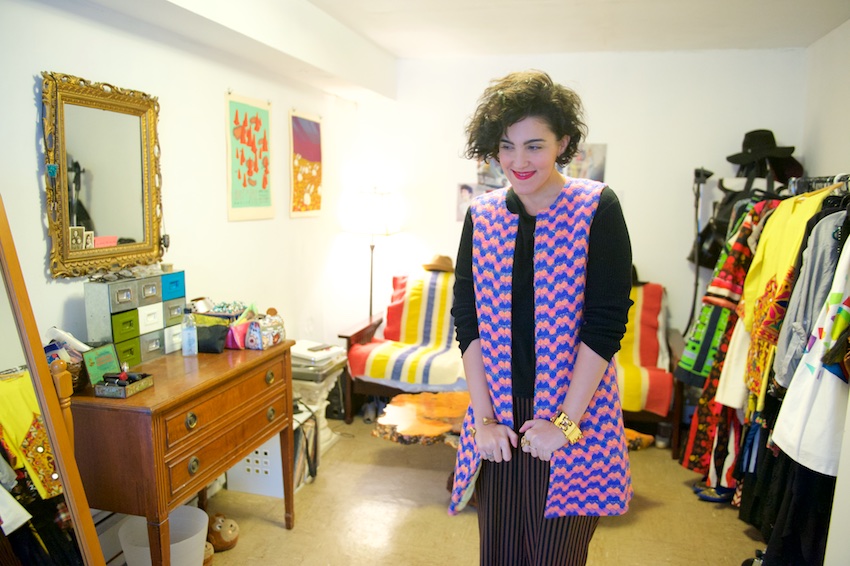 Wool vest: Salvation Army
"I die for this.  I don't even think it's that old but it looks sixties."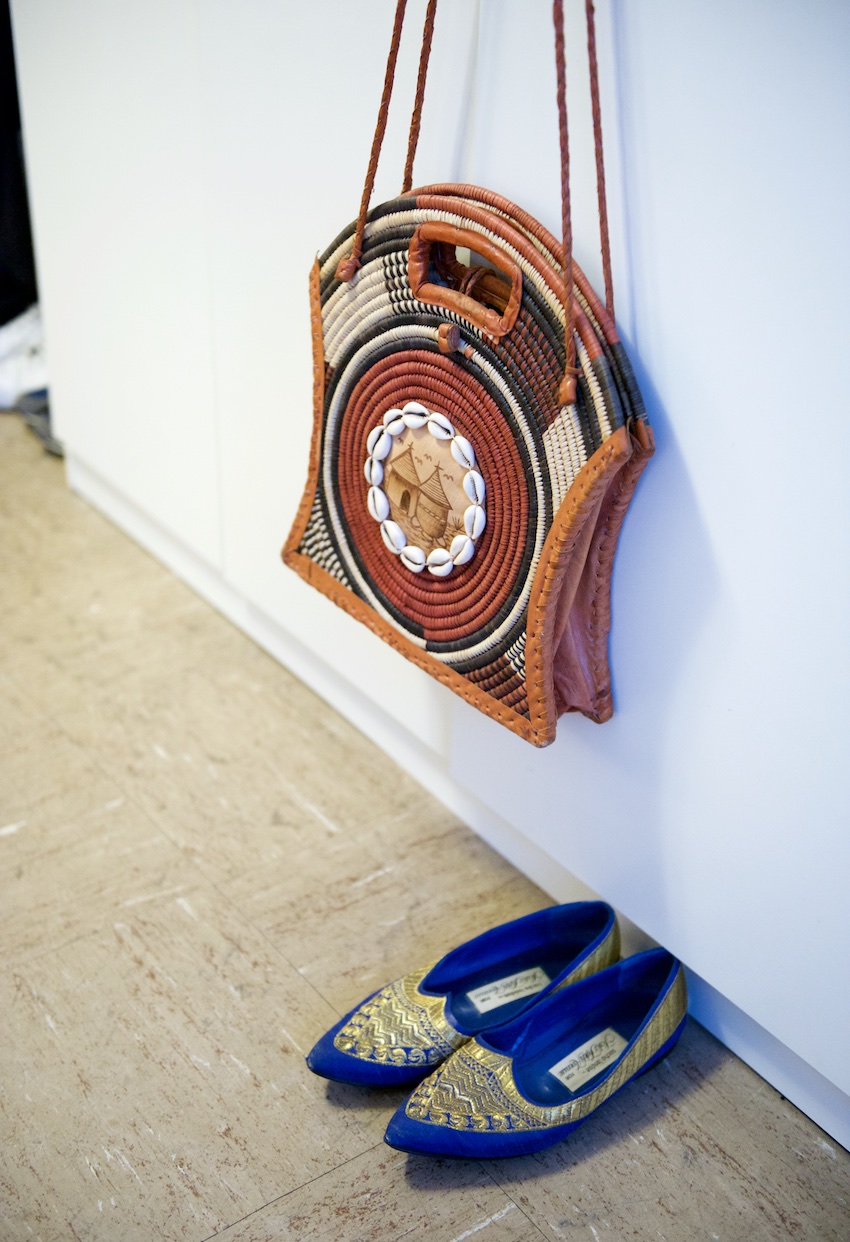 Bag: Thrift shop in LA.  Flats: Saks Fifth Avenue found at Brooklyn Flea
"I have a thing for prints and am not afraid to go crazy.
Aren't the flats great? They're a little beat up but that cobalt blue!!"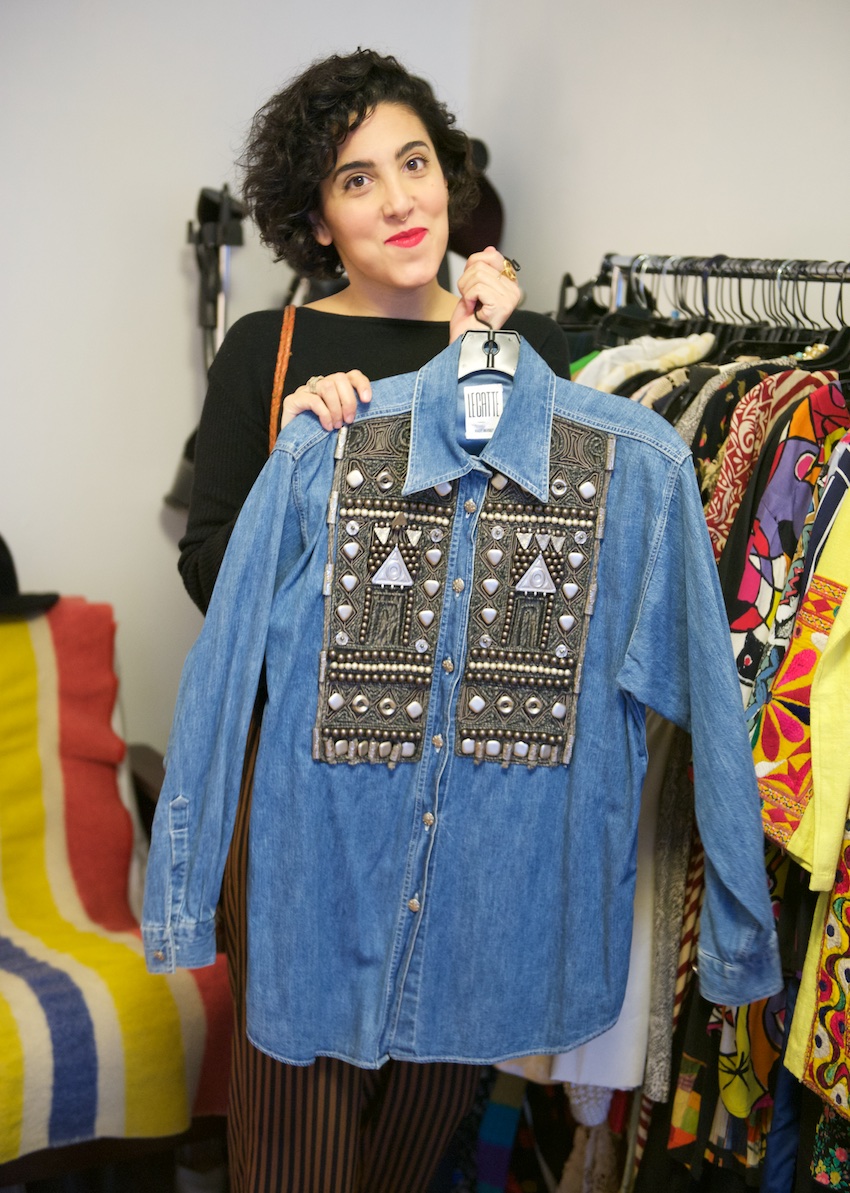 Shirt: Joan vintage
"This guy is one of my favorites. I don't even know what to wear it with. I mean it's pretty crazy so I just wear it."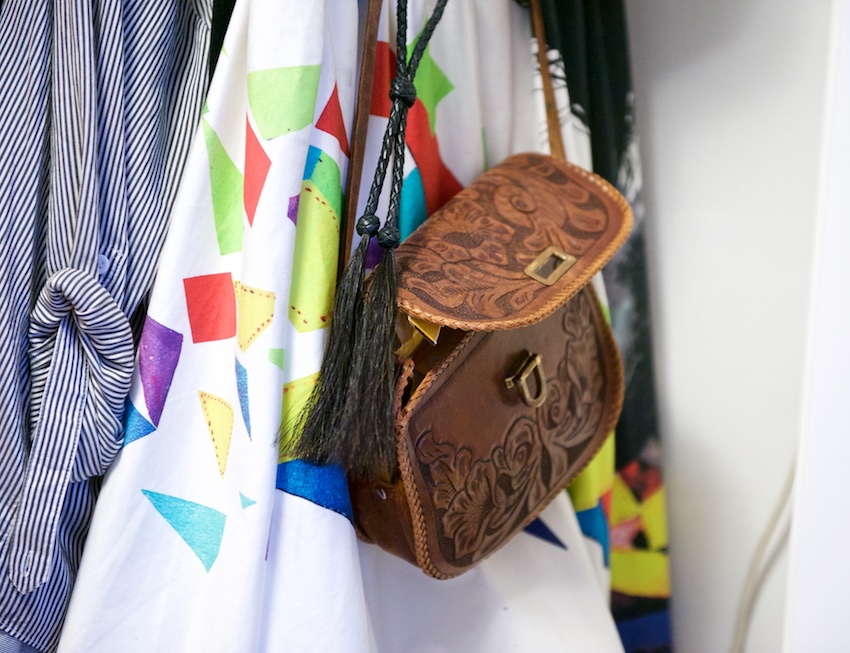 "As a stylist I always tell my clients 'don't shop for your future self.  Buy what works for you now because you might not like something in a year or whenever you lose that twenty pounds.  So don't ever shop for your later body."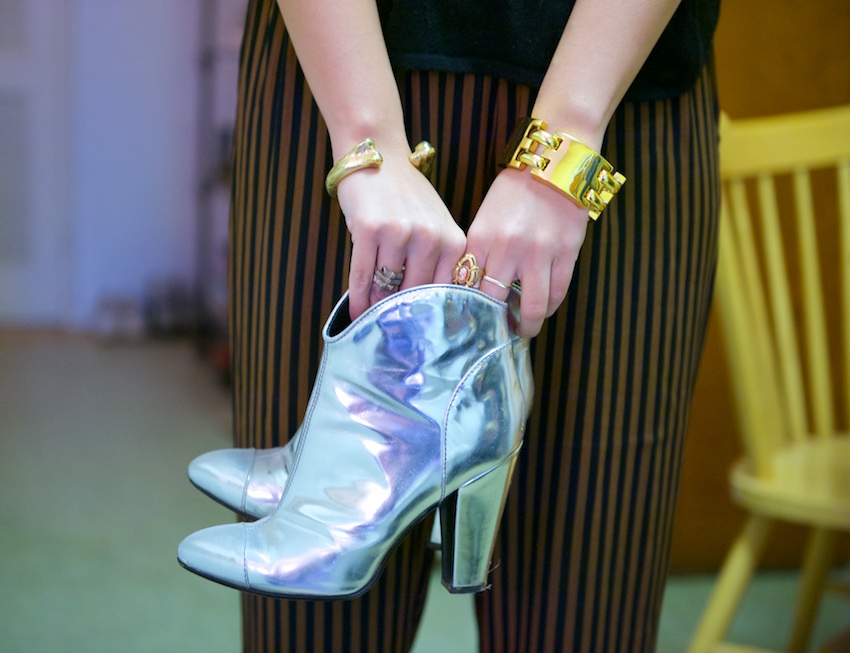 Boots:  Burberry
"I think I only paid like seventy bucks for them.  They're not the most comfortable shoes but I still rock them."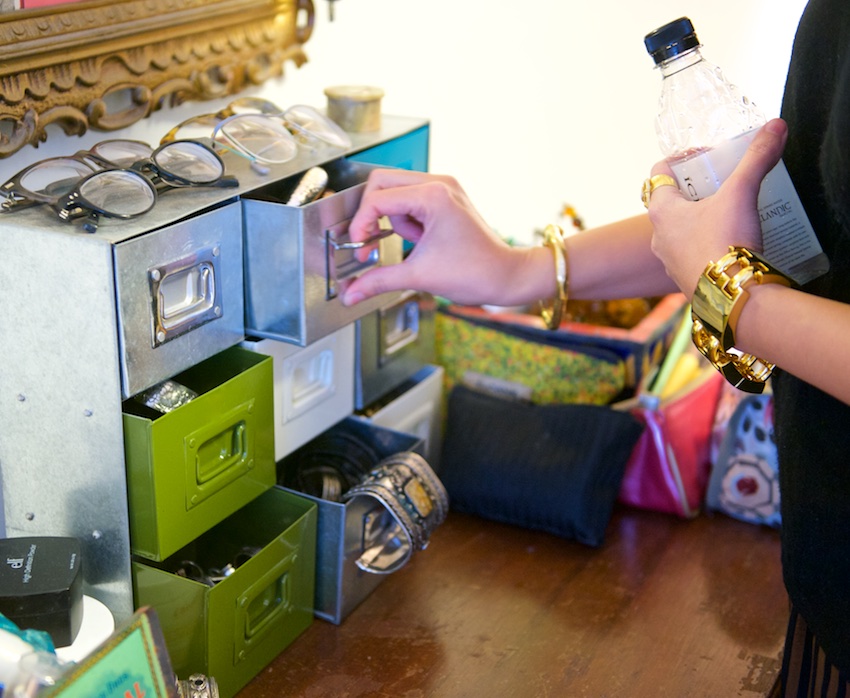 Storage system: Urban Outfitters
"I love jewelry that makes sounds.  Each of these drawers is filled to the top."
Furla bag: Beacons Closet.
"I don't like buying new home stuff. I like random weird things that you'd find at a thrift store.
I got these two characters at a local thrift store.  Aren't they good? They had like two or three more but I thought I can't buy them all!
I try NOT to shop that much but I do go back to fave Etsy sellers just to see what they are doing and I get inspiration on what they think is really cool."
 . . .
You can catch more Full Monty features: here.