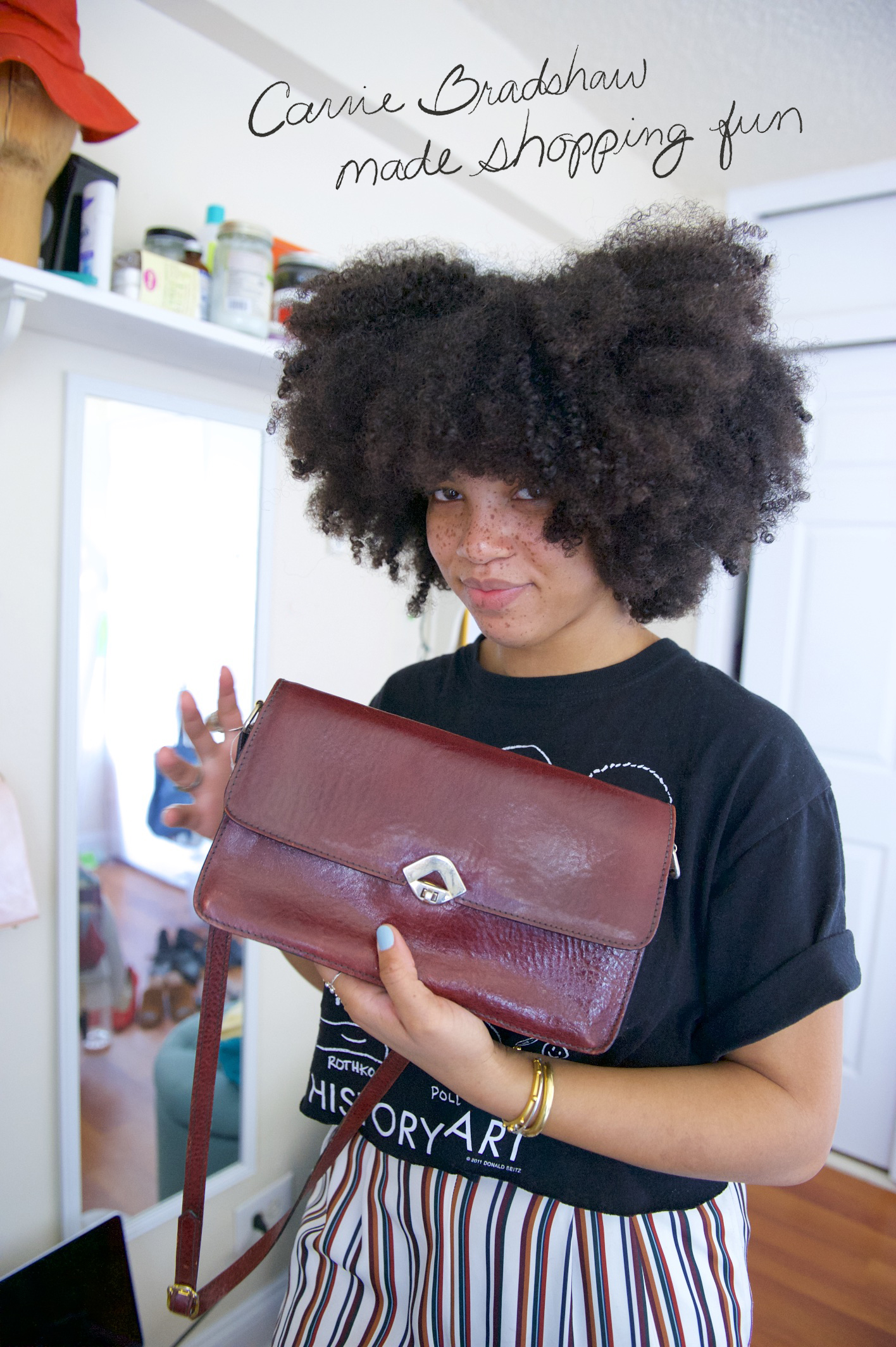 Definition: The Full Monty: 
A British slang phrase.  It is generally used to mean "everything which is necessary, appropriate, or possible; 'the works'"
I first saw Yaminah in my Instagram feed when she modeled for the brand Mansur Gavriel.  I was struck by the hair, the freckles, the hair, the smile and…. the hair.  Not too long after while wandering around in Opening Ceremony on Howard street, guess who walks in!   After taking photos of her outside, we immediately started chatting and ended up taking a twenty minute walk together along Broadway.
Fast forward a few months and she agreed to let me into her wardrobe in Harlem.
.     .     .
"This bag I got from Beacons.  It has a really cute clasp.  Bad things happen though when I wear it because  lost my headphones the last time I wore it."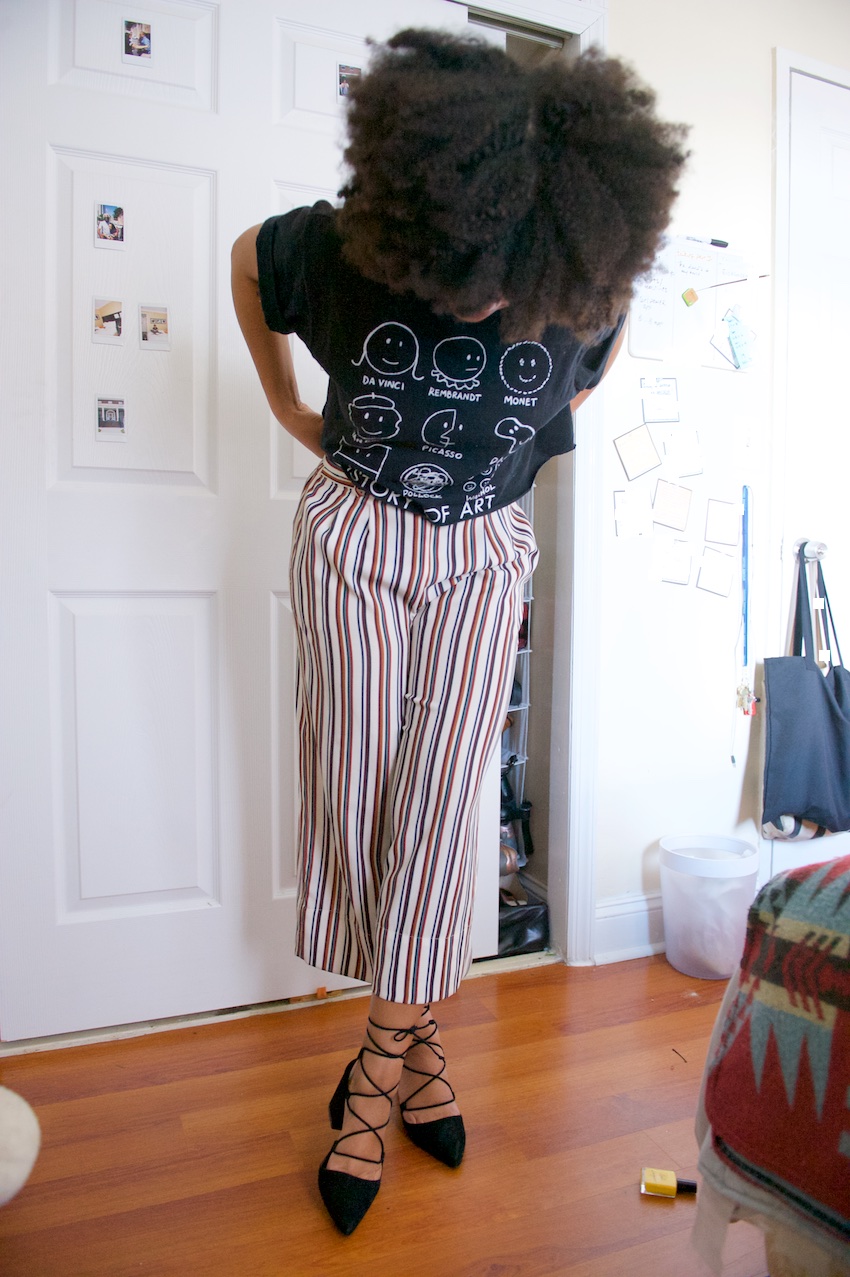 Shirt & Pants: Thrift shop
"I hate pants with a tie on them. I have to wrap these around my waist and tie at the back."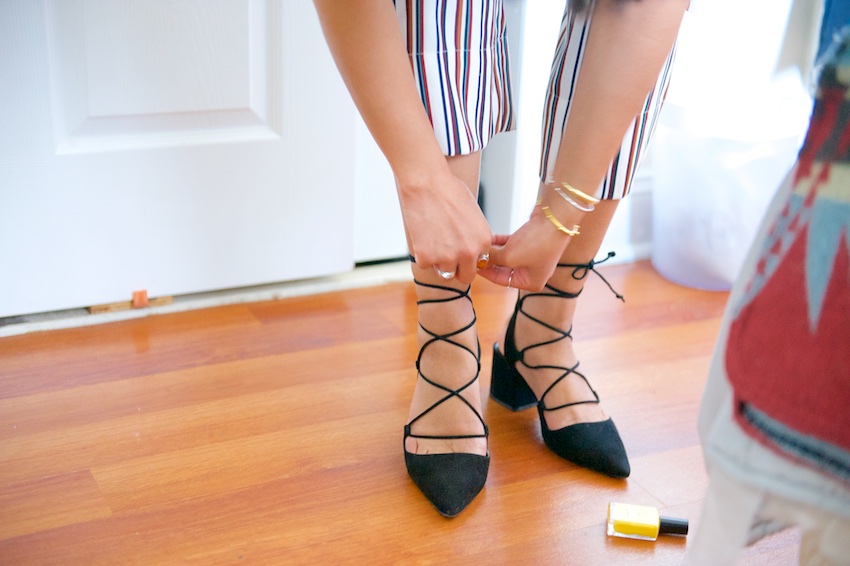 Sandals: Zara
"I knot the right leg but can bow the right leg which is funny."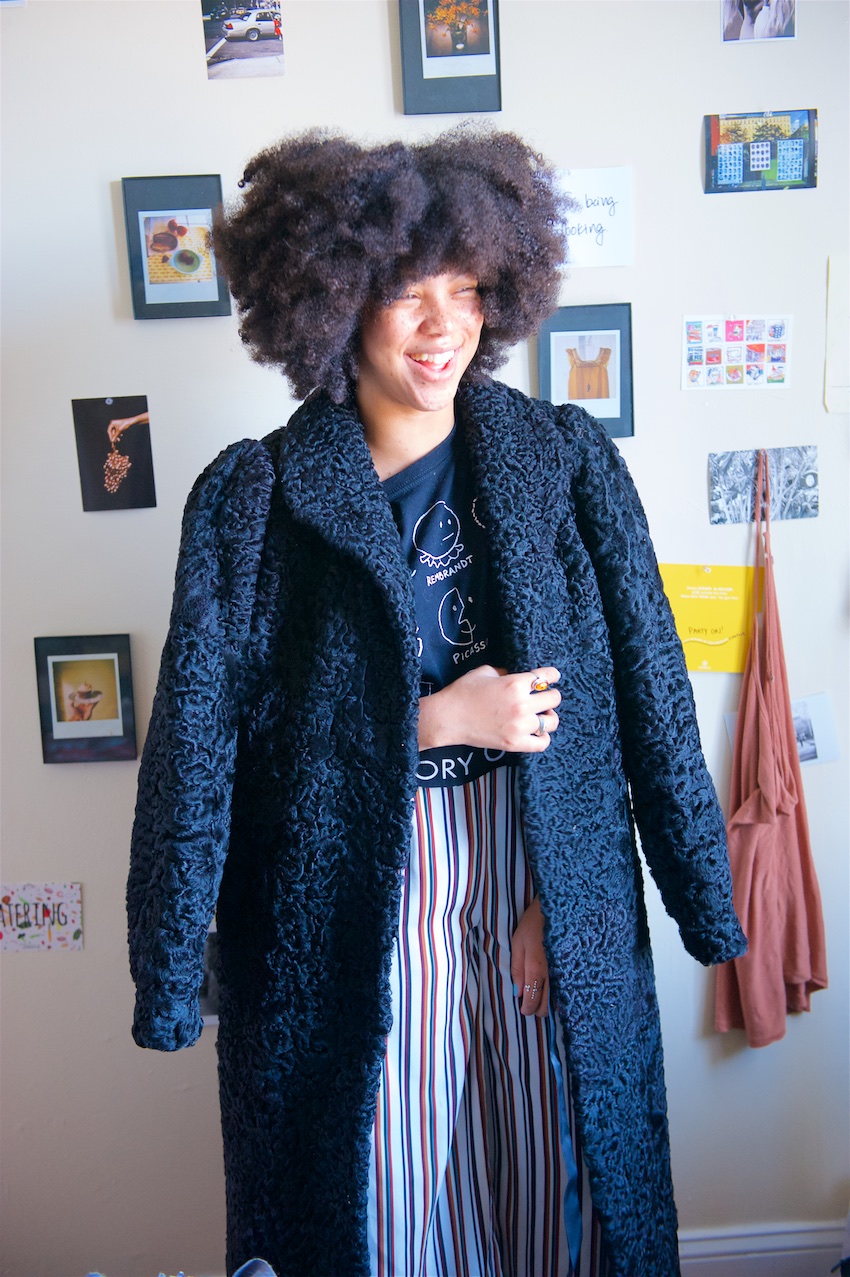 "I got this coat for $75. It was so good in the winter time.  I also got a multi colored coat for like $19.  I can't hang it up because it broke about five hangers – it's crazy heavy.
Finding good thrift is like a chance encounter of seeing a really cute guy at a bar and giving him your number but not knowing him.  It's like I don't know if I'll ever see you again. You might be a serial killer but you're really cute.  You look so great I'm just going to take this chance."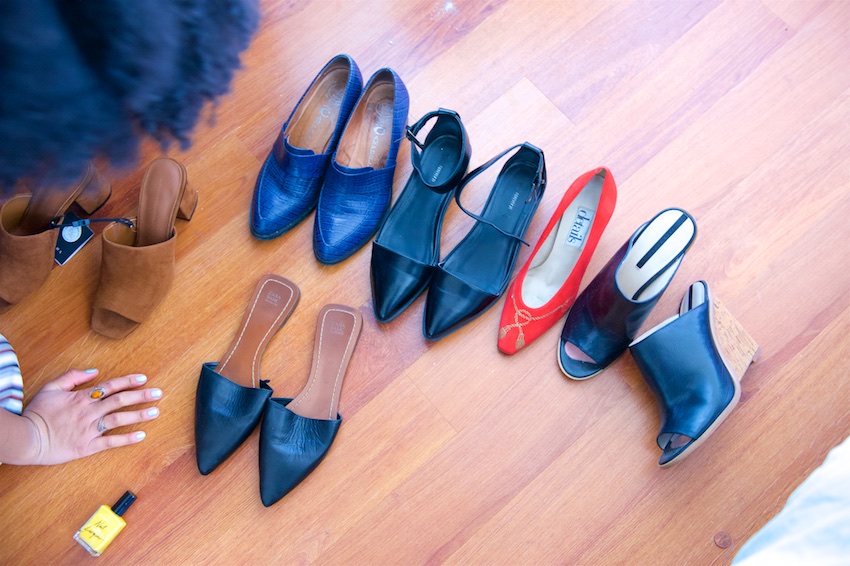 "I feel like I buy everything on sale. I don't think I really splurge.    I can't wear stilettos.  You'll never see me in a Louboutin. Ever. I live in New York and I have a life and I'm not Carry Bradshaw.  I only watch the early seasons of Sex and The City.  For me Carrie is like: "I feel you!"  She made the struggle fun."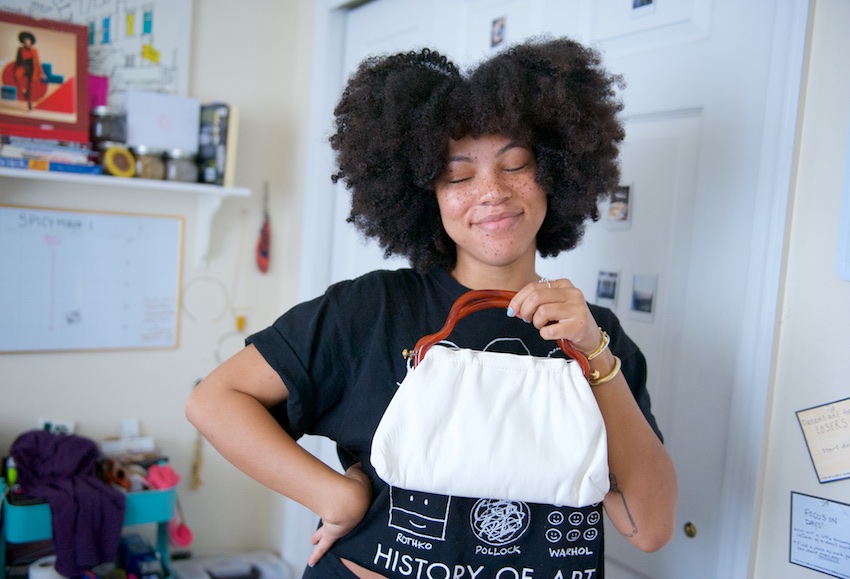 "This was literally eight dollars.   My favorite thrift thus far is Beacons Closet in Park Slope and Beacons Closet in Green Point.  Green Point you can find designer stuff.   I went to East Village Thrift and literally bought my whole life.   You find the best stuff."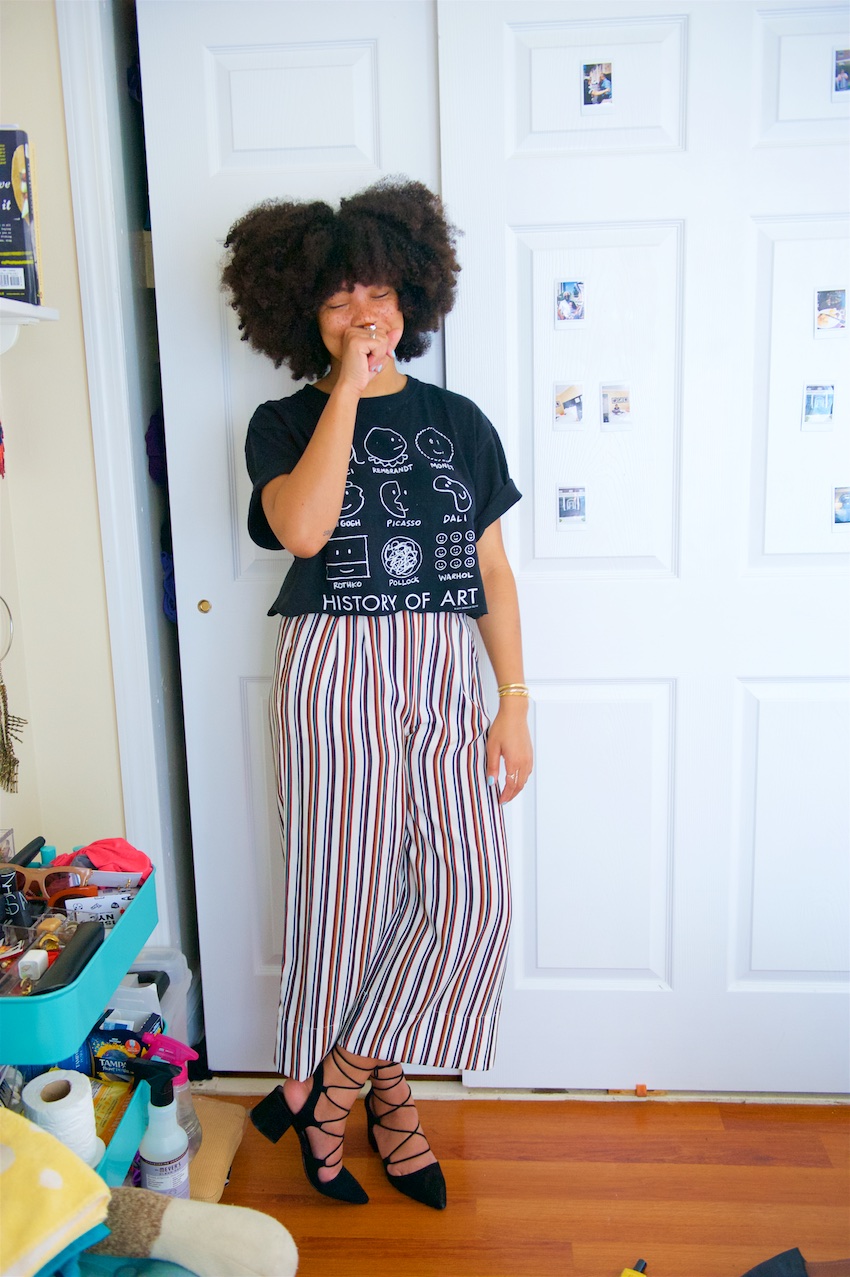 "The shirt was $4 and I cut it off yesterday because it was too long.  I can't wear long shirts because I'm so short.
I online search things.  I'm not really an online shopper.  Maybe sunglasses because I don't have to try them on.  I do like Reformation, Zara of course but I prefer online so I can like think on it versus it being in the store in front of me.   I do look at Opening Ceremony but only for style inspiration because I can't afford that right now!"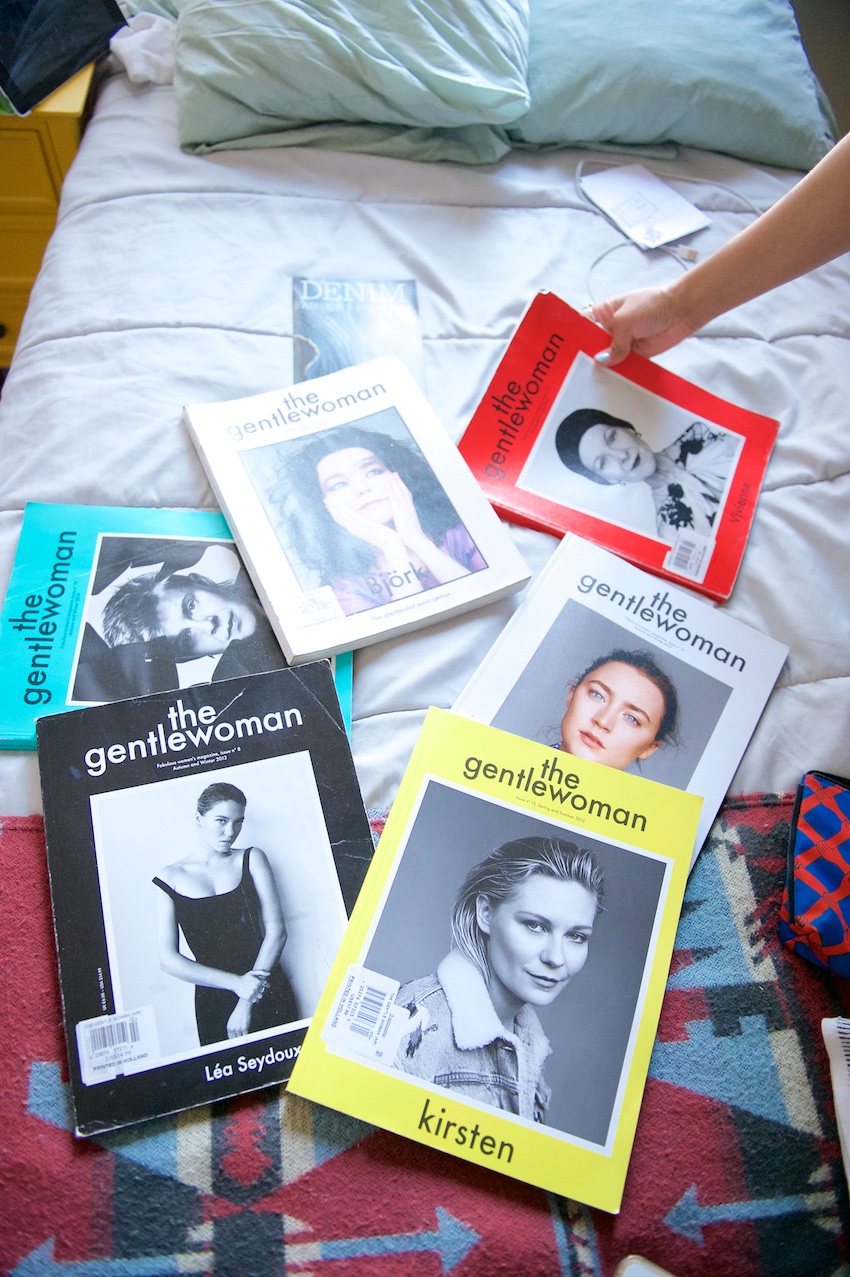 "I can't read five articles a day about Rihanna's style.  I can't do it.  You will never see a mention of a Kardashian or a Jenner or any of those in these magazines.  It's good to see women who are fashionable but they have other interests besides getting dressed.  If I had to work for a magazine I would totally work in Europe.
I'm finding that freelancing is actually better than having a nine to five.  It makes you excited about every project. It's like: "Oh my gosh I just did this project for like three days" and then you go to the next project and you're not working at one thing for like eighteen years.  I feel so much better, like: "oh yea I just did this and I did this" instead of: "oh yea I still work there."
It's why I like blogging although I feel like I want to change my topics to more than just fashion. My friends and I are creating podcasts on all sorts of topics. It's crazy, frank and open plus it's talking about how to make it since we all come from different aspects of the art industry."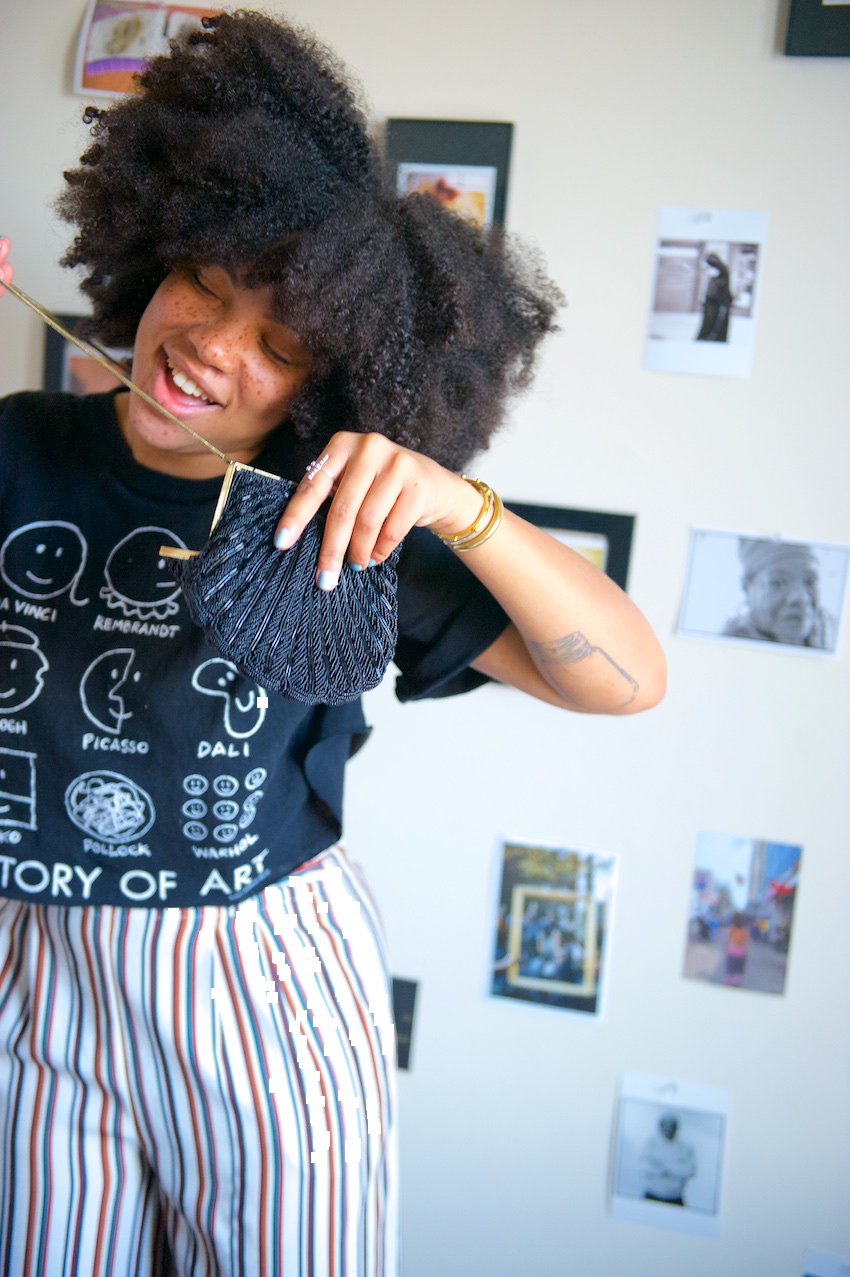 "The bag was like $20.  It's the best thing."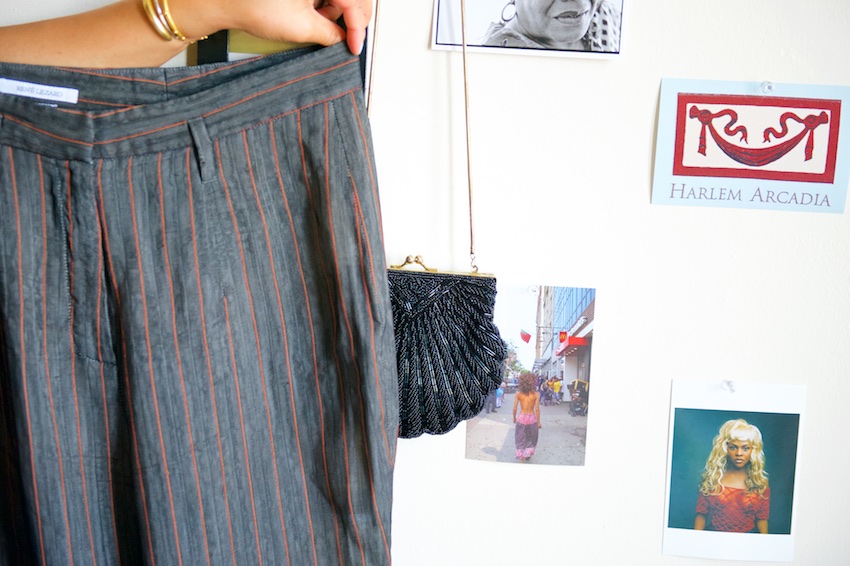 Trousers: Beacons Closet
"I got these pants and they are completely see through with pin stripes. I don't know who makes these trousers but I just love them.   I want you to see my legs so I think I need to wear like a really styled piece of underwear because I don't mind that look.  I think with this bag is so amazing together."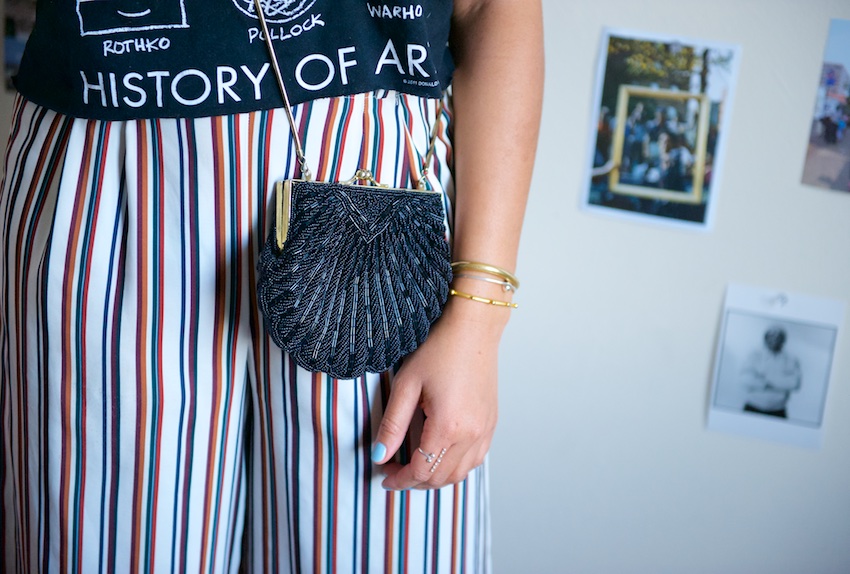 " The bag is not too low so it sits just right.  I don't have to worry about being pick pocketed! It's like the perfect bag."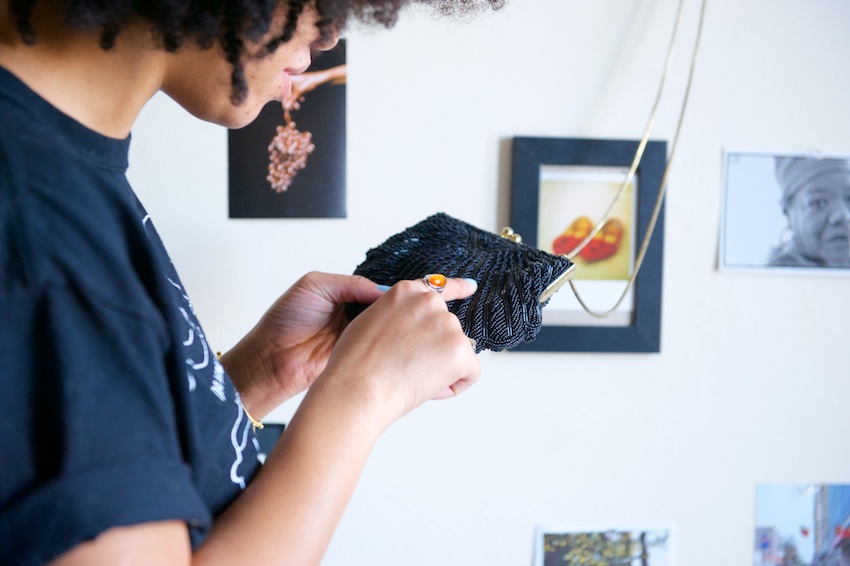 "It has different types of beads on it.  I put my grocery list in here and my debit card and that's it."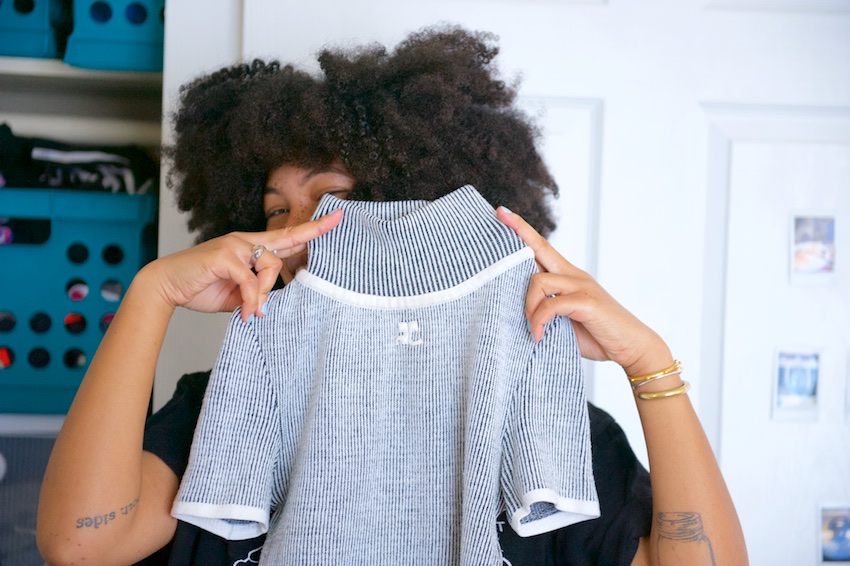 "I got this Courreges shirt from Beacons for $8.95  I said "you guys do you not know who Courreges is?? They are about to blow up because they just got CFDA winners to design for them."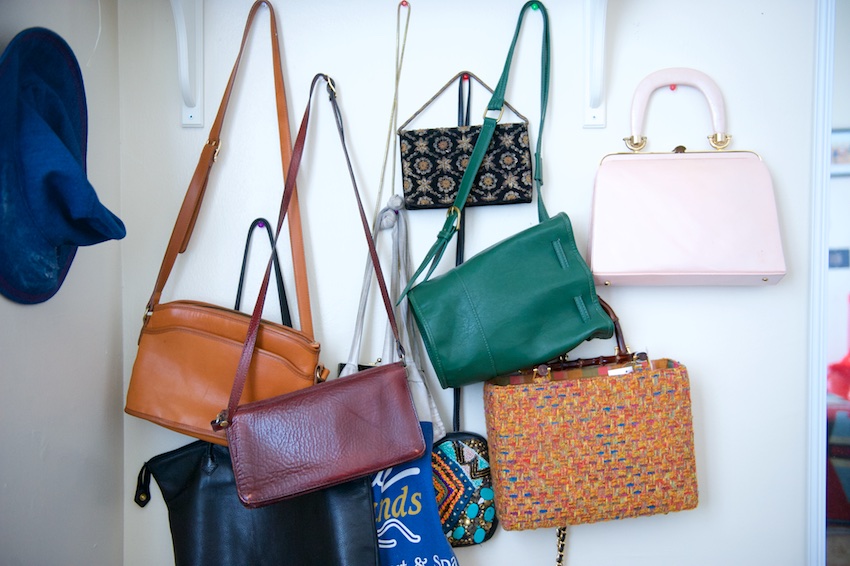 "I just feel like black girls who don't wear turbans and batik fabrics, they are just not represented. I mean I like silhouettes.  I like weird shapes in garments but I don't really see that unless you have like a bunch of money and you literally are that fashion insider.  I kinda just want to show the fashion insider but from my perspective.  I'm not wearing the designer version but I can still dress funky and cool."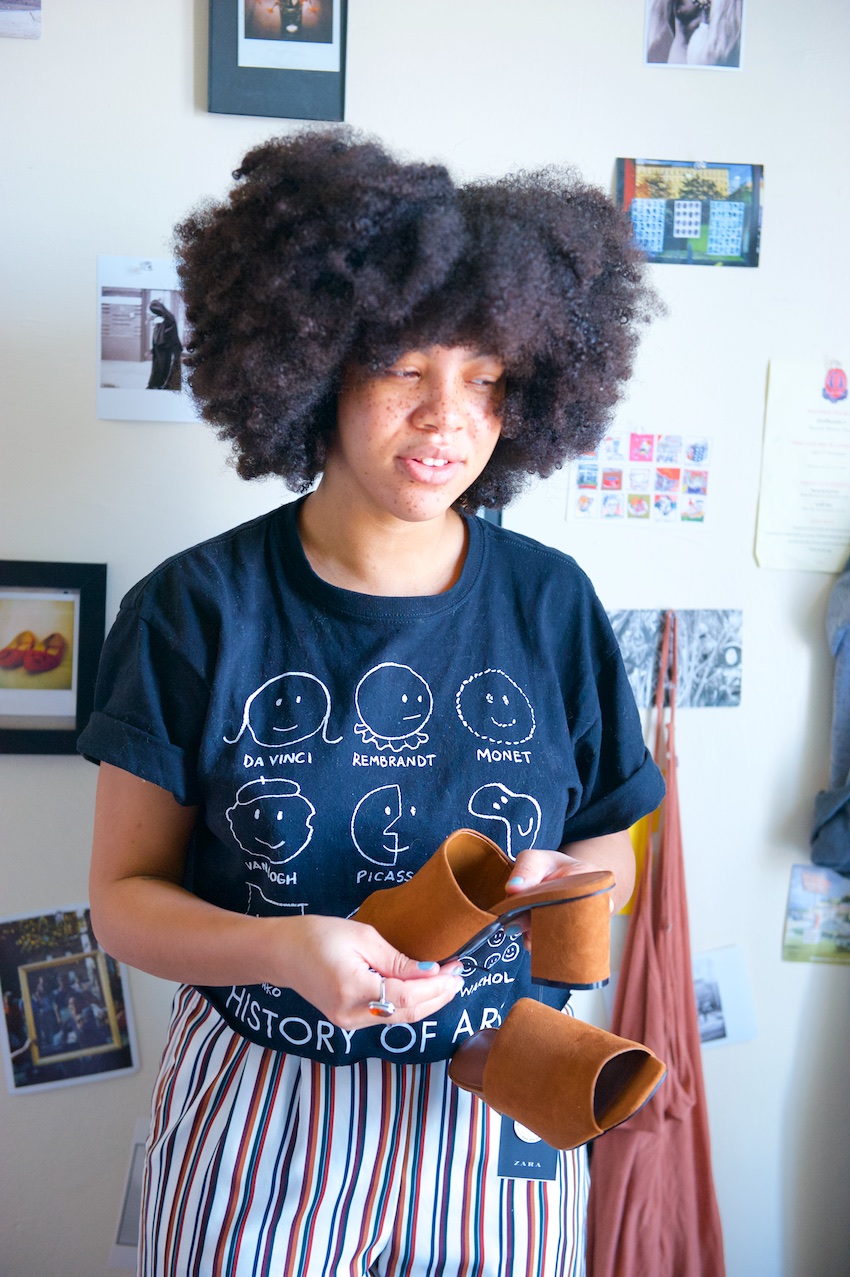 Mule sandals:  Zara
"I didn't buy these shoes for three weeks. I was like: 'if it's meant to be it will be.'  Then they had one pair left in my size and I was like: ok I'm just going to take these."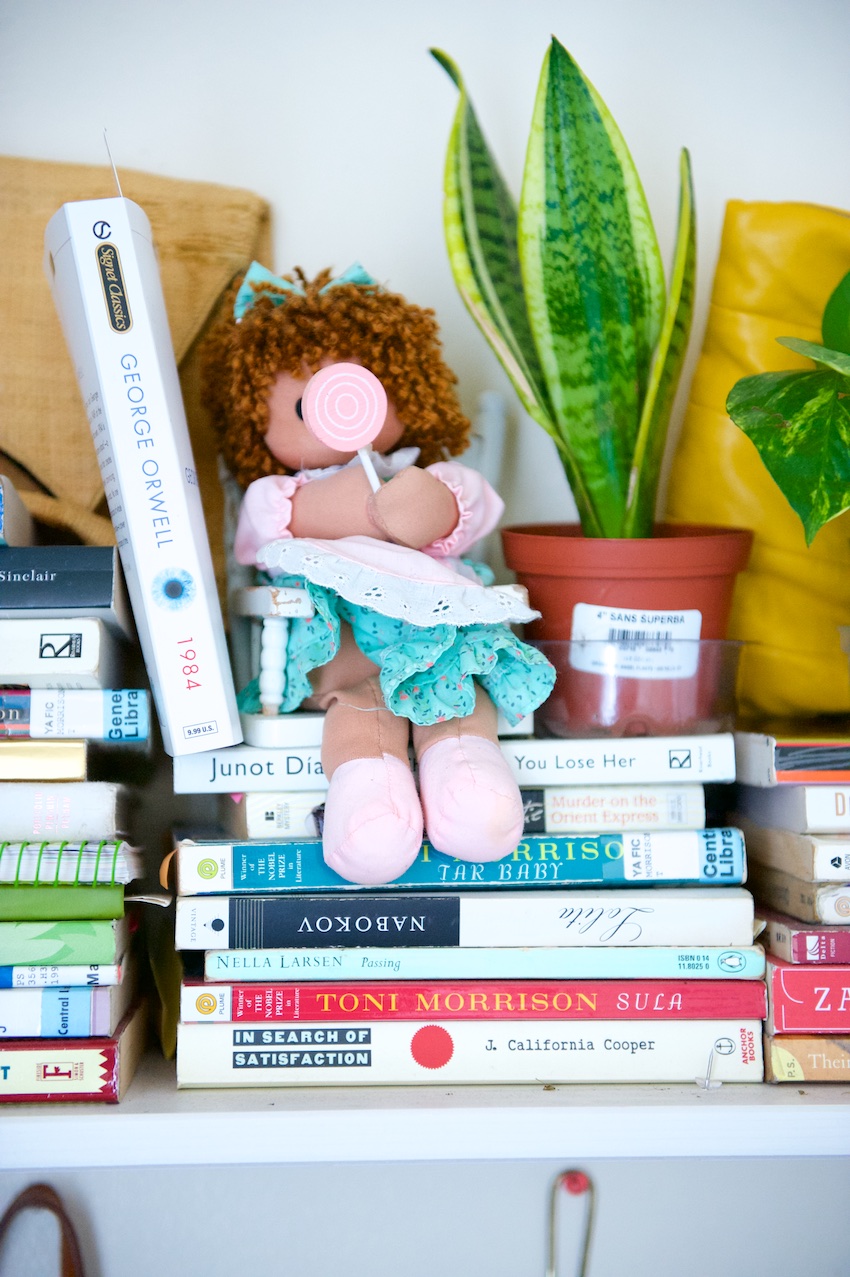 "I didn't even choose that modeling life. That life chose me.   People just come up to me and are like: "oh do you want to do this?"   Ever since Manrepeller did that piece on me, my direct messages on Instagram have been in shambles. At this point I feel like I'm looking for brand collaborations.  I've modeled now for bigger brands so I feel like I want to collaborate with brands now.   I have specific brands that I want to work with because I know that they don't have a black audience yet that is also a fashion forward demographic."
. . .
"My fave places to shop in the city?  I find the best places are in the Lower East side, East Village or Brooklyn.  I like East Village Thrift on 7th street.   I really like Sincerely Tommy and feel like they've become the new black girl hang out.
If there was a fire and I could only grab one thing it would be my giant laundry bag because I could literally stuff everything in it!"
. . .
You can see more Full Monty closet interviews here!