Let's talk about shades (and sunglasses trend(s)! They're an often overlooked accessory, but they're one of the more practical ones – especially for spring and summer. Because they frame the face and eyes, choosing the 'right' one for your face shape is a daunting task (I know! I'm so picky when it comes to sunglasses) and also due to the fact that it's hard knowing what sunglasses fit your face shape the best. Though, if you're one of the lucky ones having found the perfect pair of shades, it's a life long relationship (because your face shape doesn't tend to change that much).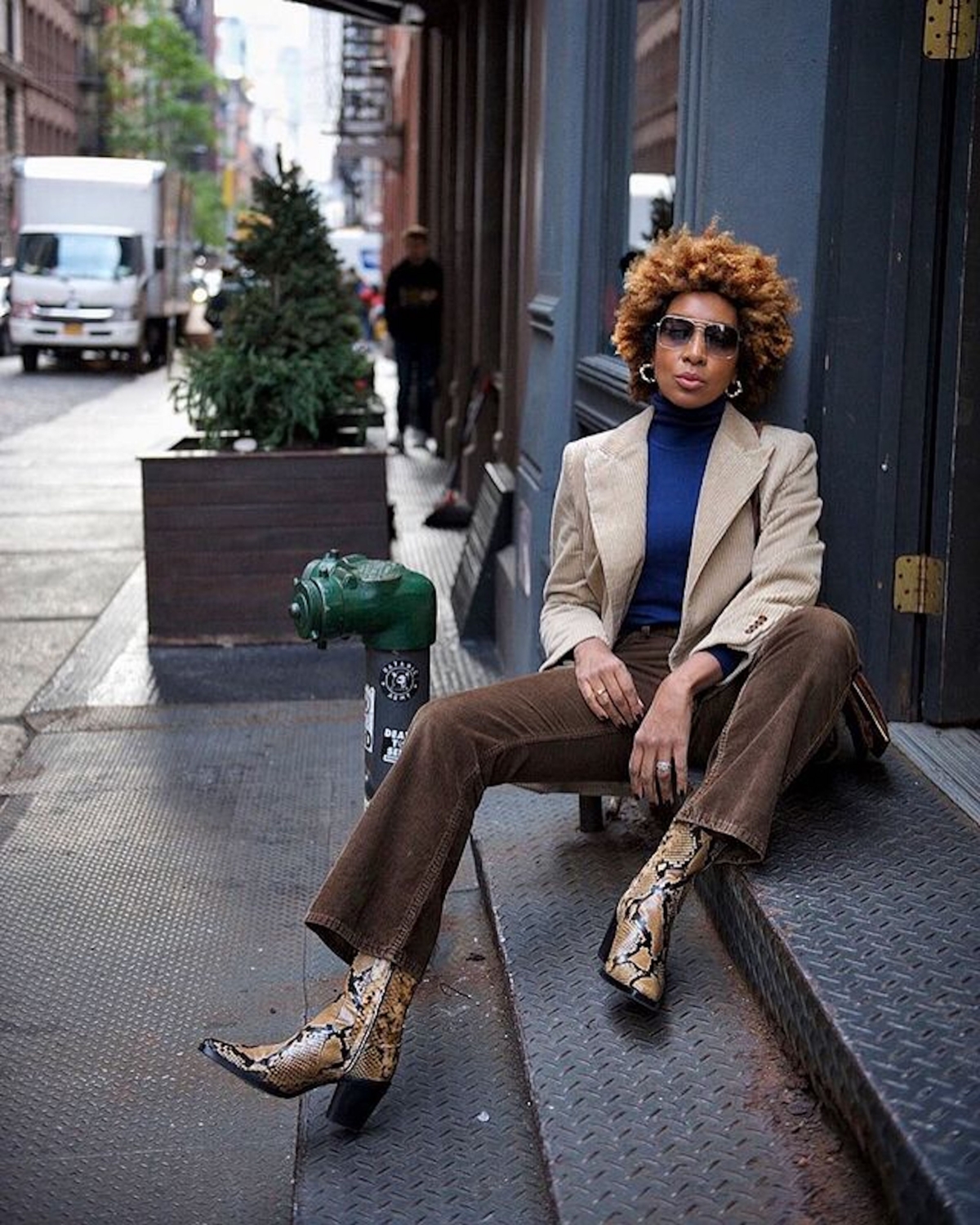 The face types that everyone knows are : square, oval, heart, triangular and round. Though, did you know that no one has a perfected shape of any of these? Our faces are made up by a combination of many elements – so remember, choosing the 'right' pair for your face shape is only a guideline and not a rule!
Once you find the shape that works for you, you'll always keep reaching out for them (I have a couple of favourites like my aviator tinted glasses that I wear every summer!) Furthermore, just like clothes, sunglasses go through their own trends as they evolve in the designers' visions. This season I'm picking out the best sunglasses trends for every face type! Because if we're going to throw shade, at least do it stylishly, right?
Rectangular Sunnies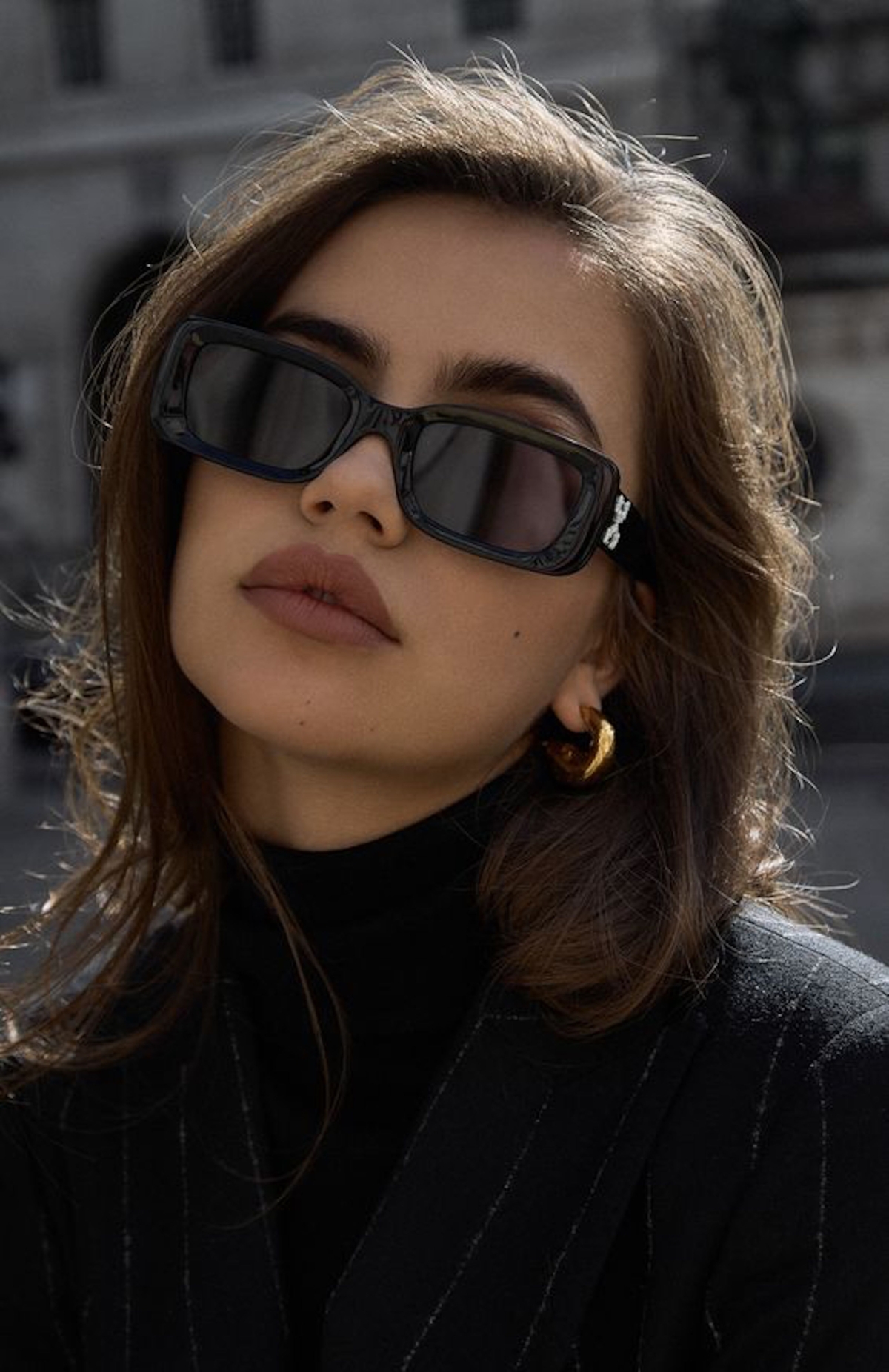 Popping more often by the day on our social media are rectangular sunglasses. Depending on the frame colour (usually from acetate), they can be quirky and fun, or sophisticated and casual.
Ideal for (but! not exclusive to) round and oval face shapes, I feel these would be perfect for those who love a little 90s nostalgia.
Being one of the more laid back sunglass shapes, these would be really nice paired with a simple white t-shirt and good fitting jeans.

Angular Cat-Eye Sunglasses Trend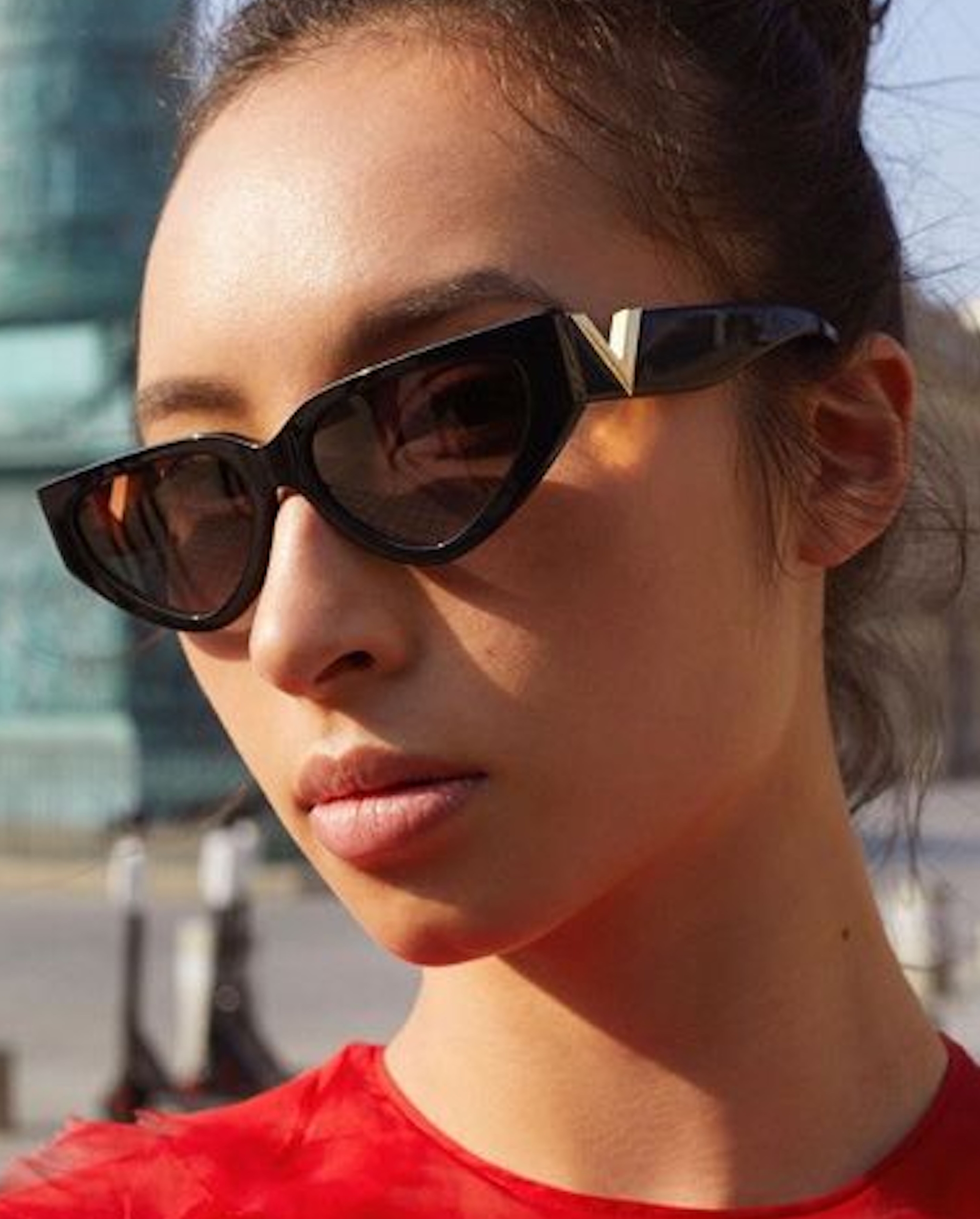 Our recognisable classic cat-eye sunglasses has been reinterpreted by designers. It's lost its retro aura and is replaced by something more dynamic. Say hello to the angular cat eye!
Admittedly, reinventing the beloved cat-eye shape is very daring, but seeing the results doesn't make us mad!
A bit more of a statement than the regular shape, these sunglasses work well for oval and round faces.

Tinted Aviators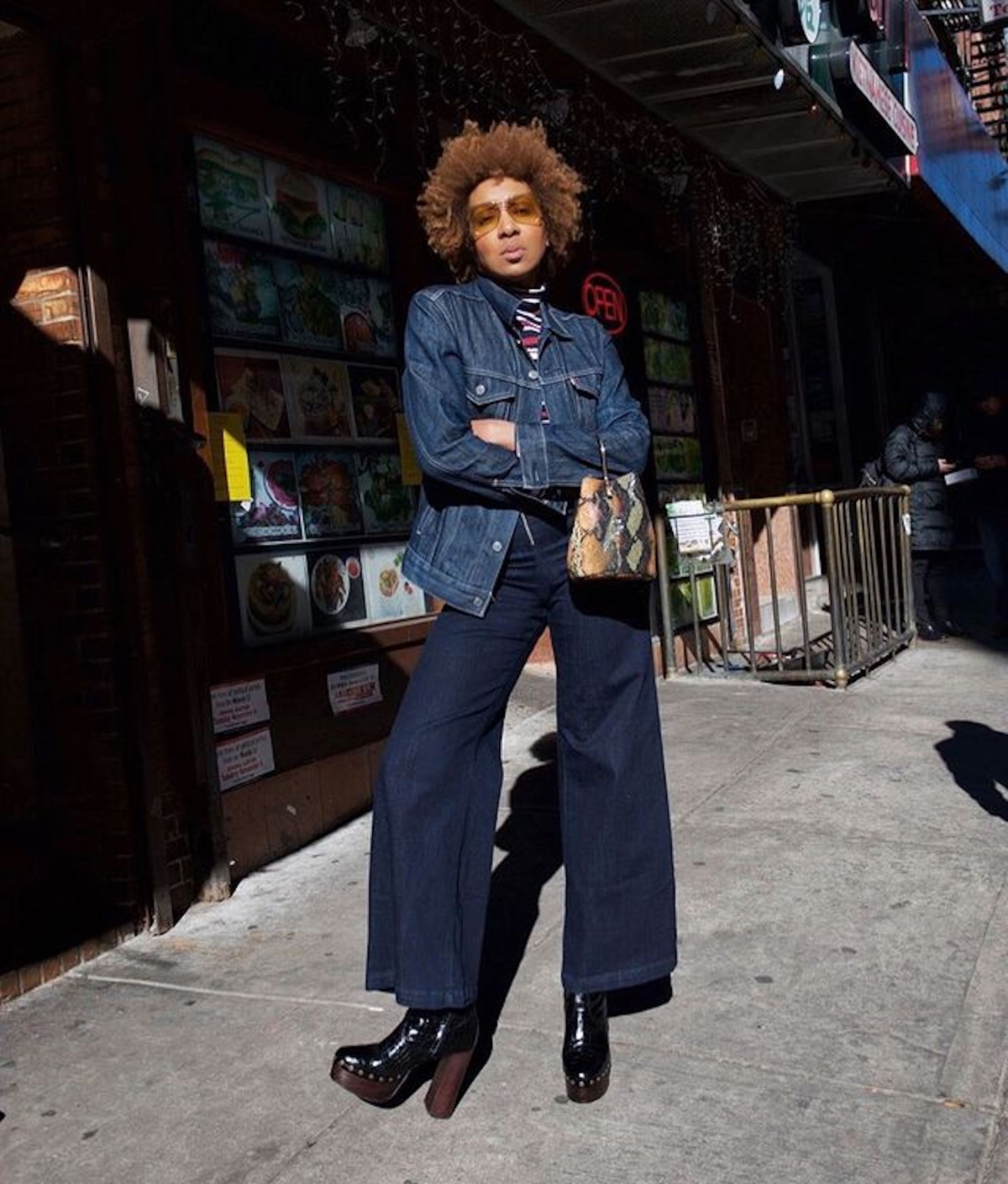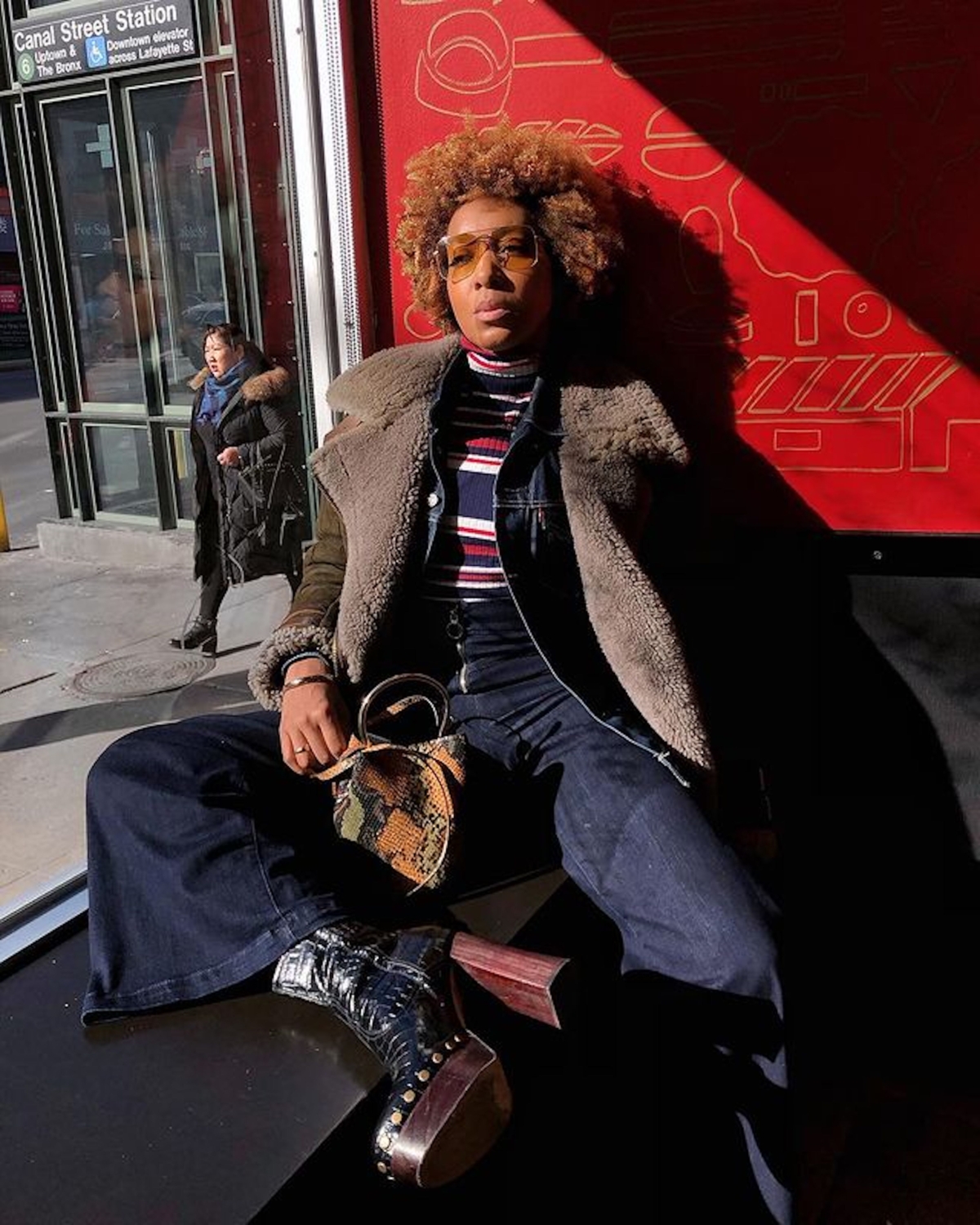 Tinted aviators! A trend I can get behind as I already own a few pairs! I just love that retro and classic feel aura of them. The warm yellow/gold tint livens up my face and frames my eyes perfectly! I really like tinted shades because you can play with the colour highlight on your face. The best part is that you can wear these in casual settings – compared to black sunnies which shout "I'M WEARING SUNGLASSES"! – tinted aviators are ideal if you want to wear sunglasses, but don't want it to be so obvious.
Wear your favourite outfits with these and you're guaranteed to feel the most fashionable person in any 10km radius. Tinted aviators are really that cherry on the cake! Linking similar ones of my favourite yellow tinted aviators here!
They say that the aviator shapes are best for oval and heart shaped faces. Though, why not give them a try anyway (they come in a range of sizes and styles) – besides they're a classic!

Oversized Shades
For people leaning towards a square shaped face, you're going to love this 2021 spring/summer sunglasses trend – Oversized!! The bigger the better! Completely 70s inspired, oversized sunglasses have been making their appearance on top runways and the best street styles. I really get the feeling of flicking through a 70s vogue magazine when I see them. These sunnies are definitely more on the statement side, but you can also tone it down by choosing the thickness and colour of the frame. For a more casual look, why not try transparent frames? Done right, I can't imagine a more chic sunglasses look!

Half-Moon (D-Shaped)
Sunglasses Trend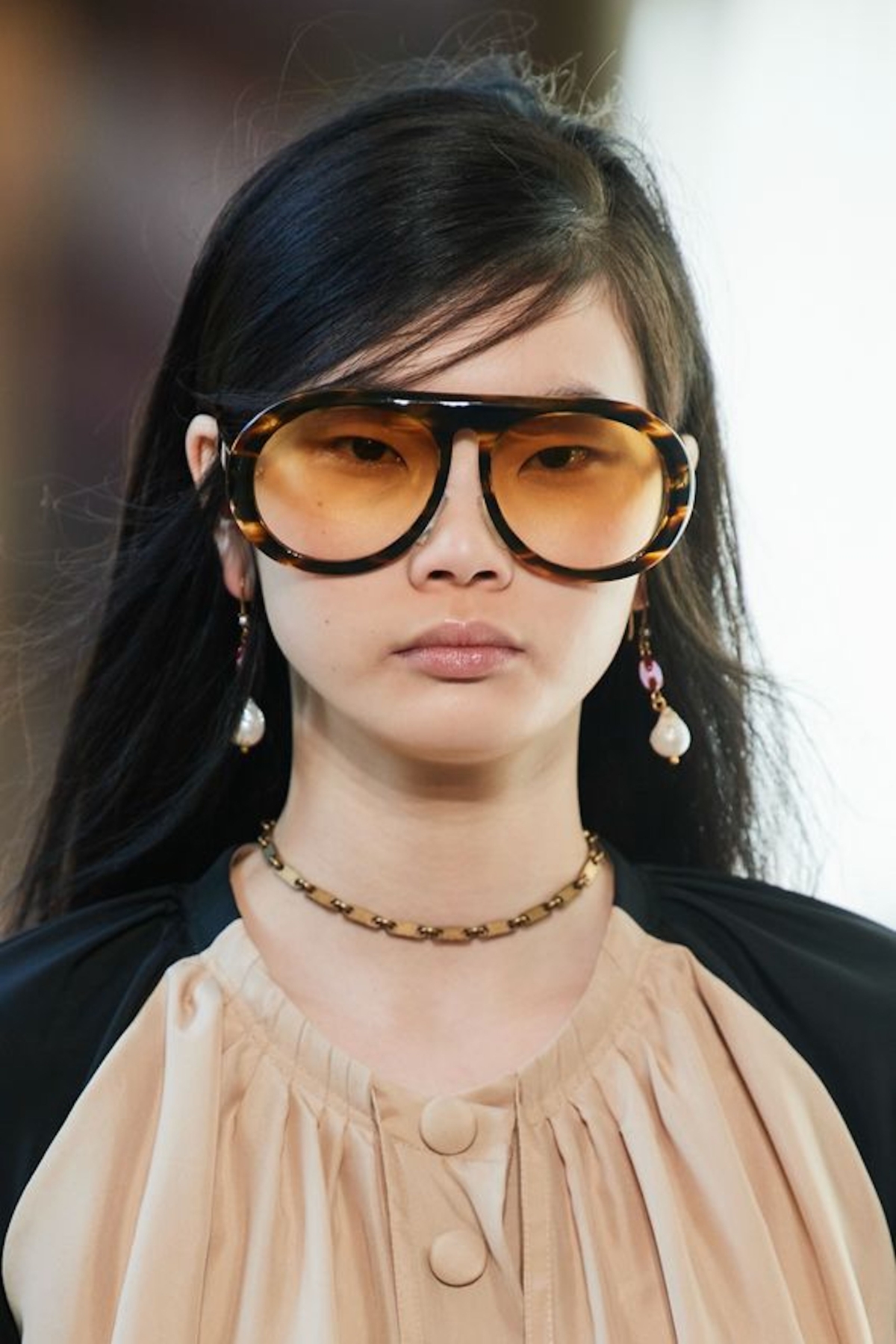 With their background in the sports industry, D-shaped sunglasses are coming into our radar. They're coming hand-in-hand with the sports (particularly tennis) inspired looks on the runway this season (thinking of Celine).
These sunnies may be right for you especially if you like aviator shades. They're definitely on the cooler side as well as exuding that modern 21st century vibe.
D-shaped sunnies are actually cater to a diverse range of face shapes, such as triangular, heart, round and oval faces. So don't be quick to rule them out just yet!
I love those D-shaped shades with the thin silver frames – that metallic highlight and shape is so stylish – would add these on the list of items that elevate an entire outfit by one simple component!
Would you try these?