The biggest color trends of 2021 are here to give us exactly what we are looking for. We have bubblegum pink, a subdued shade of yellow, magenta, a shade of tangerine orange and, last but not least, apple green or Kelly green. Eat your greens they said. Well if you're not eating them, at least carrying them around might be a healthy alternative? Maybe that was a bad joke. Anyway, this season is all about adding a pop of color (yes I hate that word too. Any suggestions for another leave it below) and green is having a hell of a moment. I see it everywhere from tiny accents – like THE absolutely amazing Mini Jodie Bag from Bottega Veneta that I mentioned in the "Spring picks you won't regret" Youtube Video – to ready-to-wear. I'm thinking Bottega Veneta can't restock its shelves fast enough, because it has been one hit accessory after the other.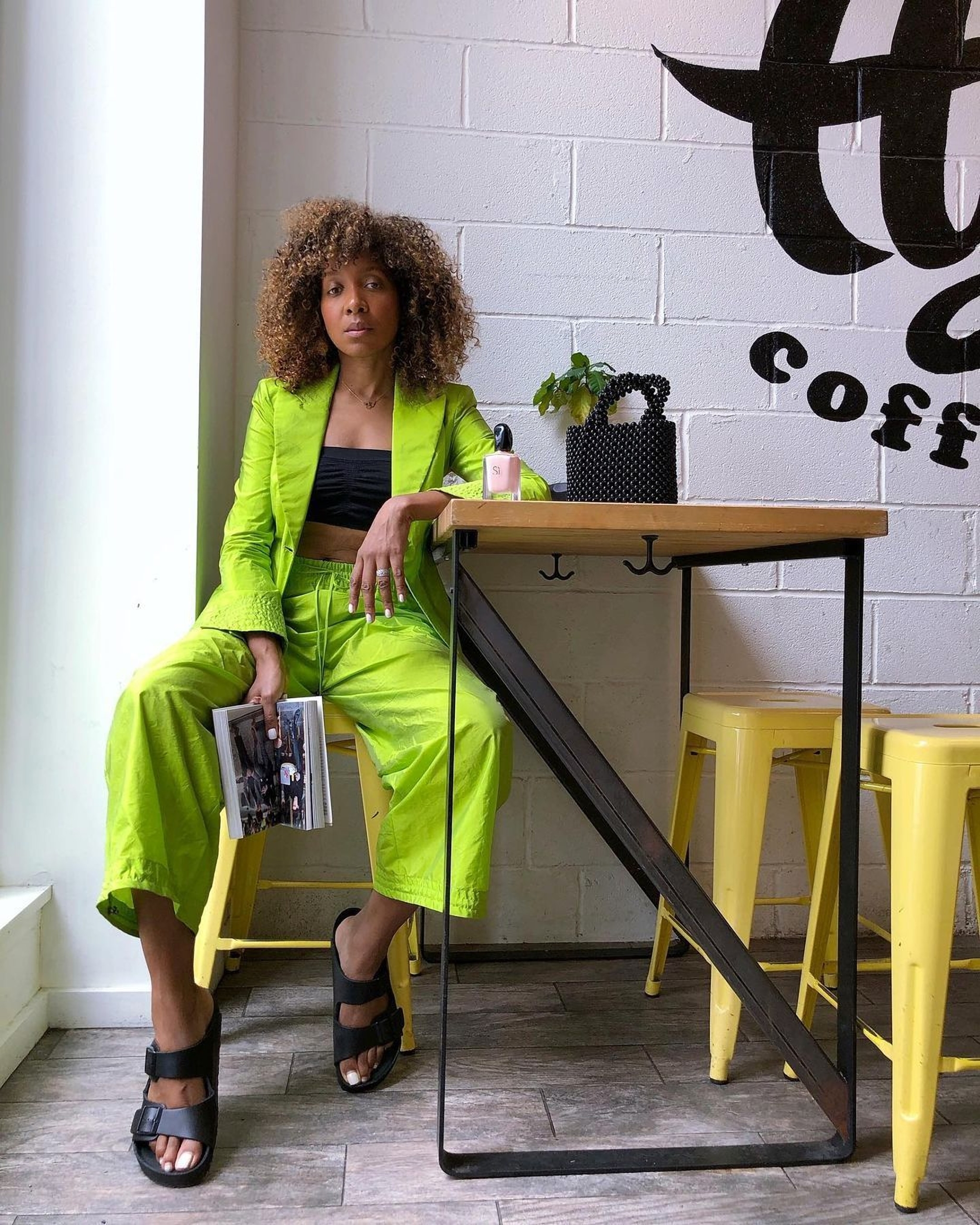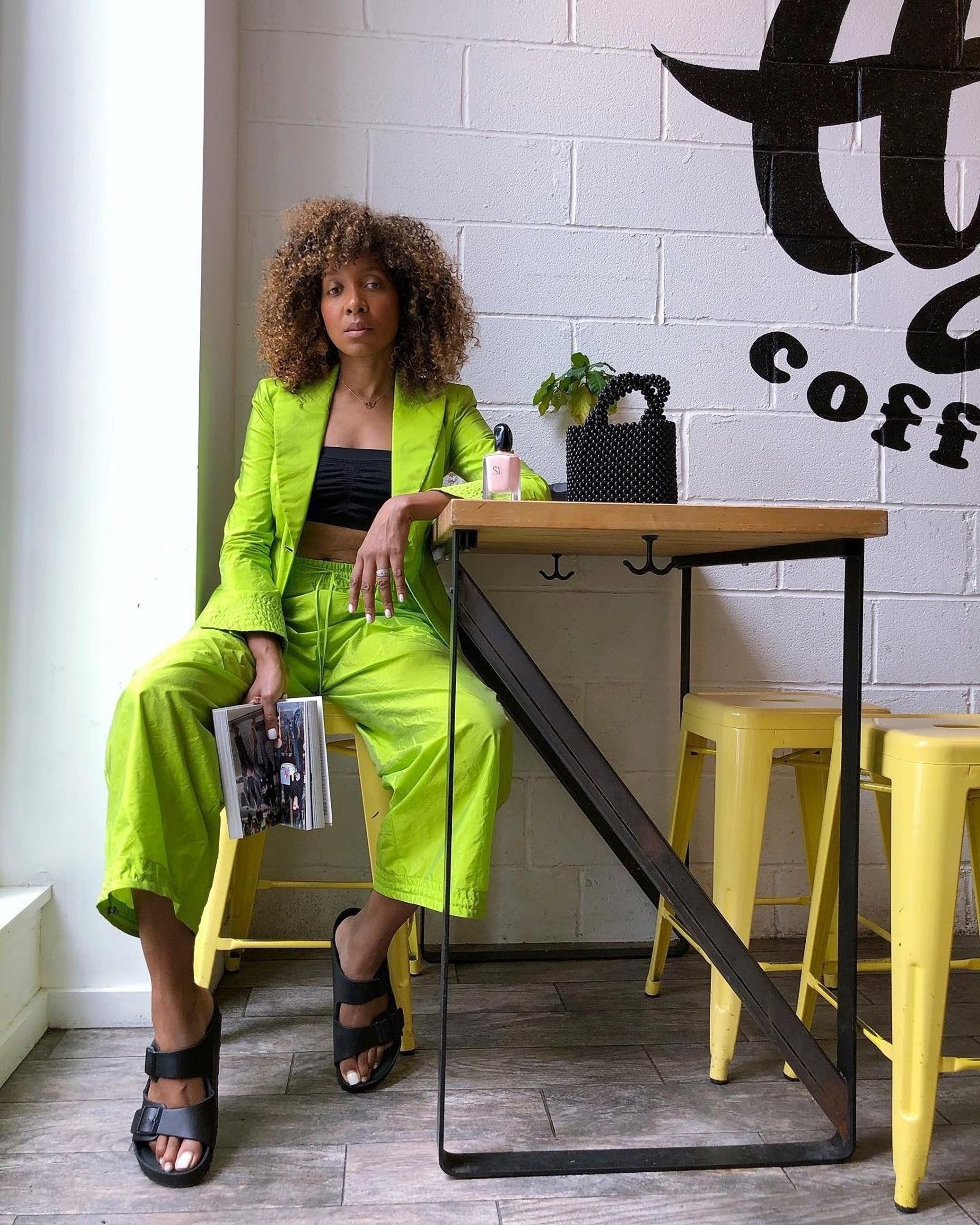 Great, but now you must be thinking "Right Karen, but how the heck am I going to style this color? Looks hard!" It might be a scary hue to style, I'm not going to lie. That's why I've rounded up some styling advice. Go on and have a look below, you have my green light (sorry, I had to). 
Wear it on your wrist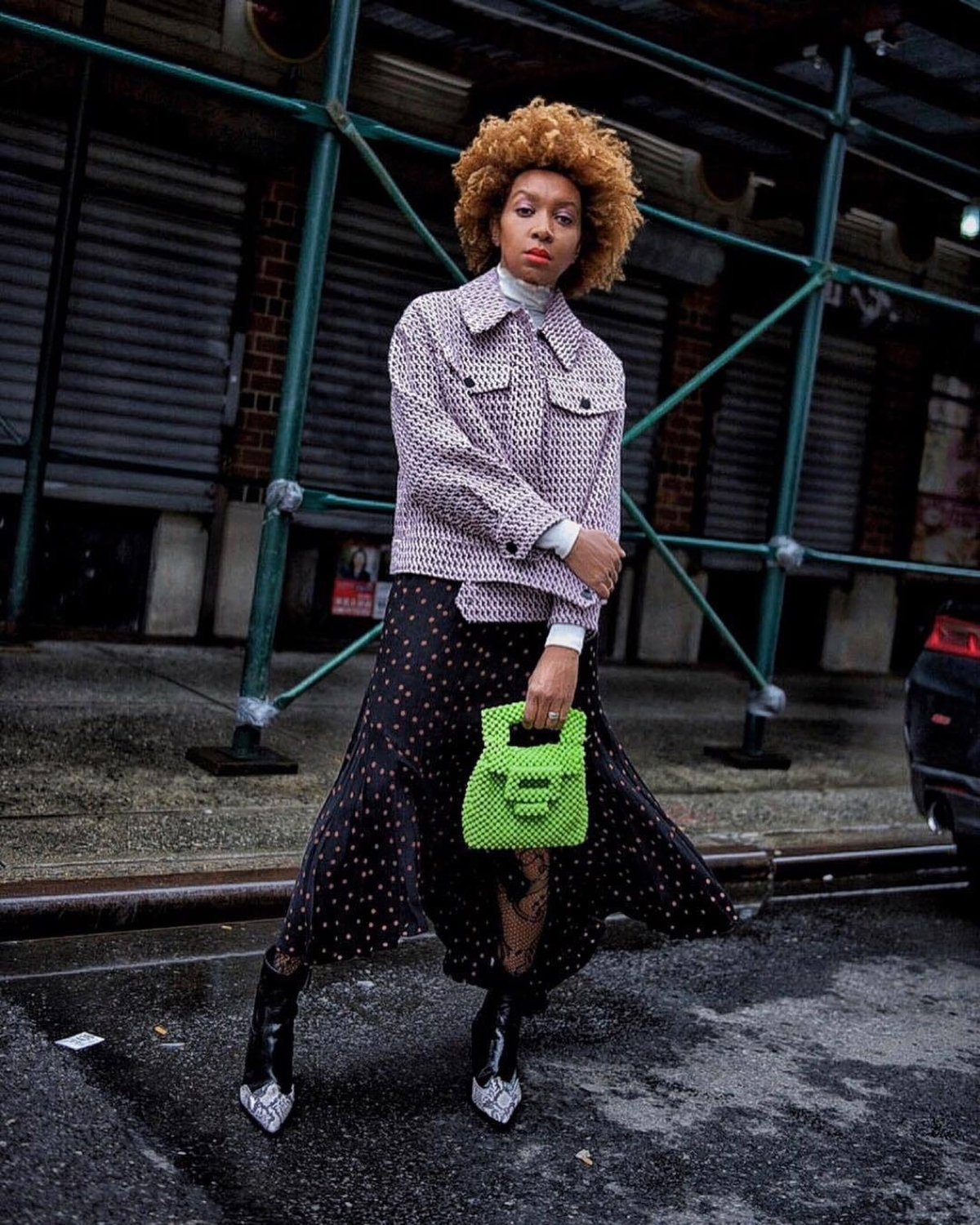 A bag is indeed the easiest way to liven up the look if you want to try out the trend for yourself. Pair it with darker hues to balance out the look. Or go a little crazy and mix it with prints like I did here.

Wear it with shades of brown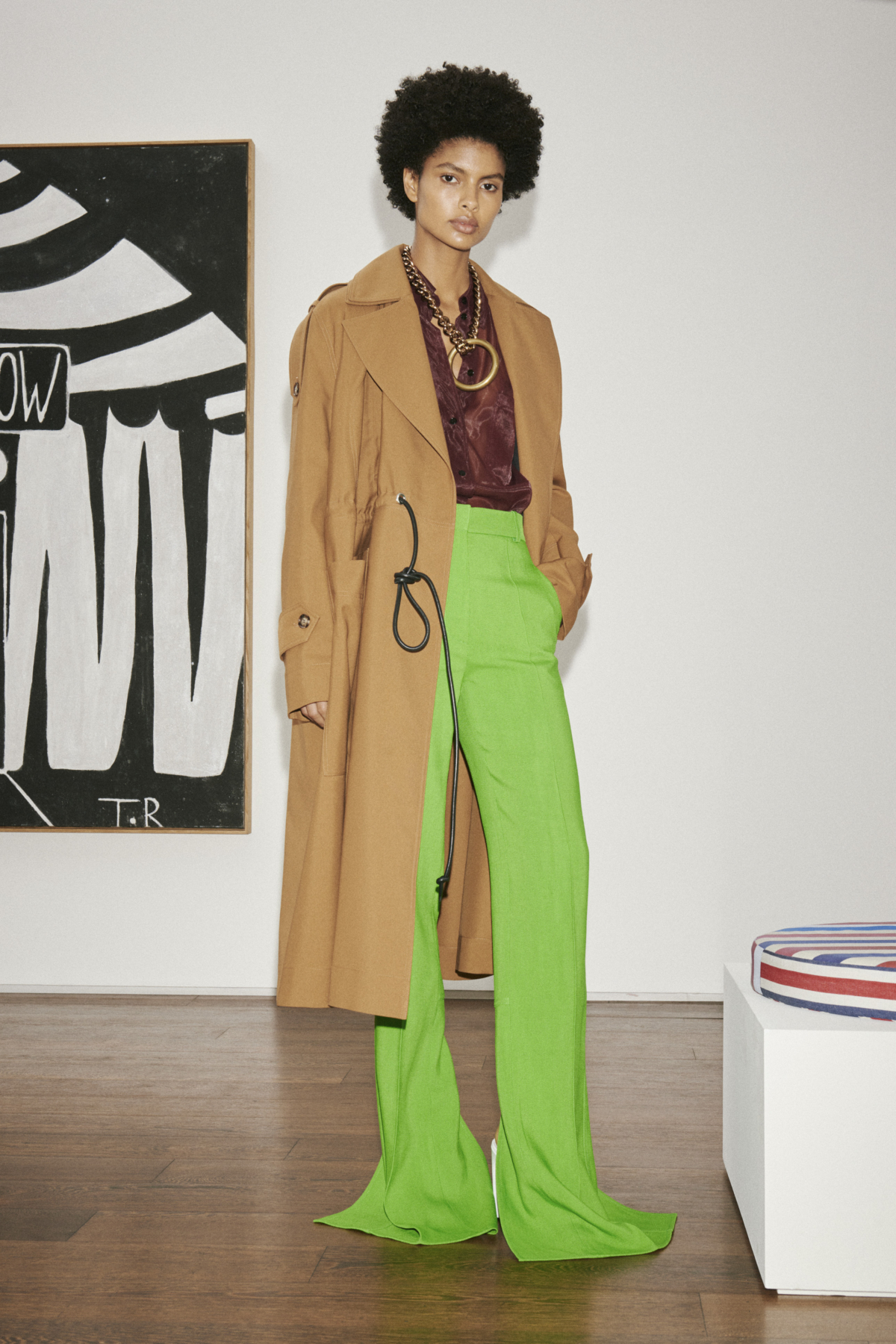 At Victoria Beckham's spring/summer 2021 presentation, see picture above, green appeared in the form of a pair of elongated tailored trousers. Pared-back additions – a caramel trench and rich brown shirt – offset the electrifying green.

Wear it with another bright color
Remember this post about color blocking? Feeling brave lately? Nothing says 'we're allowed out' like a good old bright shade. If you're not afraid of standing out between the crowd, you should try adding a pop of pink or orange (both really popular right now) to the ensemble. Green and pink might be one of my favorite color combos right now.

Wear it on a dress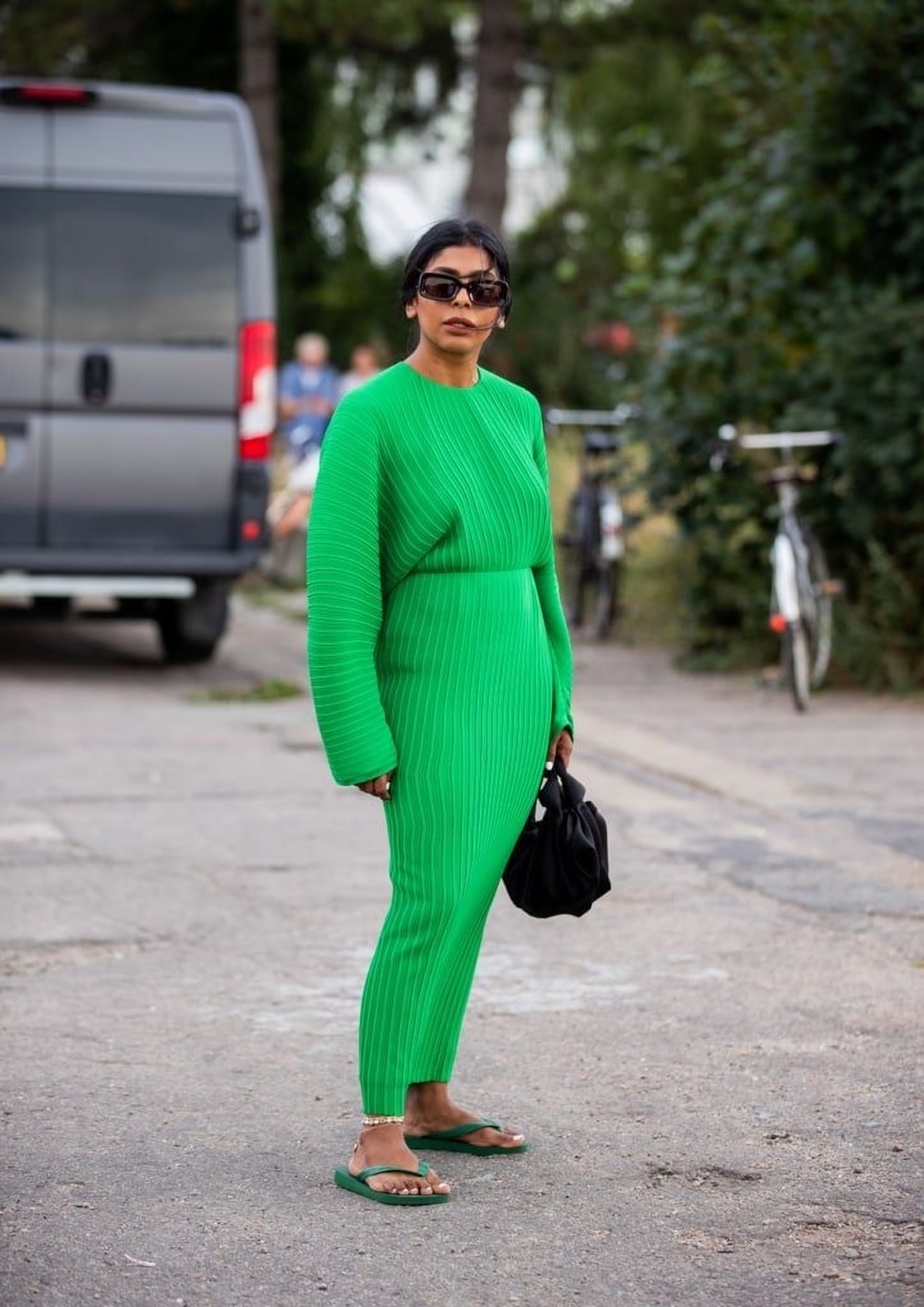 I promise you won't look like a traffic light. It's the chicest possible color for a dress, matched with black accessories as stylist Monikh Dale did here. Pair with comfortable sandals (I'm thinking Teva or a pair of chunky Dr. Martens) for daytime, then swap to strappy heels and statement earrings in the evening. Major impact guaranteed.

Wear it with black and white
My love affair with this Kelly green continues. Are you convinced yet? Honestly, is there a better way to tone a color down than to match it with black and white? Simple but effective.

Now that the styling question is answered, go ahead and make everyone (apple) green with envy. (How many jokes with the color green are too many?!)