Since New York is in full-on spring mode, it's an excuse to rotate in the trench coat before it gets stored for summer. One of my favorite things about living in the city is that we actually have seasons. More seasons means more variety. Personally, that variety comes in the form of outerwear.
Are you careful with the trench coat, though? I am. Don't want to look like I borrowed it from a retired detective. For me, it's the slouch, lightweight material, oversized menswear look and details that read vintage. Trenches are so great because they can easily be integrated into any wardrobe and there really isn't any styling faux pas when it comes to the trench. They really take any look and give it polish (besides rain protection, of course).
It is constantly revisited and reinvented by designers like Martin Margiela, Rei Kawakubo and Jean Paul Gaultier, and it is still a lasting signature of its creator, Burberry. Available in various styles, color and material combinations, lengths, with or without its original details, the jacket may well have lost its military connotation, but it still remains a classic that appeals to everyone. Fashion trends come and go, but the trench is forever. Cliché I know, but it's the truth.
A lot has been already written about how incredible, versatile and practical the trench coat can be. But I give it another go with some fresh looks for you to get inspired to rescue yours this spring or maybe invest in a new one.
The Colorful option
Every wardrobe should have a classic trench but does it have to be beige? It doesn't. The reworked trench is in and I encourage some exploration. Take a look at this one I found in the most wonderful brick orange color. Some version of my bright orange leather trench coat (or non-leather) is a mood-boosting way to introduce colour to your get-up.
The get-out-the-door look
Well, this look is really just a wake-up-and-go formula. Roll neck (or the muy trendy mesh top), jeans, trainers, a cute bag, and the star of the show – the trench coat to top it all off. You can opt for a classic version like I did on the left, or take the leap on another color, such as this great taupe – that will still match everything you own.
The menswear look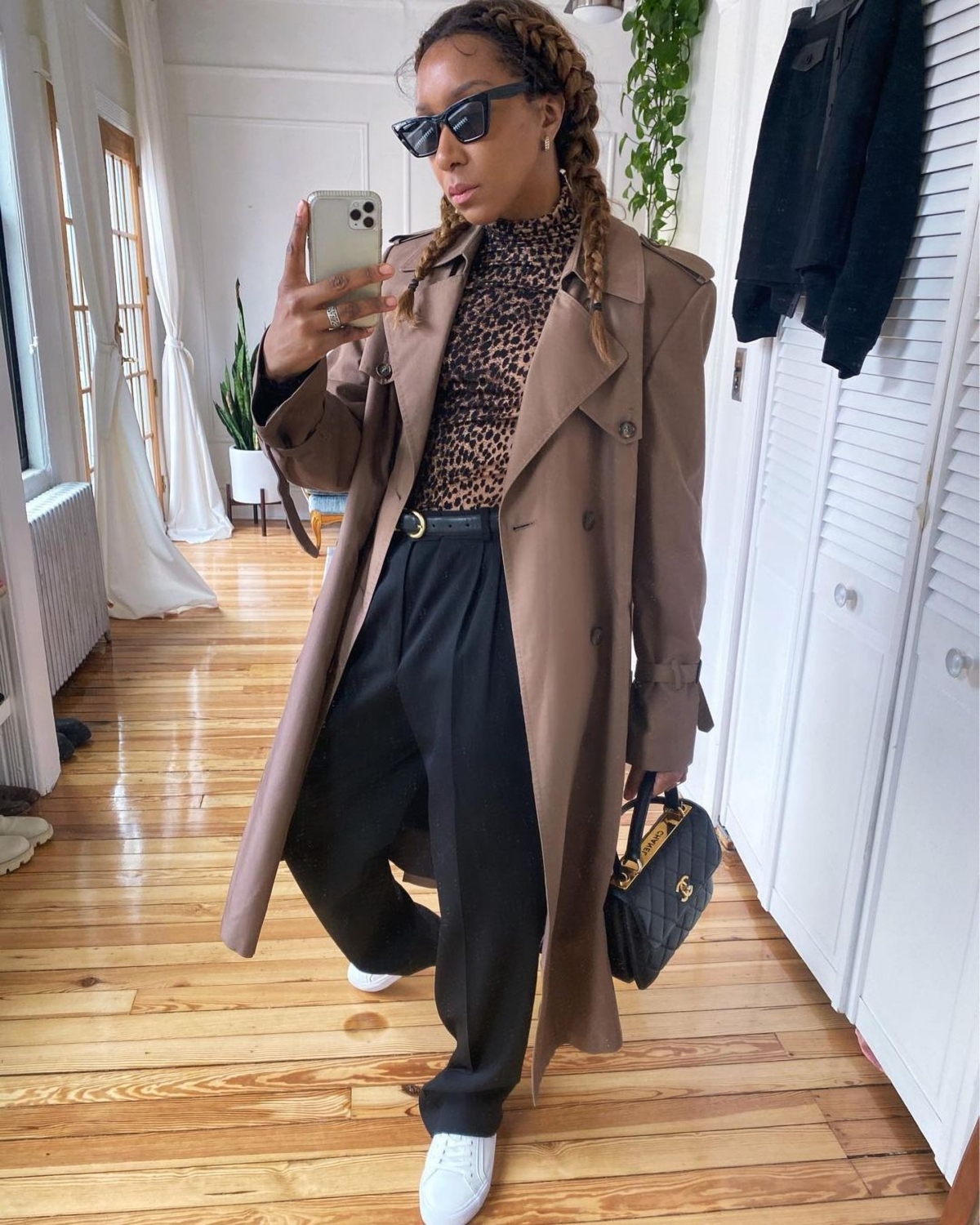 There's no need to update the style or colour of your trench if you prefer the classic, but I'd advise going oversized. A traditional belted beige trench has a timeless elegance and is still a great investment.
Navy trench is such a vibe
Remember this navy trench I found on L Train Vintage (629 grand street)? I am obsessed. The perfect slouch, lapels, and sleeve length. I love how structured it is and the way it flares below the waist when belted. And it was only freaking 15 dollars! Can you believe it? Such a good find. I found a similar version for you here and here.
Did I convince you about the trench coat, or what? I'm betting you won't be stopping at just one!