Bold Colour Summer Dresses

Kelly Green, Cobalt Blue, Fuschia – I'll take the lot!! Bold colours for summer dresses have been my instant mood boosters! Not only because those three that I've listed are my favourite bright colours, but it's scientifically proven too! – Yes, bright and bold colours can enhance your moods. There's actually now a term coined for this, it's called 'Dopamine Dressing'. You might remember from my 'Spring Trends' and 'Apple Green' article, where I list some bold colours that have been trending, though in fact, bold colours (or dopamine dressing) is said to be a trend for the entire year (AND further years to come). It's not hard to understand why – these years have been some of the toughest in history.
Another thing that I love about bold colours (particularly in the summer) is that they just pop in the sun!! I suppose they do say, if the sun brings joy, might as well dress as bright as it…
Colour is a great way to lift our spirits and boost our moods in an instant!

Karen Haller, colour psychologist

LBD Summer Edition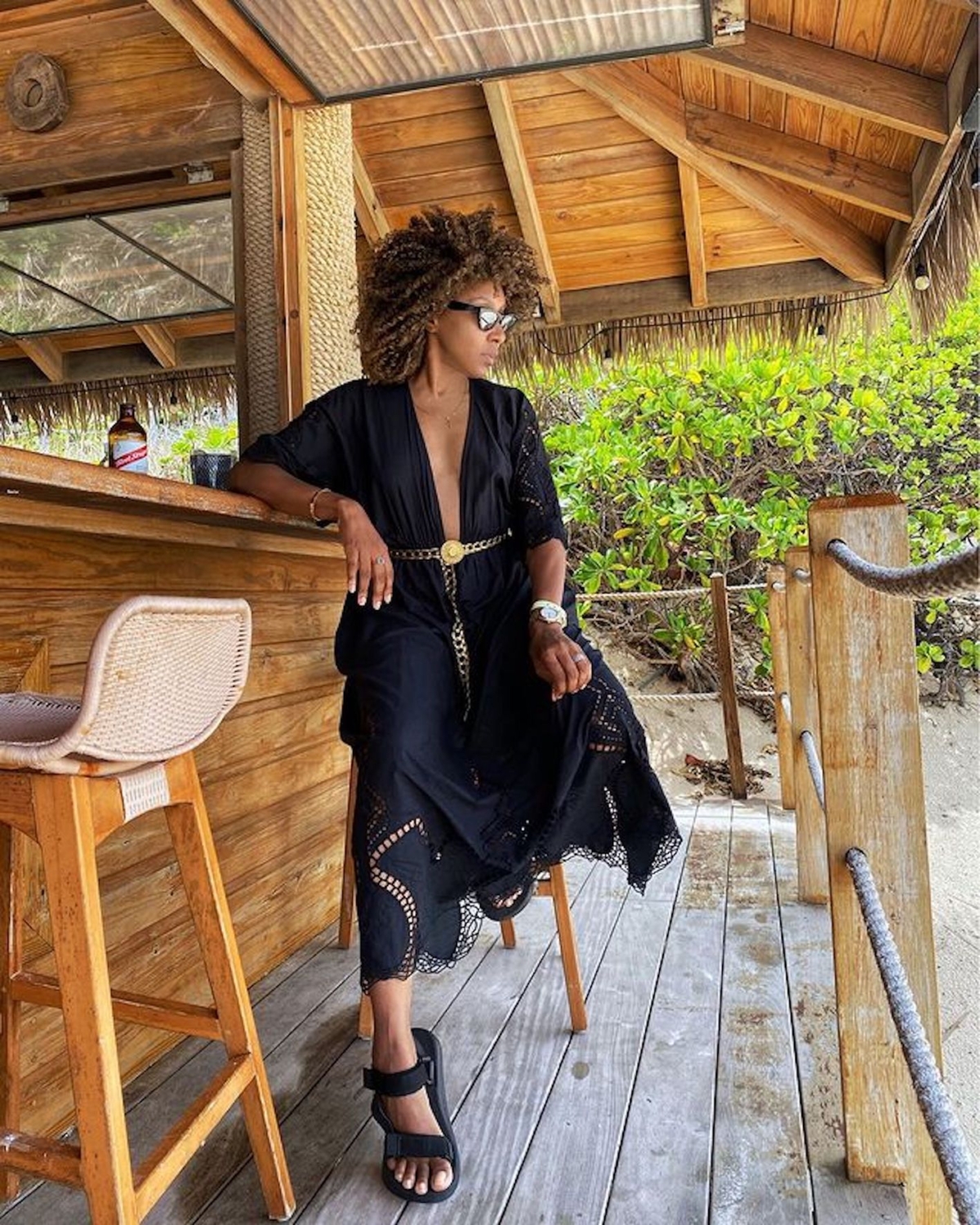 Black? For summer? Okay, this one might need convincing for some of you, but hear me out! Black summer dresses have been stealing the show, which I like to call "Little Black Dress (LBD): Summer Edition". Like their A/W counterpart, LBD's have become the must-have staple for a summer wardrobe. Why? It's because the dress has taken all the elements which we love in the original : effortless, chic, easy-to-wear, and being that item you gravitate towards when nothing else in your wardrobe sparks any imagination.
The LBD has been given a hot makeover through cut-outs, bare backs and deep plunge V-necks (like the one I'm wearing above). The LBD is as cool as any other summer colour, and perhaps because it's different to the usual white, it has maximum elegance appeal.
The unorthodox summer colour is showing us how really season-less it is!!

Floaty Summer Dresses & Balloon Sleeves

There's probably not one summer that goes by that you won't catch me in a mini floaty summer dress. It's one of my favourites when packing for vacation and wearing on the beach. I just love that weightless feeling when it floats in the wind. And, sometimes it's just refreshing to pull out a mini summer dress after all those maxis and midis.
While on holiday in Anguilla, I bought another floaty dress with beautiful balloon sleeves – They were HUUGE!! (I talk about this in more detail on my youtube). It's a dress type that I never get bored of and actually the best type to keep the heat away. And, it's one of those designs that sometimes when it's bigger, it's really better. So don't shy away from big sleeves and skirts – that large movement makes the best impact!
Tip: Try floaty dresses with elasticated shoulders! I love wearing mine on and off, which looks absolutely STUNNING with a tan!! Grab those strappy sandals and you've got yourself a LOOK!
Have you got any floaty dresses in your summer wardrobe?
There's something about floaty dresses that always keeps the heat off!

Summer Co-Ords (They deserve a moment)

Summer Co-ords have been making a definite statement all over social media. They've comeback with revived appeal from the newest creativity and eclectic designs shaping the co-ords. Particularly like those from Nigerian designer Lisa Folawiyo (available on MatchesFashion) and Ghanian brand Studio 189, has shown us how fun this summer style can be!!
Co-ords are one of those easy pieces in the summer that you can throw on when it's too hot to think. Despite being easy, the appeal of the two set design and colour is head-turningly fashionable. Some co-ords have become really clever where you can choose whether you want the bottom to be a skirt or shorts. There isn't anything bad you can say about co-ord sets because they just WORK! You could even mix and match them like I've done above (I paired my white zimmerman shorts with a white top, though it actually has it's own matching blouse).
What co-ords have you been seeing and loving?
Separates are so versatile and are basically an outfit on it's own; No extra effort needed!