It's been recorded that in some areas, this year is hosting one of the wettest summers in history (if it's hotter where you are, have a read of this article I wrote dedicated to city heat). And, it's been a real mood dampener for many of us. Getting dressed during this time seems more like a chore as we cover up our favourite summer clothes with a waterproof poncho dug up from the back of our closets. The dark clouds also seem uninspiring as we look out the window dreading going to work. But as the climate changes, having good and fashionable rainwear is something I'm definitely starting to work on. Below I'm giving you a few tips from the homework of styling myself for wet weather! Dressing for the rain is more fun than at first glance!
Rain Boots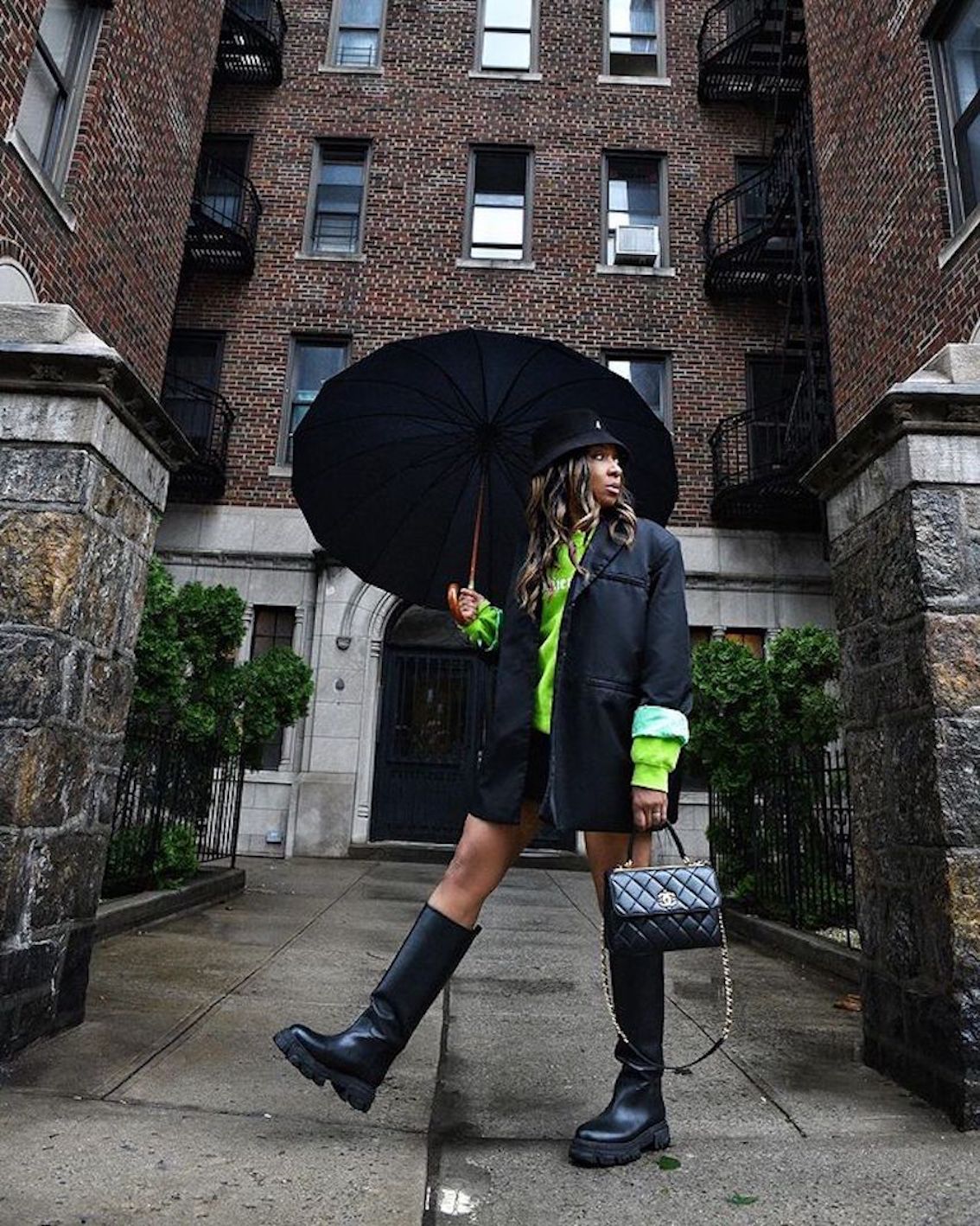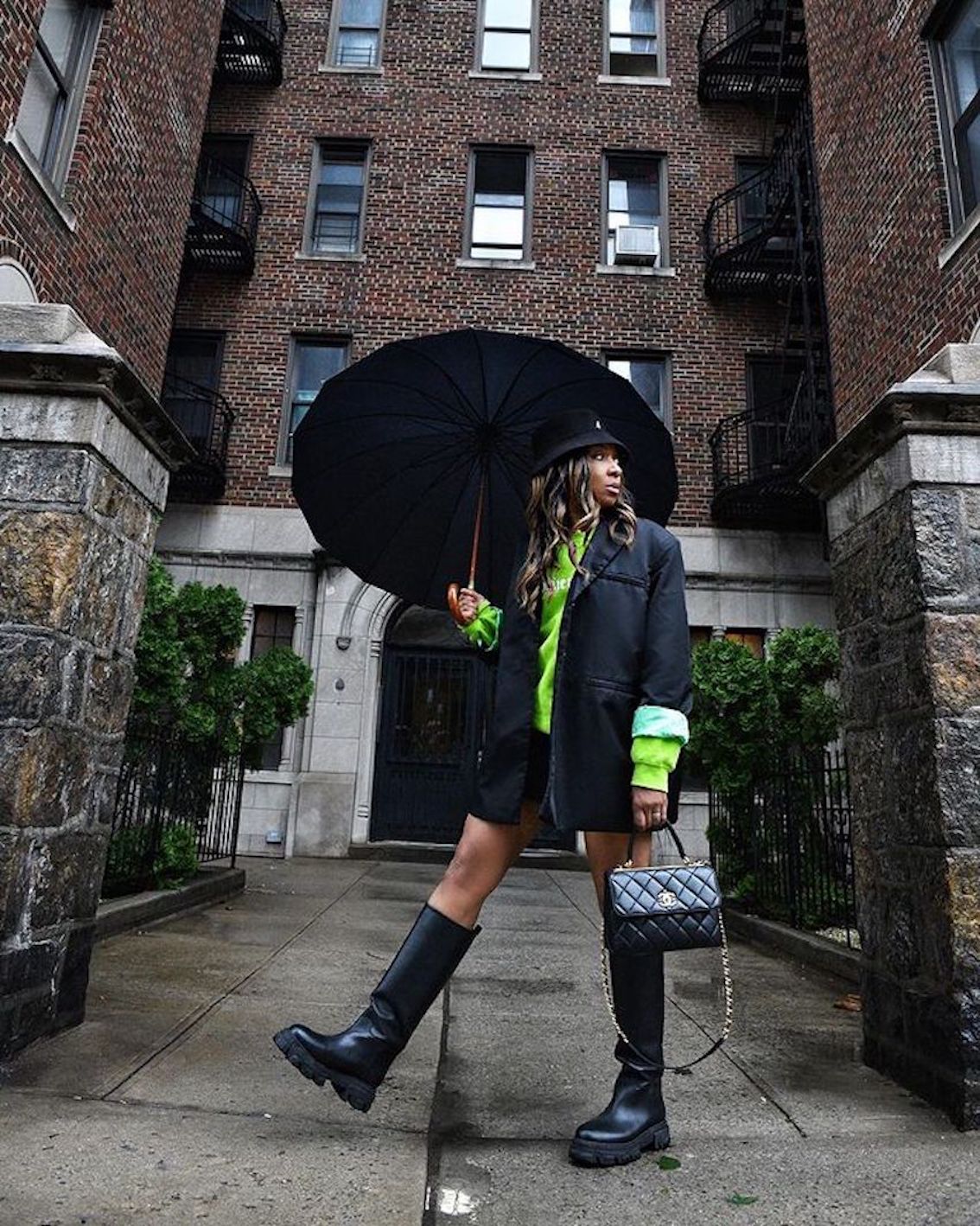 Dr. Martens and many other shoe brands were right about one thing: Boots can be worn for the summer! Chunky boots were long paired with summer clothes since last season, but they now have renewed appeal! Their robust design is perfect for wet weather! 
If you've known me for a long time, you'll know that I LOVE chunky soled shoes. Now it's no longer an aesthetic choice, but a practical one too. 
The best part is that many chunky boot designs have merged the typical features of rain shoes, creating an ultimate hybrid for both dry and rainy weather! 
If you're a fan of high boots, try styling it with an oversized jacket or sweater. It's my favourite combination that gets a lot of compliments too! If you prefer more ankle length ones, I recommend combining it with high-waisted trousers and a crop top. Rain boots are one of the most versatile items, and a rainy weather essential.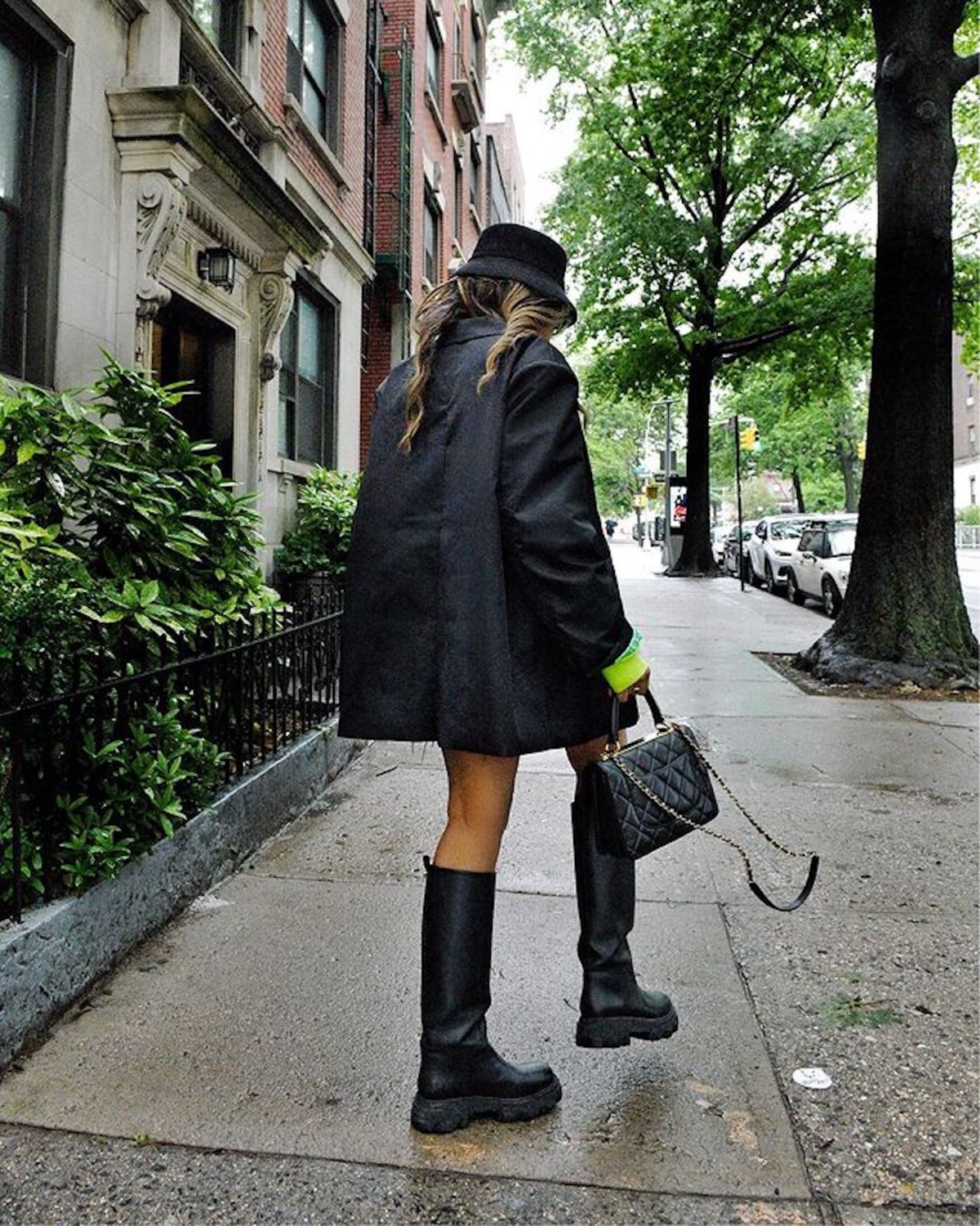 Rain coats & Trenches

Before they became a fashion staple, trench coats were invented for transitional weather. They originated from the UK, serving as a further stamp of approval (being a country notorious for its wet weather). AND, here's me, a real Brit, telling you trench coats are that 'IT' item for the rain. That's a triple stamp for trench coats! But, let me also add other types of rain coats on the list (from parkers to windbreakers). Although wearing a coat or jacket in the summer definitely feels unorthodox, waterproof outerwear is quickly becoming this seasons essential. I love taking advantage of the typically warmer weather (despite it raining), by paring my jackets with cropped tops and shirt-dresses. The new weather has opened a pandora box for some of my favourite styling moments!
I also have a prediction that transparent rain coats like this one from Moncler x Simone Rocha are going to be a popular trend for the next summer season. Remember you heard it here first!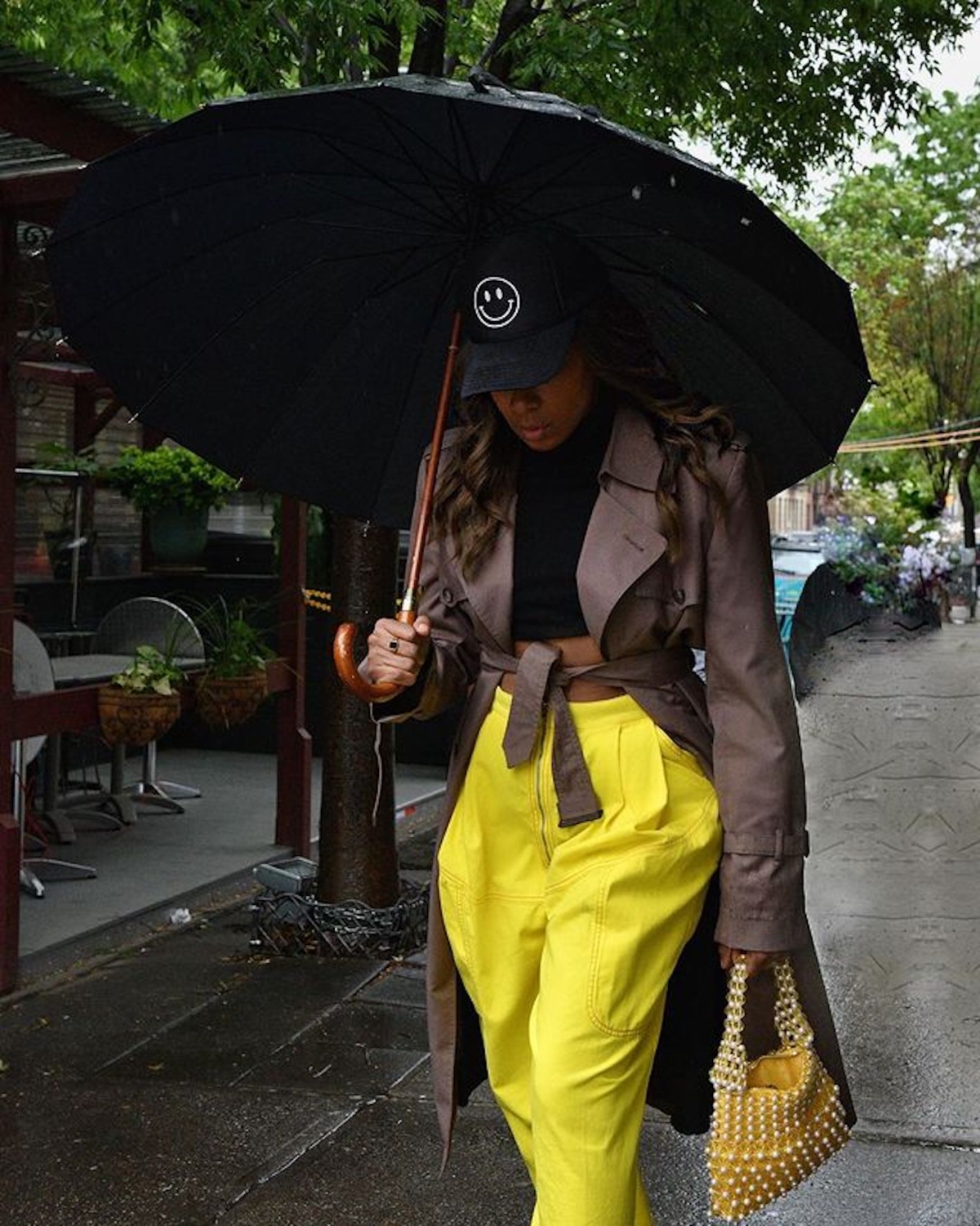 Vinyl Bucket Hats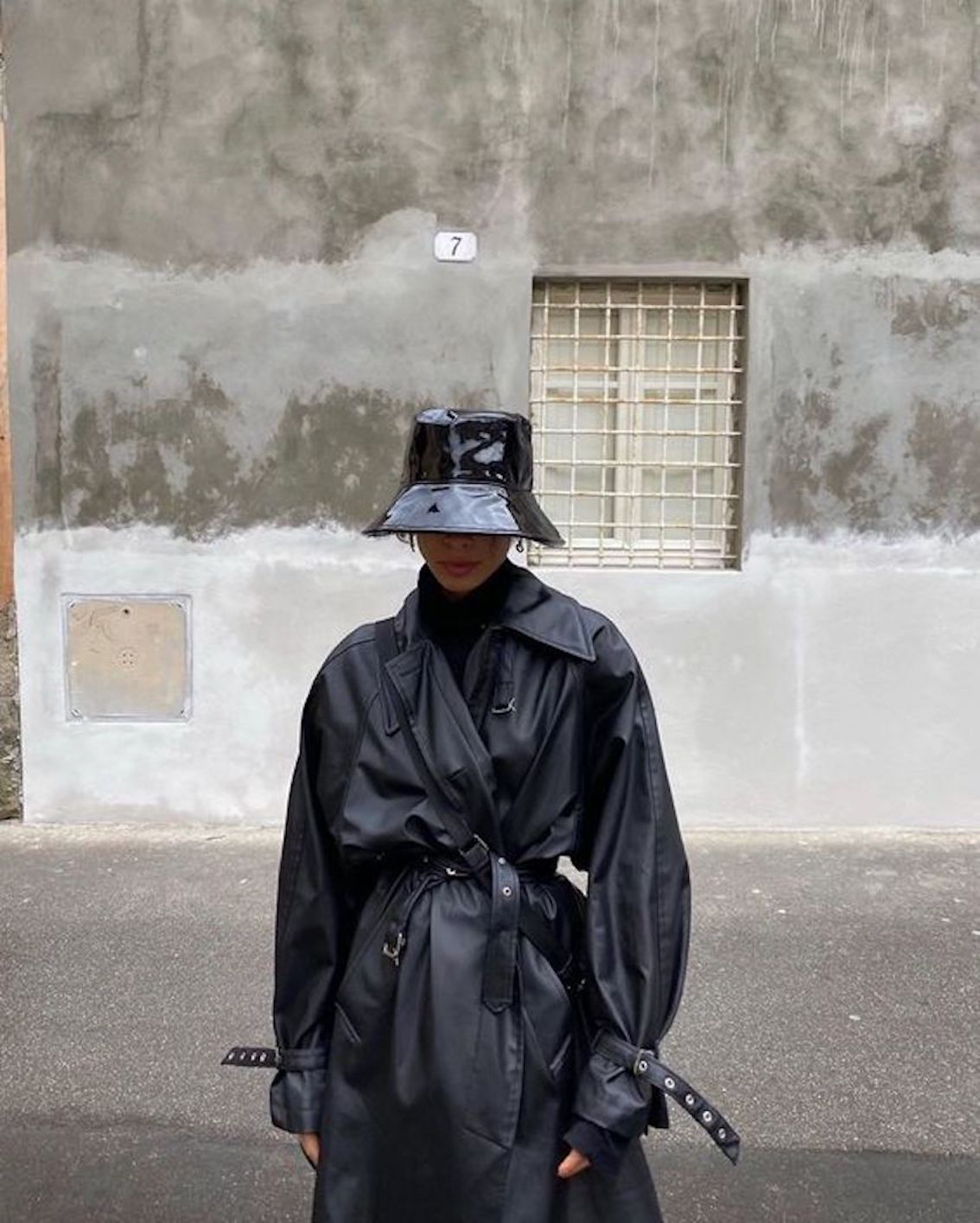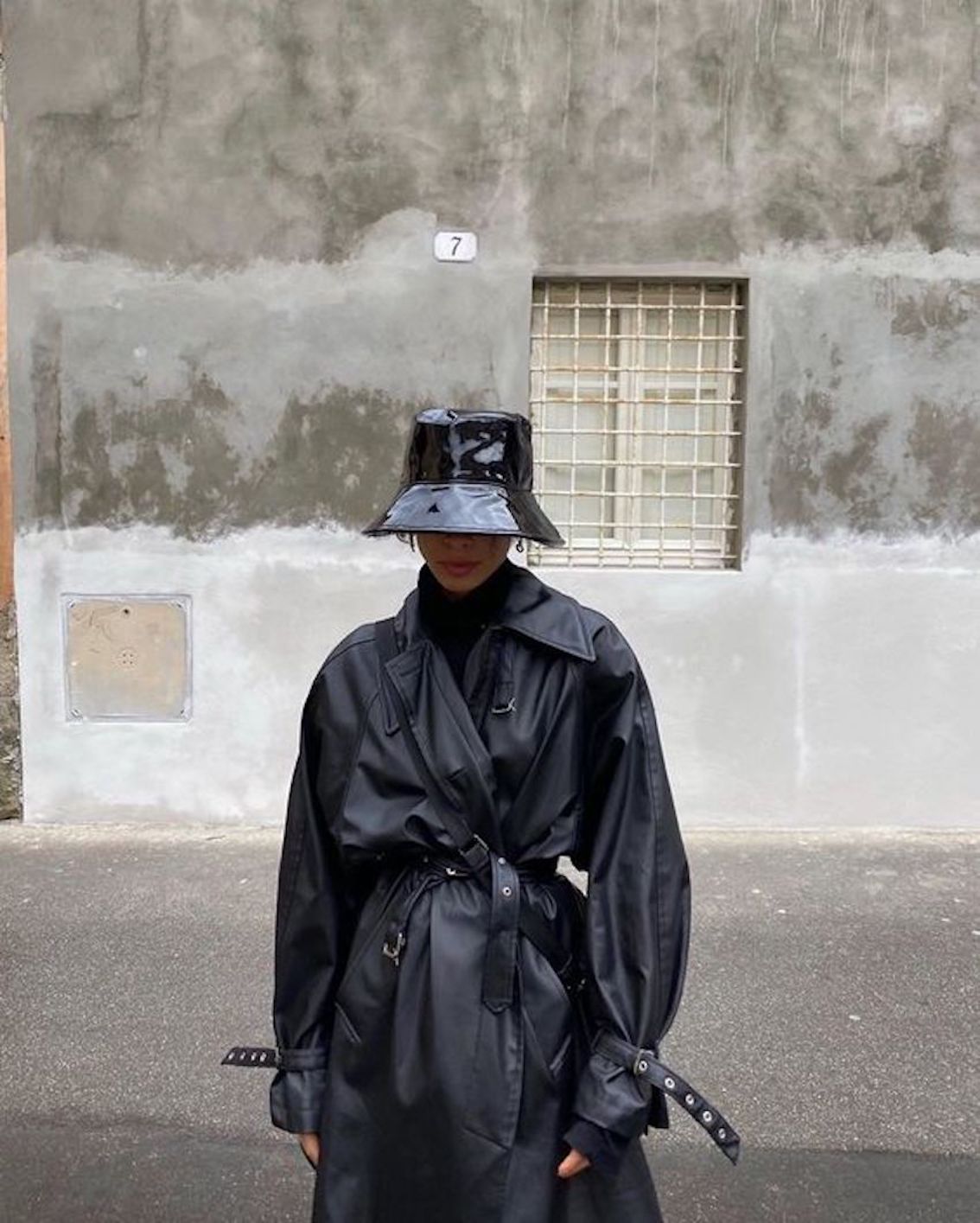 You already know that I'm no stranger to a bucket hat. In fact, they're one of my ultimate favourite styles of hats. Vinyl bucket hats have been a trend of the past, but they're quickly gaining popularity for the rainy season, along with rain hoods. And, it's easy to see why! 
The glossy finish to an urban classic is both stylish and ideal for keeping the rain off your head! If you currently have a nice collection of bucket hats going, why not try a leather of vinyl one for the wetter weather. Just because the weather is changing, doesn't mean your most loved looks have to change with it!!

Umbrellas
The last one is definitely a bit extra, but it wouldn't be an article about rain wear without mentioning it! Umbrellas are an essential. Full stop. Though, have they always been thought as a style essential?
Lately, more and more people in fashion have been giving umbrella's a bit more of a thought when it comes to outfit coordination. Similarly to we think that a bad pair of shoes can ruin a good outfit, a mismatched umbrella can also do the same it seems!
For my wet weather style, my go-to umbrella is the black one with a tan wooden handle as you see above and on my IG. I chose this combination because it goes with almost everything I tend to wear during the season (black chunky boots, dark oversized blazer, etc). Though, knowing that umbrellas are going to be a more frequent item that I'll be pulling out from my wardrobe, I'll be looking for alternative designs (in addition to the trusted one I own!). In other words, a new umbrella might cause me to pull out brighter clothing next time! With that in mind, I can imagine designers using umbrellas as a co-ord piece in the future!! What do you think about the future of umbrellas?