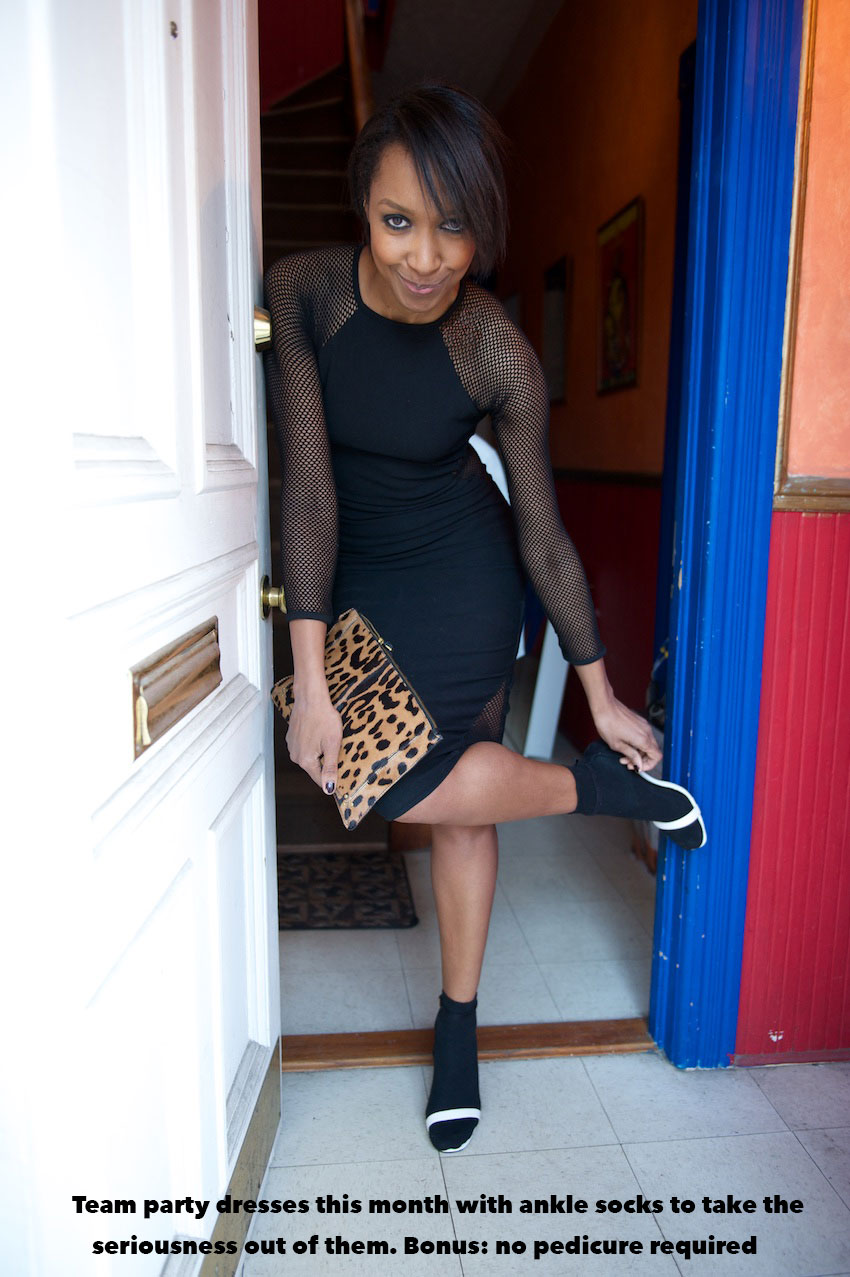 I've been wearing socks with heels and all sorts of shoes since growing up in London. I just love wearing really Cool Socks! There is nothing better than a quirky pair of socks. Am I wrong?? Little socks with Doc Marten shoes is practically a uniform for men and women across the pond. I know many men who love looking at Ties.com men's sock collection to jazz up a new outfit, and I'm the same. I love buying new socks. Over the years in New York I've graduated the pairings into different directions, catalogued throughout the years on Where Did U Get That.
Per a follower's request on my Instagram (*waves to @odetohrs*), here's a cheat sheet on how to try this seemingly tricky style for yourself with heels or flat shoes…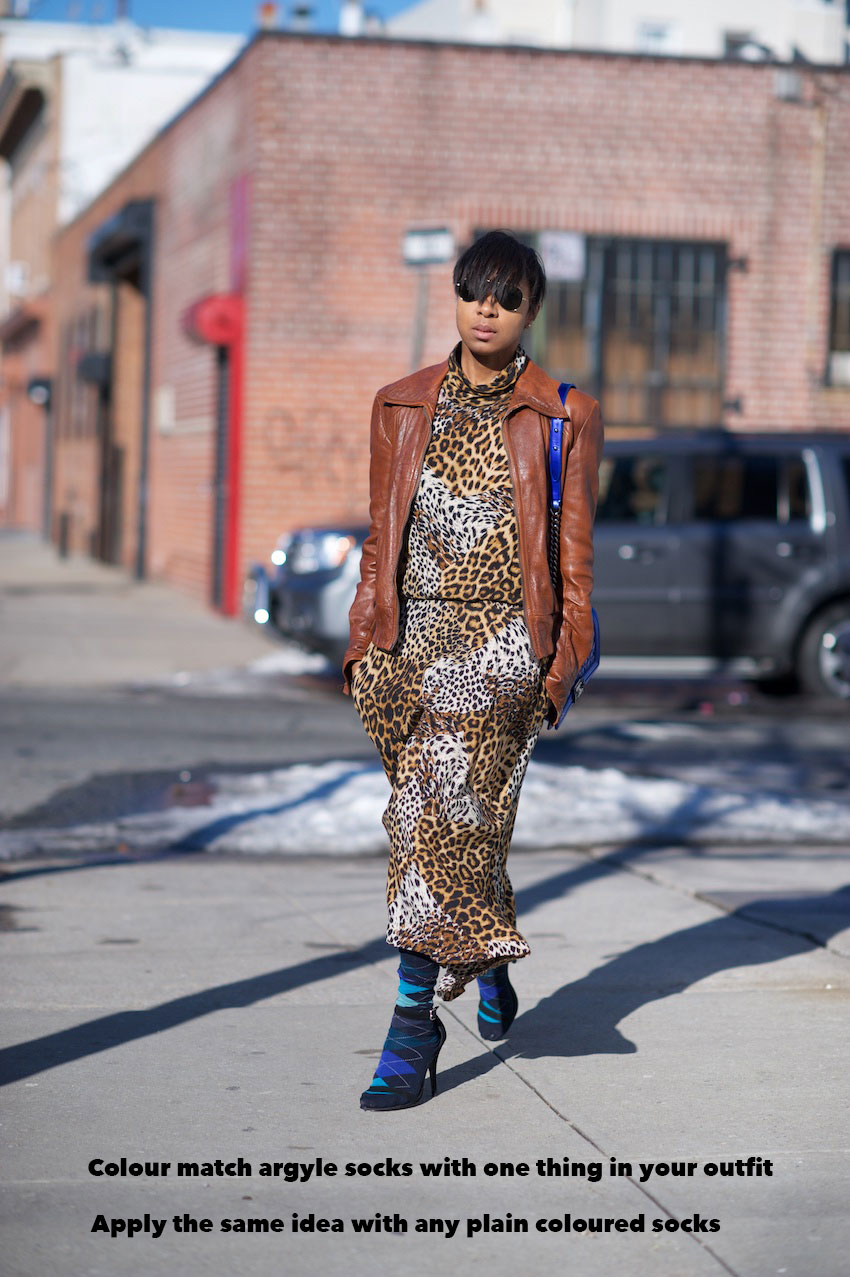 Photo taken from this post
Argyle socks are accepted classics and come in a ton of colors. Try a hue that picks up on a colour in your outfit to tie them together.
Had the dress been plain black, the socks would've still worked because I was pairing off the bag. Browns and blues work well in general hence another reason I went with blue socks.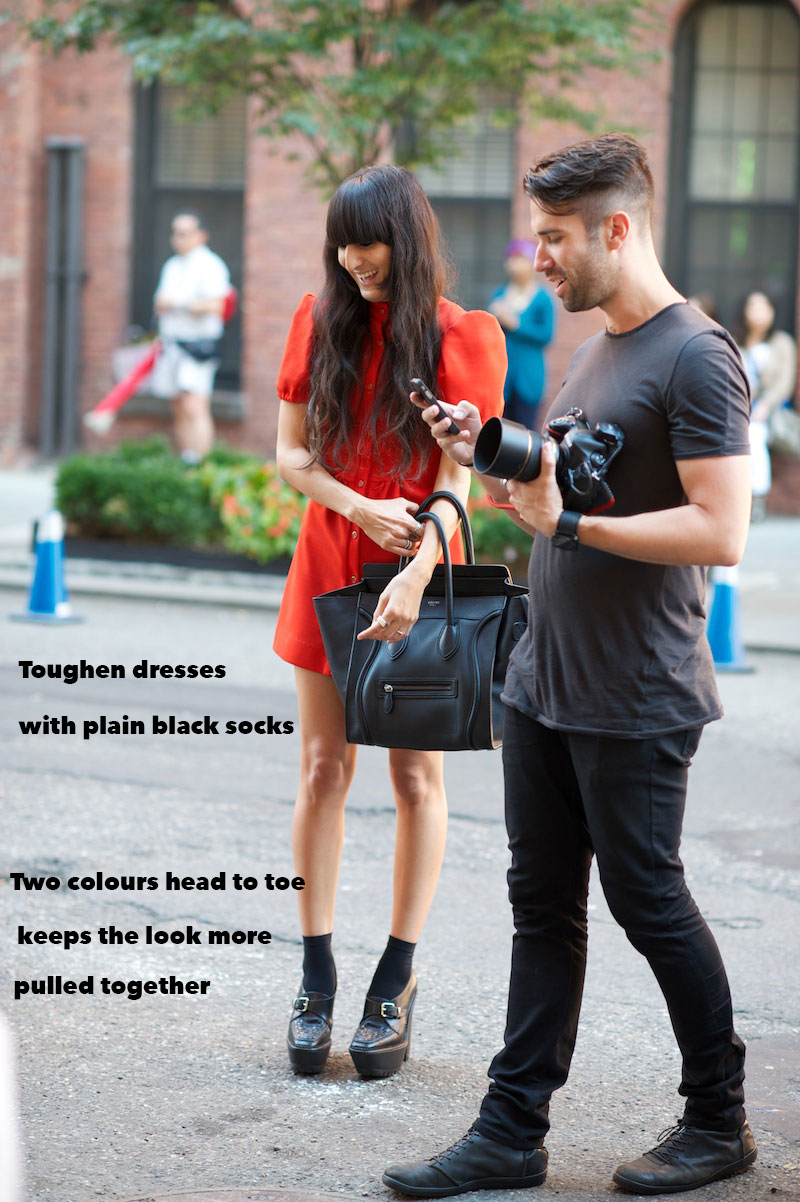 Photo taken from this post
Girly dresses always look more rebel with black ankle socks. Actually most do because it's polar opposites combined. If you have short legs, keep shoes and socks in the same colour to elongate the foot/ankle area. Heels are preferable to add height. Start with black but nude would be ideal to not cut your leg.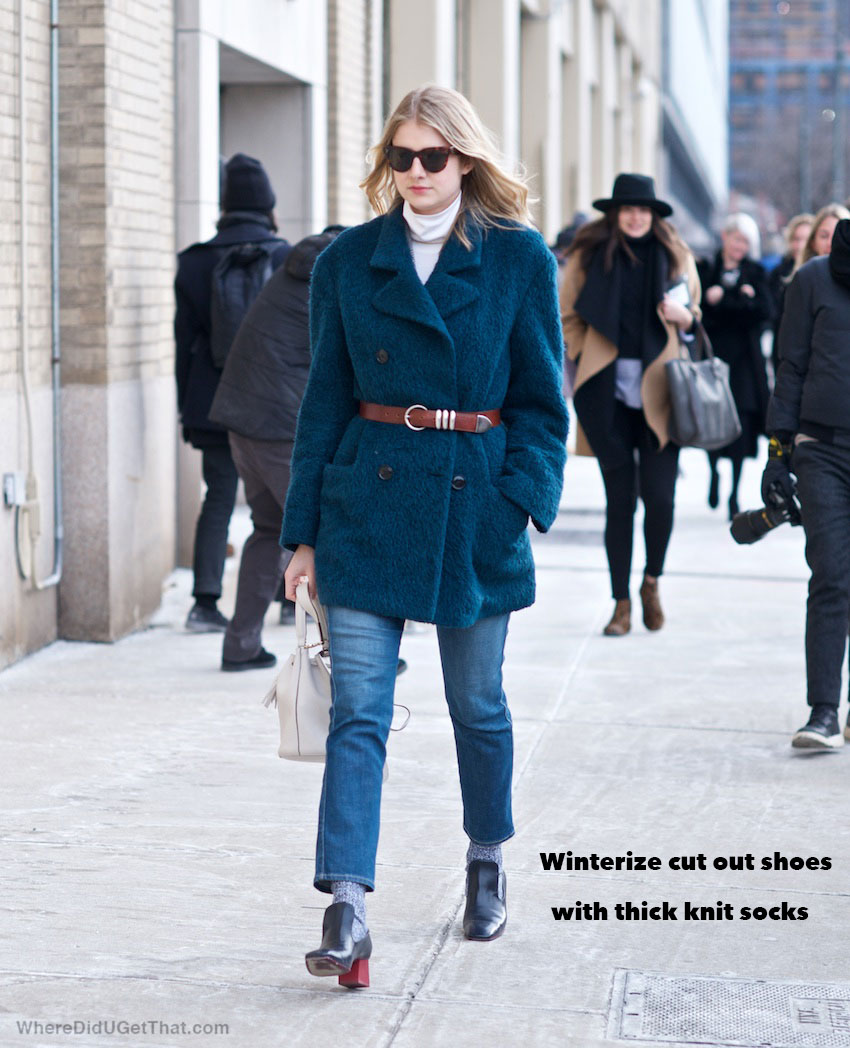 Cropped jeans are everywhere. As it's getting colder, add socks in a neutral colour to winterize yours over the next few weeks.
I could also see her wearing chocolate brown socks here to pick up on the belt and sunglasses. It's a little detail but socks allow you to highlight one common colour. Grey and blue are two cool colors which is why hers work perfectly with denim jeans. Orange or yellow not so much…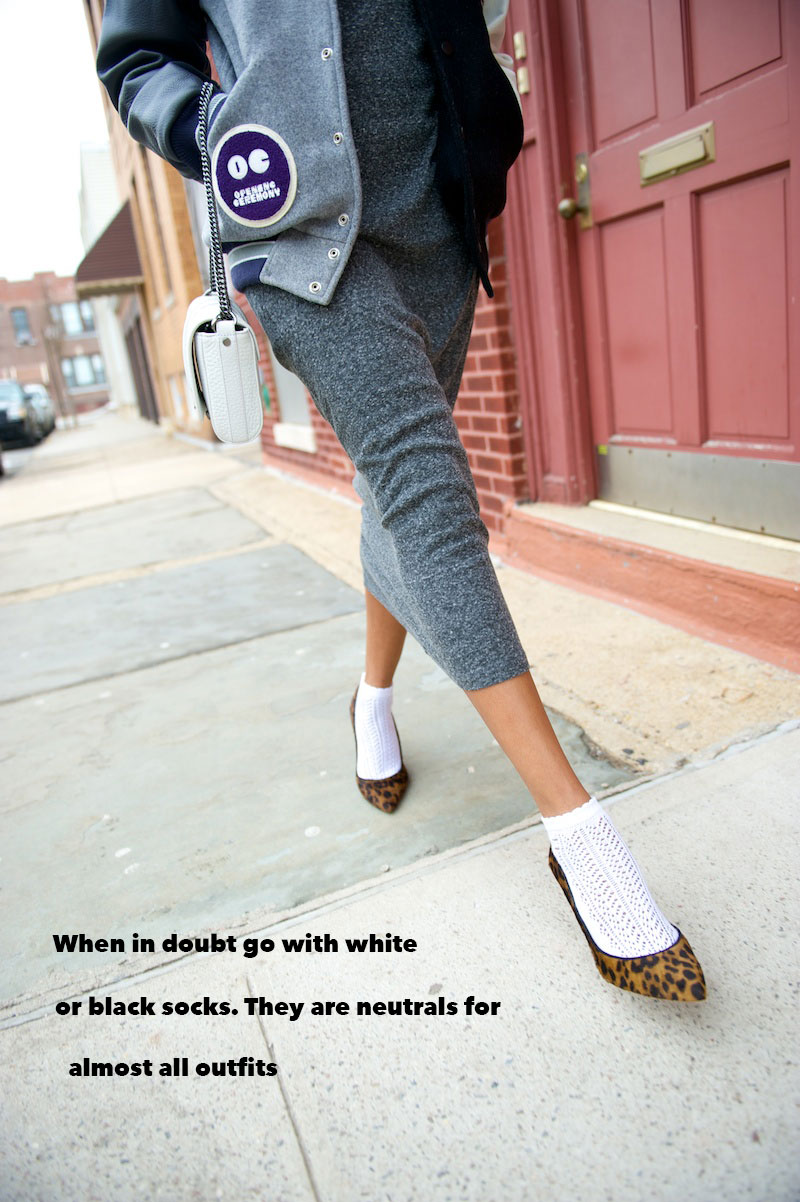 Photo taken from this post
I wore white socks with these JCrew leopard kitten heels but black would've worked too. Again, it's picking up on the same colour in the rest of the outfit but also taking out the lady like vibe of heels and taking them in a more punk direction.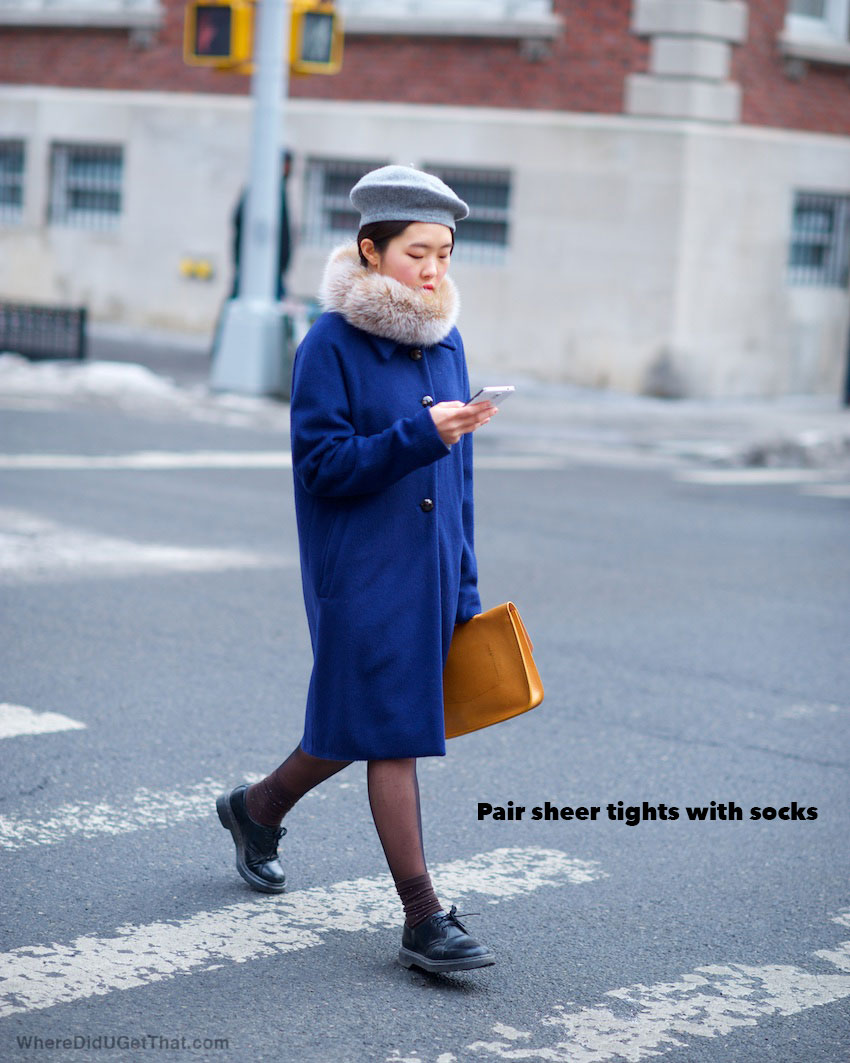 Sheer tights allow you to still wear the sock with shoe look in winter. Note the colour combination: Brown socks and blue coat plus yellow bag. Brown and blues work together. Again, black ankle socks go with everything so remember they would've worked.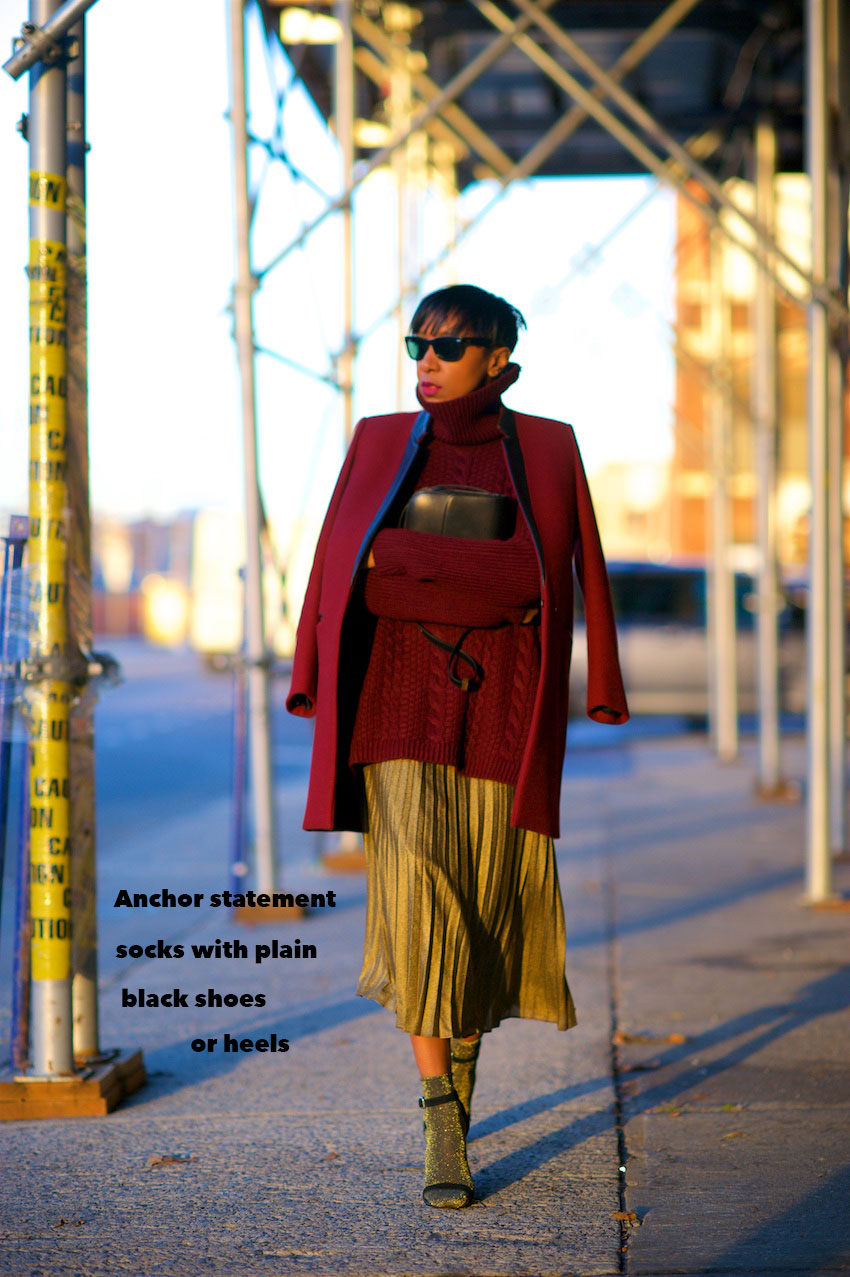 Photo taken from this post
Wearing sparkly ankle socks (or tights) for a night out makes perfect sense when teamed with every day clothes like this midi skirt and burgundy jumper. I would not have chosen burgundy ankle socks because I wanted the gold to be the only colors from the waist down. Another colour sock would've been patchy and broken up the gold.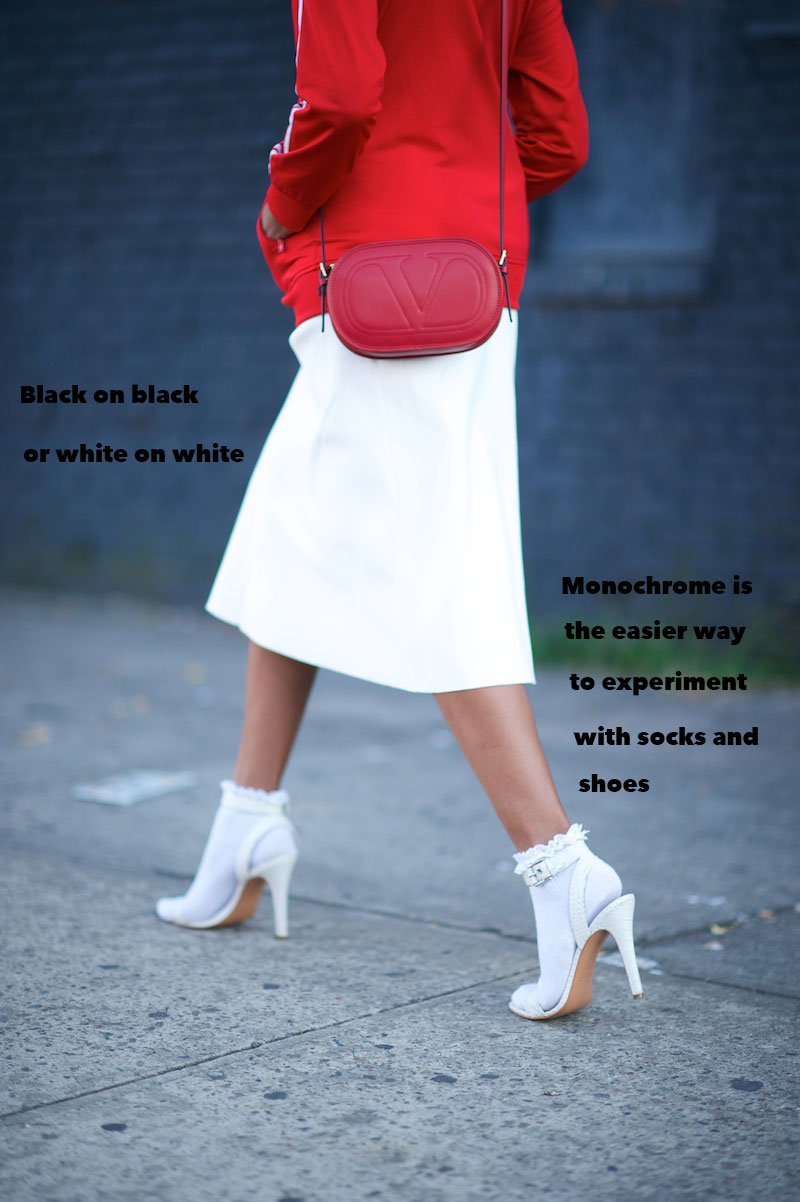 Photo taken from this post
This is the same idea as picture #3 but done with strappy heels. I also find that the monochrome of one colour sort of turns the shoes into the look of heeled ankle boots if that makes sense.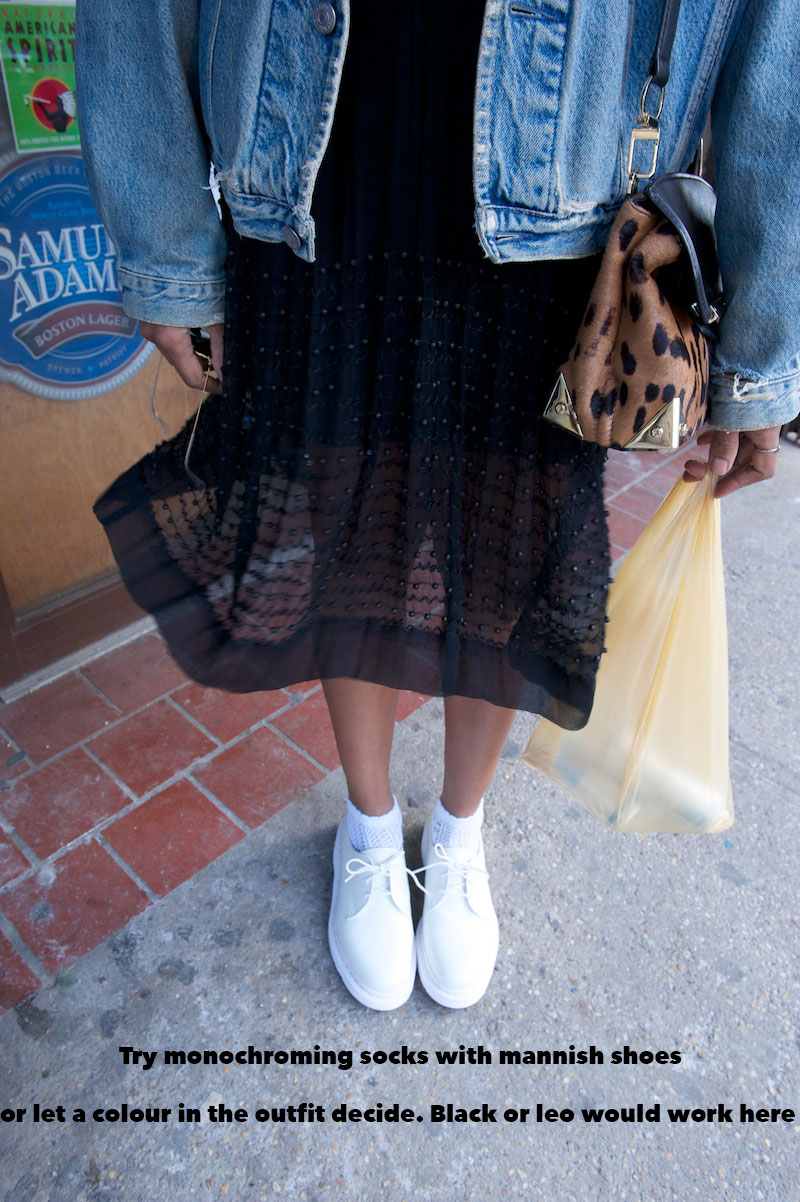 Photo taken from this post
Consider plain socks in the same colour as your brogues or oxfords. It's a nod to menswear yes, but more than that, it 'finishes' off the shoe.
Wearing socks with shoes is a staple – heck it's the uniform school requirement that stays with us. However wearing different colored socks with unexpected shoes is where your personality comes into play. You pick the sock depending on your comfort level.
M Y S O C K T A K E A W A Y
If short, avoid black ankle socks which can cut off your leg (although heels will elongate). Also lengthen out wearing nude, slightly sheer or soft colored socks. A strong red or green would be too jarring and have the opposite affect.
+
Use ankle socks in the same colour as your shoes to turn closed toe (or open toe) heels into ankle boots. Of course, you could purchase a pair of high quality ankle boots too but this is an alternative effect you could achieve if you chose to.
+
Layer ankle socks over sheer tights for warmth (keep colors similar)
+
Pair your sock with a color in your outfit
+
Start with baby steps: pair black ankle socks with black shoes
+
Don't be afraid to wear printed socks with printed clothes. Pick a sock in the same colour family and in a smaller print than your clothes. This could even include your personalised socks like these which are custom any face on socks, they'd look great with a pair of heels.
C O L O U R CO M B I N A T I O N S T H A T W O R K
Brown socks with orange, navy, black and yellow clothes.
White, grey or black socks with almost anything including white on white or black on black as shown above.
More colour combos: Greens & yellows. Blue & browns. Pastel hues with each other. Jewel tone colors with each other.
Still confused? Then ask me anything in the comments:-)